Holiday Party: Chex Mix, Frozen Hot Chocolate and more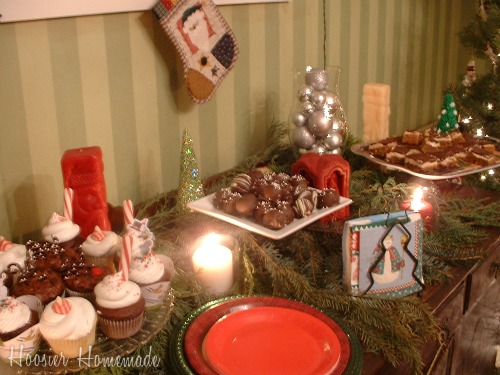 One of our families Holiday traditions is to share homemade goodies with our friends. This year we decided to host a Holiday Party, invite our friends and send them home with some goodies.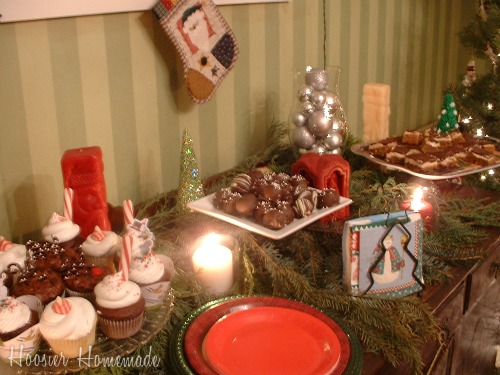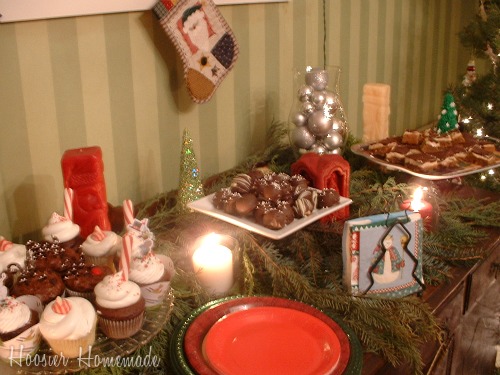 The Dessert Buffet had Christmas Cupcakes, Cookie Dough Truffles and Peanut Butter Bars.
Everyone brought an appetizer to share, and I baked up some treats. The Holidays are a perfect time to share family traditions. One of Doug, my husband's, all time favorite Holiday treats is Chex Mix. His Mom made her special recipe of "Party Mix" (she called it) in 5 gallon containers. I haven't made that much of it…yet…but the way it disappears around here, I might just have to.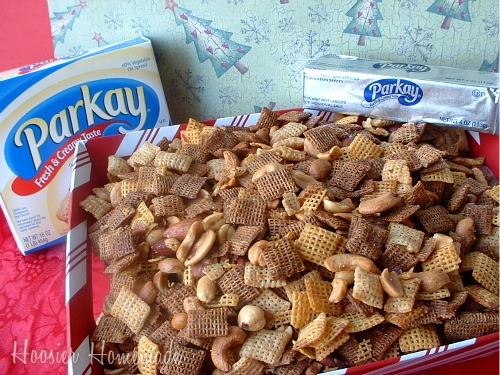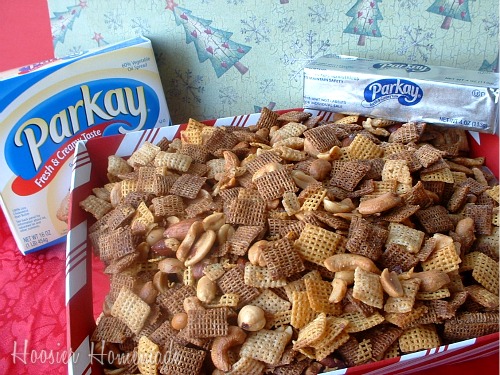 Homemade Chex Mix Recipe:
Directions:
Measure cereal and nuts into a large bowl. Melt Parkay in the microwave, add the Worcestershire sauce and seasoned salt. Pour over cereal mixture and stir until well coated.
Spread evenly onto a large cookie sheet and bake at 300 degrees for about 30 – 45 minutes, stirring a couple times, until golden brown.
Let cool and store in airtight container.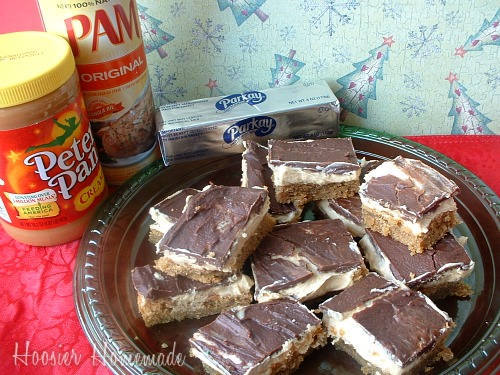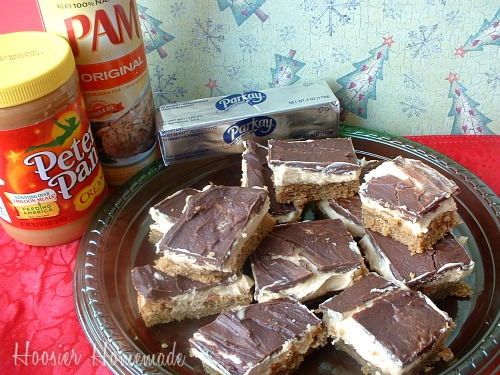 Another one of the hits at the Party, were these Peanut Butter Bars. I like the convenience of baking bar cookies, and adding the filling and topping with chocolate, makes these totally addicting!
I shared the recipe for these Peanut Butter Bars last year, during my 12 Days of Christmas Cookies, but they are well worth sharing again!
Peanut Butter Bars Recipe:
Cookie Base
Filling
Frosting
Directions:
Preheat oven to 350 degrees, spray a 13 x 9 pan with Pam Cooking Spray. In large bowl, make Peanut Butter cookies. With floured fingers, press dough in bottom of pan. Bake 15 – 18 minutes or until golden brown. Cool completely.
In small bowl, beat filling ingredients until smooth. Spread evenly over cookie base.
In microwave bowl, melt frosting ingredients, stir until smooth. Cool 10 minutes, spread over filling. Refrigerate 30 minutes or until set. Cut into bars.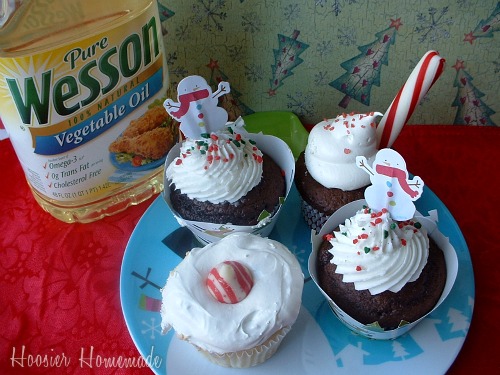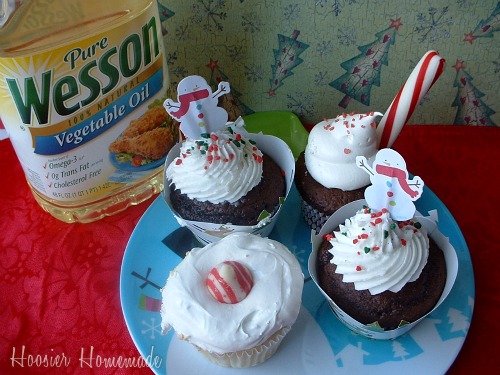 And of course, the Party would not have been complete without some Christmas Cupcakes!
During the busy Holiday season, you can create beautiful cupcakes by using a box mix, and adding a few extra ingredients makes them taste like you baked them from scratch.
Christmas Cupcakes Recipe:
Directions:
Bake and cool cupcakes, frost and add desired decorations.
The Christmas Cupcakes in the picture are the Hot Cocoa Cupcakes, Quick and easy (coming tomorrow) and Cranberry Mousse filled (coming later in the week). I have shared LOTS of  Christmas Cupcake recipes this year.
And our special drink for the party… Frozen Hot Chocolate…this drink was so good, you must try it!!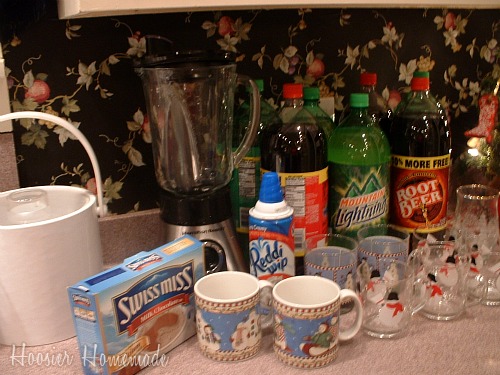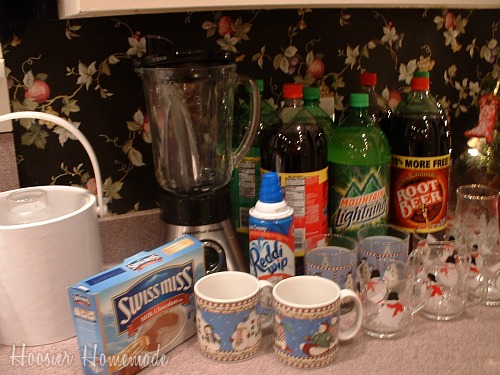 Frozen Hot Chocolate Recipe:
Pour milk into blender (mine is from Hamilton Beach) add Swiss Miss packets and then ice. Blend.
Add Reddi-Wip and a candy cane to stir with. You can also add a little Peppermint Schnapps for the adult crowd.
The Hamilton Beach Blender has a True Stainless Steel Base Patented Wave action jar helps thoroughly blend ice and mixture. Which means no more Ice Chunks, especially in your Frozen Hot Chocolate. It has a Large Capacity 48 oz Glass Jar and a Powerful 450W motor.
Enjoy!!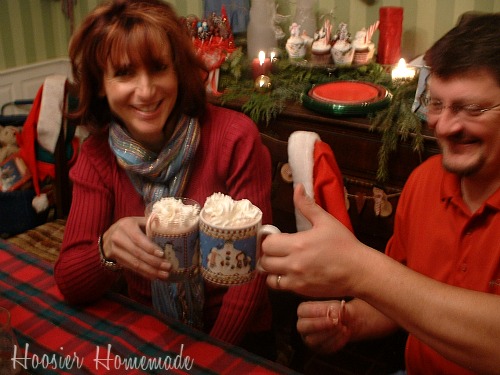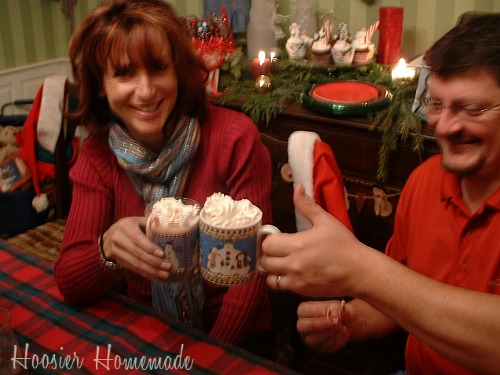 And each of the guests took home goodies (sorry the pictures I took of the guests were too dark to share)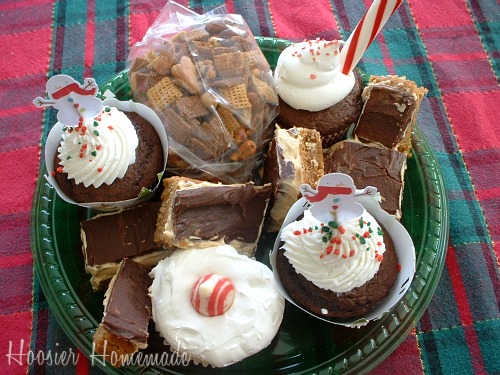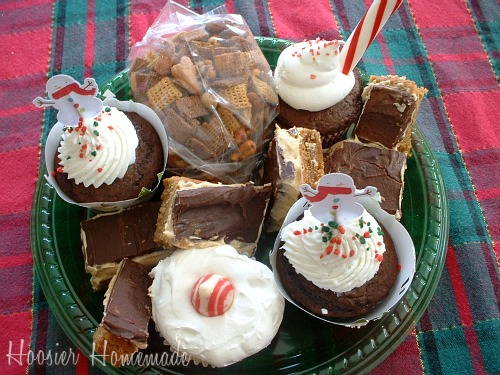 Are you hosting a Holiday Party? Share your treat ideas with us!
You can see our Whrrl including our shopping trip to Walmart for the ConAgra products.
Disclaimer: I was compensated for this post by Collective Bias, but all opinions and experiences are my own.