Easy Christmas Cupcakes: Cupcake Tuesday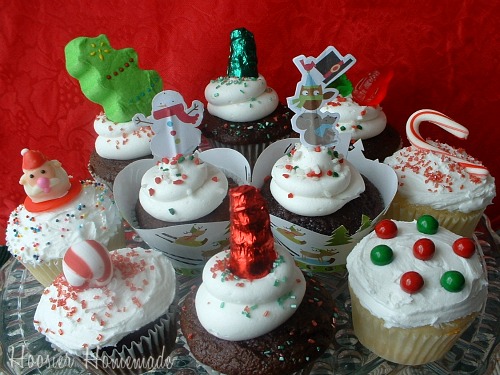 Welcome to Cupcake Tuesday!   If you are new here, grab a cup of tea or a glass of milk and enjoy a cupcake!
Well, here we are, just a few days before Christmas. Are you ready? I am more ready than I usually am, although I have all my wrapping still to do, and baking to do on Wednesday. I'm really excited that Doug has off Wednesday and Thursday in addition to the Holiday. It will be a great help!
I thought since we are so close to Christmas, you may all enjoy some Easy Christmas Cupcakes.  Even though I LOVE to create cupcakes, sometimes, during the busy season, it's nice to have some that you can just whip up quickly.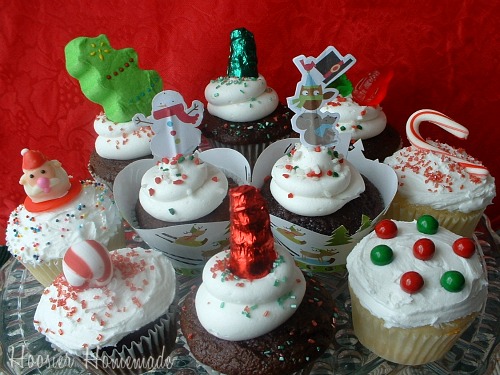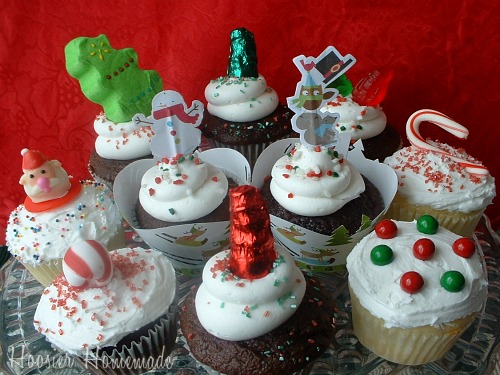 These Christmas Cupcakes are fun, easy and sure to be a hit with your friends and family. Because really, quick and easy is what it's all about right now…at least for me it is.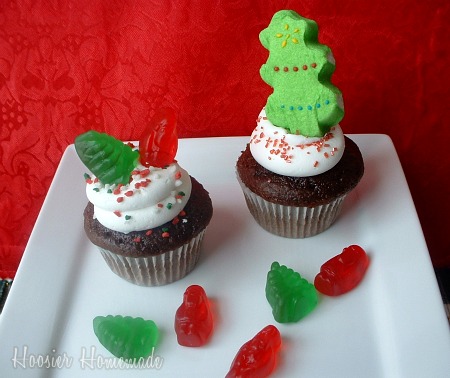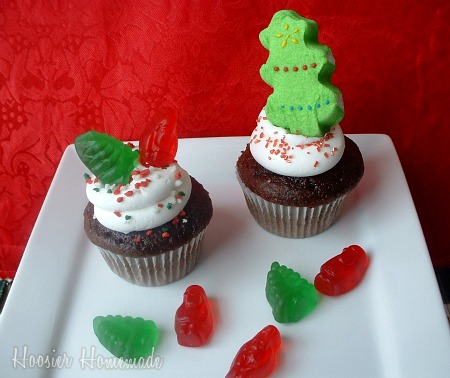 First up are some cupcakes decorated with gummis and peeps. I put the Buttercream frosting in a decorator bag fitted with a giant round tip and swirled it on. Added a few sprinkles, then simply added some a gummi Santa and Christmas Tree that I found at Walmart and the other cupcake has a marshmallow Peep, like I used on the Chocolate Pretzel Rods.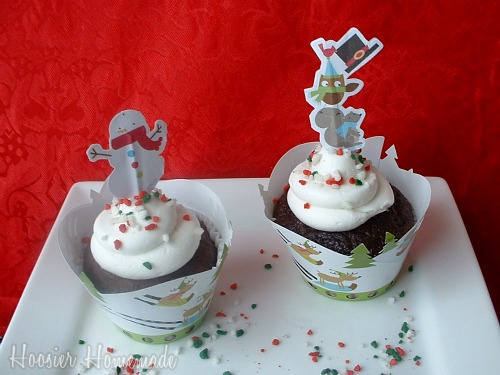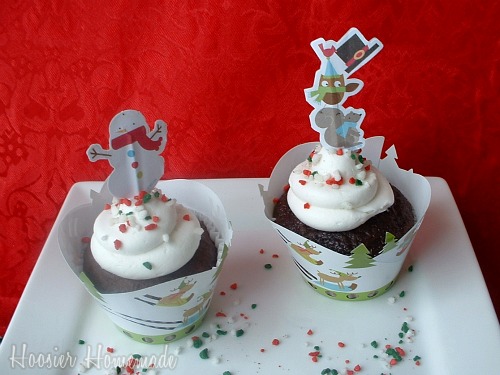 In case you don't want to add candy, these super cute wrappers and picks come from Wilton. Once again I piped on the frosting with a giant round tip, and added a few sprinkles.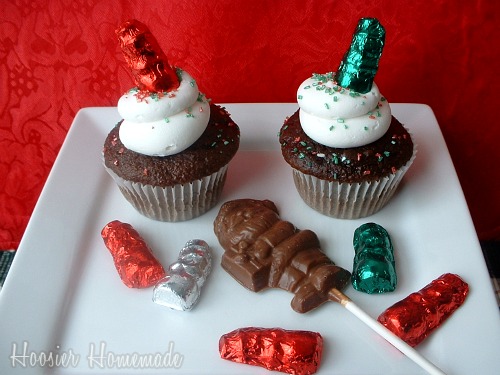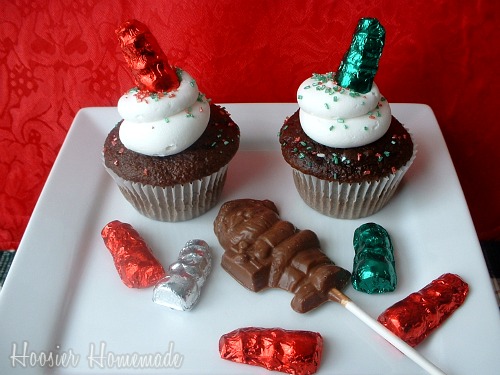 Last week I shared the Cookie Dough Truffles I made with Vermont Nut Free Chocolates. Here are some more of the chocolates I received. Fun foil wrapped Snowmen and a chocolate Santa Pop. These are all part of the Holiday Selection. Their prices start at $1.20 and go up to $65.95 – so there is something for every budget. And let me tell you…they are delicious!! I ate the whole bag of the milk chocolate Santas.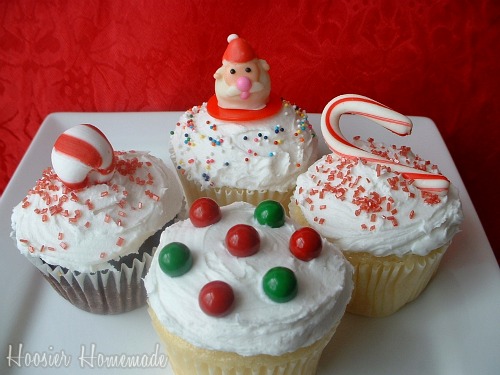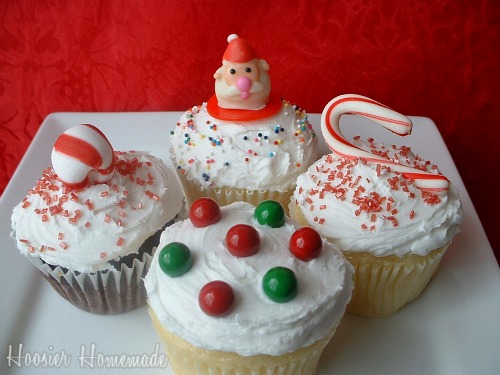 And these I wanted to show how you could decorate if you didn't have a decorator bag or tip to use. Simply frost the cupcakes with Buttercream and add sprinkles and candy. The Santa is a ring pop that I bought in a box with several others at the Dollar Tree. The cupcake in front has Sixlets in red and green. And the other two have a small candy cane and peppermint ball.
Most of the cupcakes I share are quick, easy and definitely kid friendly. Here is a round-up of all the Christmas Cupcakes from this year…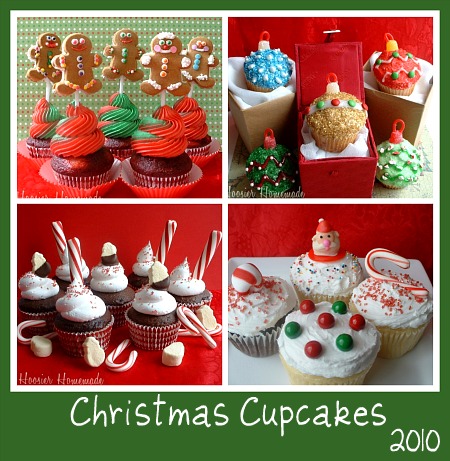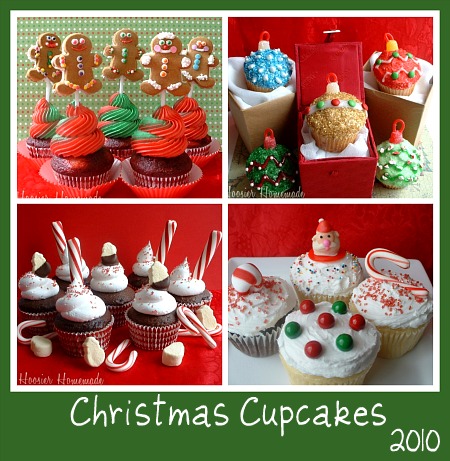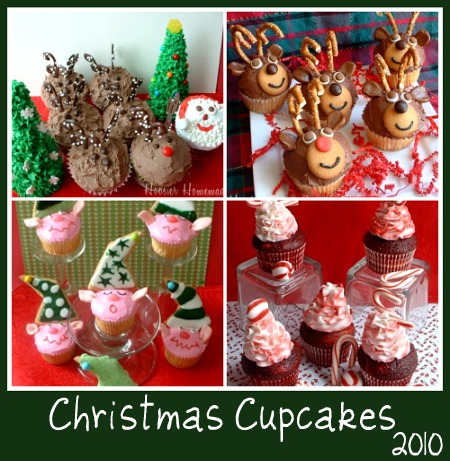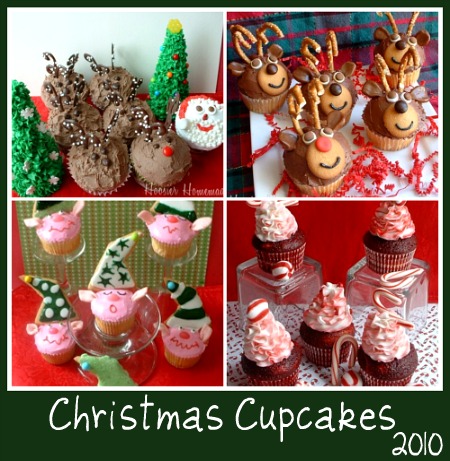 And these were featured in the Cupcake Chronicles Newsletter. If you are not a subscriber, learn all about it and sign up!
Santa and his Reindeer
Reindeer Cupcakes
Elf Cupcakes
Candy Cane Cupcakes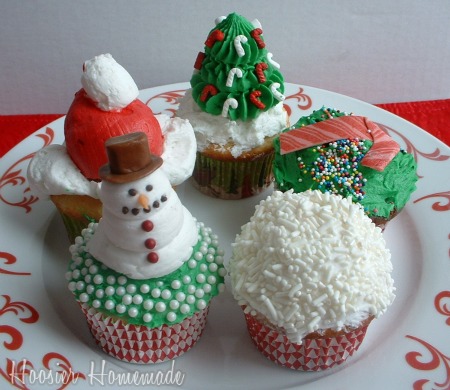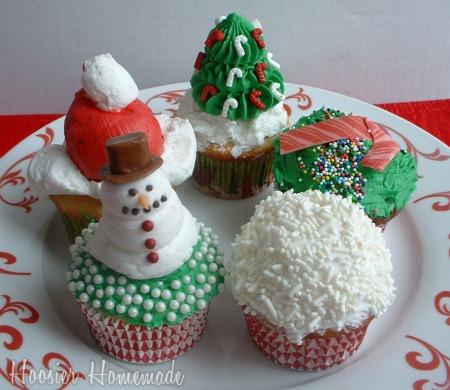 We also hosted a fun Cupcake Decorating Party and created these Christmas Cupcakes!
Are you decorating Cupcakes for Christmas? Please share your Christmas or other creations in the linky below. You can find the Cupcake Tuesday button here.
Merry Christmas!