Welcome to Cupcake Tuesday!   If you are new here, grab a cup of tea or a glass of milk and enjoy a cupcake!
Seems like forever since I posted a regular Cupcake Tuesday. The Holiday Cupcake Challenge was such fun though.
I will be announcing all the winners as soon as the voting has ended, you can vote for your overall favorite now.
You know how the holidays can get kinda crazy and super busy? Well, these Gingerbread Pop Cupcakes are perfect, because they are super easy and definitely kid friendly. I think they would be super fun to create with your kiddos at home or even at a school party.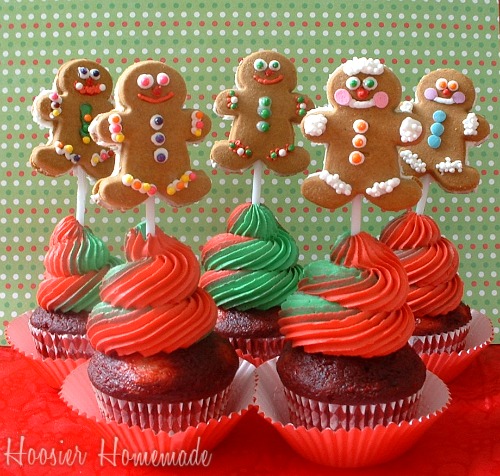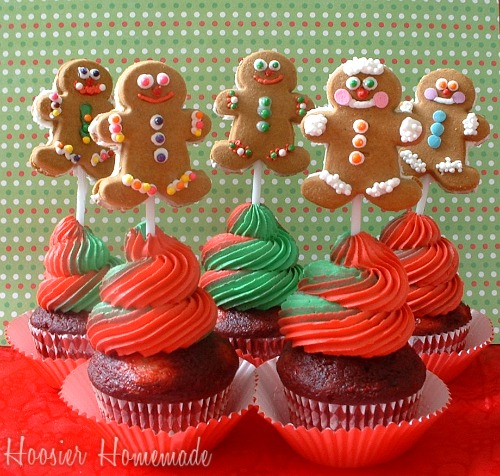 You will have to forgive me, I didn't bake Gingerbread Cupcakes, mostly because my family won't eat them. But I did want to share the recipe with you in case your family will enjoy them.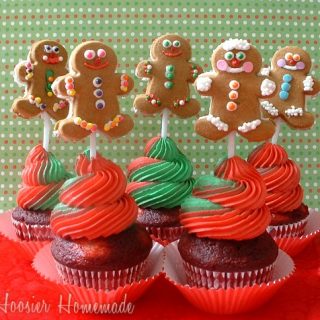 Gingerbread Cupcake Recipe
These Gingerbread Cupcakes from HoosierHomemade.com are sure to spice up your Christmas party!
Ingredients
1 1/2 c. Flour
2 T. Ground Ginger
2 t. Cinnamon
1/4 t. Nutmeg
1/4 t. Ground Cloves
1 1/2 c. Butter, unsalted, room temperature
1 1/2 c. Sugar
3 T. Molasses
4 Eggs, room temperature
1 t. Vanilla
Instructions
Sift together dry ingredients.
Cream butter and sugar until fluffy.
Add molasses until well combined.
Add eggs, one at a time. beating until each is incorporated.
Beat in vanilla.
Gradually add flour mixture, beat just until combined.
Bake at 350 degrees for 25 minutes or until a toothpick comes out clean.
I frosted the cupcakes by combining red and green Buttercream in the same bag and using my new French Tip…so excited to get it finally!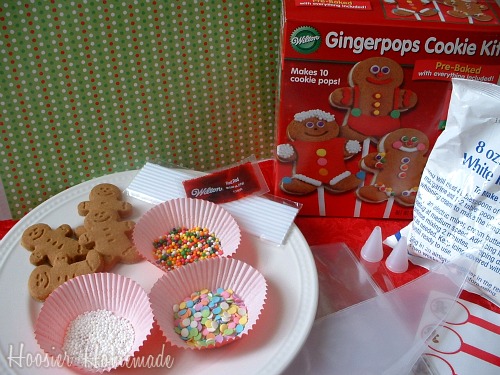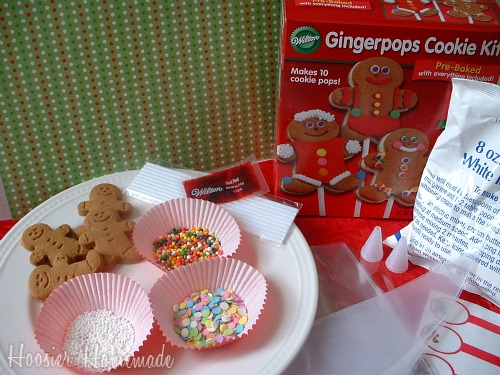 I received a box of goodies from Wilton a couple weeks ago, and in the box was this Gingerpops Cookie Kit. And of course, I just had to turn them into cupcakes.
The kit comes with everything you see here; cookies, sprinkles, bags, tips, lollipop sticks, frosting, coloring and even bags with stickers, to put the cookie pops in if you want to give them as gifts.
First I frosted the bottom of the cookie, then placed a lollipop stick in the frosting and topped it with another cookie. And then just decorate the cookies, be creative and have fun!
Do you have a favorite Christmas activity that you do with your family? Maybe string popcorn for a garland or make some treats to give to the teachers?
Looking for more Christmas Cupcakes? I have lots…
Now it's time to share your cupcakes with us! Please add your link and I'd love a link back too! AND, don't forget to vote for the Holiday Cupcake Challenge entries!