Host a Cupcake Decorating Party: Cupcake Tuesday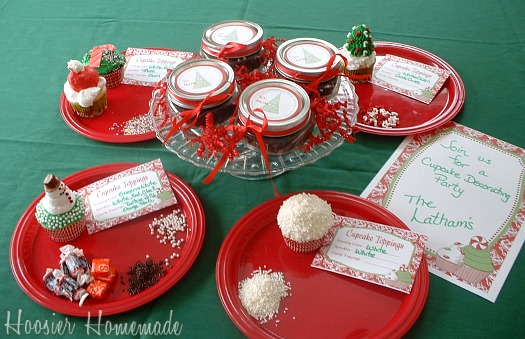 Welcome to Cupcake Tuesday!   If you are new here, grab a cup of tea or a glass of milk and enjoy a cupcake!
Do you love to host parties? You have heard of Cookie Decorating Parties…how about a Cupcake Decorating Party?
If you are a Cupcake Chronicles Newsletter subscriber, you are familiar with The Paper Cupcake and Charlotte's adorable printables. Well, she has done it again! I asked her to create some printables for a Cupcake Decorating Party, and I think they are just the cutest ever!!
Charlotte is offering the invitation and cupcake station cards in her Etsy shop. They are VERY reasonable and I would LOVE if you would get them from her. She has ALSO created the Cupcakes in a Jar label for the Cupcake Chronicles Newsletter, so if you are subscriber, look for those this Friday, if you aren't…SIGN up and you will receive them and all the other printables that she has created for us!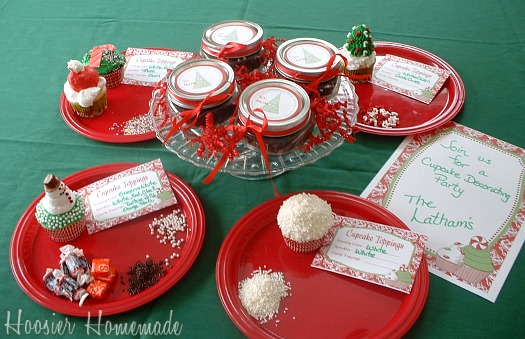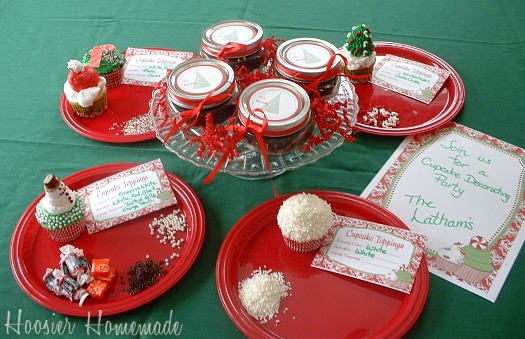 The printables have the cutest cupcakes on them and a colorful red border. You can print out the blank invitation then fill it in with your information by hand, or type the information and print it on the invitation.
Cupcake Stations: Each card has a place to write the frosting color, sprinkles and candy toppings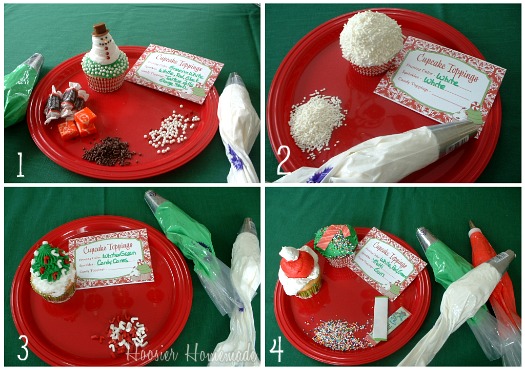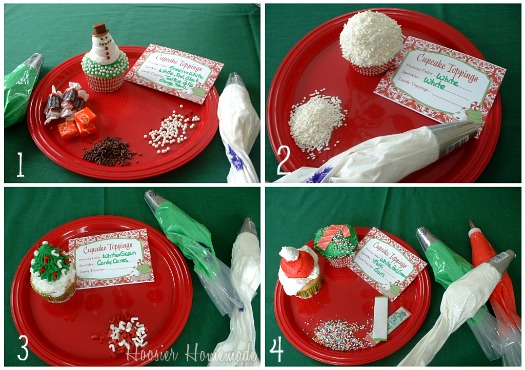 Snowman Cupcake ~ Nick my 17 year old created this cupcake! Cover cupcake with green frosting, with a decorator bag fitted with a Giant Round Tip and filled with white frosting, pipe on the snowman. For the eyes and mouth use chocolate sprinkles, the nose is made from orange starburst (soften in microwave for 8-10 seconds) and the buttons are red candy sprinkles. His hat is made with Tootsie Rolls (soften in microwave for 8-10 seconds). Snow is made with Pearlized Sprinkles.
SnowBall Cupcake ~ Nick's girlfriend, Brittney created these cute snowballs! Cover cupcake with white frosting, mounding it up some then cover with white jimmies.
Christmas Tree Cupcake ~ Doug created this great Christmas Tree! Cover cupcake with white frosting, making it texturized to look like snow. Using a decorator bag fitted with a Giant French Tip and green frosting, pipe on the tree. Then apply Candy Cane Sprinkles.
Santa Hat and Candy Cane Cupcakes ~ Casey my 13 year old created these! The best thing about letting your kids create, is to see their imagination, it really doesn't have to be perfect! For the Santa Hat, use red and white frosting and pipe it on with a large round tip. And for the Candy Cane Cupcake, cover the cupcake with green frosting, and using a piece of Fruit Stripe Gum, form a candy cane, add it to the top and add some multi-colored sprinkles.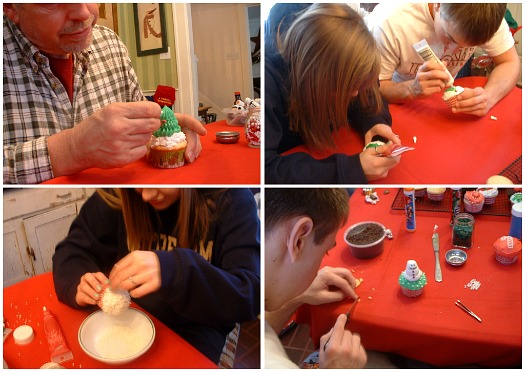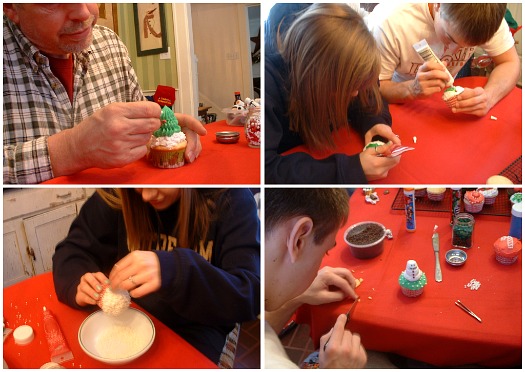 We all had a great time creating cupcakes. I'm thinking maybe I should let them make the cupcakes for Cupcake Tuesday once in awhile…what do you think?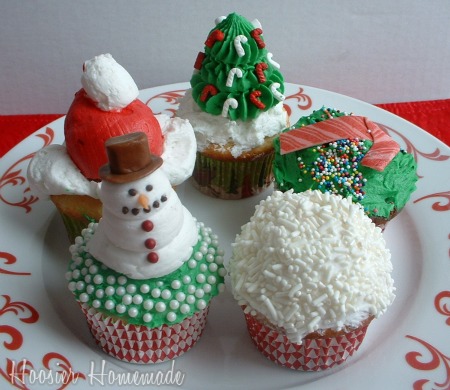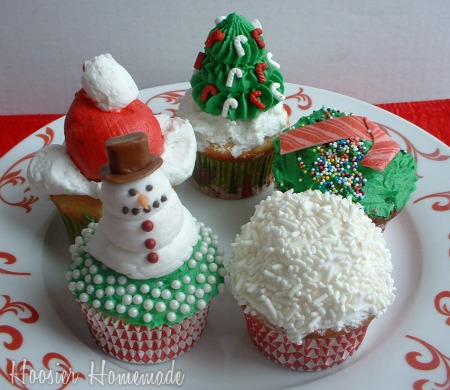 Just like throwing a Birthday Party, I wanted some little take home presents for the Cupcake Decorating Party. And what better gift than a cupcake…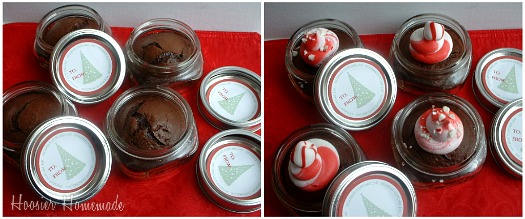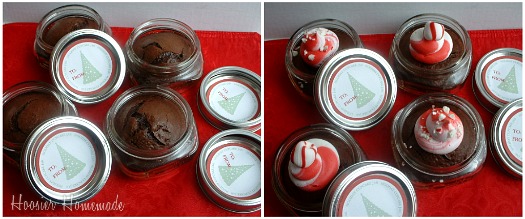 I first saw this idea on Best Bites and totally fell in love with it. I created my Cupcakes in a Jar a little different than Sara.
Doug found these little mason jars at Walmart. They are Ball, half pint and came with the lids too, four in a box for $4…not bad!
I mixed up a cake mix adding the extra ingredients to make them taste like they are from scratch, after washing out the jars, I sprayed them lightly on the inside with cooking spray and added about 1/3 cup batter to each jar.
Bake them at 350 degrees for about 10 minutes, testing them with a toothpick.
After they cooled, I added a large dollop of red and white frosting in a decorator bag fitted with the Giant Round Tip. On some I added a peppermint ball and others I added crushed candy canes.
On top, I added the label that The Paper Cupcake made and tied it with a ribbon. AND remember, if you are subscriber you will receive these in your newsletter this week. I think you could also print them and use them as Christmas Gift Tags.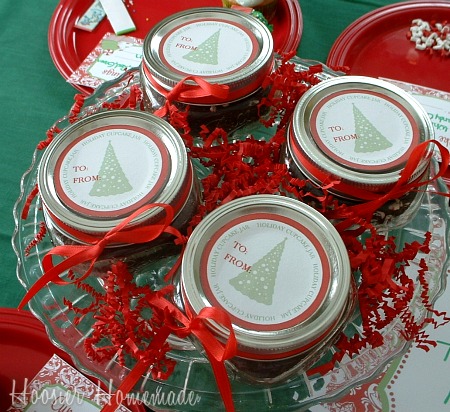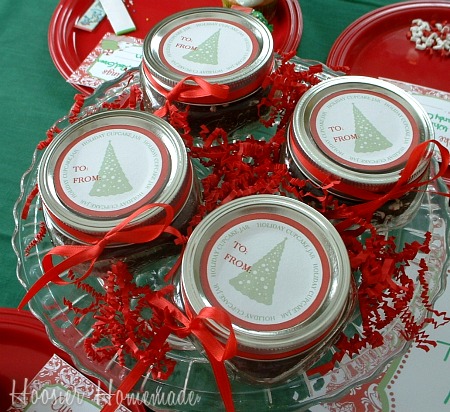 These Cupcakes in a Jar would make a really cute gift for a neighbor, the post man, UPS man or even a good friend. You could add some candy, maybe a oven mitt with cupcakes on it or a cute apron, put it all in a basket and make an adorable present for the Cupcake Lover in your life!
I'm including the Cupcakes in a Jar in my Homemade for the Holidays series, if you missed any, take a minute to grab an idea or two!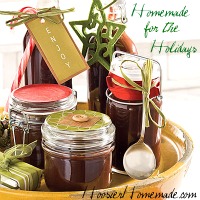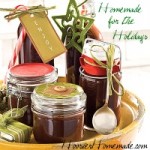 I'm sure you all remember the Holiday Cupcake Challenge…well, we have a winner, receiving the most votes from readers…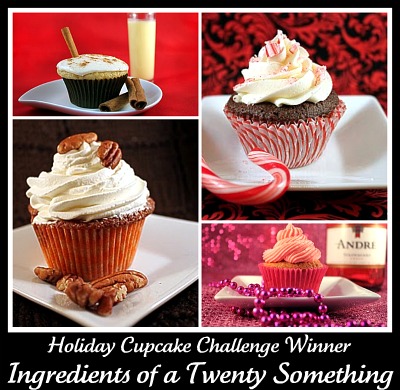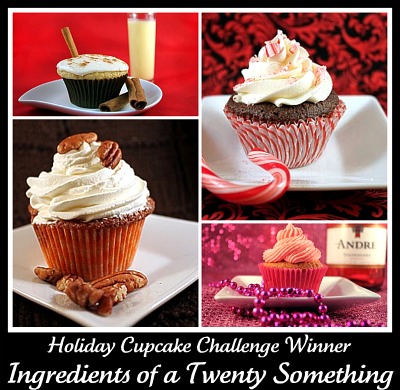 Brenna from Ingredients of a Twenty Something!! WooHoo!! Congrats! Along with winning week #1, #2 and #4, she was the overall winner and will be receiving a great prize package from Unilever and Suave! After all that baking, she deserves some time to pamper herself!
Brenna will receive some Suave Body Lotion and Wash in Lavender Vanilla, Mango and Wild Cherry Blossom, a bottle of Cocoa Butter and some Vitamin E Lotion, among others.
A VERY special Thank you to Unilver, Suave and Nicole from Weber-Shandwick!!
You can see a re-cap of all the great entries, including Week #3 Winner…Adventures in Saving.
Now it's time for you to share your cupcake creations with everyone! Please add your link and I'd love a link back too!