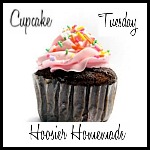 Welcome to Cupcake Tuesday!   If you are new here, grab a cup of tea or a glass of milk and enjoy a cupcake!
The winners from the giveaways have been chosen and emailed. Please check your email to see if you won, you will have 48 hrs to respond and collect your prize.
Did you see my new feature? Cupcake Corner! I can tell already, this is going to be such fun! Each week I will highlight a few new and unusual cupcakes and some cupcake news from Blogland. I also have a new Cupcake Daily Paper, if you are on Twitter, let me know, I'll add you!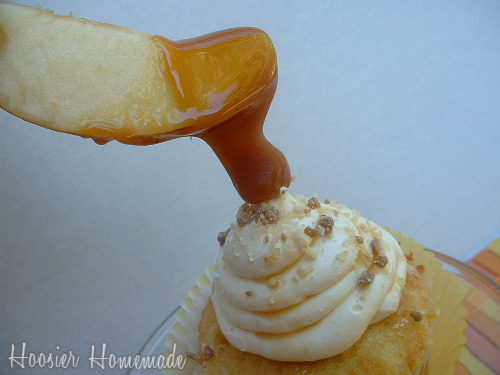 There are a few flavors that just scream Fall to me, and Caramel Apple is one! Last week, I made Caramel Apple S'Mores, oh my, you definitely need to add those to your list!
Today I'm sharing Caramel Apple Cupcakes. They are a yellow cake, with apple pie filling, caramel buttercream, drizzled with caramel and sprinkled with caramel bits.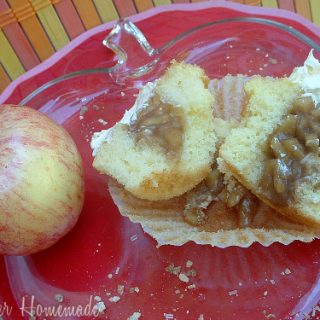 Caramel Apple Cupcakes
Start with yellow cake, apple pie filling, and caramel and end up with Caramel Apple Cupcakes from HoosierHomemade.com.
Ingredients
Caramel Apple Cupcake Recipe
Yellow cupcakes, baked and cooled
Apple Pie Filling, recipe below
Caramel Buttercream, recipe below
Caramel drizzle
Caramel bits, I used Pampered Chef
Apple Pie Filling Recipe
2-3 apples, peeled and sliced (depending on how many cupcakes you are filling)
1/4 cup butter
1/4 – 1/2 cup brown sugar
1-2 teaspoons cinnamon or apple pie spice
2-4 tablespoons water
1-2 teaspoons corn starch (to thicken mixture, if needed)
Instructions
Directions
Combine all ingredients, except cornstarch in a saucepan.
Heat over medium heat, bring to boil then reduce heat and simmer until mixture is thick.
Add cornstarch (if needed to thicken) and whisk well.
Cool.
Caramel Buttercream Recipe
All of the recipes I found for Caramel Buttercream, used cooked caramel. Which is great, but I happen to be in a hurry the day I made these, so I just made my usual Buttercream Frosting and added some Caramel Ice Cream Topping for flavor. It was very good.
I also made these before I made the Caramel Sauce that I used on the Caramel Apple S'Mores . You could also use the same recipe and just add it to Buttercream for the flavor.
Assemble
I use an apple corer, most of the time, when I fill cupcakes .
After cupcakes are filled, frost with Caramel Buttercream (or regular Buttercream if you want) drizzle with caramel and sprinkle with Caramel Bits .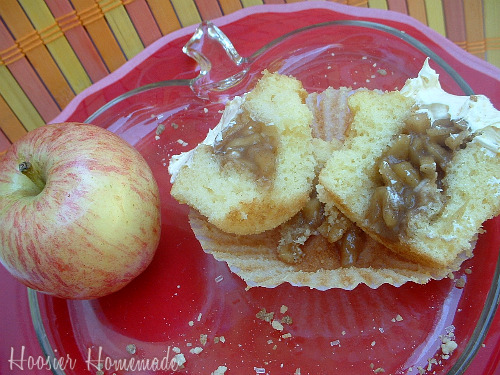 Be sure to head on over and link up to Delicious Dishes (Tues a.m.) on It's A Blog Party, my other blog, where I host a different linky party everyday! I'm starting a new, yummy giveaway too!
Now, it's time to share your creations! Please be sure to link back to this post so your readers can enjoy all the entries and visit one or all of the participants.