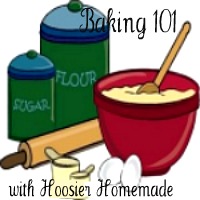 Welcome to another edition of Baking 101 series. We have covered some tools, chocolate and also how to measure.
Since I have been sharing some yummy Pie inspired Cupcakes, I thought it would be good to show you How to make Meringue.
Cream pies topped with Meringue are my absolute favorite…especially chocolate. I usually just use a box of pudding, but I have found that the cooked pudding is better than instant for a pie.
Meringue is really pretty easy to make, but it does take some planning ahead and a little patience.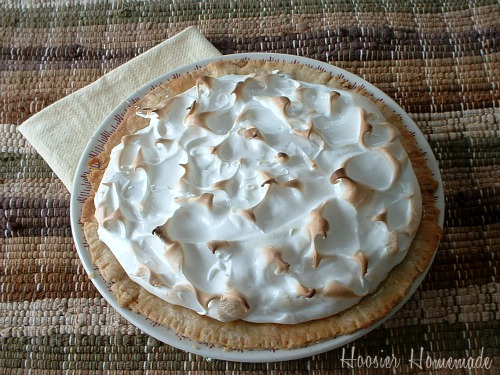 I made a video for you, showing you how to seperate eggs,how to make meringue and add it to a pie.
Easy enough huh? After you top your pie with the Meringue, put it in the oven at 400 degrees for about 10 minutes. You will need to watch it closely because it can get too brown really fast.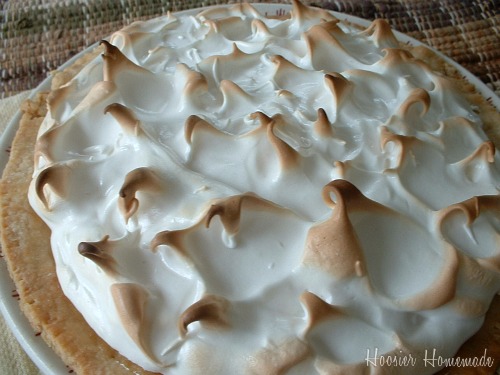 Cupcake Chronicles Newsletter this week will feature Lemon Meringue Cupcakes…a perfect Spring time dessert. I will share the recipe in the newsletter. And because I love to tempt you all…here is a sneak peek at the Lemon Meringue Cupcakes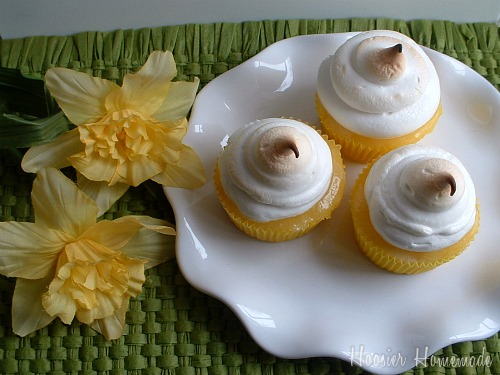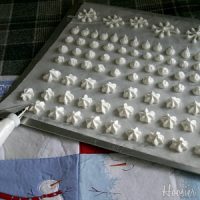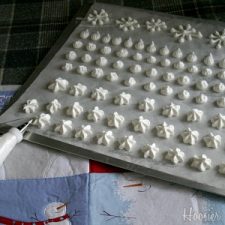 How to make Meringue
Prep Time: 10 minutes

Total Time: 10 minutes

Meringue is a delicious topping for pies, cakes, cupcakes or even cookies. Recipe and how to video from HoosierHomemade.com
Ingredients
4 egg whites, room temperature {important}
1 teaspoon vanilla
1/2 teaspoon cream of tartar
1/2 cup sugar
Instructions
Add egg whites to large bowl
Add vanilla and cream of tartar
Beat at medium speed until frothy and bubbly
Gradually add sugar and beat on high speed until very stiff peaks form
Add to a pie, cake, cupcakes or even cookies
Nutrition Information:

Amount Per Serving: Calories: 0 Total Fat: 0g
Linking to…Ingredient Spotlight