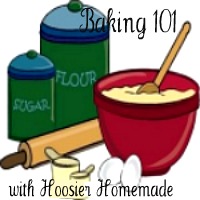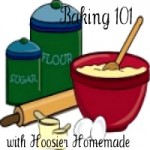 Welcome to our first week of the Baking 101 series. I plan to share with you the tools, tips and tricks that I use, along with recipes, measuring, ingredients and all of the other great things about baking.
I need to tell you first…I'm NOT a professional…I have never been to school, nor even taken any classes on baking. I'm just a Mom and Wife that loves to bake.
Some of the ideas I share may not be of interest to you, but I'm sure there will be something along the way that will help.
We are starting the series, from the beginning. What do you need before you start baking?? Tools!
I use lots of different pans, measuring cups, spoons, spatulas, etc.
I have many more baking tools, but these are the ones I use most of the time. My favorite? My mixer…I couldn't live without it.
What is your favorite Baking Tool?
Each week I will be sharing some of my favorites. These are just a few of my favorite tools. They are affiliate links. I would love for you to look at them, but most importantly, I just want to share with you my favorites.


Feel free to leave a comment with your baking questions. I have a long list of things to share with you, and will try to answer your questions.
I'm linking to…Works for me Wednesday