All of the delicious flavors of Apple Pie without all the hassle.  These Apple Crumble Pie Cupcakes are packed with Fall flavors – but are super easy to make! Perfect for Thanksgiving Dessert, Fall Parties, or even a special weeknight dessert.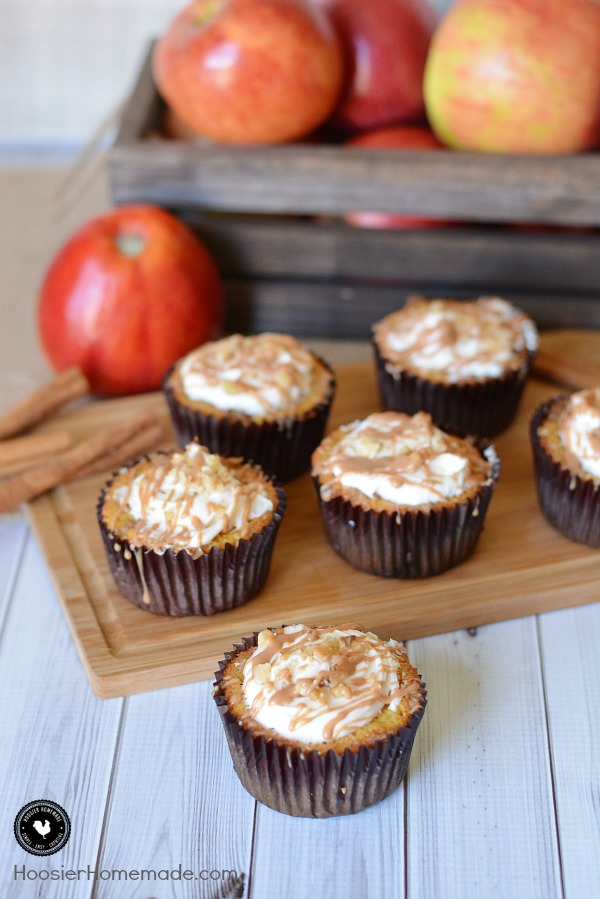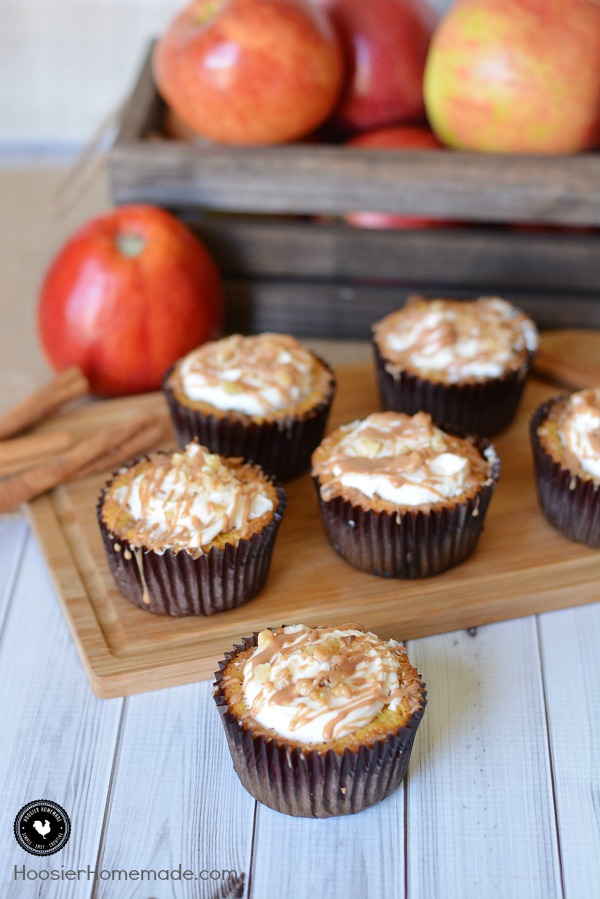 Oh cupcakes. Cupcakes are so wonderful because you get the goodness of an entire cake wrapped into a few bites.
That means, less guilt right?? Right.
And with all the delicious Fall Baking happening right now, you simple can't go wrong!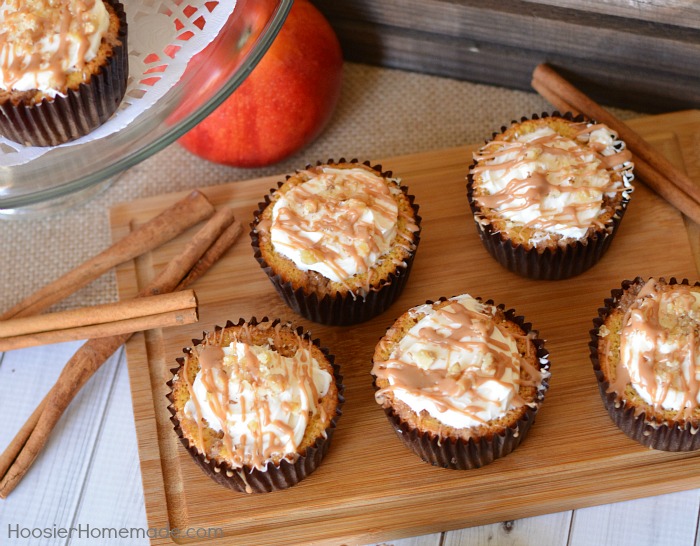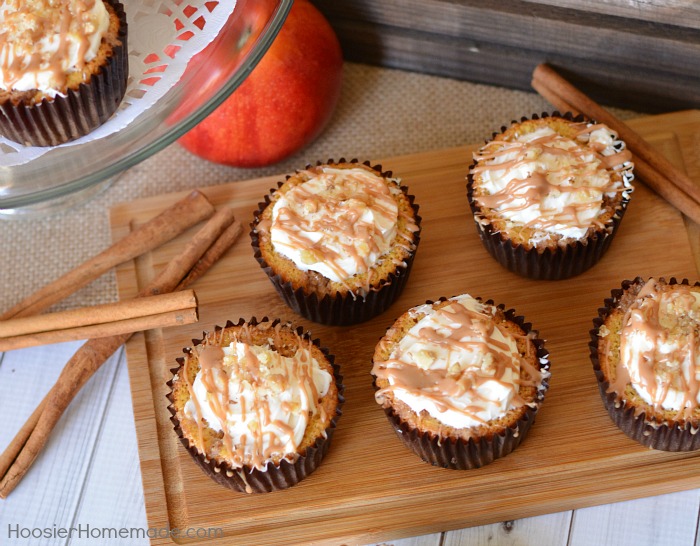 One of the things we love to do with cupcakes is make them "semi-homemade". Instead of having to measure all of the dry ingredients, one of our favorite things to do is use a Pillsbury cake mix and frosting combination and add extra ingredients to make it unique.
It's the perfect time of year for these Apple Pie Crumble Cupcakes. My mouth started watering just writing that! This is like a mini apple crumb pie, made extra special with cream cheese and caramel frosting. Let's get started making these apple cupcakes…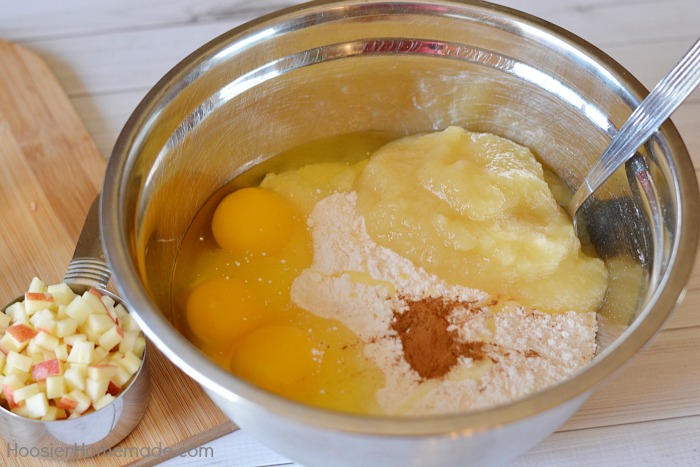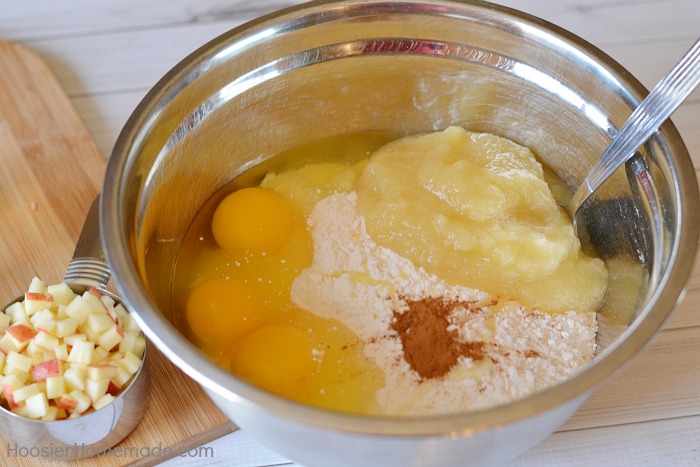 We started with a Pillsbury Traditional Yellow cake mix and then the typical ingredients for a cake mix – eggs and water, but instead of oil, we added applesauce. And it wouldn't be Fall without spices, so we added cinnamon, crushed cloves and nutmeg.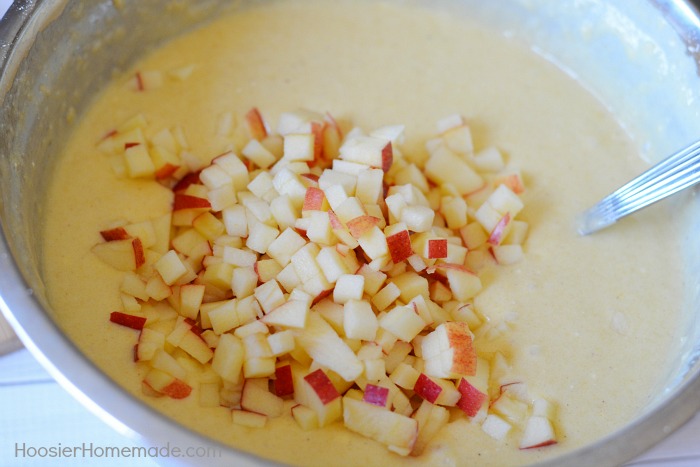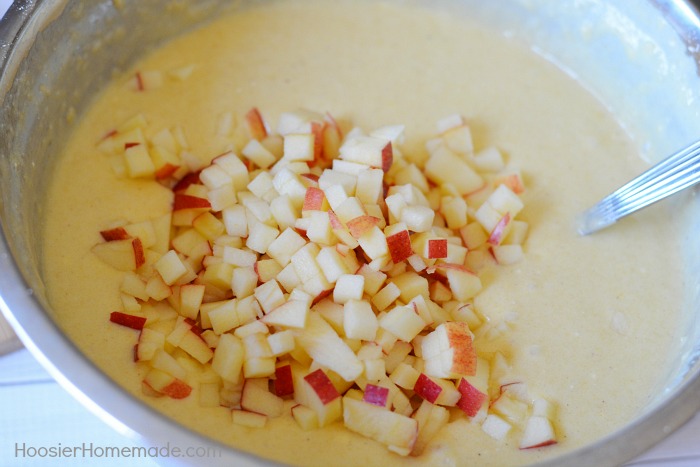 Then it's time to fold fresh apples directly into the batter.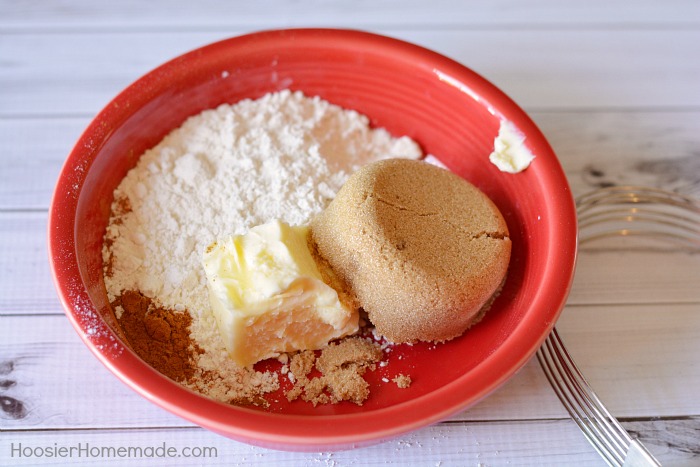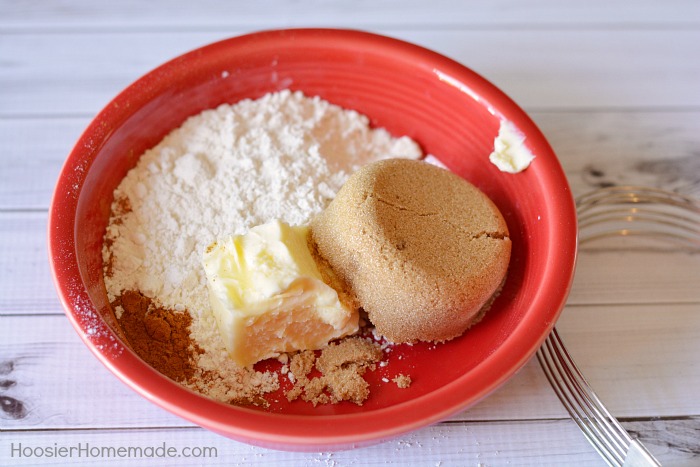 Next you will need to prepare the crumble topping, it's a simple combination of flour, brown sugar, cinnamon and softened butter.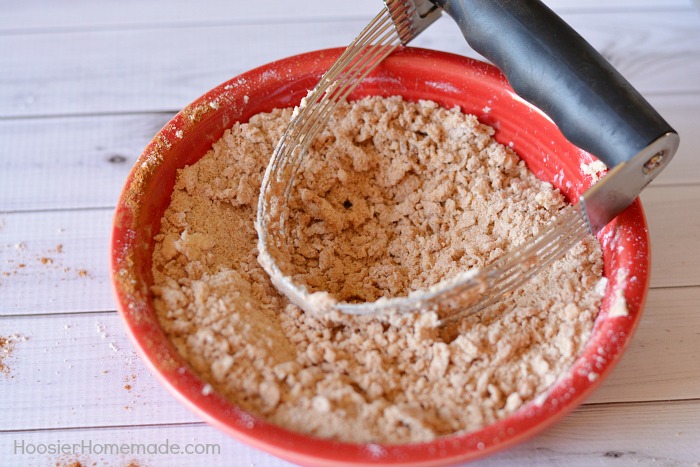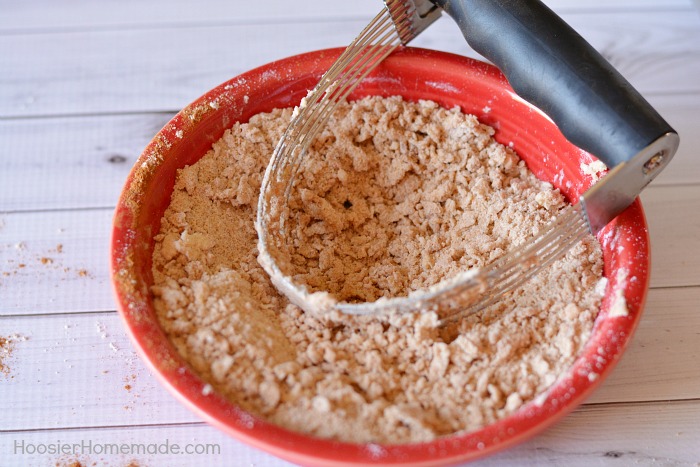 Using a pastry blender, combine the crumble topping.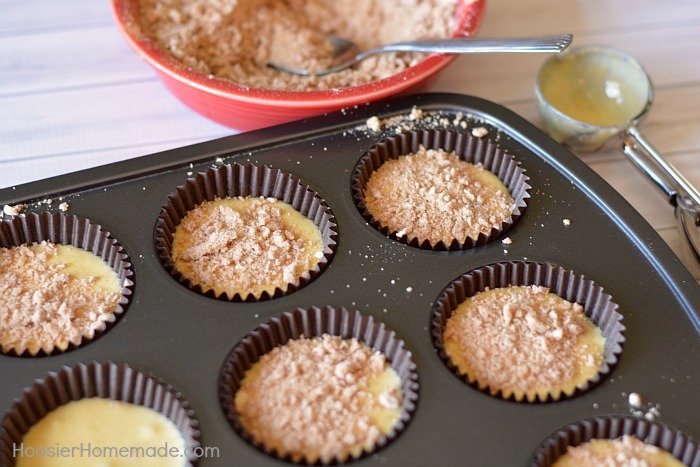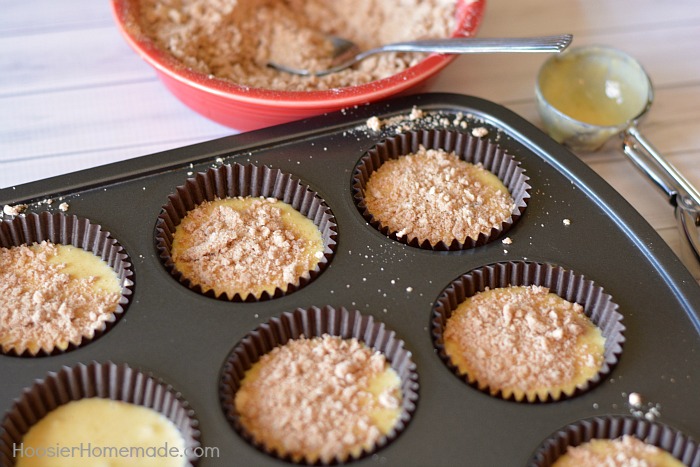 Then it's time to bake. Using a cookie dough scoop, divide the batter into cupcake liners and spoon crumb topping on top of the batter.
Into the oven they go to be baked. Because of the addition of applesauce and fresh apples, these cupcakes don't rise a lot – but don't worry, they are still delicious.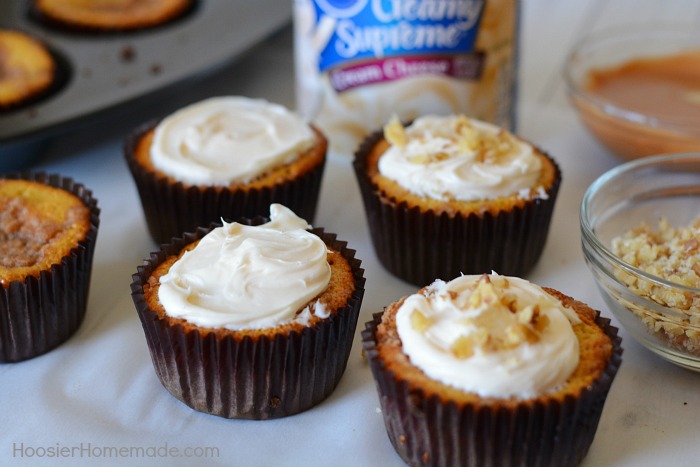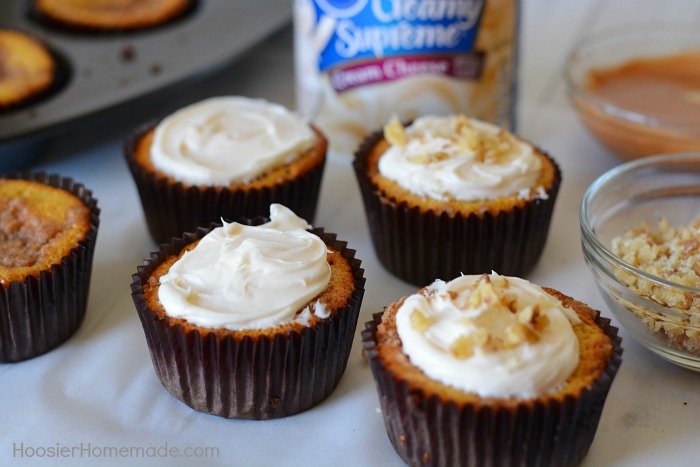 After the cupcakes are cooled, it's time to add the luscious frosting. We decided to add two different types of Pillsbury frosting to the top – Creamy Supreme Cream Cheese Frosting and Creamy Supreme Caramel, the combination of both frosting and the moist cupcake, puts this Apple Crumble Pie Cupcake in a league of it's own.
A good sprinkle of crushed walnuts are added to the top of the cream cheese frosting.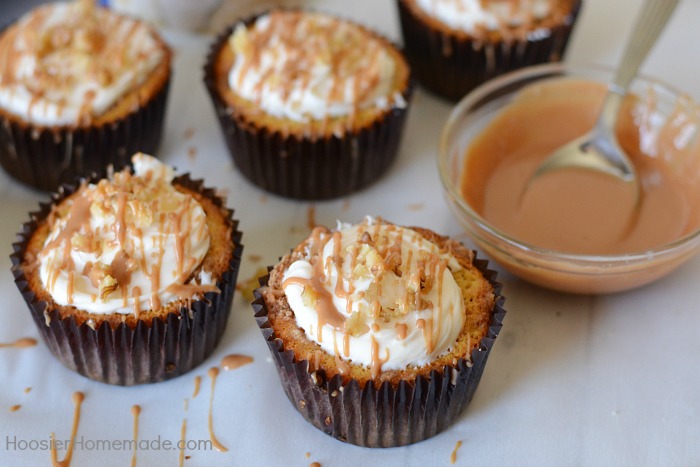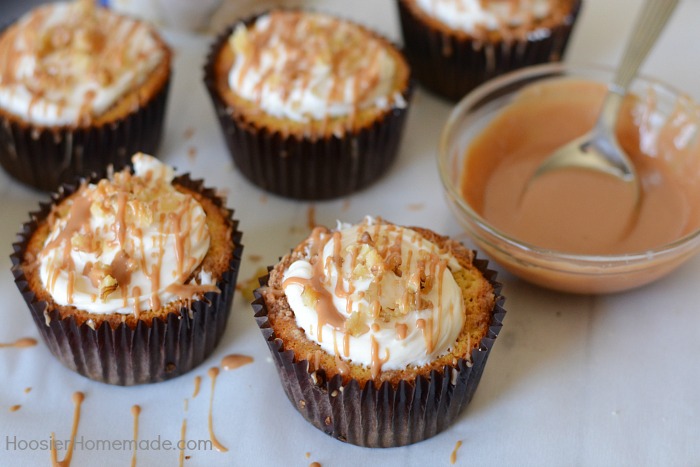 I'm telling you with the spices and apples mixed into the cupcake itself, and cream cheese frosting on top, it would be good enough. But do we leave good enough alone? No. No we didn't.
We warmed up the Pillsbury Creamy Supreme Caramel Frosting in the microwave for a few seconds and drizzled it all over the cupcakes.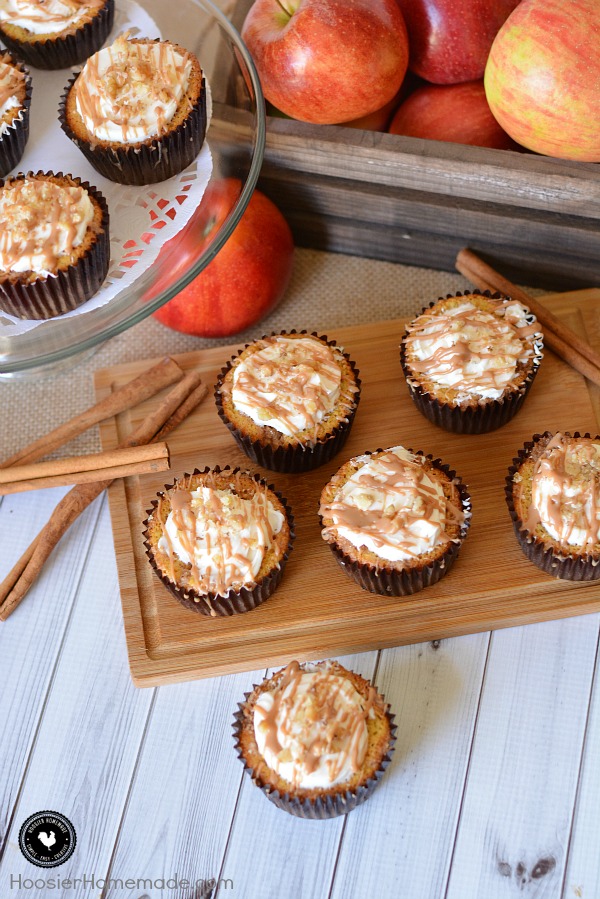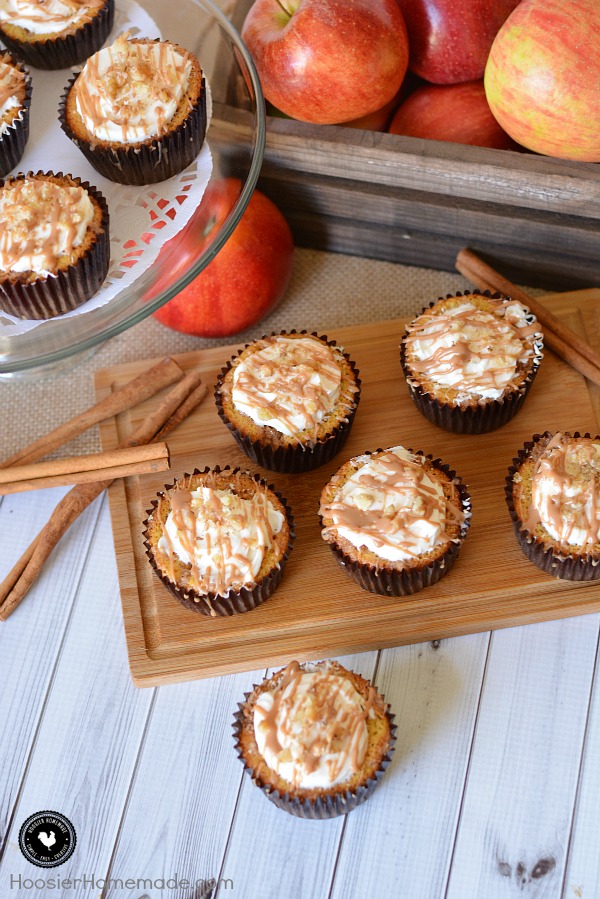 I highly recommend this cupcake for an everyday treat, however it is too good to just keep to yourselves. These Apple Crumble Pie Cupcakes would make the perfect Thanksgiving Dessert or Fall Party like a Bonfire maybe, or even for a birthday celebration.
Perhaps the Pillsbury Doughboy will enjoy an Apple Crumble Pie Cupcakes for his 50th Birthday.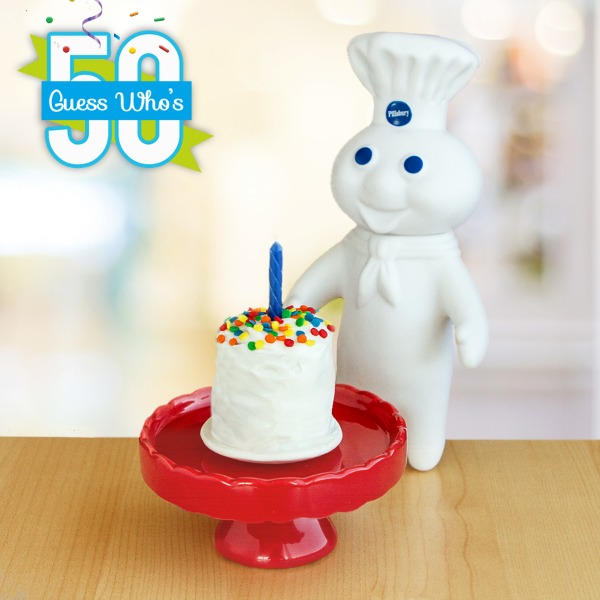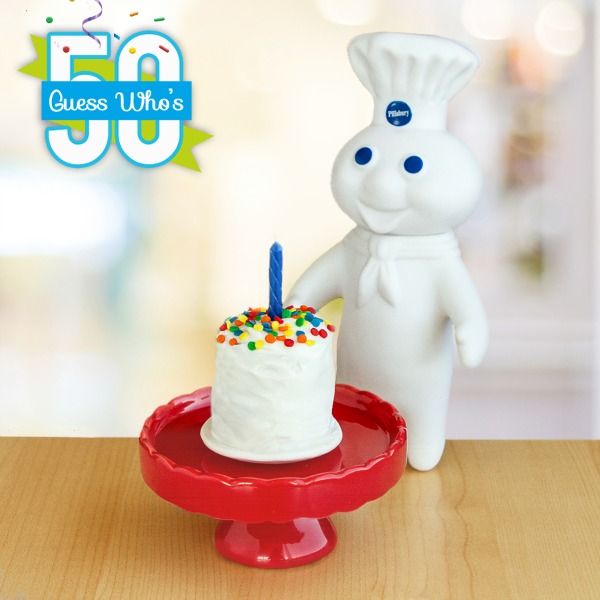 For more delicious recipes follow along at Pillsbury Baking website, Pinterest, Instgram and Facebook.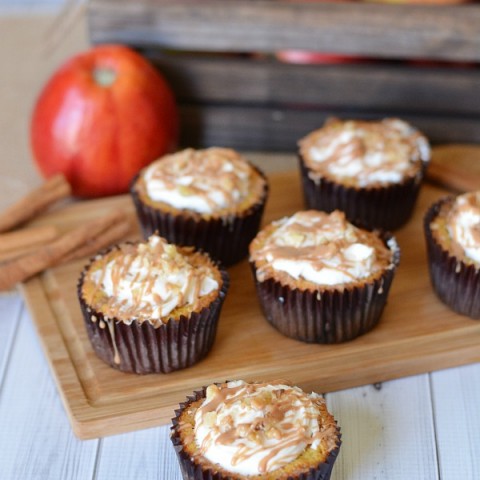 Apple Crumble Pie Cupcakes
All of the delicious flavors of Apple Crumble Pie without all the hassle. These Apple Crumble Pie Cupcakes are packed with Fall flavors - but are super easy to make!
Ingredients
Cupcakes
1 box (15.25 oz) Pillsbury Traditional Yellow Cake Mix
3 eggs, room temperature
3/4 cup unsweetened apple sauce
1 cup water
1 cup diced apples
1/2 tsp cinnamon
1/8 tsp crushed cloves
1/8 tsp nutmeg
Crumble Topping
1/2 cup flour
1/3 cup brown sugar
1/2 tsp cinnamon
3 tbsp softened butter
Frosting
Pillsbury Creamy Supreme Cream Cheese
Pillsbury Creamy Supreme Caramel
Crushed walnuts, optional
Instructions
Cupcakes
Preheat oven to 350 degrees and add liners to muffin pans
In large bowl, combine cake Mix, water, eggs, apple sauce, cinnamon, cloves, nutmeg until smooth and well blended
Fold in diced apples
Divide batter into liners using a cookie dough scoop
Crumble Topping
Add all ingredients in medium bowl and combine with pastry blender or fork
Spoon on top of cupcake batter
Bake at 350 degrees for 12-15 minutes or until a toothpick inserted in the center comes out clean.
Note - these cupcakes are very dense from the applesauce and fresh apples, they do not rise as much as regular cupcakes
Frosting
After cupcakes are cooled, add a dollop of cream cheese frosting and a sprinkles of walnuts
Spoon out some of the caramel frosting from the can into a microwave safe bowl and heat for a few seconds. Drizzle over cream cheese frosting and nuts.
Refrigerator until serving and leftovers