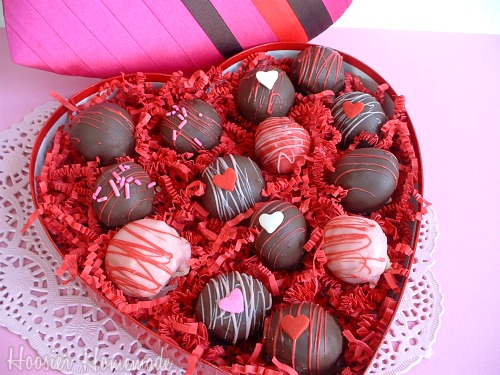 I have been so busy lately, I haven't had a chance to add to my Baking 101 series, I apologize. I decided that since it was Chocolate Week here, it would be fun to share a short video with you about what else…CHOCOLATE!
And of course, Cookie Dough Truffles too! I first made these little gems at Christmas time this year, and again to take to the New Years Eve Party we attended. Each time I make them, they are gobbled up quickly!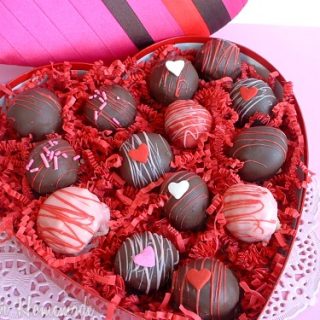 Cookie Dough Truffles
Homemade Cookie Dough Truffles are a fun gift to make and give... recipe at HoosierHomemade.com.
Ingredients
1/2 cup butter, softened
3/4 cup brown sugar, packed
1 teaspoon vanilla
2 cups flour, all purpose
1 can (14 oz) sweetened condensed milk
1/2 cup mini chocolate chips (note below)
1/2 cup walnuts, chopped (optional)
Chocolate Almond Bark or melting chocolate
Instructions
In a large bowl, cream butter and brown sugar until fluffy, beat in vanilla.
Gradually add the flour, alternating with the milk.
Stir in chocolate chips and nuts.
Using a cookie dough scoop, drop dough onto waxed paper and place in fridge for about 1 hour.
Remove from fridge and roll into balls.
Place back into fridge for about 1 hour.
Melt Chocolate, dip balls, coating evenly.
Drizzle with melted Pink or Red Chocolate and add sprinkles if desired.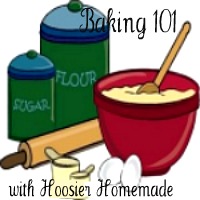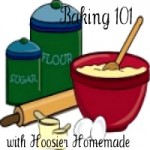 Are you baking for Valentine's Day? Share with us what you are planning!
I'm linking to…Sweet Tooth Friday, Ingredient Spotlight