Many years ago, my husband's Aunt gave me her Angel Food Cake recipe. I have baked it many times, and we always enjoy it.
This particular recipe takes a little work, but is definitely well worth it. You can easily buy a box mix, that are actually very good too. As part of our Valentine Dinner, I served this cake with whipping cream and strawberry sauce.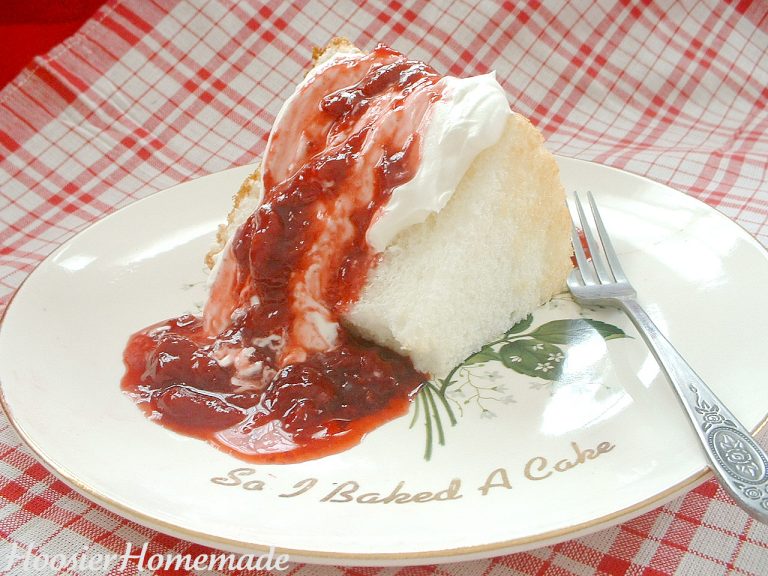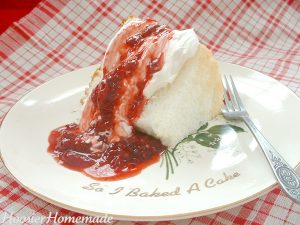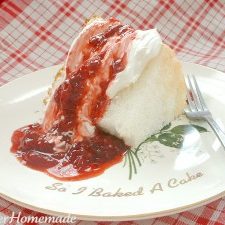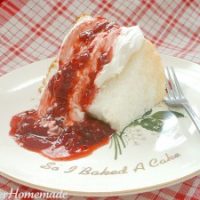 Angel Food Cake
Delicious angel food cake with homemade whipping cream and strawberry sauce from HoosierHomemade.com.
Ingredients
Angel Food Cake
1 1/2 cups Egg Whites, room temperature
1 1/4 teaspoon Cream of Tartar
1/4 teaspoon Salt
1 1/3 cups Sugar
1 1/4 cups Softasilk Flour
1/2 cup Sugar
1 teaspoon Vanilla
1/4 teaspoon Almond Extract
Strawberry Sauce
2 c. Strawberries (used frozen)
1/3 cup Sugar
2 tablespoons Water
1 1/2 teaspoon Cornstarch
1 teaspoon Lemon Juice
Whipping Cream
1 cup Heavy Whipping Cream
1 teaspoon Vanilla
1/2 cup Powdered Sugar
Instructions
Angel Food Cake
Mix egg whites, cream of tartar and salt until soft peaks form. Gradually add 1 1/3 cups sugar until stiff peaks form.
Sift Softasilk and sugar several times to make them light. Gently fold into egg white mixture.
Add vanilla and almond extract.
Pour into a greaseless tube pan or Angel Food cake pan, cut around pan 2 times and drop once about 14 inches from counter (this step removes air bubbles)
Move oven rack to lower position, bake at 325 degrees for 40 to 60 minutes or until golden brown. Cool upside down on a bottle.
Strawberry Sauce
Made this just like I did the Blueberry Sauce
Whipping Cream
Combine ingredients and beat until stiff peaks form.
Enjoy! Do you have a family recipe that has been passed down to you?