Although by the time you read this post, Valentine's Day will be almost or completely over, I still wanted to share some of our day filled with yummy heart shaped treats.
We began our day with the Love Buckets that I made for the boys, and a sweet present from my husband, some cupcake pjs.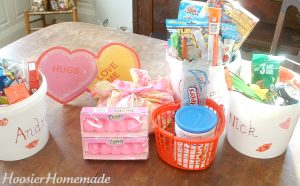 Then we had brunch, Heart shaped pancakes with real whipping cream and strawberry sauce, fried potatoes, scrambled eggs with cheese, bacon, heart shaped cinnamon rolls, drizzled with pink icing and mixed berry smoothies.
For the heart shaped pancakes, I used my favorite pancake mix and used a small measuring cup to pour the mixture onto the griddle, I simply poured 2 lines, making it look like a "V", then the batter just spread and it looked like a heart. I whipped heavy cream and cooked some frozen strawberries on the stovetop, using the same recipe I use to make blueberry sauce.
The potatoes, eggs and bacon are pretty easy. For the smoothies, we started with mixed frozen berries, a splash of orange juice and a container of yogurt.
For dinner, we had fun with a fondue type meal. We had cheese fondue with cauliflower, broccoli, lil' smokies, wedges of bread and pretzels. And with the yummy fruit dip, we had grapes, pineapples, mandarin oranges, kiwi and strawberries.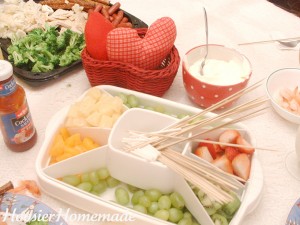 To finish the day, we had lots of yummy heart shaped dessert, brownies, cut-out sugar cookies, mini cupcakes (sharing those soon) and jello.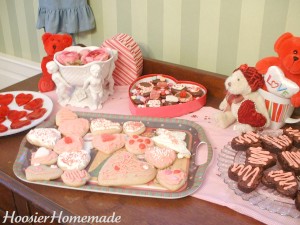 And now for our menu plan for this week…
Monday ~  Tuna Casserole and Farmhouse Biscuits
Tuesday ~  Homemade McGriddles and Smoothies
Wednesday ~  Chicken Stir-Fry and Rice
Thursday ~  Beans & Weenies, Mac & Cheese
Friday ~   Quesadillas, Chips and Salsa
Saturday ~  BBQ Meatballs and Oven Fries
Sunday ~  Chili and Cornbread Muffins
Do you love watching the Olympics? Head on over and see what we had for dinner during the Opening Ceremonies of the Olympics. You can also link up your Olympic post! And don't forget to stop back tomorrow for Cupcake Tuesday!
This post linked to: