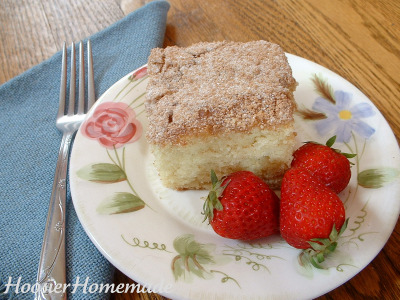 This Make Ahead Coffee Cake is perfect for those busy mornings when you are trying to get the family ready and out the door or even when you are hosting Brunch for friends or family. This recipe and tons more are from the Make-Ahead Meals for Busy Moms Cookbook, enter my giveaway to win your copy.
I enjoy cooking a large breakfast on the weekends, especially on Sunday. We usually eat a late morning brunch, and then skip lunch and have an early dinner. It makes my day a little easier.
Last weekend, after returning home from a minor league baseball game, I put this Coffee Cake together. It was really good, in fact, we snacked on it all day.
If you have been following along this week, you know that I shared a week of Make-Ahead Meals, the plan, the grocery list and the recipes. On Saturday evening I will post our Prep Day plan and then on Monday we will be cooking together, preparing a week's worth of meals for the frig and freezer.
I'm really looking forward to this. It's taken a little more time to prepare this week, but I know it will be so nice next week when I have all my meals prepared ahead of time. I hope you will join me!  I will keep you updated on Twitter too, so if you aren't following me, please jump over and click the follow button. I will use hashtag (#) Make-Ahead Meals.
So, I suppose you would like the recipe for this yummy Make Ahead Coffee Cake? Well, you are in luck
Make Ahead Coffee Cake Recipe
Delicious make ahead coffee cake Recipe from HoosierHomemade.com
Ingredients
Cake
1½ sticks unsalted butter, softened
3 eggs
1½ cups sour cream
1 tablespoon vanilla
2¼ cups flour
1¼ cups sugar
2 teaspoons baking powder
1 teaspoon baking soda
½ teaspoon salt
Streusel
⅓ cup brown sugar, packed
⅓ cup sugar
2 tablespoons flour
1 teaspoon cinnamon
⅔ cups walnuts, chopped (I didn't have any on hand, so I omitted these)
Instructions
Spray 13 x 9 pan with nonstick spray, set aside. In a large bowl, cream the butter.
Add the eggs, sour cream and vanilla.
In a medium bowl, combine dry ingredients.
Add to wet mixture, mixing on low until well blended, increase speed to medium and mix for 2 minutes.
Pour evenly into the prepared pan.
Cover with plastic wrap and refrigerate until ready to bake.
Combine streusel ingredients, cover tightly and store at room temperature.
In the morning, remove pan from refrigerator 30 minutes before baking.
Preheat oven to 350 degrees. Remove plastic wrap, evenly sprinkle with streusel. Bake for about 45 minutes or until a toothpick inserted in the center comes out clean. Cool.
Note: Because it was 10 p.m. when I put this together, I didn't make the streusel until the morning, after the cake was removed from refrigerator. I also didn't add the nuts, it was delicious without, but I think it would taste really good with also. I served it with breakfast tacos and smoothies.
I also think it would be good to either swirl the streusel into the cake before baking or layer it. You would need to hold back part of the batter in a container in the frig, then when you are ready to bake it, pull it out, sprinkle with part of the streusel, pour remaining batter, then sprinkle remaining streusel.
Update! I baked this again for Mother's Day and layered the streusel
Do you cook a big breakfast on the weekend? What do you cook?
Linking to…Ingredient Spotlight