Welcome to Cupcake Tuesday!   If you are new here, grab a cup of tea or a glass of milk and enjoy a cupcake!
My youngest son, Casey, turns 13 this weekend. One of the cupcakes he wanted me to bake were Peanut Butter Cup Cupcakes.
Since, I haven't shared a flavored cupcake in quite some time, I figured it would be perfect. And by the way, I updated the Cupcake Heaven page yesterday, I now have 73 cupcake creations!! Hop on over and let me know what you think.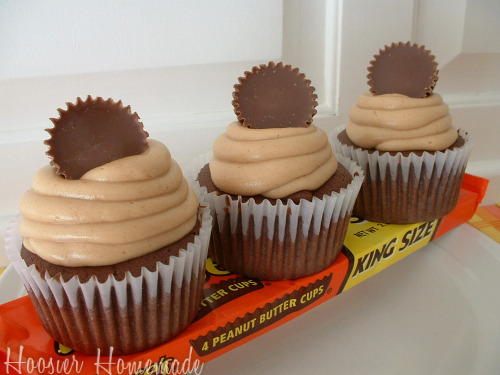 These Peanut Butter Cup Cupcakes were very easy but big on flavor and presentation. I used a Chocolate Cake recipe that I've never tried before, it was very dense but had good flavor. We had a house divided on them, Doug and my youngest, Casey, loved them, the other 2 boys and myself liked the flavor, but like a more light tasting cupcake. Man oh Man is the frosting yummy though. I could just eat it by the spoonful!
Peanut Butter Cup Cupcakes
Combining the flavors of chocolate and peanut butter, these Chocolate Peanut Butter Cupcakes from HoosierHomemade.com are melt-in-your-mouth delicious!
Ingredients
¾ cup cocoa powder
¾ cup flour
½ teaspoon baking powder
¼ teaspoon salt
¾ cup unsalted butter, room temperature
1 cup sugar
3 large eggs
1 teaspoon vanilla extract
½ cup sour cream
4 large Reese's Peanut Butter Cups, cut into small pieces
Peanut Butter Frosting
½ cup butter, softened
1 cup Peanut Butter
3 tablespoons milk, or as needed
2 - 2½ cups Powdered Sugar
Instructions
Preheat oven to 350 degrees.
Line muffin tins with paper cupcake liners.
In a separate bowl, combine cocoa, flour, baking powder and salt.
In a mixing bowl, cream butter and sugar until light and fluffy.
Add eggs, one at a time, beating well after each.
Beat in vanilla.
Add dry ingredients, alternating with the sour cream, beginning and ending with the dry ingredients.
Gently fold in Peanut Butter Cup pieces.
Divide batter into cupcake liners.
Bake for about 15 minutes or until a toothpick inserted in the center comes out clean.
Peanut Butter Frosting
Cream butter and Peanut Butter until fluffy.
Gradually add powdered sugar, alternating with a little milk at a time.
Beat well, until desired consistency.
Frost cupcakes and garnish with a Mini Reese's Peanut Butter Cup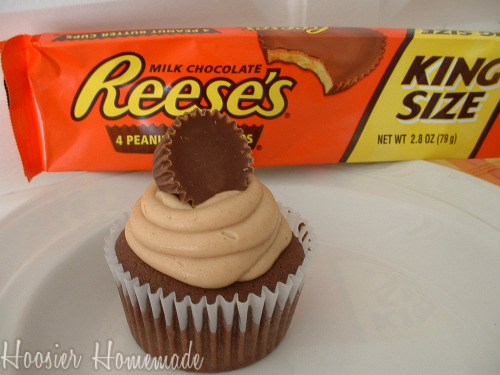 You could, of course, also use any Chocolate cake mix that you like.
You might also like…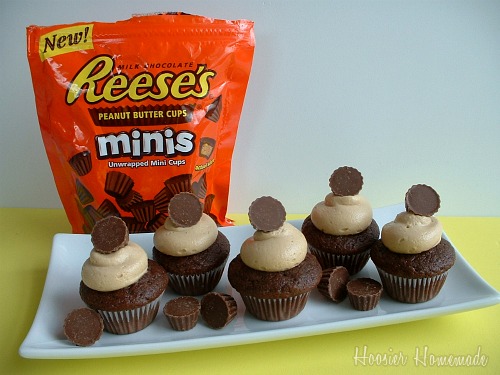 Mini Reese's Peanut Butter Cup Cupcakes
Linking to…Ingredient Spotlight, Gooseberry Patch