There's nothing quite like enjoying a cool Homemade Popsicle on a hot Summer day, so how about one that has only 2 ingredients? These White Chocolate Raspberry Pops are cool and creamy with a burst of tartness from fresh raspberries. The secret ingredient might just surprise you!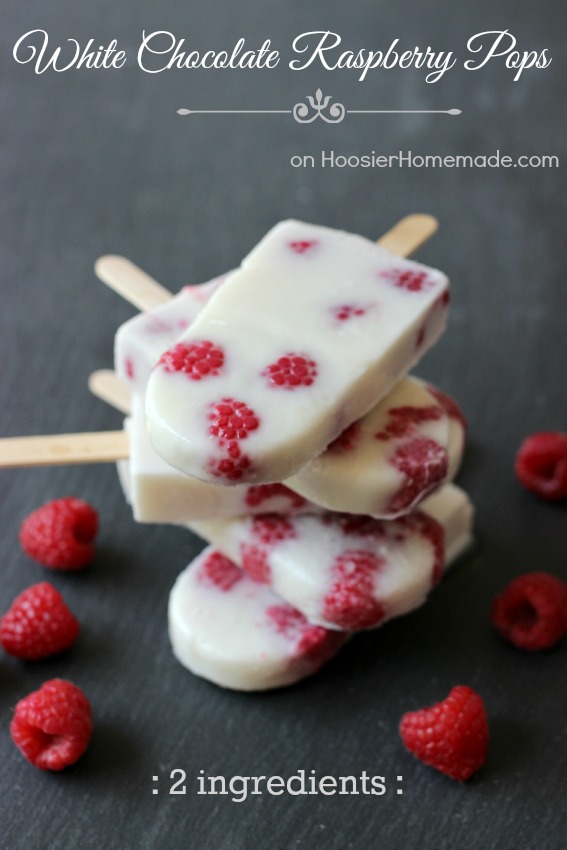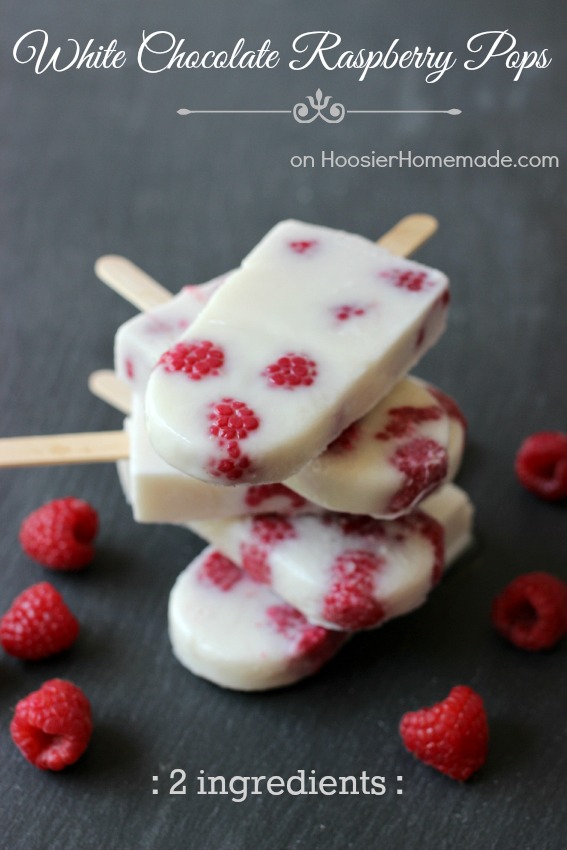 When I was a little girl, we would have Ice Cream or a Popsicle almost every day. The Ice Cream truck with their music playing over and over was a familiar sound. We would rush in to grab quarters to purchase our favorite treats. Recently we heard the familiar sound of the Ice Cream Truck, so I yelled into the house at the boys to come and get their treats. I have to say though, I was quite disappointed, the Popsicle just wasn't the same as I remembered it.
So back to the kitchen to make some Homemade Popsicles. And these White Chocolate Raspberry Pops couldn't be easier with just 2 ingredients.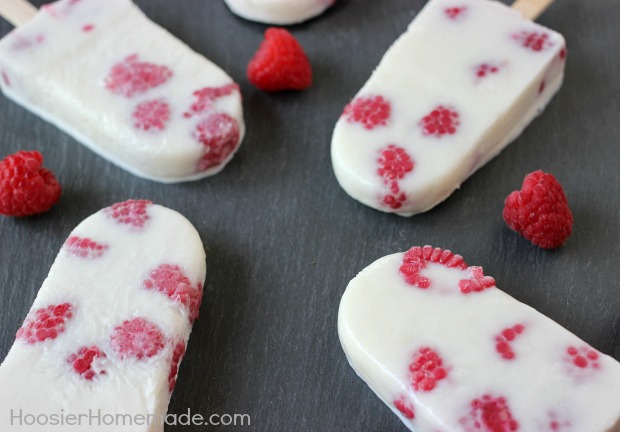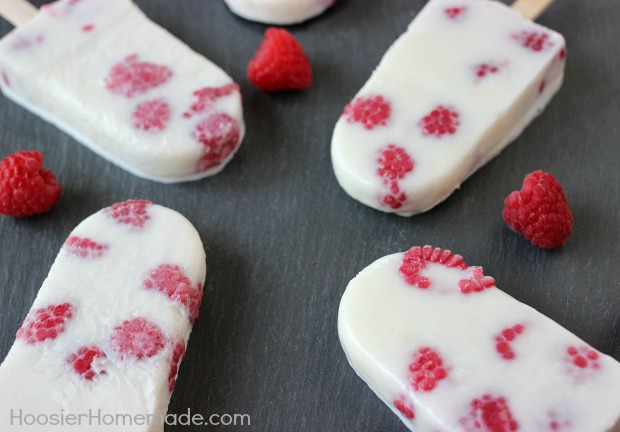 I've shared my love for International Delight Gourmet Coffee Creamer with you before. The recipes that can be made are endless. Last month our favorite was the Butter Pecan Cake made with Southern Butter Pecan Gourmet Coffee Creamer.
Since these Pops only have 2 ingredients, you probably have guessed it – White Chocolate Raspberry International Delight Gourmet Coffee Creamer and Raspberries! It doesn't get much easier than that my friends.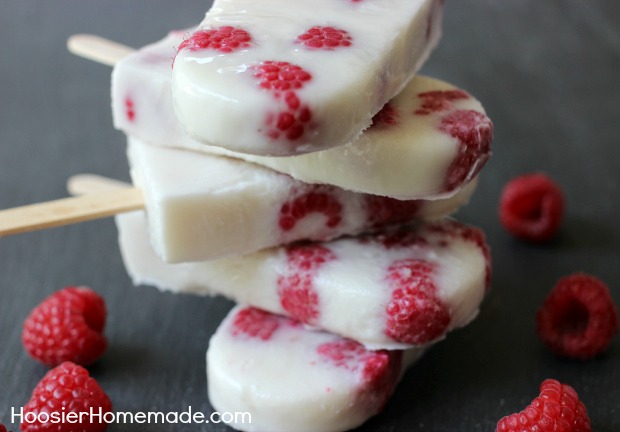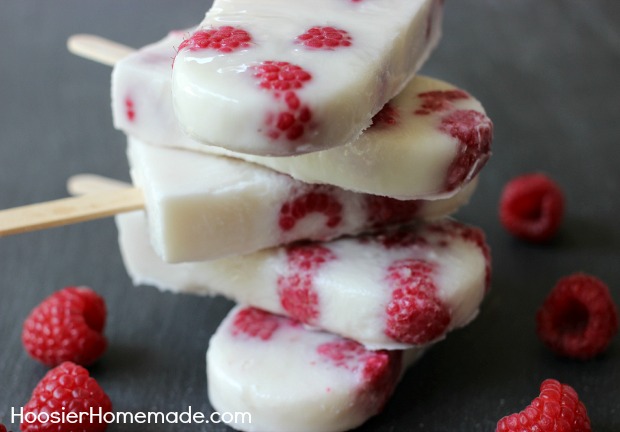 The White Chocolate Raspberry Creamer has a velvety taste with a hint of red raspberry, and the addition of the fresh tart raspberries, it balances out perfectly. To make the Popsicles, I simply added 2-3 raspberries into the popsicle mold and then poured the White Chocolate Raspberry Creamer on top until the mold was about half way full, then more raspberries and more creamer.
If you don't have molds with handles, you can add plastic wrap on top then poke the stick through the wrap and into the mold, that's the way I do it. And if you don't have molds, disposable cups work great too.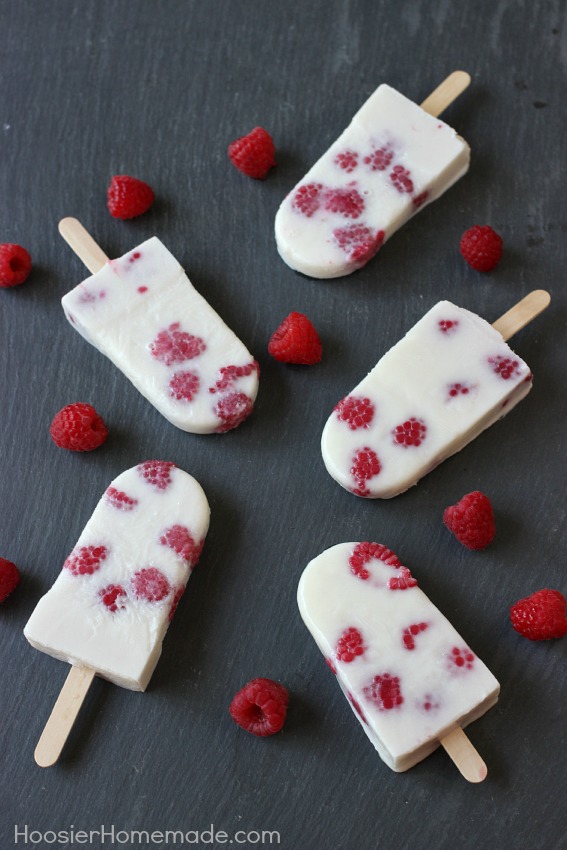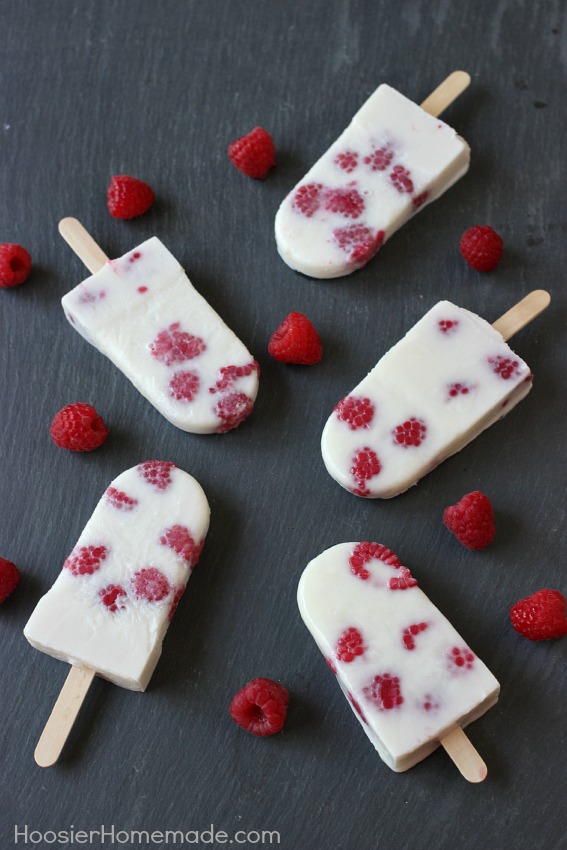 I will be sharing recipes using International Delight every month, here are a few of my favorites…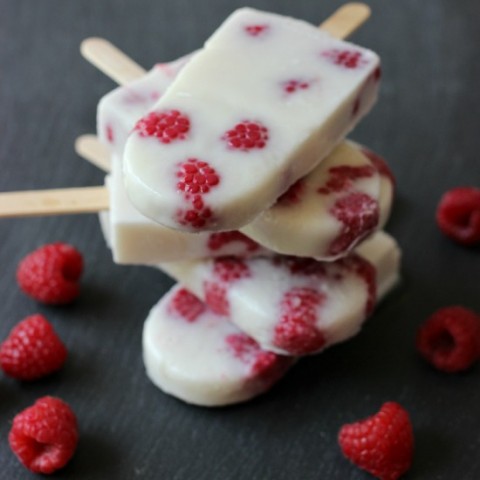 White Chocolate Raspberry Pops
Homemade Popsicles with only 2 ingredients. Recipe on HoosierHomemade.com
Ingredients
1 (32 oz) container International Delight White Chocolate Raspberry Coffee Creamer
2 pints Fresh or Frozen Raspberries
Instructions
Add 2-3 raspberries into Popsicle mold, pour creamer on top until about 1/2 full
Add more raspberries and top off with creamer
Place handles into mold or add plastic wrap on top and push stick through wrap and into mold
Freeze for several hours or overnight
Notes
If you don't have Popsicle molds, you can also use paper cups
This is a sponsored conversation written by me on behalf of International Delight. The opinions and text are all mine.