Mini Pumpkin Mousse Pie with Meringue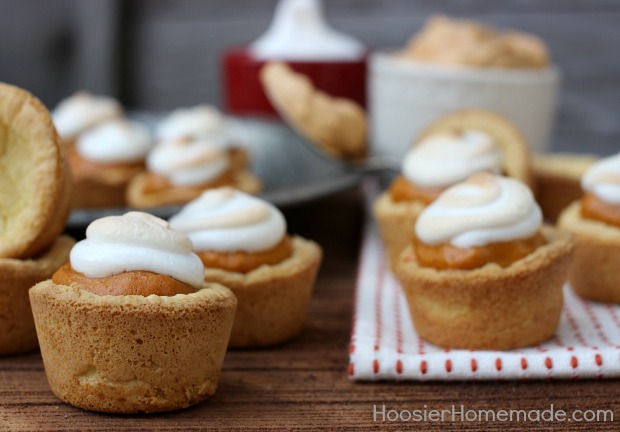 Oh pumpkin season – 'tis the time to enjoy all the amazing pumpkin recipes. After all, Pinterest is all a buzz with everything from Pumpkin Pie to Pumpkin Bread – to Pumpkin Muffins.
These Mini Pumpkin Mousse Pies are not made with your typical pie crust though. Nope, they start with my new favorite – cake mix pie crust. That's right, can you imagine the flavor possibilities now that we can bake a pie starting with a cake mix?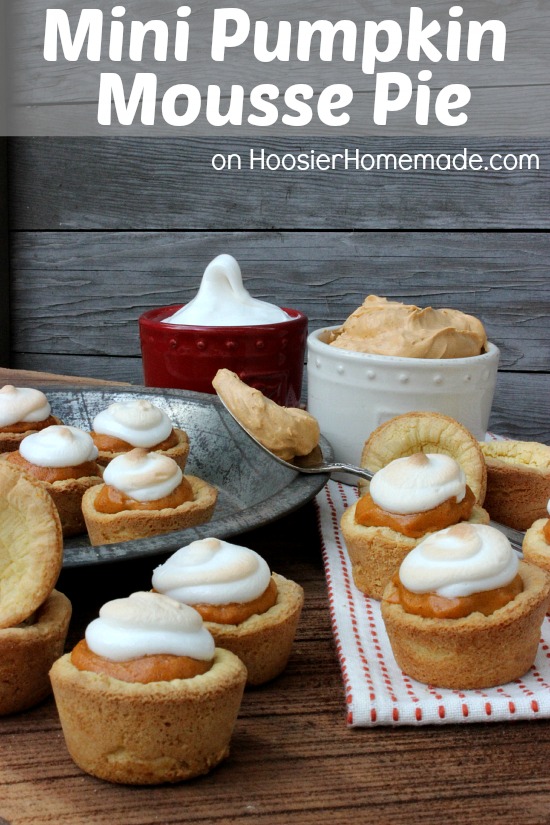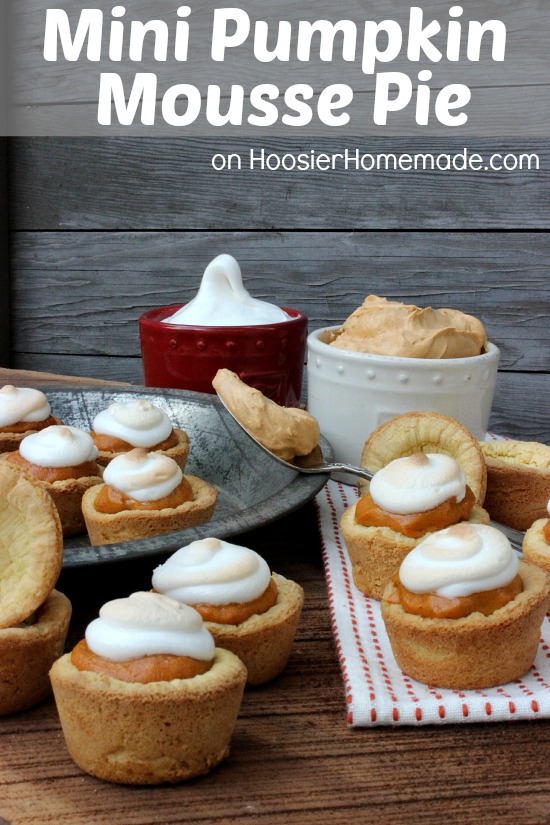 These little bites of Pumpkin Mousse Pie are delicious. The crust begins with a yellow cake mix, then filled with a combination of Pumpkin Spice Pudding and Cool Whip, and topped with a little dollop of Meringue.
All this week we are sharing recipes and crafts for Candy Corn Week, and although these Mini Pumpkin Mousse Pies are not your typical bright orange and yellow, the colors are muted and definitely a delicious treat to serve for Fall or Halloween – even Thanksgiving instead of a regular Pumpkin Pie.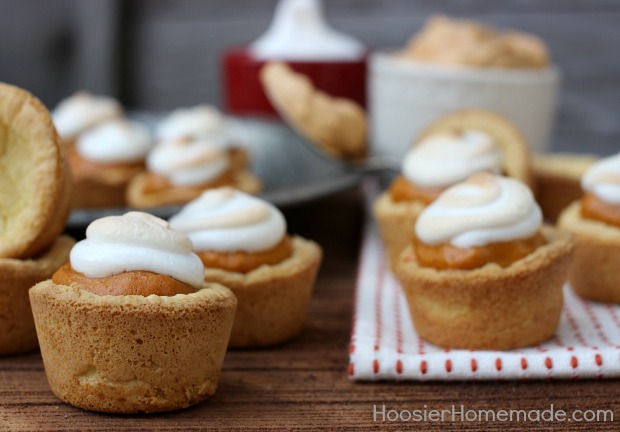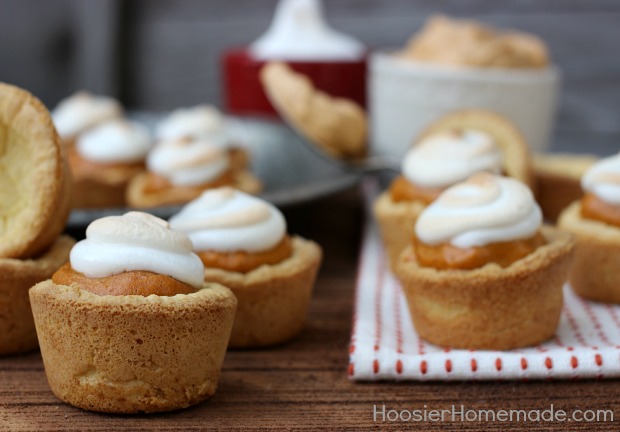 The flavor options are endless, I loved how the yellow cake mix flavor paired with the pumpkin though. And they were really easy too. During a recent trip to Duncan Hines, Chef Joe shared the recipe for the pie crust made with a cake mix.
Head on over to learn how to make a pie crust from a cake mix.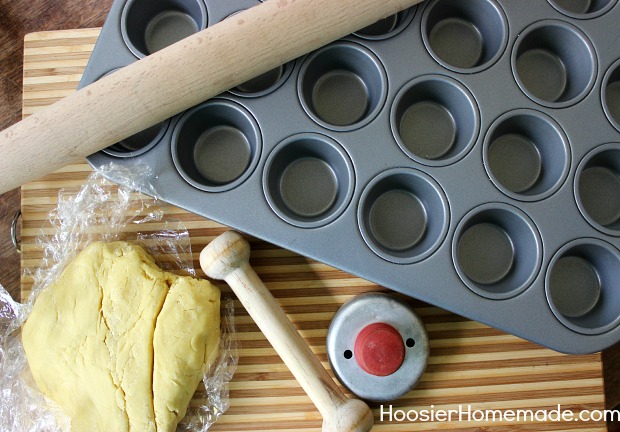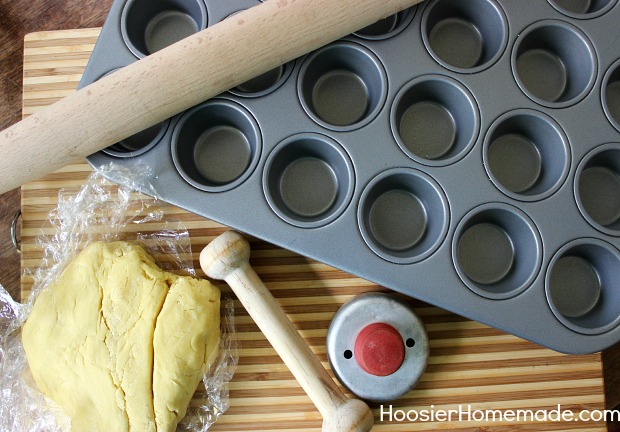 After mixing the pie crust, you will need a mini muffin tin, a rolling pin, round biscuit cutter and a tart shaper. You can also use a large spoon, but this little tool is great to have in your kitchen.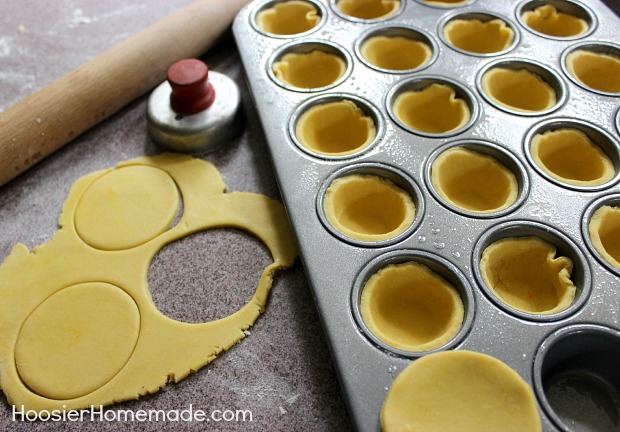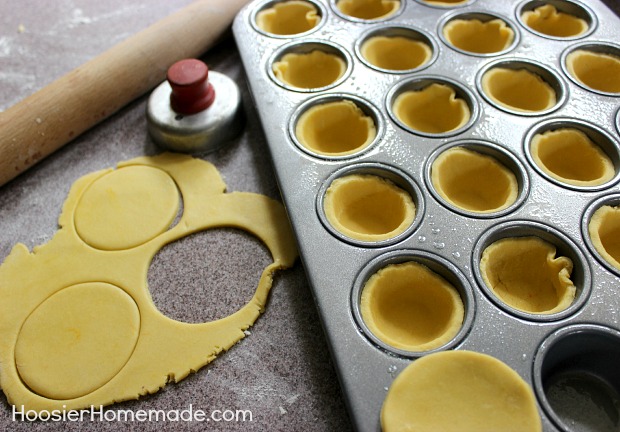 Roll out the dough to about 1/8 thick, you want it thin but not too thin so that it tears. Place the circles over the muffin cup.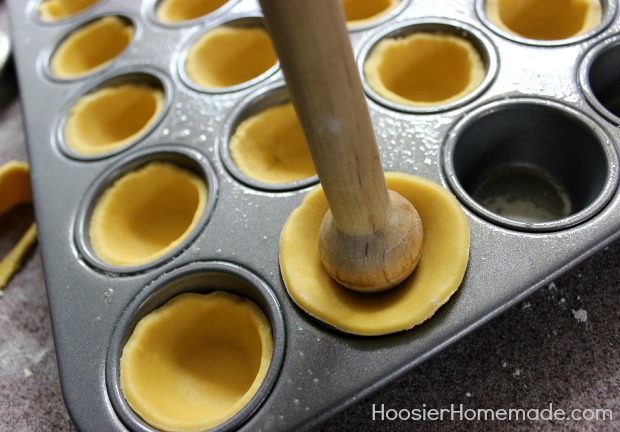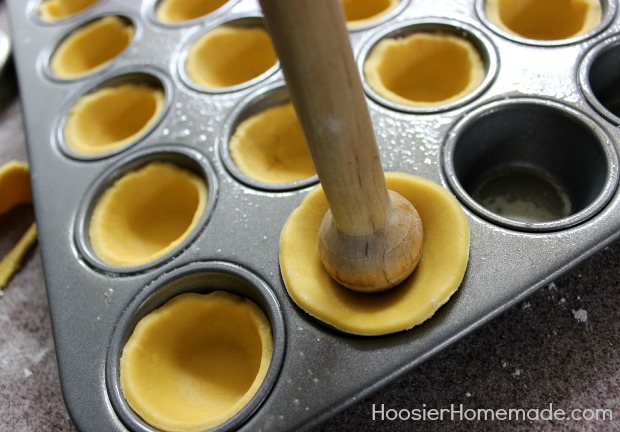 Gently press the dough into the muffin cup with the tart shaper.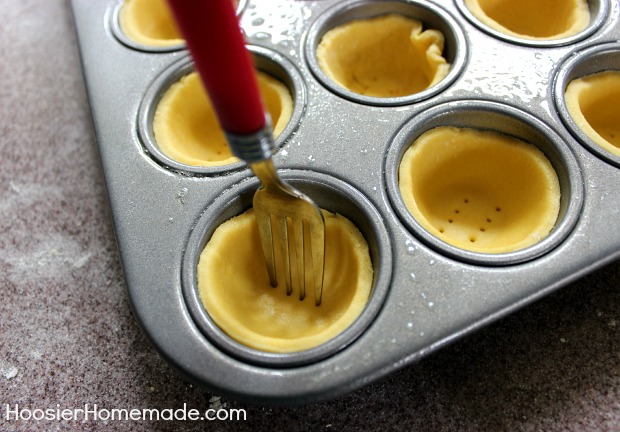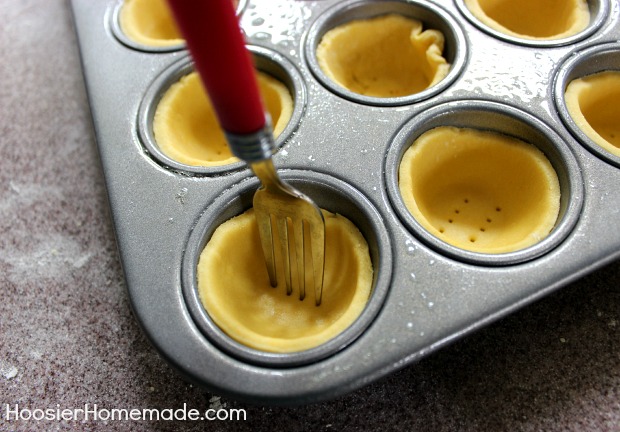 Prick the bottom of pie before baking.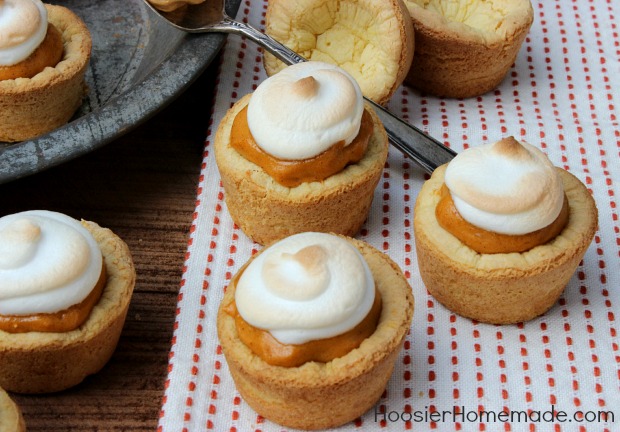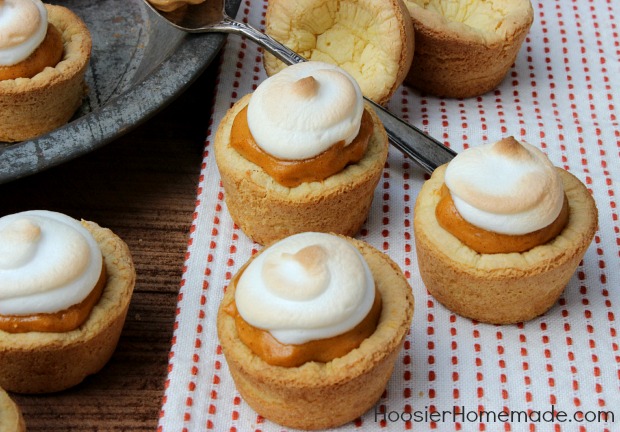 Since the pie crust uses 3 egg yolks, instead of wasting the egg whites, I decided to top the Pumpkin Mousse Pies with Meringue. You could certainly use Cool Whip or Fresh Whipping Cream if you like.
Never made meringue? It's not hard, watch my video to learn how to make meringue.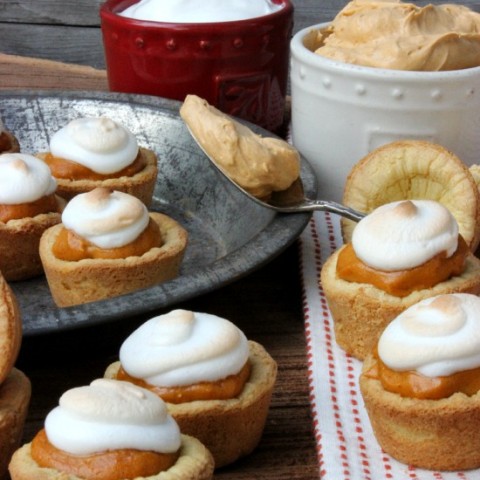 Mini Pumpkin Mousse Pie with Meringue
Change up your traditional Pumpkin Pie with these little bites. Recipe from HoosierHomemade.com
Ingredients
Pie Crust
1 Yellow Cake Mix
3 egg yolks
1 whole egg
1 tablespoon butter, softened
Pumpkin Mousse
1 small box instant Pumpkin Spice Pudding
1 cup cold milk
1 cup Cool Whip whipped topping
Meringue
3 egg whites, room temp
1/4 teaspoon cream of tartar
1/2 teaspoon vanilla extract
6 tablespoons sugar
Instructions
Pie Crust
Combine all ingredients in a large bowl
Turn dough out onto a slightly floured counter and knead until well combined
Wrap in plastic and chill at least 15 minutes
Divide in half and roll out dough
Place in pie pan, prick bottom with fork
Bake at 350 degrees for 20-25 minutes for full size pie
Bake at 350 degrees for 5-7 minutes for mini pies
Pumpkin Mousse
Pour milk into a bowl and add pudding, whisk about 2 minutes until smooth and thick
Fold in Cool Whip whipped topping
Place in fridge to chill
Meringue
Combine egg whites, cream of tartar and vanilla in large bowl and beat on high speed until soft peaks form
Gradually add sugar, 1 tablespoon at a time, beating after each addition
Beat on high until stiff peaks form
Assemble
Preheat oven to 450 degrees
Add about 1 teaspoon Pumpkin Mousse to cooled pie crust
Fit a decorator bag with a ** decorator tip (or use a resealable bag) and fill with meringue
Pipe onto top of mousse, place on cookie sheet and place in oven for about 5 minutes, watch VERY closely so the meringue does not burn
It's best to serve the same day so that the meringue does not weep
Store in airtight container in the refrigerator
Notes
You can also make this into a regular size pie. Bake pie crust about 25 minutes and let cool
 Linking to…Gooseberry Patch