No mixing required for this delicious Strawberry Rhubarb Almond Crumble Dessert. The tartness of the rhubarb and the sweetness of the strawberries combined with crushed pineapple send this easy to make dessert over the top.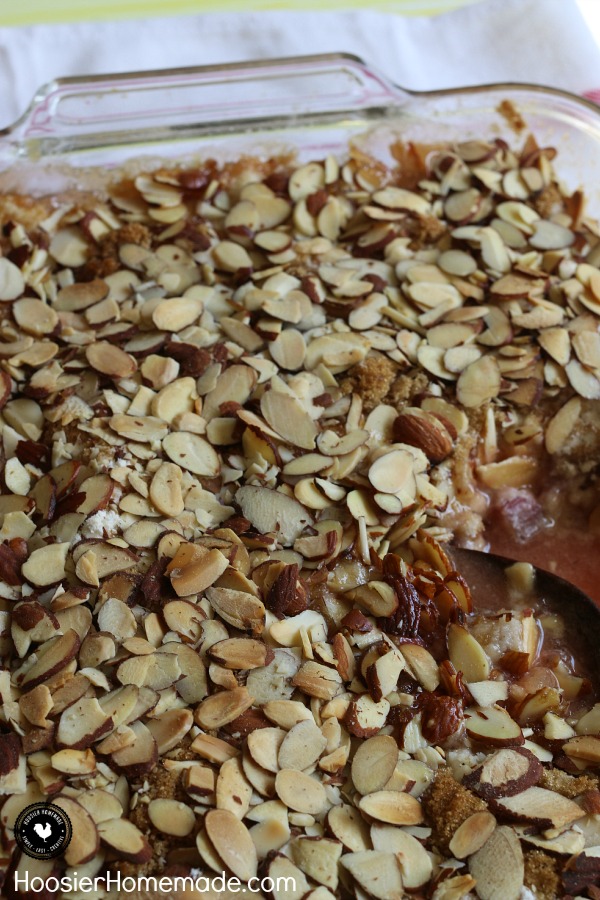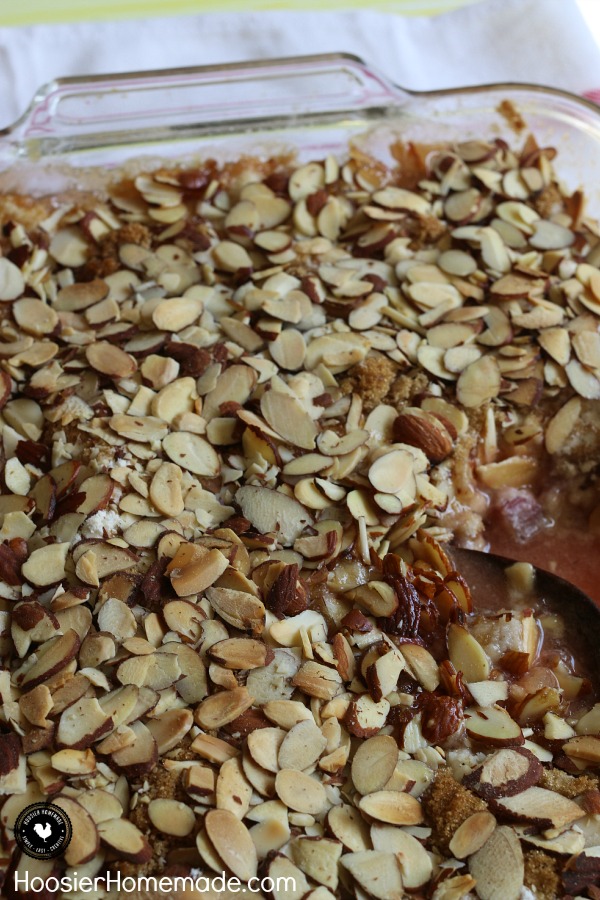 Strawberry and Rhubarb are two fruits that go together wonderfully. Growing up my parents had a huge yard and garden. There isn't a day that goes by that I don't think of both of them working in their yard. It was their happy place. You would often find my Dad on his hands and knees picking strawberries from his patch, he would pick quarts and quarts at a time. And right next to the strawberry bed, were 3 or 4 rhubarb plants.
When I was young, I really didn't care much for the rhubarb. I think maybe because of it's tartness and seeing my Dad pick a stalk and eat it fresh just like celery, kind of made me cringe. However, later on, when I began baking, I quickly realized that when you pair strawberries with the rhubarb, the taste is like nothing else.
With Mother's Day coming up, I wanted to share a Mother's Day Dessert with you that reminded me of my Mom. She would often make her Apple Crisp, and the strawberries and rhubarb remind me so much of her and her garden. She was a wonderful cook and baker, but honestly, everything she served was very simple, there wasn't a lot of fuss. I suppose that is where I get my cooking and baking style – simple, easy, creative.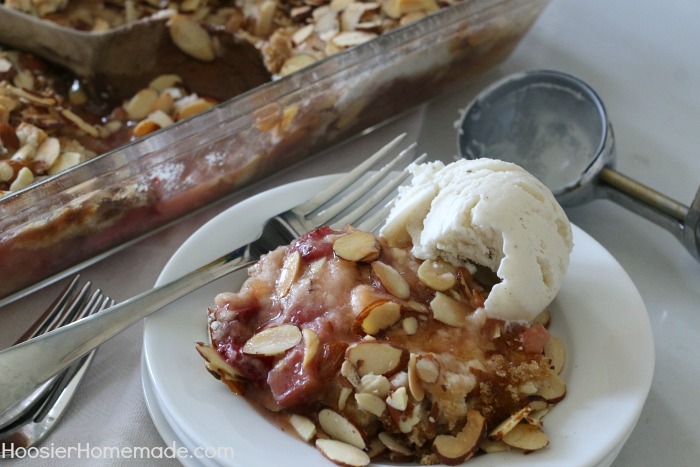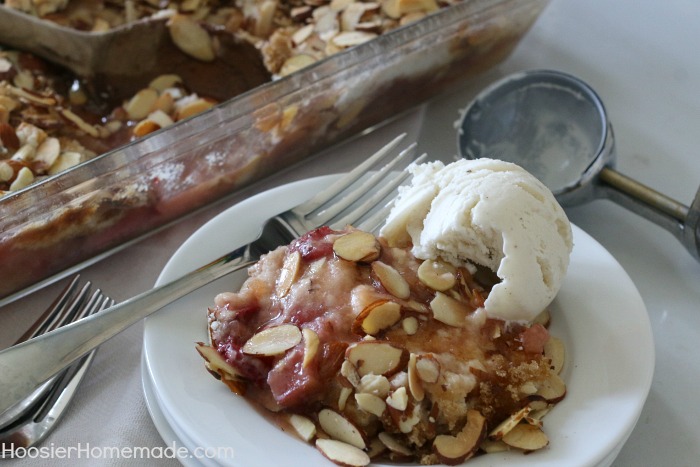 This Strawberry Rhubarb Almond Crumble Dessert couldn't be easier. Do you know about Dump Cakes? Well, in those recipes, the ingredients are just "dumped" into the baking dish and they combine while the dessert is baking. This recipe is very much like the Dump Cake. Only 8 ingredients, minutes to prepare, and the results are out of this world!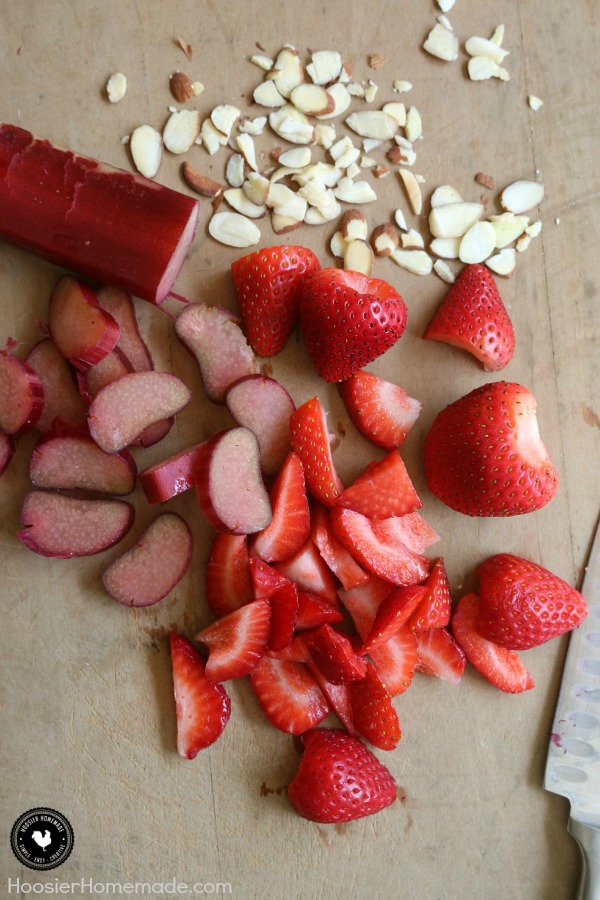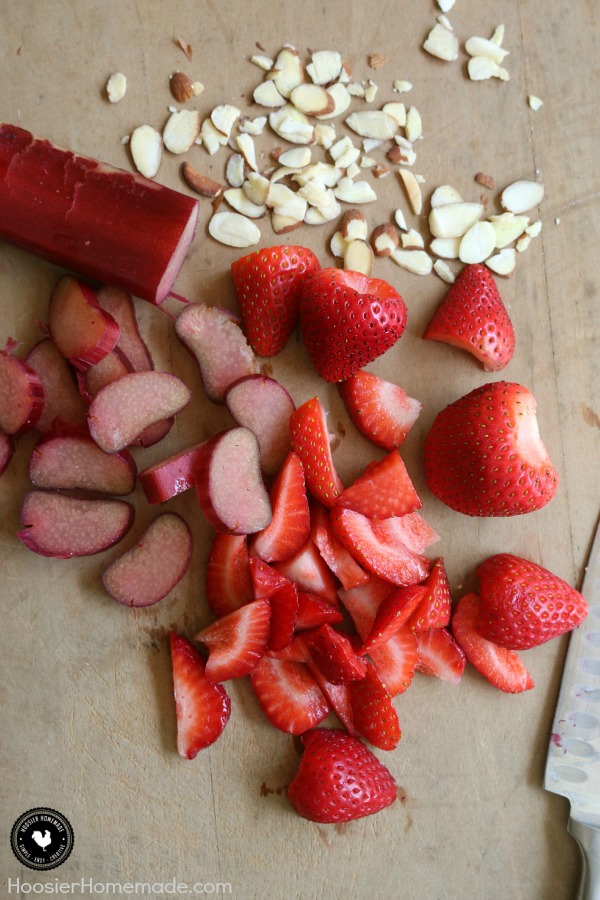 The main ingredients in this crumble dessert are the strawberries, rhubarb and almonds. Here are a couple tips when you are shopping for the fruit…
How to buy the perfect Strawberries – always turn the package upside down and smell it, if you can smell the strawberries, then they are good to buy. Of course, make sure you don't see any rotten berries in the package too.
What is Rhubarb – this fruit you may not be as familiar with. Rhubarb used to be considered a vegetable until 1947, when it was then named a fruit. You can find fresh rhubarb in your produce section at your local grocery store or at the Farmer's Market. Depending on where you live, rhubarb will not always be available. Here in Northwest Indiana, we can find rhubarb in the late Spring. You can also look for it in the freezer section.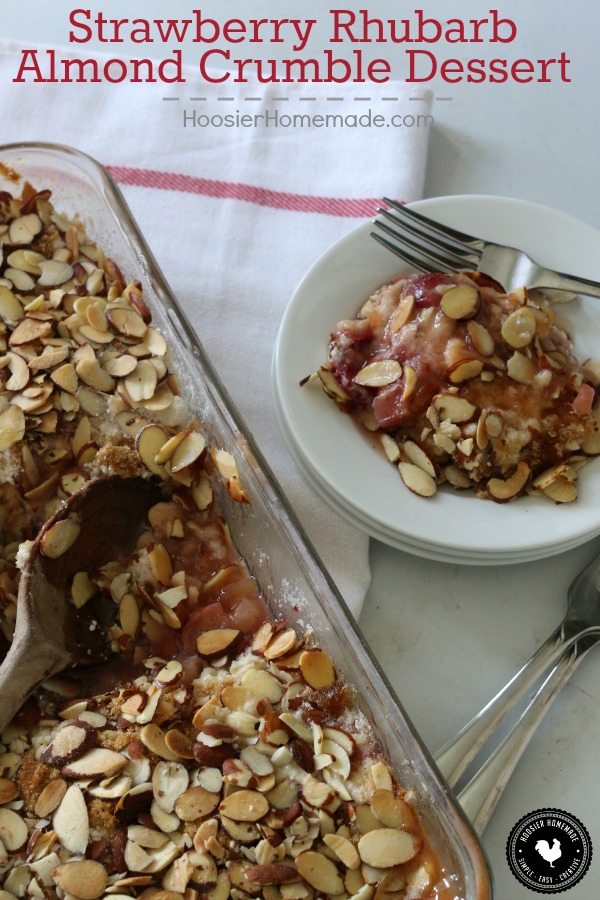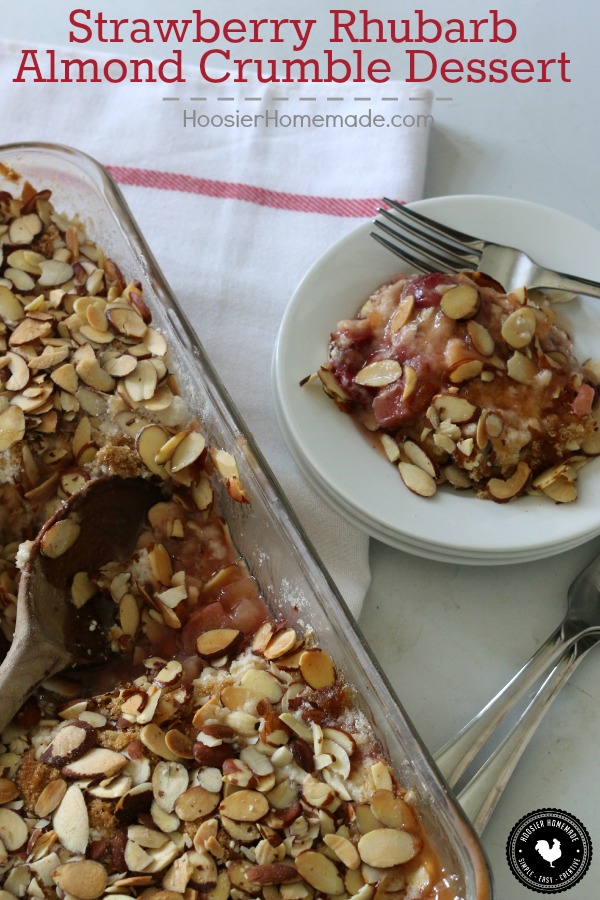 After the strawberries and rhubarb are washed and sliced, now it's just a matter of layering the ingredients into the baking dish. This Strawberry Rhubarb Almond Crumble Dessert recipe is similar to the Blueberry Crisp that I shared several years ago.
Do you know the difference between a crisp and a crumble? And how about a cobbler?
Cobbler – is made with a biscuit like topping, and made with fresh fruit
Crisp – is made with a streusel topping with oats, and made with fresh fruit
Crumble – is made with a streusel topping but contains no oats, and made with fresh fruit
So, technically, the Blueberry Crisp should have been called a Crumble. And after doing a little research, I decided to change the name of this dessert from Strawberry Rhubarb Crisp to Strawberry Rhubarb Almond Crumble Dessert.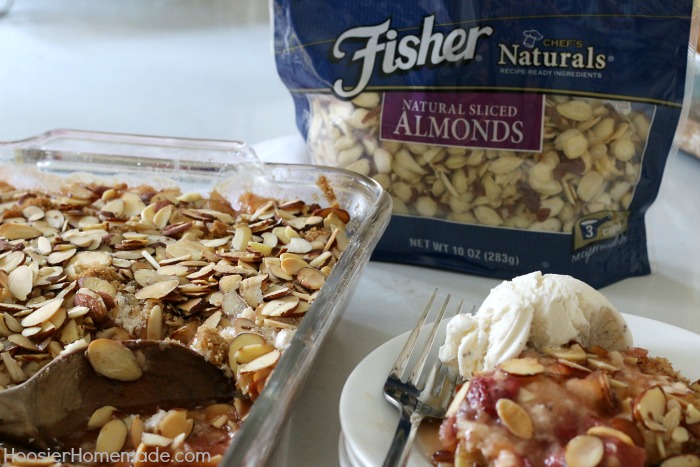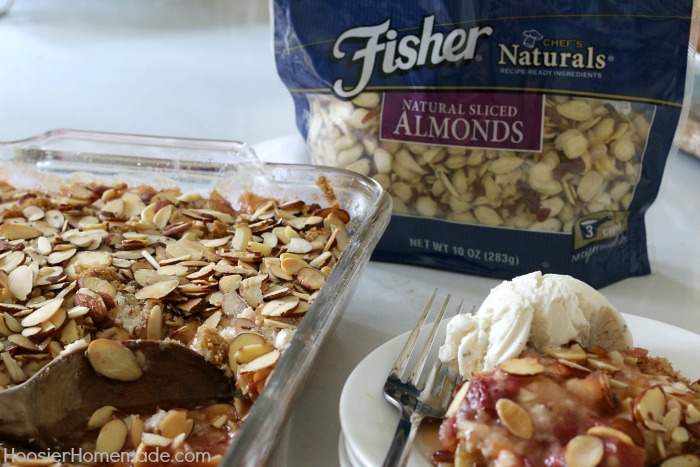 Now let's chat about the Almonds. You can of course, use any type of nut as a topping for this crumble, but I chose almonds because of the light flavor they have. I thought they would pair well with the strawberries and rhubarb keeping the dessert fresh and light tasting. And…I was right. It worked out deliciously!
Oh and the vanilla ice cream on the side didn't hurt either!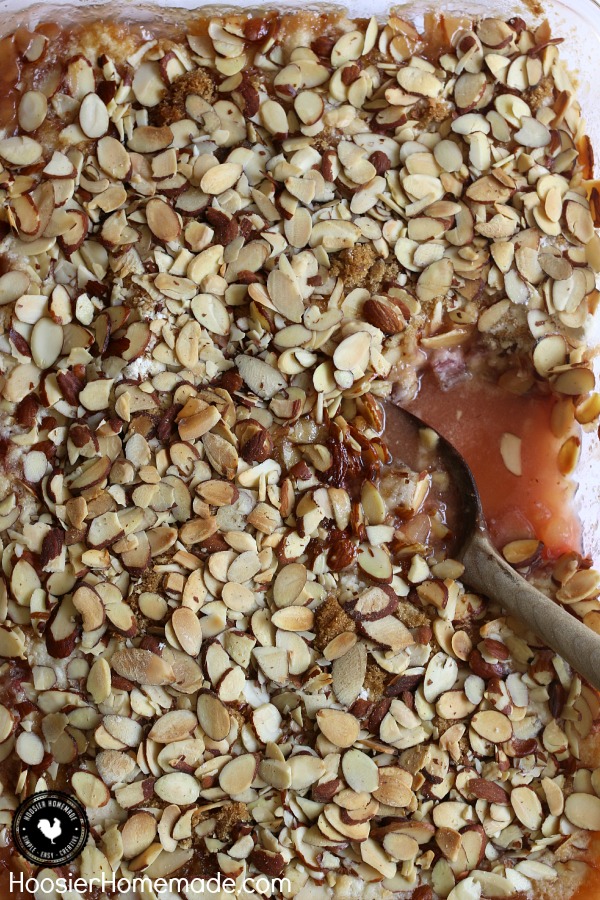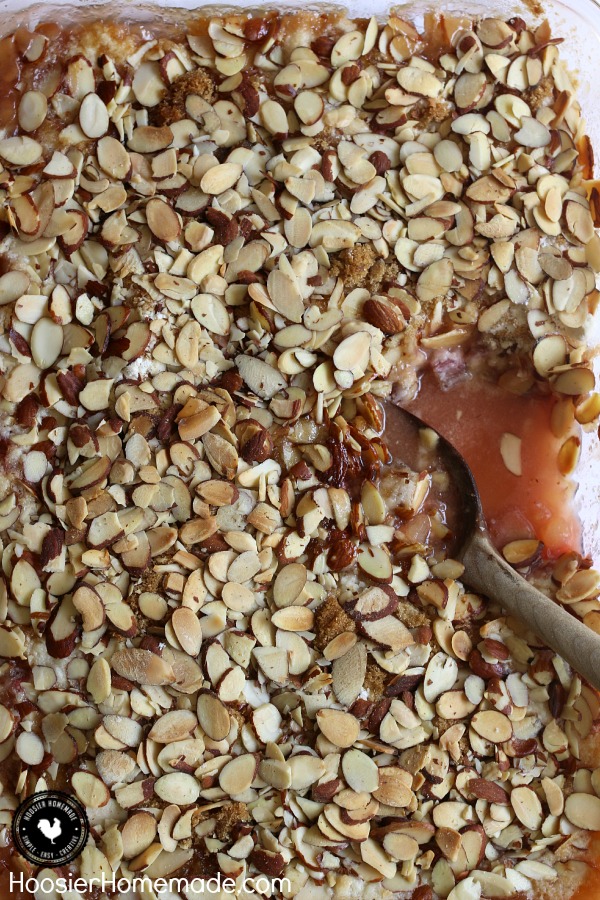 Visit Fisher Nuts for more recipes, follow them on Facebook and Pinterest for more recipes!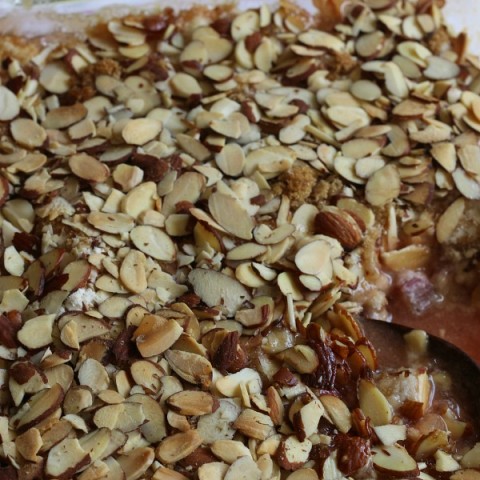 Strawberry Rhubarb Almond Crumble Dessert
Simple ingredients + NO mixing for this delicious recipe
Ingredients
3/4 cup (1 1/2 sticks) butter
1 1/2 cups fresh strawberries, cleaned and sliced
1 1/2 cups fresh rhubarb, cleaned and sliced
1 (20 oz) can crushed pineapple, not drained
1 cup brown sugar, divided in half
1/2 cup white sugar
1 box white cake mix
2 cups Fisher Almonds
Instructions
Preheat oven to 350 degrees
Clean and slice strawberries and rhubarb
Butter 13x9 baking dish using the stick
Melt remaining butter
Pour pineapple including juice into baking dish
Sprinkle with strawberries and rhubarb, do not mix
Sprinkle with 1/2 cup brown sugar
Sprinkle with 1/2 cup white sugar
Add DRY cake mix
Drizzle with butter
Sprinkle with remaining 1/2 cup brown sugar
Sprinkle on almonds
Bake for about 30-40 minutes or until the fruit is bubbly and the topping is golden brown