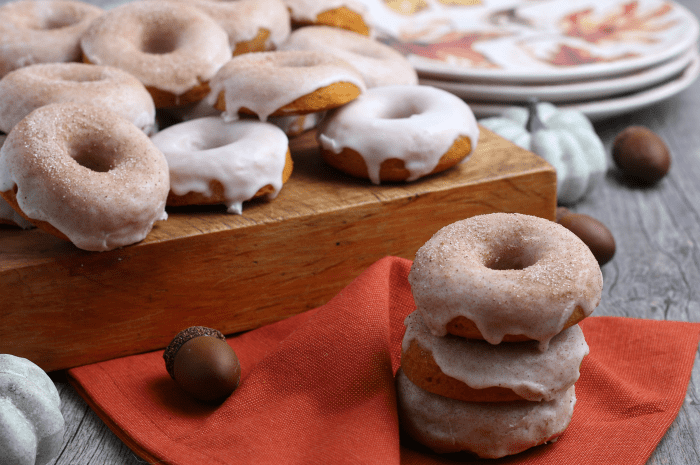 These Pumpkin Donuts hit autumn lovers right in the feels with their hint of spices and soft, fluffy texture. Whether you're looking for something to whip up for a fun breakfast with your coffee or a mid-day snack — these baked pumpkin donuts are easy to make and even easier to eat.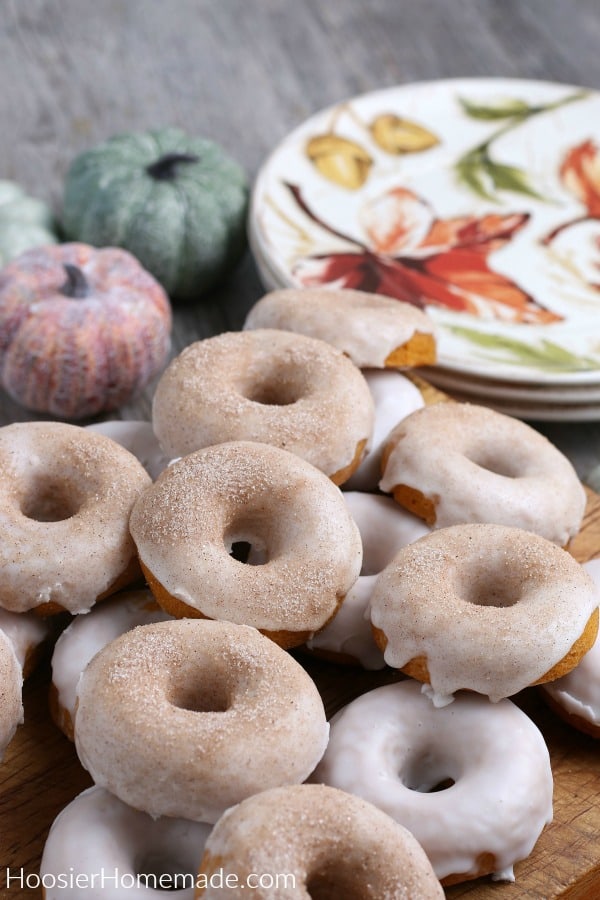 The idea of making donuts from home may be an intimidating one. Trust me, I've been there — felt that. Then, one year, I discovered baked donuts. No fear of burning myself with a pot of oil on the stove, no unnecessary mess, and best of all, instead of my kitchen smelling like a fryer, my entire house smells of fall spices.
Looking to make more Fall Doughnuts? These Apple Cinnamon Baked Donuts are SO good! And if you need a quick and easy doughnut recipe, these Pumpkin Doughnuts start with a Cake Mix! What??
Ready to get started? Get your coffee pot ready to brew, you're not going to want to miss out on the perfect combination.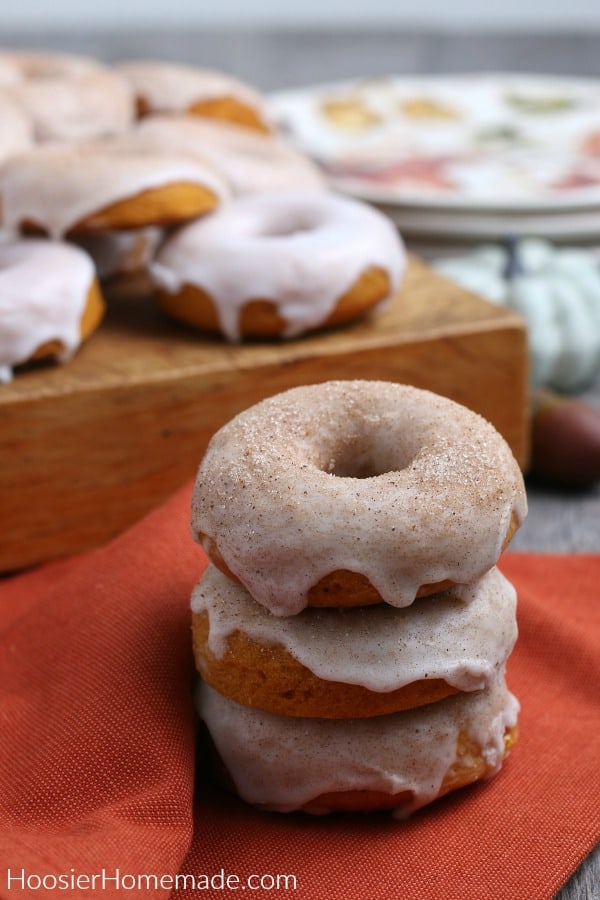 Everything you'll need to make Pumpkin Spiced Donuts
These pumpkin donuts couldn't be easier to make. Most of the ingredients are staples in any baker's kitchen — even those who only bake occasionally. Before getting started, if you haven't already, purchase a donut pan. This pan is the key to mess-free baked donuts.
Another mess-less suggestion: grab a piping bag, or a large resealable bag, to put your donut batter in. This will make filling the donut pan as easy as pie — or cake — easy as donuts? You get the point.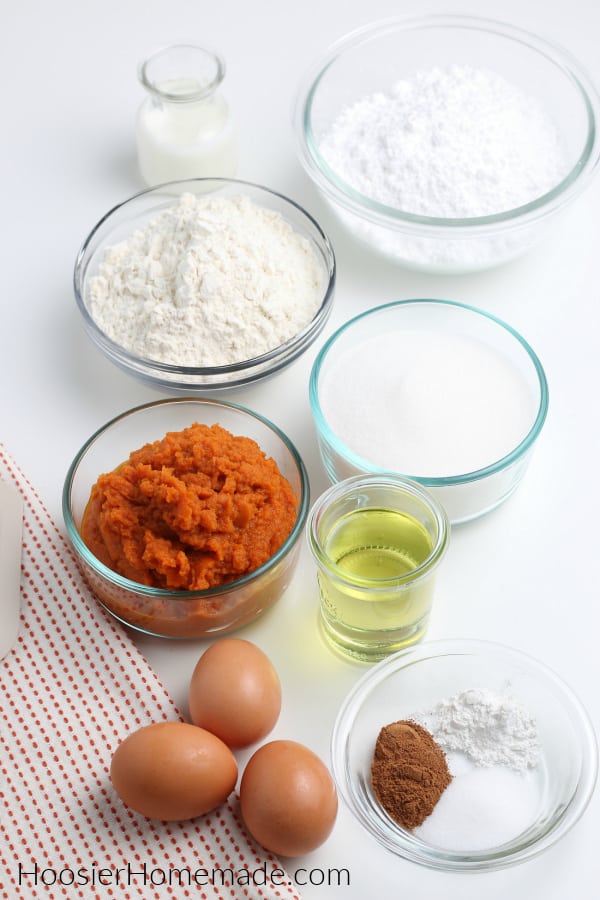 Making these pumpkin donuts should be as peaceful as the fall days you've been waiting months for.
To make these Baked Pumpkin Donuts, you'll need the following ingredients:
Cooking spray — it's key for mess-free baked donuts

Pumpkin puree –

not

pumpkin pie filling; just trust us on this one.

Oil – vegetable oil or canola oil

Three room-temperature eggs –

room-temperature eggs

are what help give these donuts their light, fluffy texture

Sugar

All-purpose flour

Pumpkin pie spice — store-bought or homemade

Salt

Baking powder
For the glaze:
Additional Topping: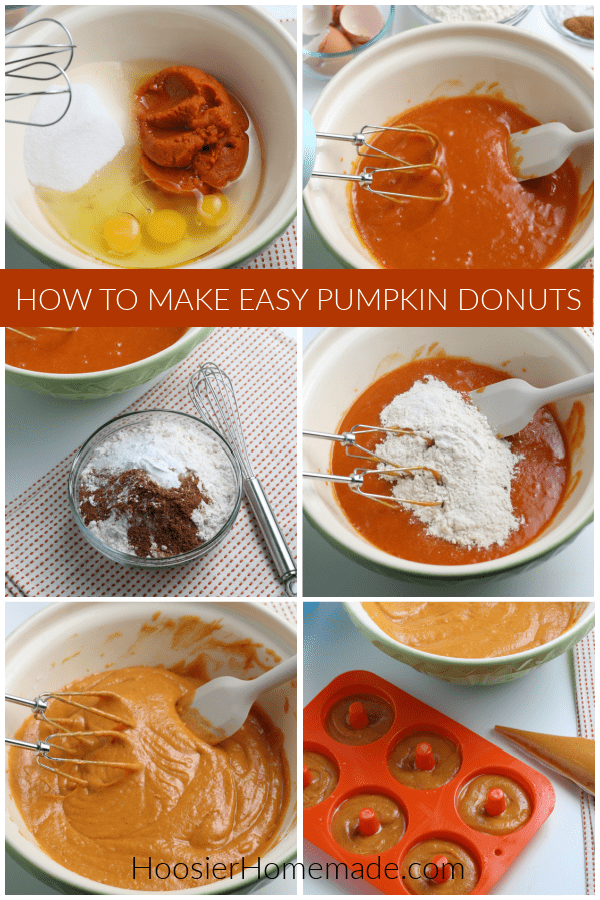 How to Make Pumpkin Doughnuts
Grab your ingredients, and let's get baking.
Preheat your oven to 350°F, if you're going to make homemade pumpkin spice, we recommend doing so now. For this, you'll need:
¾ teaspoon ground cinnamon

¼ teaspoon ground nutmeg

¼ teaspoon ground ginger
Set the mixture aside until you're ready to add it to your dry ingredients.
Spray your donut pan with non-stick cooking spray.
Have you ever seen a donut pan when someone forgets to spray it? We promise you don't want to skip this step.
Next, in a large bowl, combine the oil, eggs, sugar, and pumpkin puree until smooth. Once your sugar mixture is smooth, set the bowl aside and grab a medium size bowl. Whisk together your flour, pumpkin pie spice, salt, and baking powder.
Pour the sugar mixture into your dry ingredients. Beat the mixture until just smooth. Do not over-beat your batter, it will affect the texture of the donuts. Instead of light and fluffy donuts, you'll risk creating chewy, dense donuts if overmixed.
Grab your piping bag or resealable bag and a cup. Place the bag into the cup and fold the edges over the top. Pour your pumpkin batter into the bag, twist the top, and cut off the corner of the bag you'll be using to dispense the batter into the pan.
Fill each donut in your pan ¾ full, be sure not to overfill.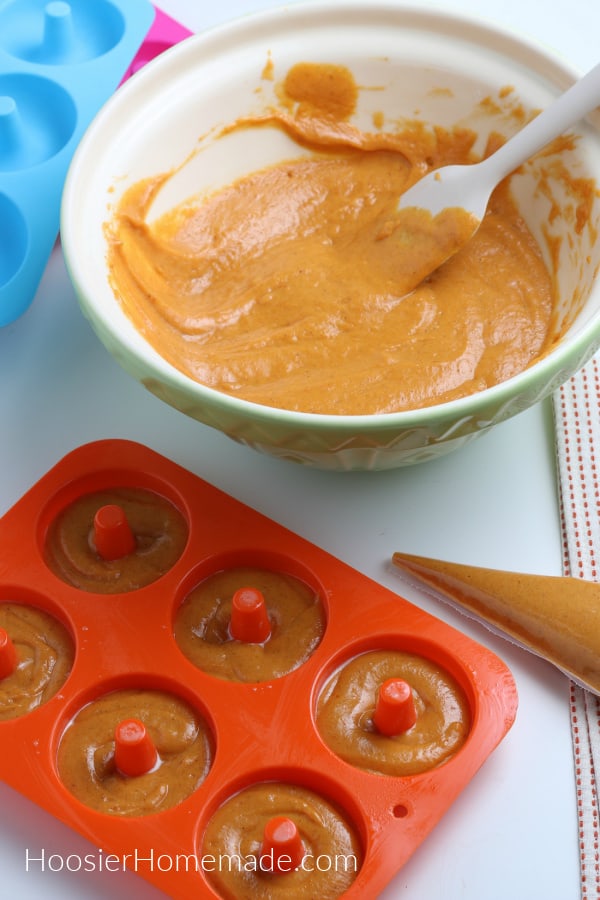 We highly recommend using a silicone donut pan when baking donuts. This one is our favorite.
Baking Pumpkin Spiced Donuts to perfection
Bake your donuts for 15-20 minutes until they are lightly browned.
Another way to check if your donuts are baked through is to use the "press test". Lightly press on the donuts with your finger. If the dough springs back when lightly touched, it's ready to be removed from the oven. If an indent is left on the donut, you know it should bake a bit longer.
Once ready, remove your pumpkin donuts from the oven and let the pan cool on a wire rack for five minutes.
After five minutes, remove the donuts from the pan. If you're serving the donuts plain, pour yourself a cup of coffee and bon appetit!
If you're whipping up a glaze, let the donuts cool completely before the next step.
We know, at this point, the glorious scents of the spices are pulling at your tastebuds. We promise they're worth the wait.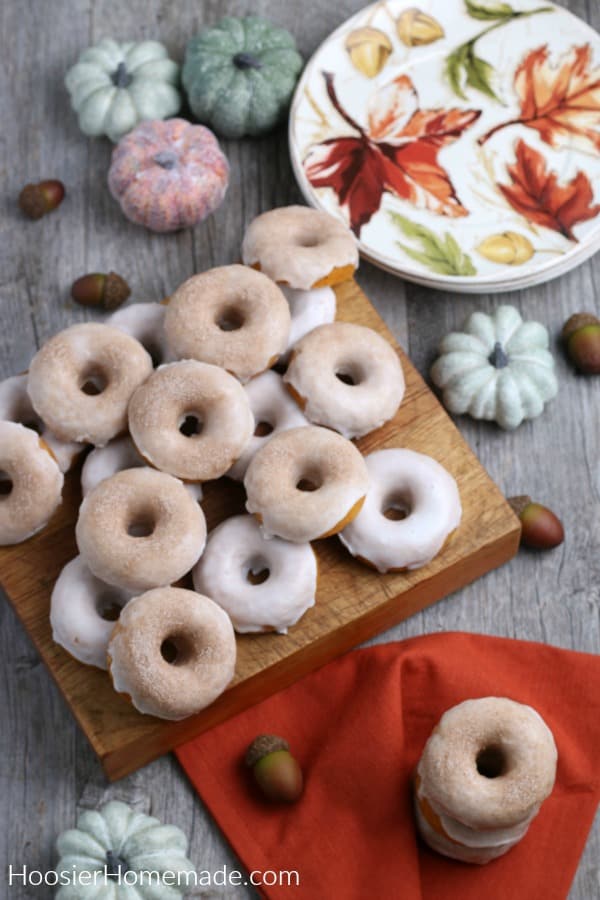 Topping the Pumpkin Donuts
While you wait for your pumpkin donuts to finish cooling, you can start on your glaze. Which, like the donuts, requires very little effort.
Pour two cups of powdered sugar and one tablespoon of milk into a bowl and whisk until smooth. If the glaze is too thick, add more milk, one teaspoon at a time. Set the glaze aside.
In a separate bowl, combine ¼ cup of granulated sugar and one teaspoon of cinnamon.
Dip the top of your donuts into the glaze and place them on a wire rack. Immediately sprinkle the cinnamon sugar mix over the glazed donut.
Although pumpkin donuts are best served fresh, you can certainly store them in an airtight container for one to two days.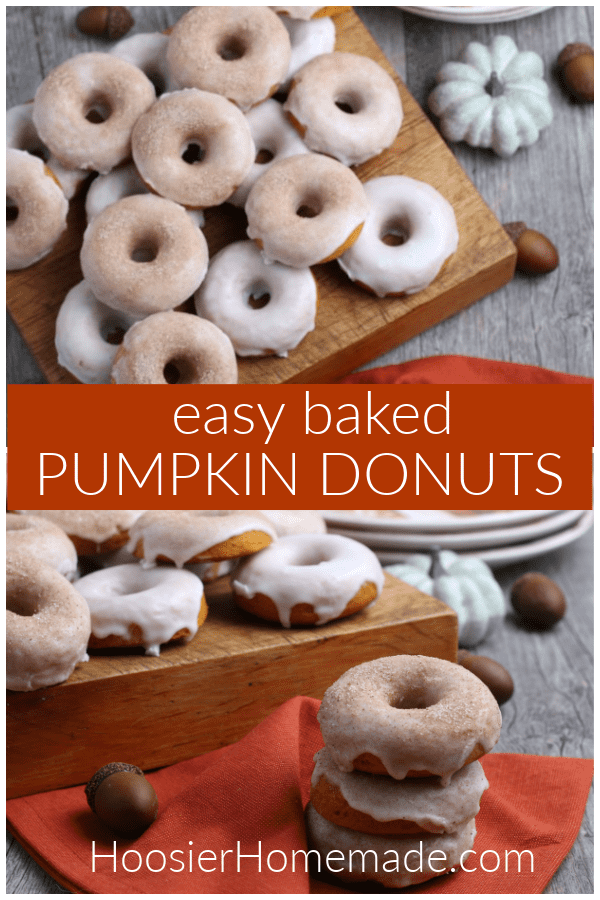 Looking for more Pumpkin Recipes? Click on the photo for the recipe.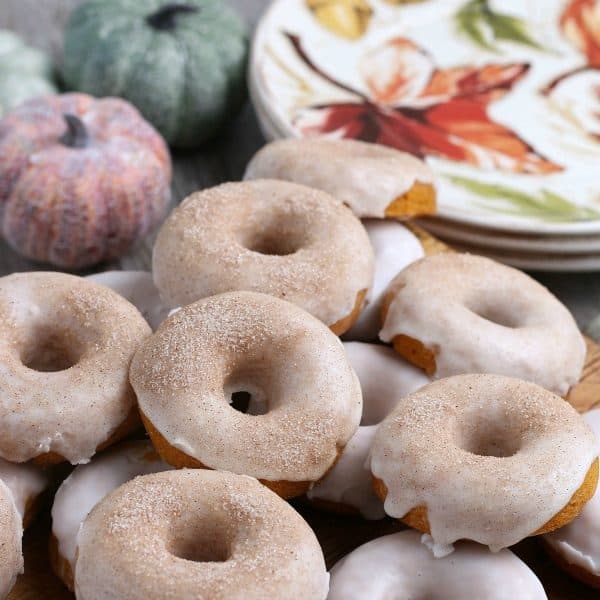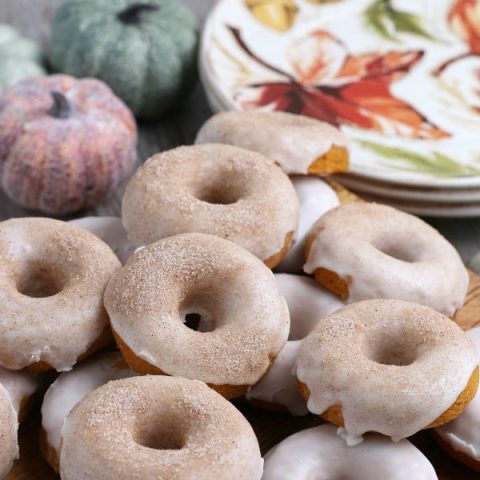 Pumpkin Donuts
These easy to make Pumpkin Donuts are perfect for breakfast and even better for a mid-day snack!
Ingredients
½ cup oil, vegetable or canola
3 large eggs, room temperature
1 ½ cups granulated sugar
1 can (15 oz) pumpkin puree, not pumpkin pie filling
1 ¾ cups all-purpose flour
1 ½ teaspoons pumpkin pie spice ** see notes
1 ½ teaspoons salt
1 ½ teaspoon baking powder
Coating
Glaze: 2 cups powdered sugar, 1 tablespoon milk
Cinnamon Sugar for topping
Instructions
Preheat oven to 350 degrees F
Coat donut pans with non-stick cooking spray
In a large bowl beat together the oil, eggs, sugar and pumpkin until smooth
In a medium bowl, whisk together flour, pumpkin pie spice, salt and baking powder
Gradually add the dry ingredients to the wet ingredients and beat just until smooth
Fill donut pan about ¾ full ** see notes
Bake for 15-20 minutes or until lightly browned
Cool on wire rack for 5 minutes
Remove from pan
If using glaze, let donuts cool completely, then dip into glaze
Notes
Notes
Spices - can also use ¾ teaspoon ground cinnamon, ¼ teaspoon ground nutmeg and ¼ teaspoon ground ginger 
Donut pan - to make filling the pan easier, use a plastic decorator bag or resealable bag
Glaze - Add powdered sugar to medium bowl, add milk and whisk until smooth
Add additional liquid if the glaze is too thick. Dip donuts top side down into glaze and place on a wire rack to drip off excess. 
Cinnamon Sugar - combine about ¼ cup granulated sugar with 1 teaspoon ground cinnamon, sprinkle immediately over glazed donut