Apple Cinnamon Baked Donut Recipe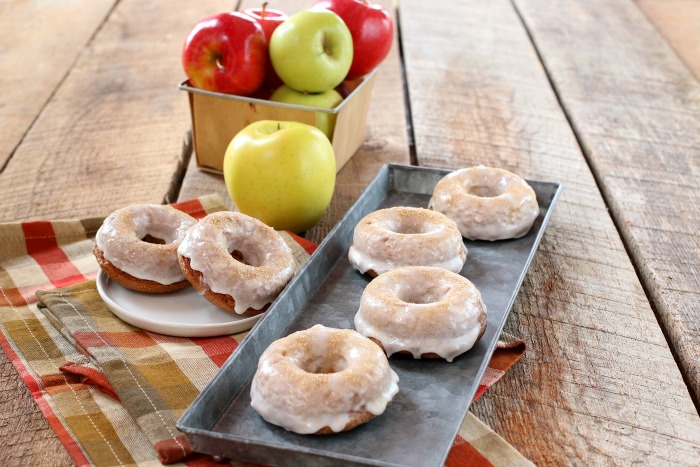 Warm – fresh from the oven, slathered with glaze – it doesn't get much better than this Baked Donut Recipe! Oh wait – maybe it does – Apple – Cinnamon! AND it starts with a cake mix! Yes! Yes it does get better!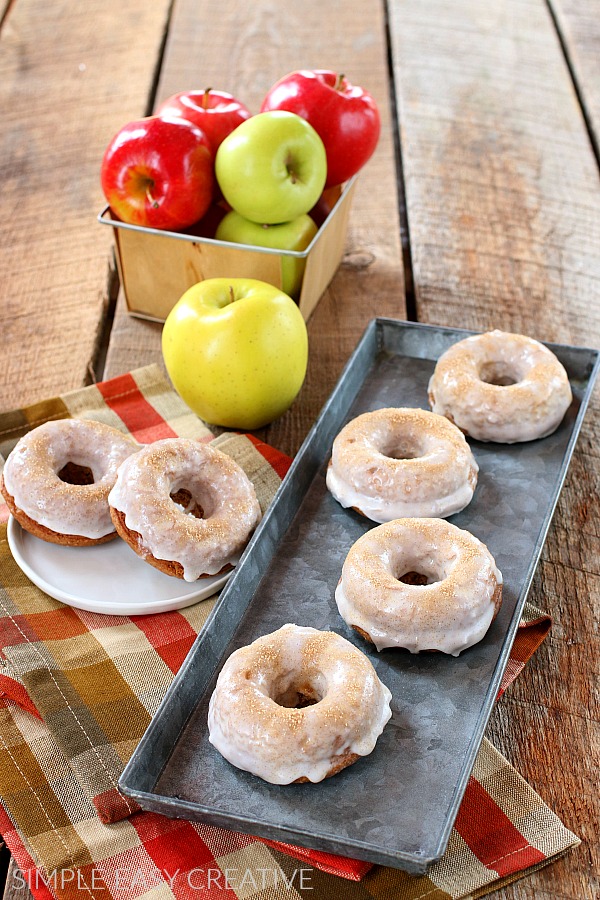 I haven't met a person that doesn't love the warm, comforting flavors of Fall! The fun of going to the apple orchards and picking your own basket full of apples!
Or heading to the pumpkin patch and picking out a perfectly shaped pumpkin to carve! And then there are other staples of fall like football, fuzzy slippers, flannel blankets, and hot apple cider!
Oh, how we love Fall!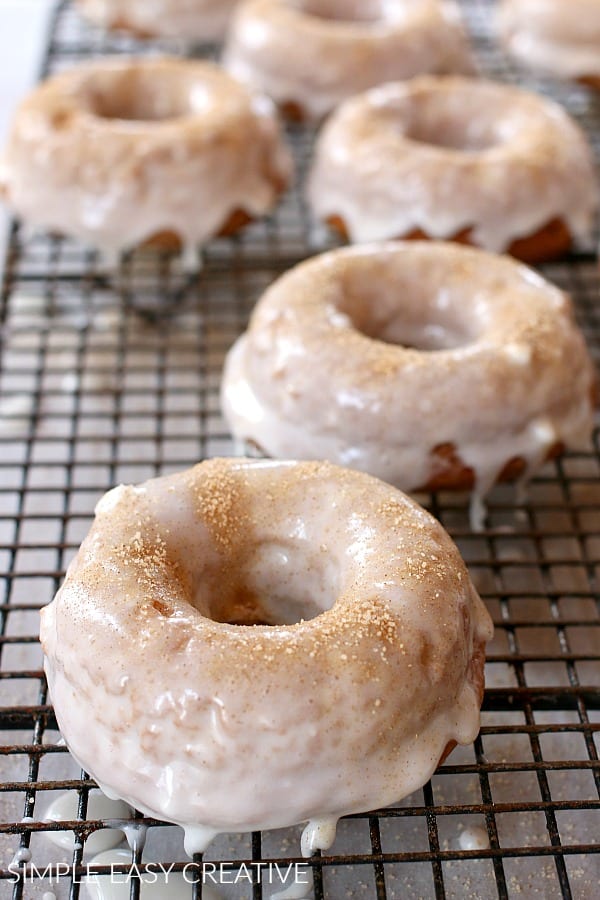 Have you ever taken a bite of something and it just reminds you of a special time? These apple donuts do just that!
My Mom used to make donuts every weekend! Back then it was quite the process – mixing the batter, heating the oil, frying the donuts. And of course, cleaning up all that oil mess.
While I love the taste, I certainly don't want to clean up the mess. So – in walks this baked donut recipe!
It starts with a cake mix, which not only makes it super easy, but you can easily change up the flavors like these Easy Homemade Pumpkin Donuts or Mini Rainbow Donuts! 
How to make Homemade Donuts
There are several ways to make homemade donuts, however – the easiest (in my opinion) is to use a cake mix. By starting with a cake mix as your base flavor, you can easily change the flavors.
Batter – the batter for donuts, even using a cake mix, is thicker than cake batter, but not super thick.
Pans – to bake donuts, I have found it easiest to use these donut pans. The key is to not overfill them. You can make them regular size, or mini.
Baking – the baking process is very similar to cupcakes and you can test them with a toothpick similar to how you would for a cupcake.
Cooling – serving the donuts slightly warm is great, but you can certainly cool them completely before serving.
Topping – the easiest way i have found is to make a glaze for the donuts (see below), however, you can also add a sprinkle of a cinnamon and sugar mixture, add sprinkles or even serve frosting on the side for dipping the donuts.
Storing – it is recommended that you store donuts in an airtight container, you can put them in the refrigerator if you want. However, we like them best when they are warm and fresh.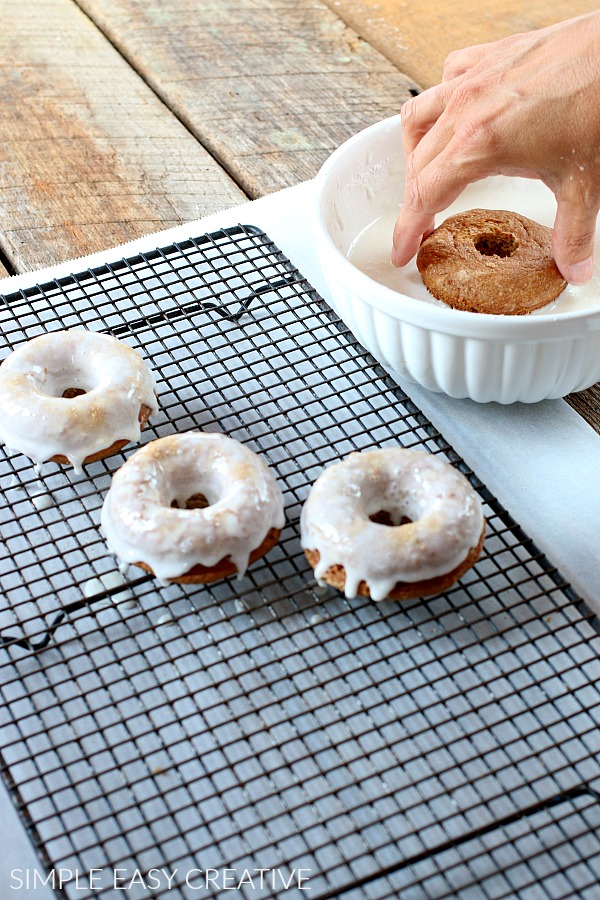 How to make Donut Glaze
The donut glaze can be as simple as powdered sugar mixed with a small amount of milk. For the Apple Cinnamon Donuts, I wanted to increase the flavor, so I added Torani Apple Syrup. The same syrup that I used to make our Caramel Apple Cinnamon Latte.
To make glaze you will need – powdered sugar, milk, flavoring of your choice like vanilla, cherry, peppermint – a mixing bowl and a whisk. It is also good to have a cooling rack with feet on it so that the glaze can drip off slightly. Be sure to add parchment paper or a towel under the cooling rack to catch the drips of glaze.
Begin by adding powdered sugar to a medium mixing bowl. The amount of powdered sugar you use will depend on the number of donuts you make. Typically I start with 2 cups of powdered sugar.
Then add the milk, I like to add a little at a time because it's easier to thin the glaze rather than to have to add more powdered sugar to thicken it. Also, keep in mind that adding the flavoring will thin the glaze a bit as well.
Now it's time to add the flavoring. I have used a variety of different flavoring, whatever you like will work just fine.
Whisk the glaze until it's very smooth
Dip each donut, top down into the glaze, let the excess drip slightly, then place it on the rack. While the glaze is still wet, you can add additional toppings like a cinnamon and sugar mixture or sprinkles.
You can also drizzle the donuts with the glaze instead of coating the whole donut.
Let the donuts set 5-10 minutes or until the glaze hardens.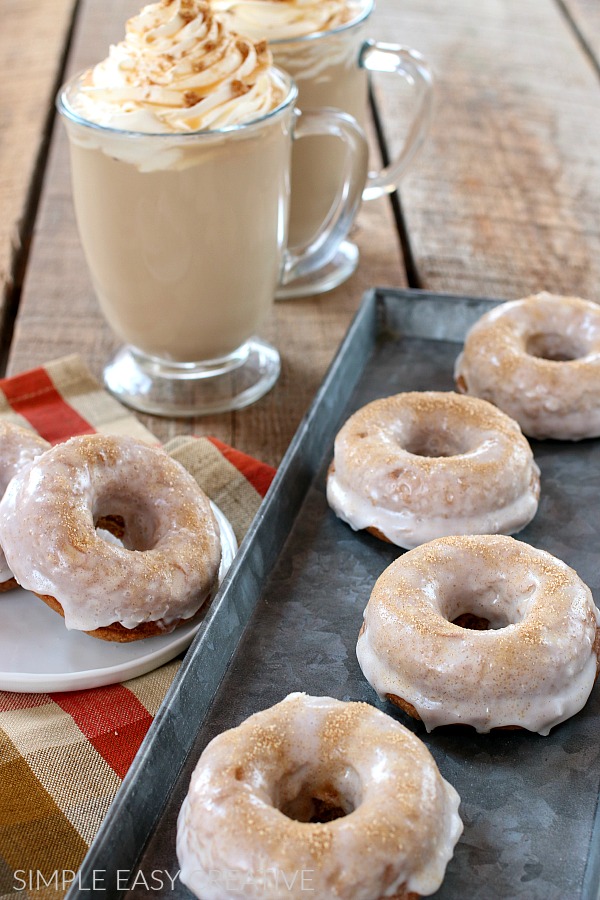 When you make these Apple Cinnamon Donuts or any of my other recipes – I'd love to hear what you thought, leave a comment below in the comment section or tag me on Instagram with #simpleeasycreative so I can see them!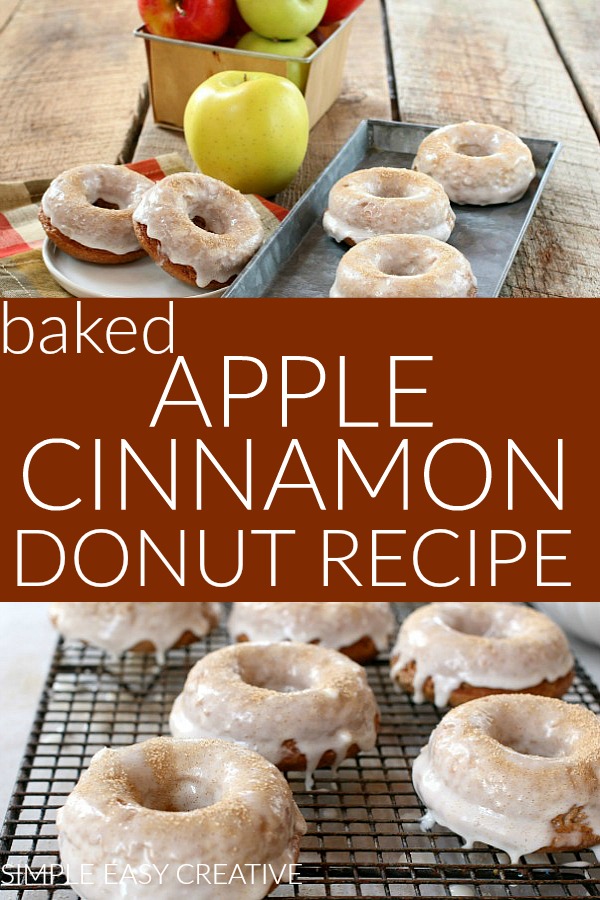 Baked Donut Recipe – Apple Cinnamon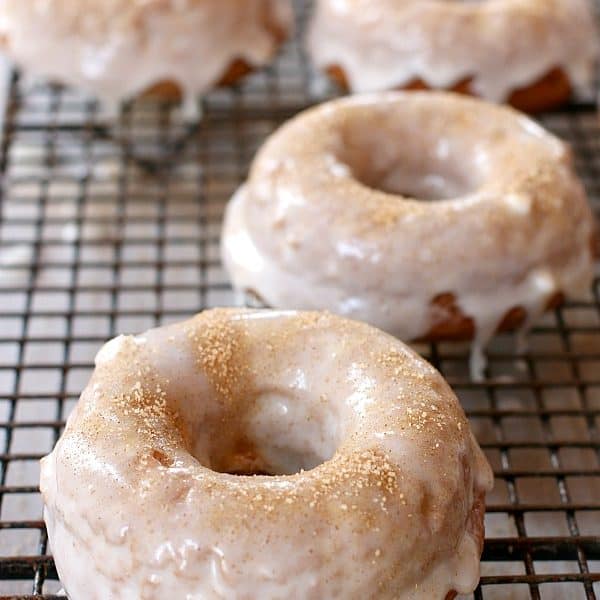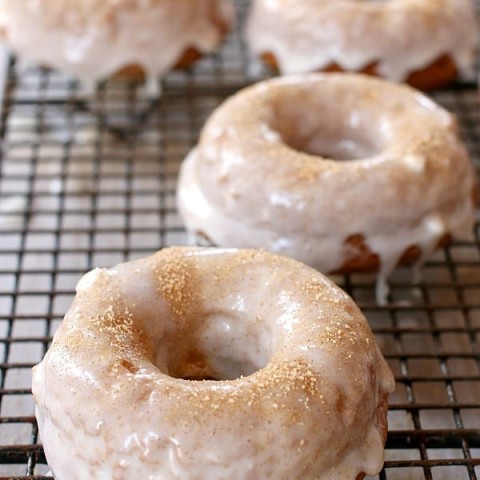 Baked Donut Recipe - Apple Cinnamon
These easy to make Baked Donuts are packed with flavor!
Ingredients
1 box Spice Cake Mix
2 eggs
1/2 cup applesauce, unsweetened
1/2 cup apple cider or apple juice
1 teaspoon cinnamon
1/2 teaspoon ground ginger
Glaze:
2 cups powdered sugar
1 tablespoon milk
1 tablespoon apple syrup or apple juice
Garnish (optional)
2-3 tablespoon granulated sugar
2 teaspoons cinnamon
Instructions
Preheat oven to 375 degrees
Coat donut pans with non-stick cooking spray, set aside
In a large mixing bowl, combine all ingredients for donuts, mix until smooth
Fill donut pans to 3/4 full, don't over fill
Bake at 375 degrees for 15-20 minutes or until golden brown
Remove from pan and cool
Combine cinnamon and sugar mixture - optional
Glaze:
Add powdered sugar to medium bowl
Add milk and juice and whisk until smooth
Add addition liquid if glaze is to thick
Dip donuts top side down into glaze and place on rack to drip off excess
Serve immediately or store in airtight container
Notes
You can find donut pans HERE