Sometimes things just don't work out the way you have them planned. Yesterday I baked all day, I'm not quite sure why, maybe the weather, I'm not really sure, but half of what I made didn't turn out very well.
Every Thursday, the Football Moms serve dinner to our 100 football players. With the exception of one week, I have brought dessert every week. And, yesterday, was no exception. Except for the fact, I couldn't seem to bake very well. I did however, make these Pumpkin Cookies that turned out great. I even had a player ask to put an order in for next week.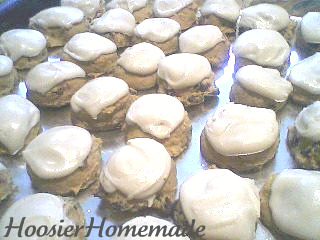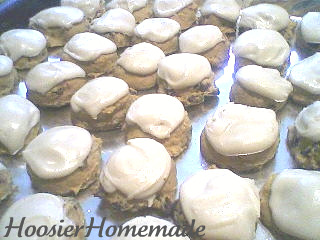 Ingredients:
1/2 c. shortening (I used Butter Flavor Crisco)
1 1/4 c. Brown Sugar, packed
2 Eggs
1 t. Vanilla
1 1/2 c. canned pumpkin (1 can)
2 1/2 c. Flour
4 t. Baking Powder
1/2 t. each of Cinnamon and Nutmeg (I use a little more)
1 c. Raisins
1 c. Walnuts, chopped
Directions:
Preheat oven to 375 degrees. Cream shortening and sugar, then add the eggs. Mix well. Add vanilla and pumpkin. Set aside. Sift dry ingredients, then blend into the wet ingredients. Fold in the raisins and nuts. Mix well.
Drop by teaspoon (or cookie scoop like I did) onto a greased cookie sheet, bake for 10 -15 min.
Frosting: 
3 T. Butter
1/2 c. Brown Sugar
1/4 c. Milk
2 c. Powdered Sugar
Bring butter and brown sugar to a boil, and cook until smooth. Cool, add milk and powdered sugar until desired consistency of frosting.
Frost cooled cookies with a small amount of frosting.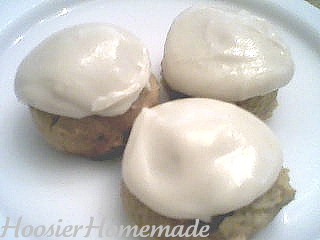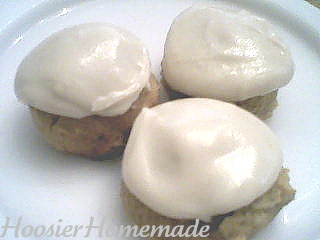 Other baked goods that I made today…
This post linked to…Ingredient Spotlight