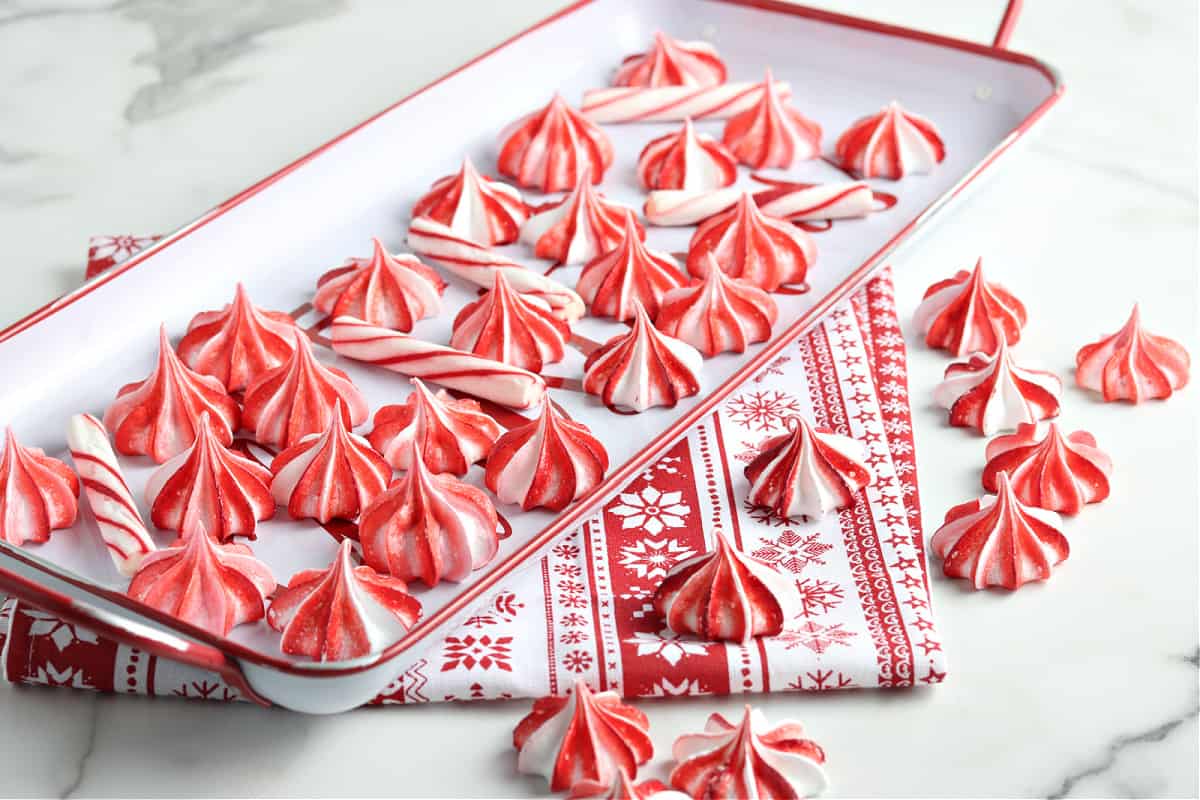 If you're looking for a delicious and refreshing treat this wintery season, look no further than Peppermint Meringues! These light and fluffy cookies are perfect for any occasion, and they're easy to make at home. Plus, they're packed with flavor thanks to the peppermint extract.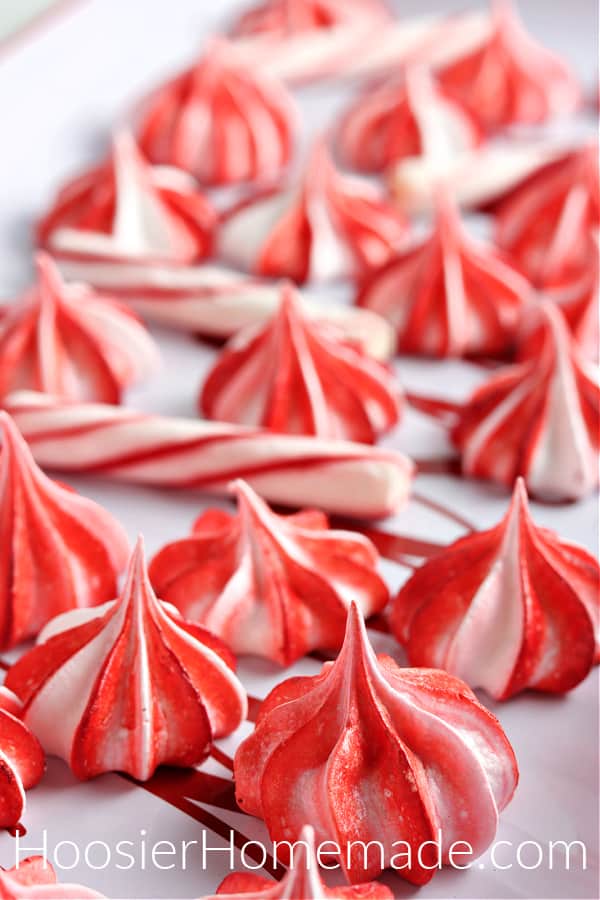 What are peppermint meringues?
These cookies are made from a combination of meringue and peppermint extract. The meringue gives the cookies their light, airy texture and crunchy exterior, while the peppermint extract provides a delicious minty flavor that is sure to delight your taste buds.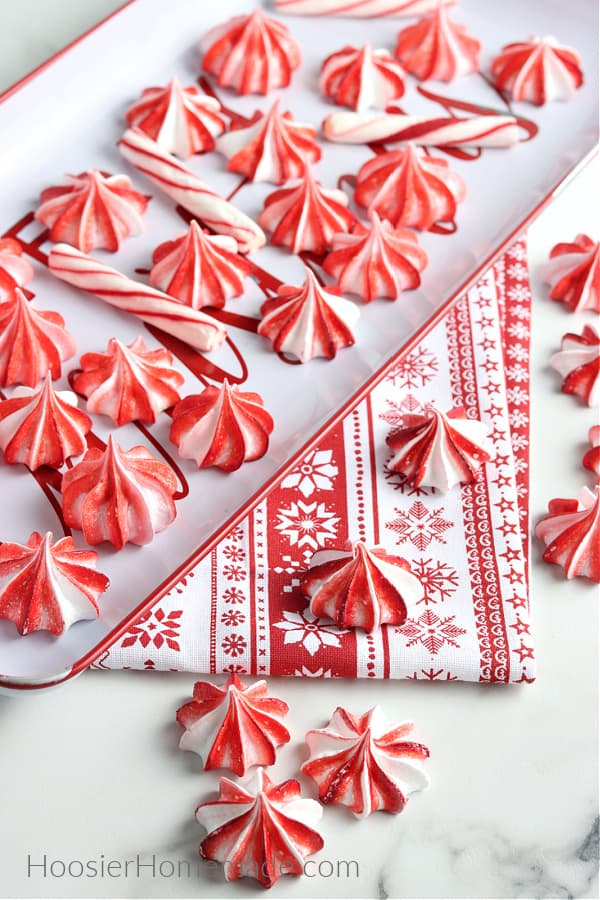 Baker's Tips for Making Peppermint Meringue Cookies
Baker's Tip #1: Before you even start making these cookies, every tool and utensil you use should be free of grime and grease. When you have leftover grease on items, it can prevent the egg whites from becoming stiff.
Baker's Tip #2: A major tip for making meringue is that once it gets shiny and stiff, STOP. You don't want to overbeat those egg whites!
Baker's Tip #3: You can change up the extract that you're using. This Baked Meringue is a good base recipe for making any holiday cookie!
Baker's Tips #4: I have found when making these Peppermint Meringues it's actually better to use a large piping tip. You can gently squeeze the large piping bag to get amazing looking meringue kisses.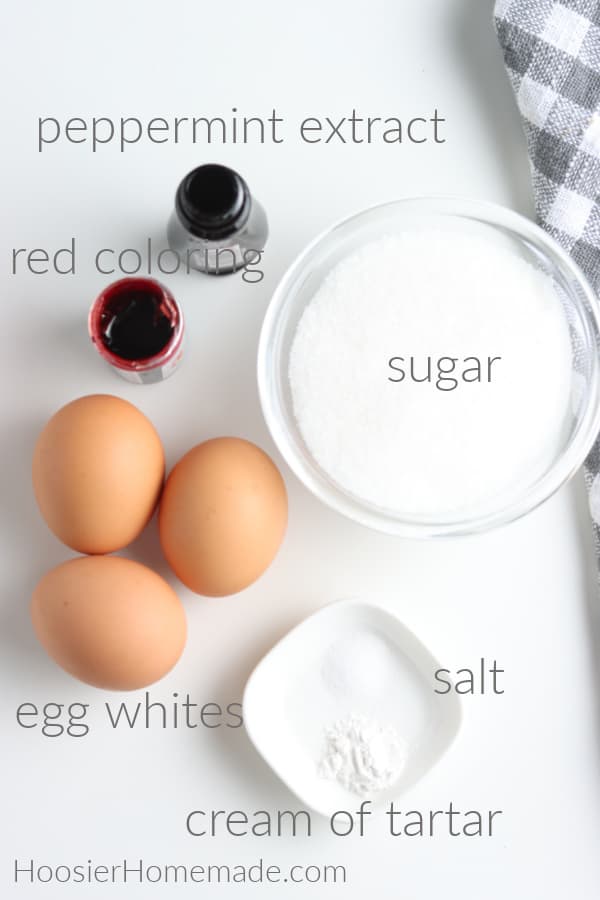 Ingredients Needed
Egg whites

– the egg whites need to be at room temperature prior to making this recipe.

Cream of tartar

– the cream of tartar is used to make the meringue.

Peppermint extract

– the extract is really going to make these cookies festive and minty!

Salt

– you can't make meringues without salt!

Granulated sugar

– the sugar will help make the cookies perfectly sweet. Plus, granulated sugar works best when you're making meringues.

Red paste food coloring – the no taste is best food coloring is best!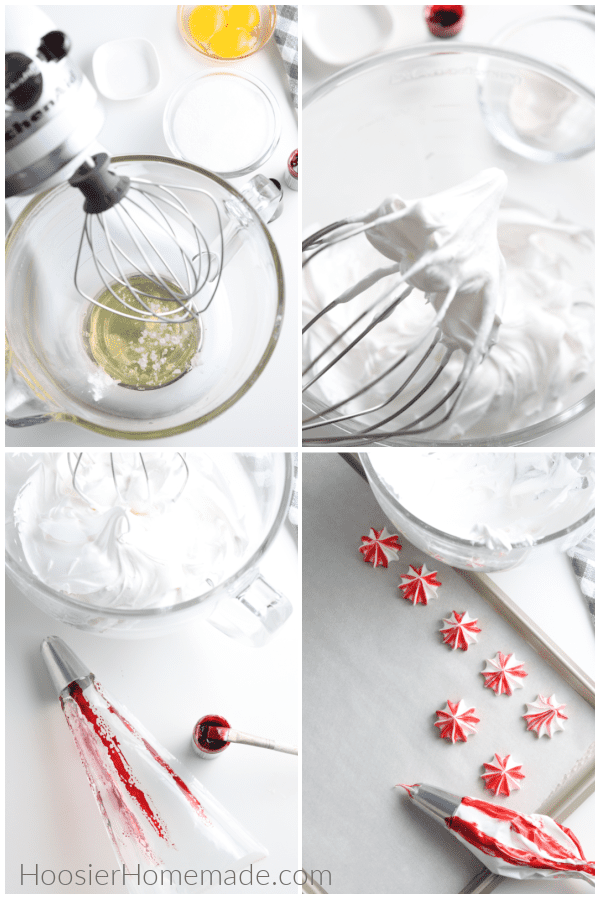 How to Make Mint Meringue Cookies
First you will need to beat the egg whites, cream of tartar, peppermint extract and salt on medium speed until soft peaks form. 

Then gradually add sugar at a time, beating on high speed until stiff peaks form.

To paint the red stripes, I like using a small paint brush. Add stripes to the inside of a plastic decorator bag fitted with a large star or round tip. Fill the bag with meringue. Pipe cookies onto the prepared baking sheet. 

After baking, you will need to turn the oven off and leave the oven door slightly open.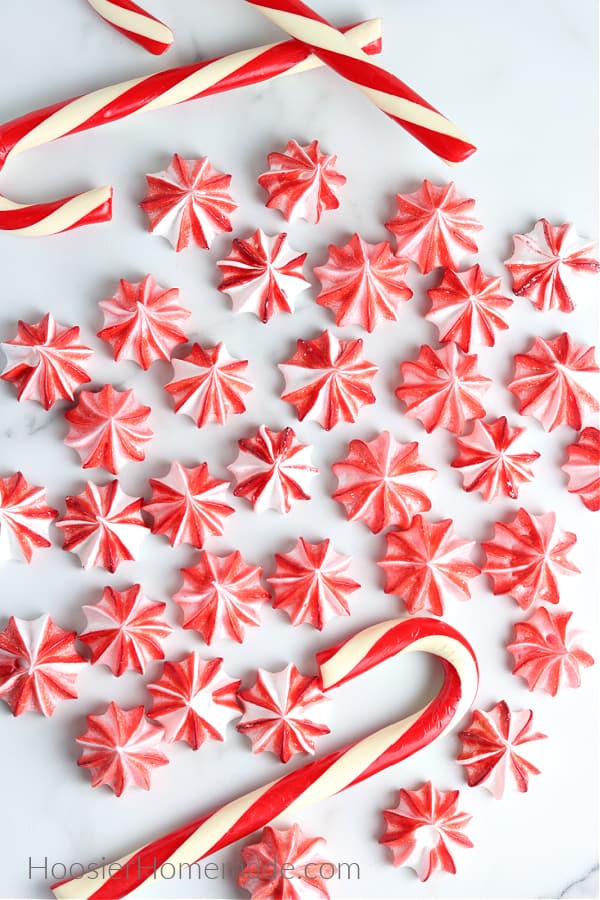 How to Store & Freeze Leftover Meringue Cookies
After making your Peppermint Meringues, it's important to store them properly, so they stay fresh and delicious. You can keep meringue cookies in an airtight container at room temperature for up to 5 days, or you can freeze them for up to 3 months.
Simply place cooled cookies on a baking sheet in the freezer until they are completely frozen, then transfer to an airtight freezer-safe container or bag.
When you're ready to enjoy your Peppermint Meringues, allow them to thaw at room temperature before serving. They will be soft and chewy, just like they were when they were fresh! 
During the holiday season, you can make dozens of these Peppermint Meringues, and they'll be a hit every time. Meringues are the perfect melt in your mouth dessert that brings lots of joy over the holidays.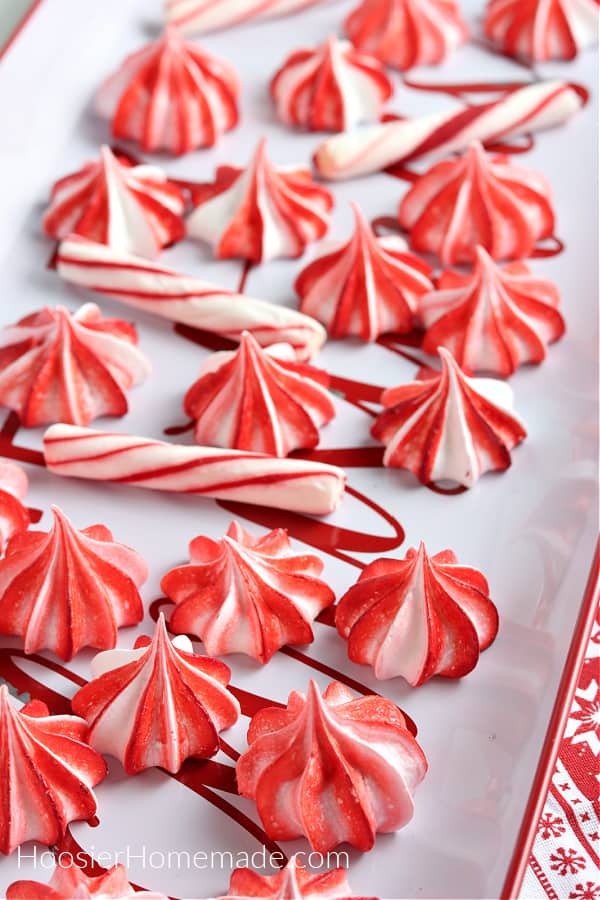 Looking for more Christmas Cookie Recipes? We have many that you are sure to LOVE! 
Click on the Photo for the Recipe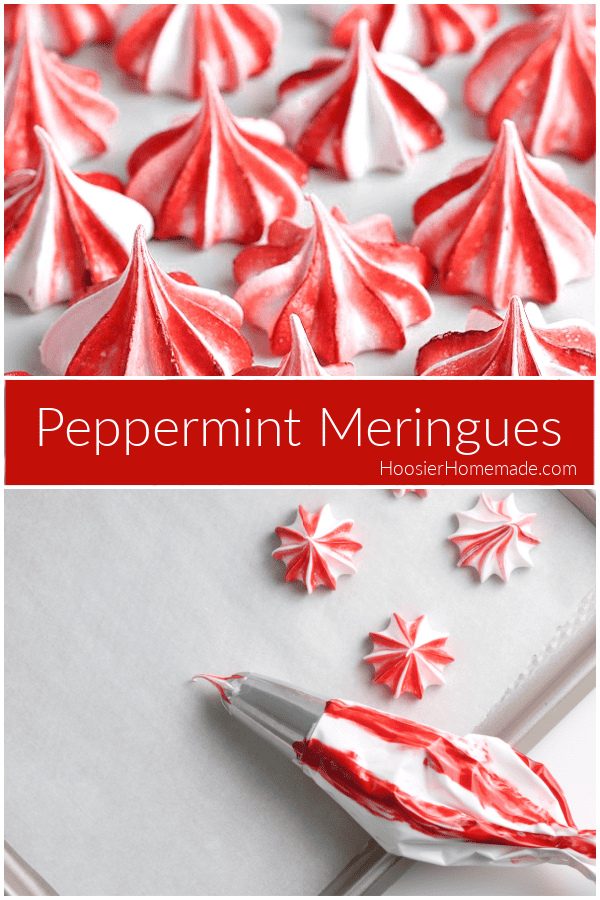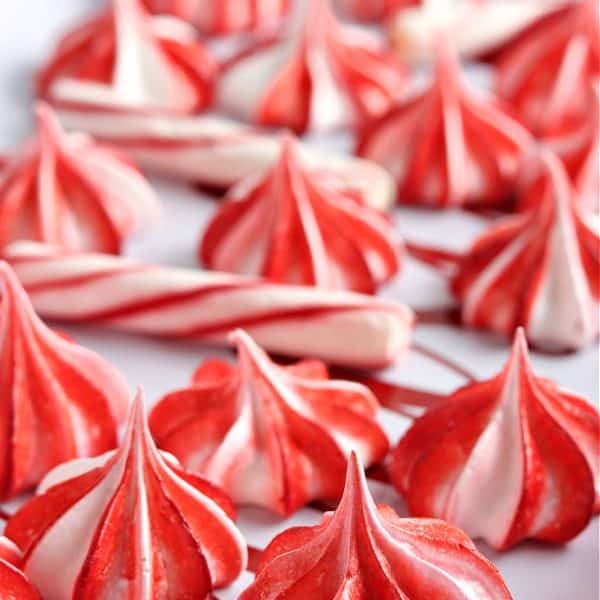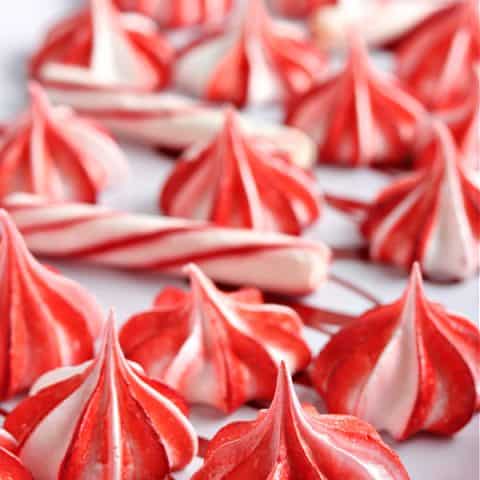 Peppermint Meringues
Cook Time:
1 hour
30 minutes
Total Time:
2 hours
40 minutes
Peppermint Meringues are a simple cookie that you can make with egg whites, cream of tartar, and peppermint extract. Easy to make and store!
Ingredients
3 eggs whites, room temperature
¼ teaspoon cream of tartar
¼ teaspoon peppermint extract
⅛ teaspoon salt
¾ cup granulated sugar
Red paste food coloring, no taste is best
Instructions
Preheat oven to 200 degrees F
Line baking sheet with parchment paper
In a bowl of a stand mixer or large bowl, beat egg whites, cream of tartar, extract and salt on medium speed until soft peaks form
Gradually add sugar 1 tablespoon at a time, beating on high speed until stiff peaks form
Using a brush, add stripes to the inside of a plastic decorator bag fitted with a large star or round tip
Fill bag with meringue
Pipe cookies onto prepared baking sheet
Bake for 90 minutes or until cookies are set
Turn oven off and leave oven door slightly open for 60 minutes
Remove from oven
Store in airtight container