These Peanut Butter and Jelly Cupcakes are perfect for after school treats, Teacher gifts, parties and much more! Add the Free Printable Back to School Toppers for even more fun!
Peanut Butter and Jelly – quite possibly the most popular sandwich ever made. Some like it on white bread – some on wheat – many like it with the crust removed. I've seen hundreds of variations of a Peanut Butter and Jelly Sandwich. So why not make it into a cupcake? A moist peanut butter flavored cupcake, filled with Homemade Strawberry Jam, topped with a big dollop of Peanut Butter Frosting and a spoonful of more jam. What's not to love?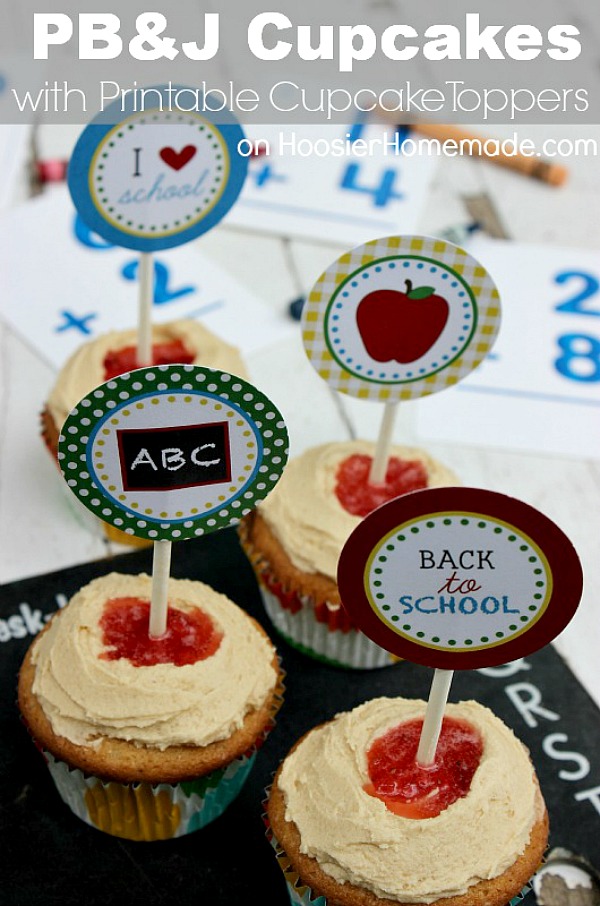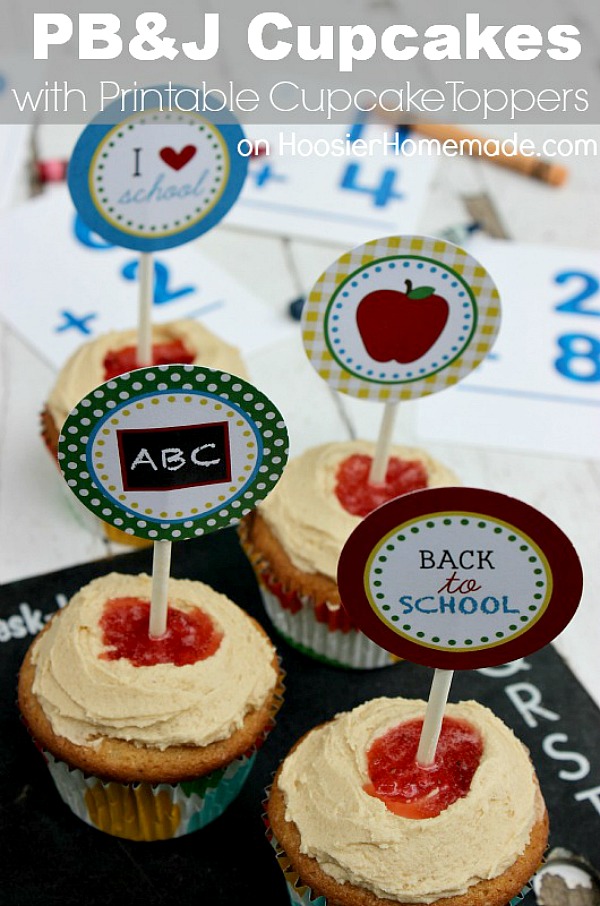 With the beginning of the school year close, it's time to start thinking about celebrating! Whether you host a Back to School Party for your kids and their friends, take the teachers a gift, or even have a small family celebration on the first day of school. The Teacher and Student Back to School Printables are a MUST have!
The Teacher set includes treat tags, thank you cards and Teacher Gift Cards. The Student set includes these adorable Cupcake Toppers, Book Plates, Lunchbox Notes and Blank Cards.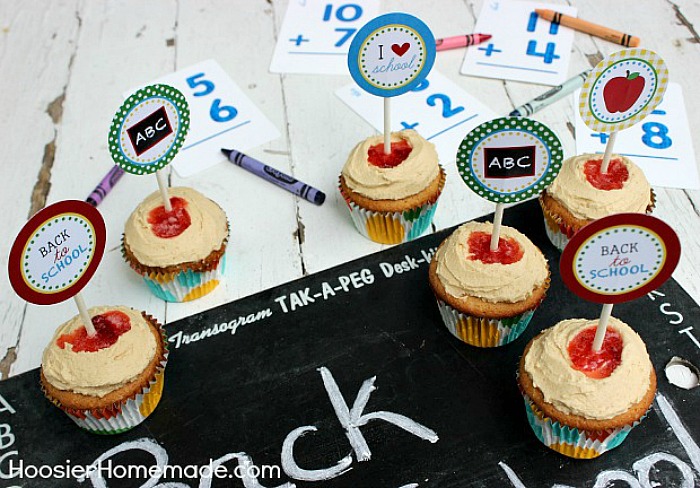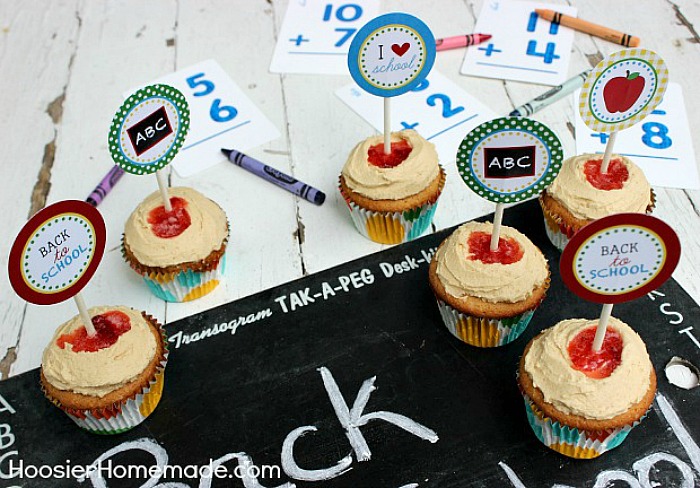 One of my favorite ways to celebrate just about any occasion, is with cupcakes! These Peanut Butter and Jelly Cupcakes are the perfect snack for after-school or to celebrate the first day of school.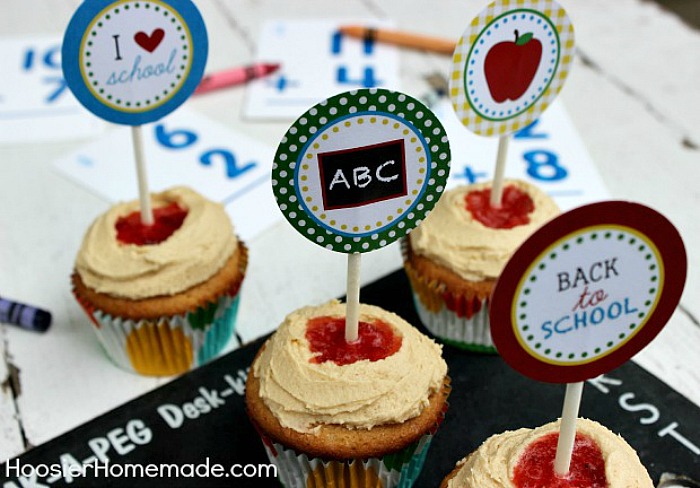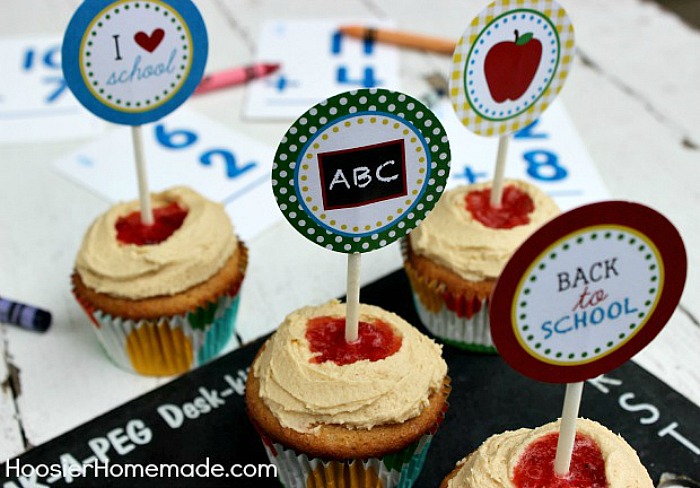 After the cupcakes are baked and cooled, fill each cupcake with a couple spoons of jam or jelly. I have several different methods that I use to fill a cupcake – learn how!
Then you will want to mix up a batch of this Peanut Butter Frosting. It's actually one of my favorites, and is the same frosting I use on my Peanut Butter Cup Cupcakes. Using an offset spatula, spread a large dollop of Peanut Butter Frosting on top of the cupcake, then using the tip of the spatula, made an indentation for the jam or jelly to sit.
We love Homemade Strawberry Freezer Jam, which is a recipe that my Mother-in-law made when my husband was a boy. It's a classic recipe – you must try it!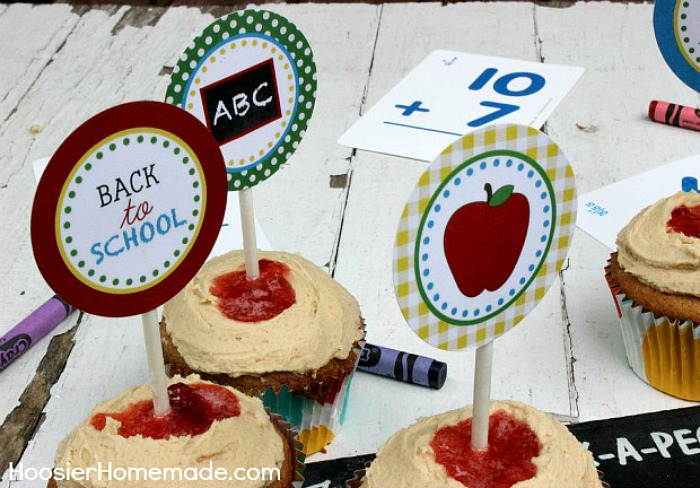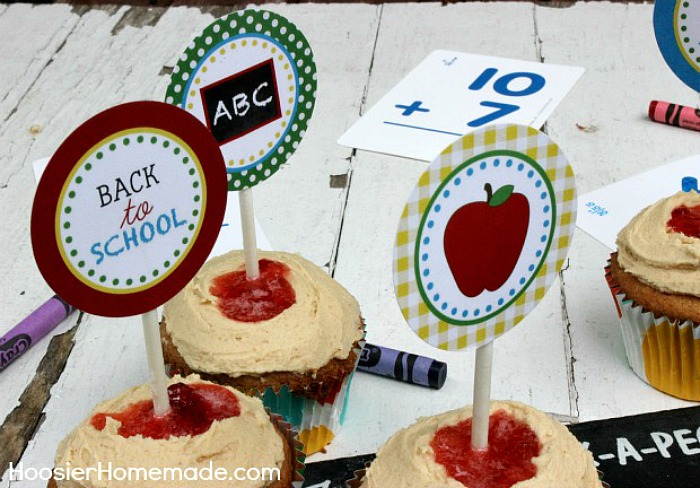 The FREE Printable Back to School Cupcake Toppers are fun to add to cupcakes, but you could also use them on Teacher Gifts!
Printable Cupcake Toppers
Head on over and grab the printables.
Save to your computer or a flash drive and print. I use card stock paper to print on, it's a little sturdier.
Cut out the circles using a 2 inch hole punch. If you want the different color rim around the circles, you will need a larger hole punch or cut them by hand like I did.
Use a lollipop stick and tape it to the back of the topper.
Decorate the cupcakes with a variety of colored sprinkles on the cupcakes, if desired.
Insert the topper into the cupcake.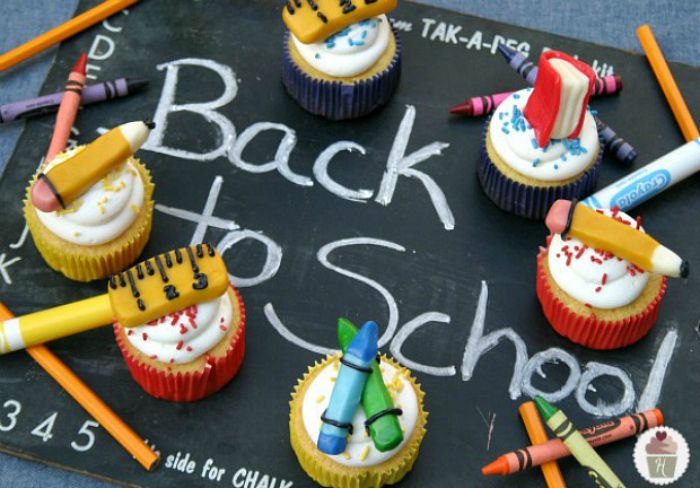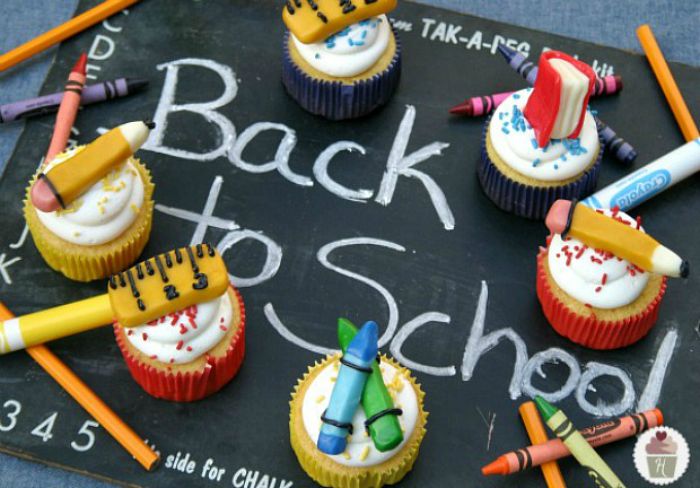 Looking for more Back to School Cupcakes? There are several to choose from on the Cupcake Heaven page!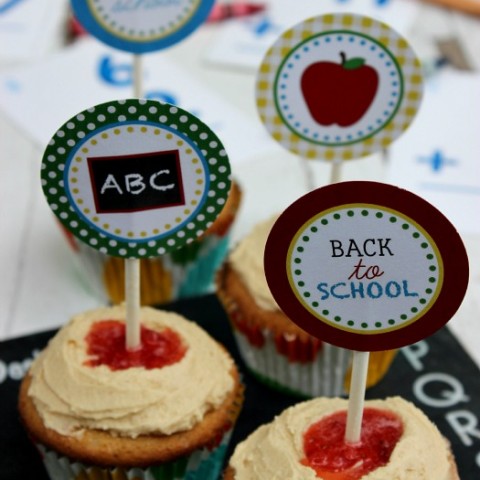 Peanut Butter & Jelly Cupcakes
Perfect for after-school snack, special occasion or even a bake sale.
Ingredients
Peanut Butter Cupcakes
1 3/4 cups flour
2 1/2 teaspoons baking powder
1/2 teaspoon salt
1/4 teaspoon baking soda
1 1/2 sticks (3/4 cup) butter, unsalted, softened
1 1/3 cups sugar
3 large eggs
1/2 teaspoon vanilla
2/3 cup peanut butter
1/2 cup sour cream
Peanut Butter Frosting
1 cup butter, unsalted, softened
1 cup peanut butter
3-4 tablespoons milk, depending on consistency
2 1/2 - 3 cups powdered sugar
Instructions
Cupcakes
Preheat oven to 350 degrees and add liners to cupcake pan
In a medium bowl, combine flour, baking powder, salt and soda, set aside
In a large mixing bowl, combine butter and sugar and beat until fluffy, about 3-5 minutes
Add eggs and vanilla and mix well
Gradually add flour mixture, alternating with sour cream and peanut butter
Mix until smooth - batter will be very thick
Divide into liners and bake at 350 degrees for about 15-18 minutes or until a toothpick comes out clean
Frosting
In a large mixing bowl, beat the butter and peanut butter until smooth, about 2-3 minutes
Gradually add the powdered sugar, alternating with milk until desired consistency
Decorating
Fill cupcake with a couple spoonfuls of jam or jelly, if desired
Add a large dollop of frosting to cooled cupcake, spread to edges using an offset spatula. Use the tip of the spatula to create an indentation for the jam.
Spoon jam onto cupcake
Cupcake Recipe adapted from Martha Stewart