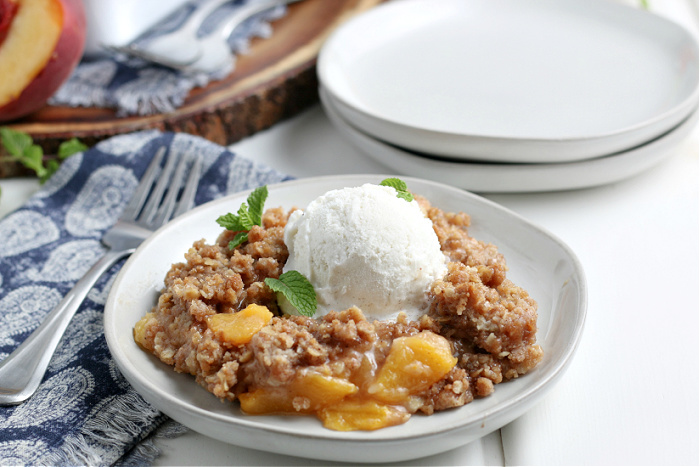 Peach fans rejoice every year when the peach season rolls around, and what better way to celebrate with some homemade peach crisp. Made with sweet juicy peaches and a crispy cinnamon streusel crisp topping — this peach crisp recipe will have you savoring every bite.
Easy, delicious, and in under an hour? Does it get any better than that?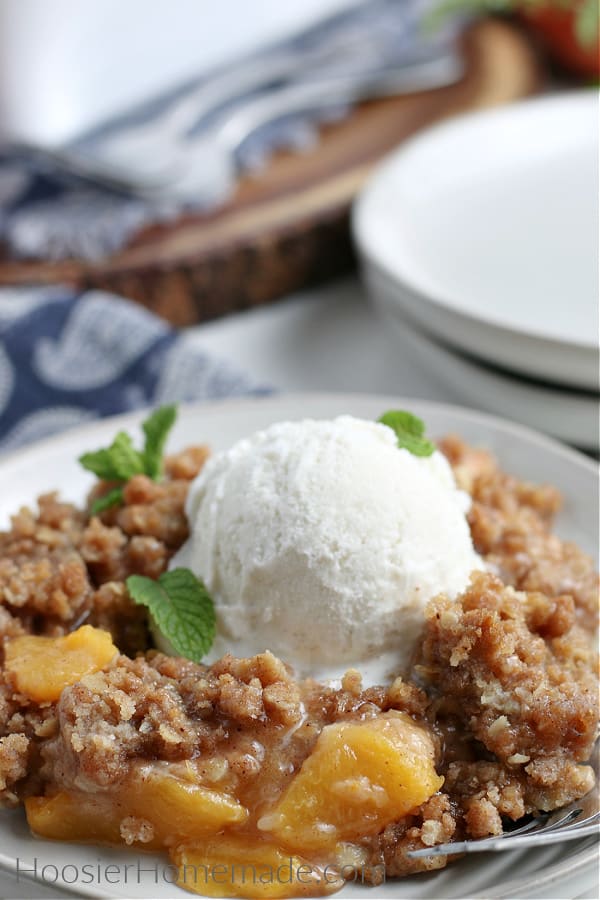 What's the difference between a cobbler, crumble and crisp?
Cobbler typically has fruit on the bottom and is topped with a batter or biscuit crust. This Peach Cobbler is a favorite!
Crumble is very similar to a crisp, however the topping typically doesn't contain oats.
Crisp also has fruit on the bottom, however it has a mixture of sugar, flour, oats and butter that combine a crunchy topping.
This Apple Crisp is one that I've been making for many years. It's a recipe passed down from my Mom.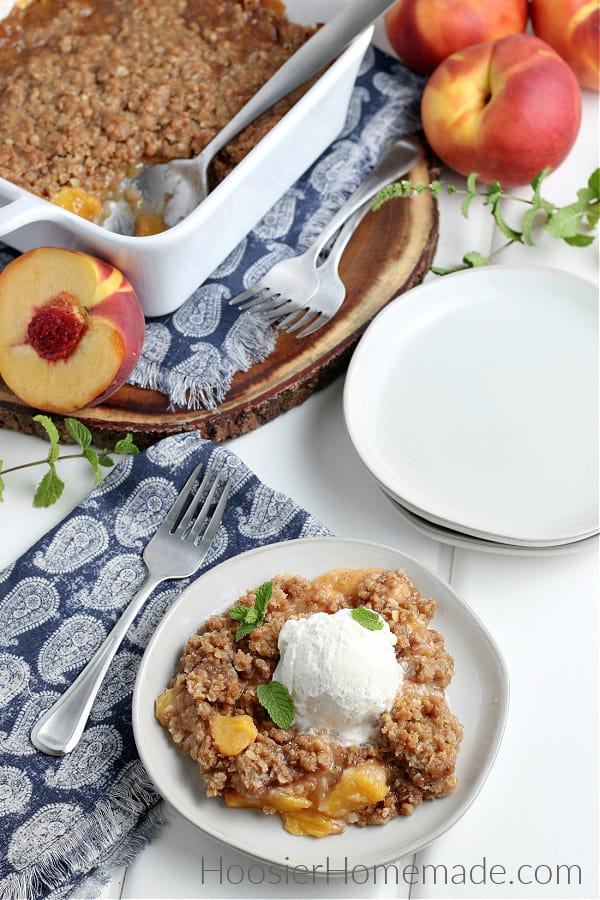 Easy Peach Crisp: What You'll Need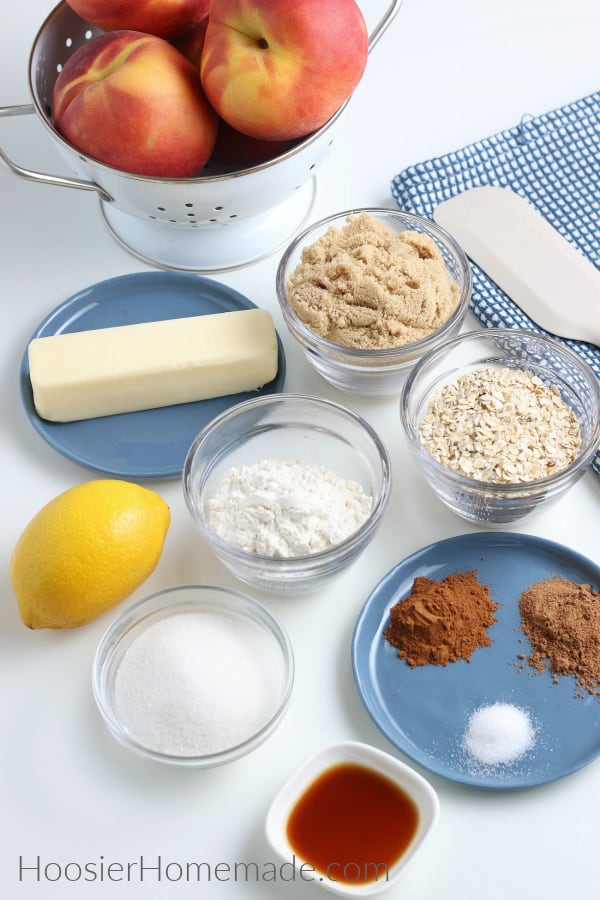 This easy peach crisp recipe calls for the following ingredients:
For full printable recipe, see below
3-4 pounds of peaches

Lemon juice

Sugar

All-purpose flour

Vanilla extract

Salt

Cinnamon
For the crisp on top , you'll need:
Light brown sugar

All-purpose flour

Quick Oats

Cinnamon

Nutmeg

Unsalted butter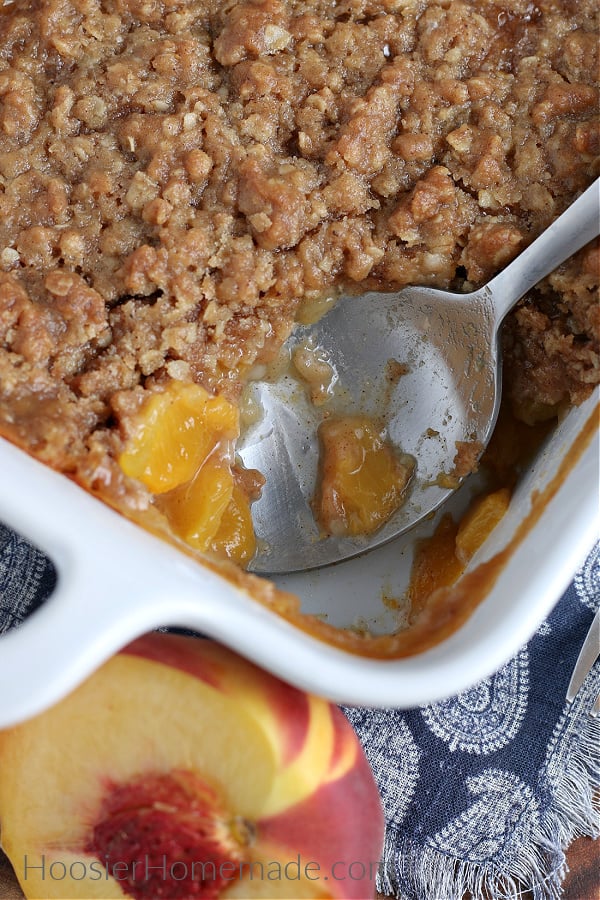 Easy Peach Crisp: Peeling the Peaches
Getting started is the "hardest" part of this recipe, in my opinion, and it isn't hard at all. You'll want to prep your peaches by peeling and slicing them.
To easily peel our peaches, we use this blanch and shock method. It makes it easy to remove the skin from the peaches without having to use a knife or a peeler.
Place ice water in a large bowl and place it to the side.
Next, boil a large pot of water — use something big enough to fit several peaches at a time.
Once the water is boiling, reduce it to a simmer, lower the peaches into the water, and let them sit in the water for 30 seconds.
Remove the peaches from the hot water and immediately place them in the ice water. This stops them from continuing to cook. Once the peaches have cooled the skin should be easy to pull away from the peaches.
Slice the peaches and place them in a large bowl.
Once your peaches are sliced, place them in a bowl with the lemon juice and sugar, give them a good toss, and set them aside while you make the luscious, sugary-sweet, peach crisp topping.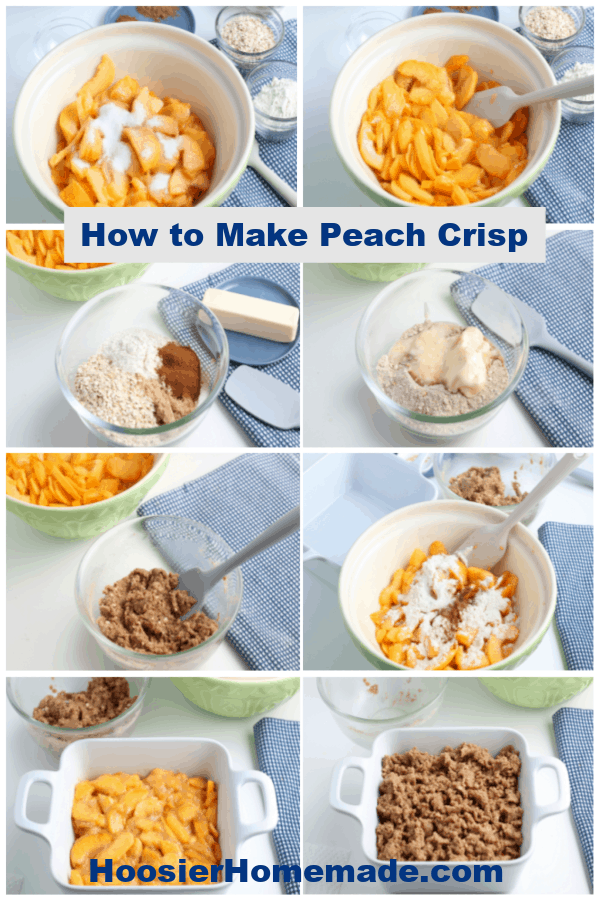 How to Make Our Peach Crisp
For full printable recipe, see below
While your peaches are soaking up some of that sugar, you're going to make this delicious peach crumble topping.
Preheat your oven, grab another large bowl, and let's get started — we're trying to make it sound like this is going to take some time and effort, but the truth is: it's effortless.
Start by chopping up your butter, I recommend placing it in the refrigerator until it's ready to be used, although we aren't making a cobbler, we still want the butter to be hard enough to make a nice crisp topping.
Simply combine the brown sugar, flour, oats, cinnamon, and nutmeg. Once well combined, mix in the butter until the mixture is nice and crumbly.
Your peach cobbler crumble is ready to go, place it aside and grab your peaches.
Making the Perfect Peach Crisp
Place the peaches in a colander to drain any excess juices. Once drained, return the peaches to their bowl and stir in the vanilla, flour, salt, and cinnamon. Mix to coat.
Place the coated peaches in a buttered baking dish — an 8×8 pan is ideal for the perfect peach to crumble ratio.
Spread the crumble evenly over the peaches and bake at 350°F for 30-35 minutes, or until the topping is a nice golden brown.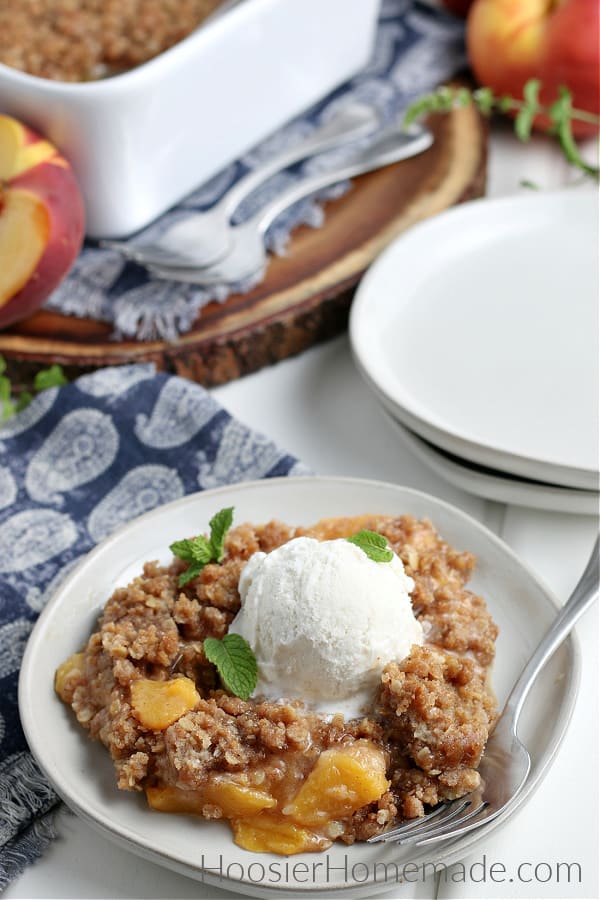 How to Serve Peach Crisp
This peach crisp tastes delicious warm out of the oven or at room temperature, which is why it is one of our favorite desserts to take to any family get-together or picnic.
Serve it with a side of ice cream, or whipped cream, whichever you desire — our favorite is french vanilla ice cream, but the peach cobbler is perfect on its own.
While it's rare that any of our peach cobbler is left after serving, occasionally we have a little left for dessert for the following day. Store the peach cobbler covered in the refrigerator, away from foods that might affect its taste. This includes things like garlic, onions, or other strongly scented foods.
When you're ready to enjoy the leftover peach cobbler, place it covered, in the oven, for 4 minutes at 350°F for five minutes or until warm.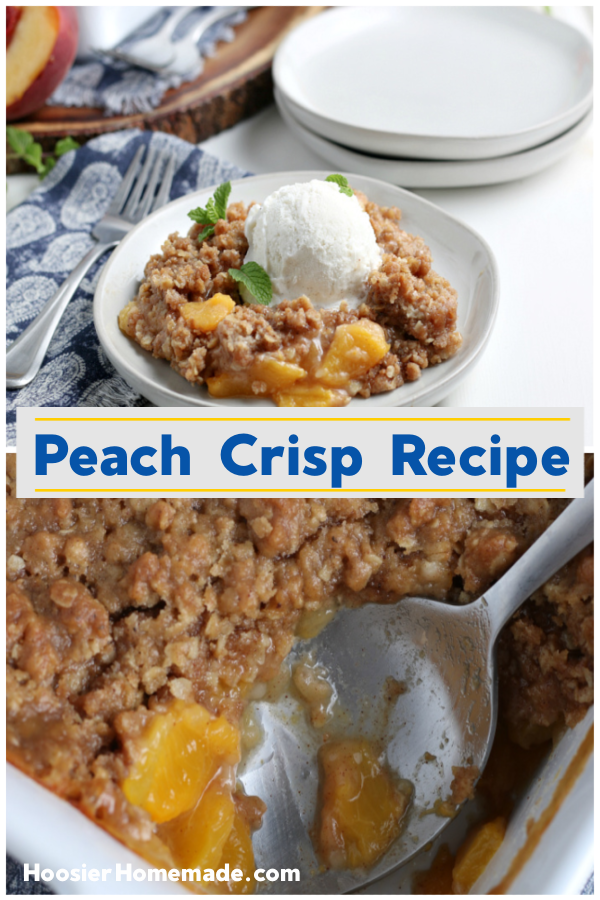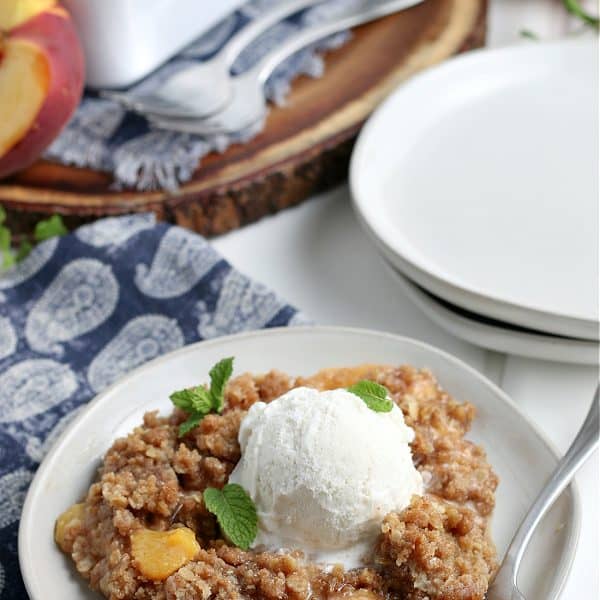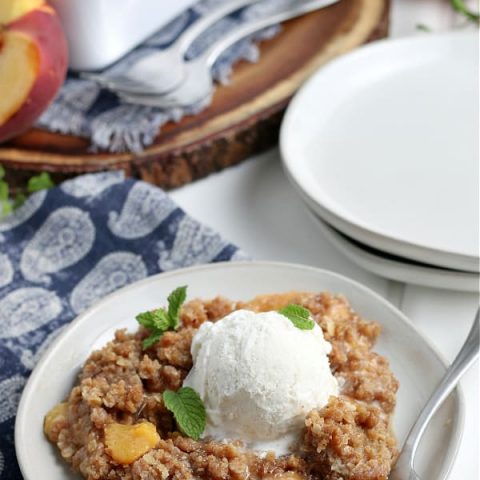 Peach Crisp
Cook Time:
35 minutes
30 seconds
Total Time:
45 minutes
30 seconds
This EASY Peach Crisp goes together in minutes with ingredients I bet you have on hand!
Ingredients
6-8 (3-4 pounds) peaches, peeled and cut into slices
2 teaspoons lemon juice
¼ cup sugar, more depending on sweetness of peaches
2 tablespoons all-purpose flour
1 teaspoon vanilla extract
¼ teaspoon salt
¼ teaspoon cinnamon
Topping
¾ cup light brown sugar, packed
½ cup all-purpose flour
½ cup oats, quick cooking
1 teaspoon cinnamon
1 teaspoon nutmeg
½ cup (1 stick) unsalted butter, softened plus more for coating pan
Instructions
Preheat oven to 350 degrees F
Butter square 8x8 baking pan
Peel and slice peaches, add to large bowl
Add lemon juice
Add sugar and toss to coat, set aside for 15 minutes
To make the topping - In a medium bowl, combine brown sugar, flour, oats, cinnamon and nutmeg until well combined
Mix butter into mixture until crumbly, set aside
Drain excess juice from peaches, add peaches back into bowl
Stir in flour, vanilla extract, salt and cinnamon
Add peaches to prepared baking pan
Evenly sprinkle crumb topping
Bake at 350 degrees F for 30-35 minutes or until golden brown
Serve warm or room temperature with vanilla ice cream, if desired
Nutrition Information:
Yield:

4
Serving Size:

1
Amount Per Serving:
Calories:

326
Total Fat:

3g
Saturated Fat:

1g
Trans Fat:

0g
Unsaturated Fat:

1g
Cholesterol:

4mg
Sodium:

155mg
Carbohydrates:

73g
Fiber:

3g
Sugar:

50g
Protein:

4g