Old Fashion Peach Cobbler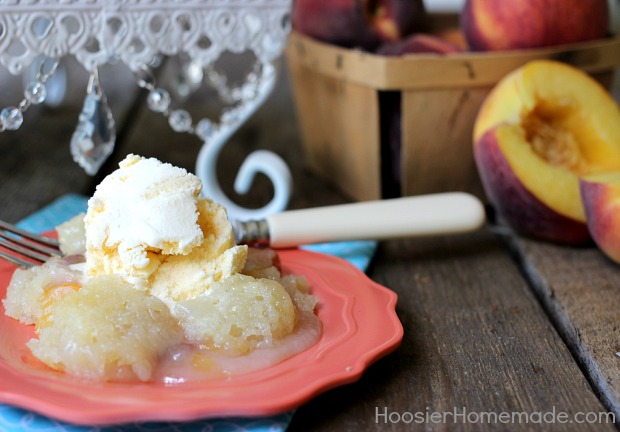 Some of the best recipes are those that are passed down through generations. This Old Fashion Peach Cobbler recipe is one that I bet was served countless times for Sunday dinner dessert, taken to Potlucks, and enjoyed for the holidays.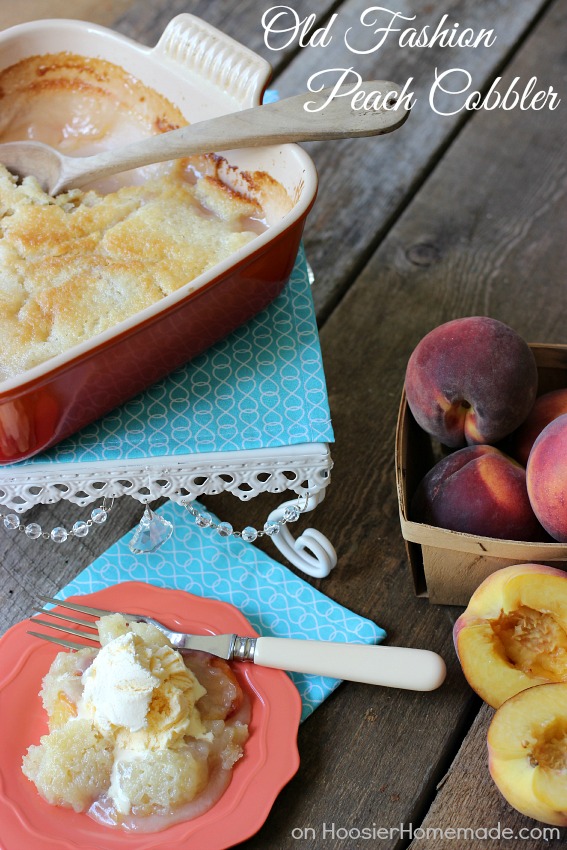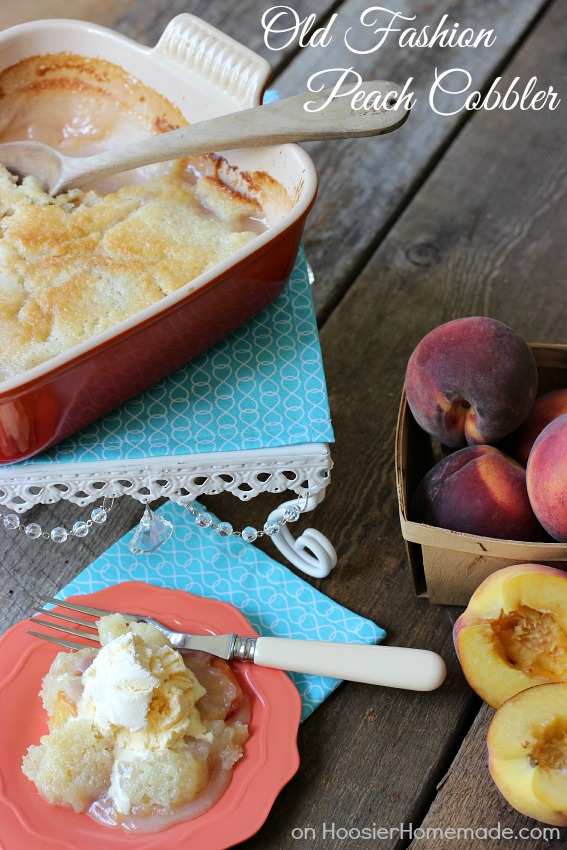 Many moons ago, my Mother-in-Law gave me a cookbook that was published by her women's group at their church. It's one of those cookbooks that is full of recipes that you know have been family favorites over the years. I have used this cookbook many, many times and have yet to find a recipe we didn't love.
Cobbler is one of those desserts that I remember my Mom making, especially when the fruit was ripe and in season. There are many different ways to make Cobbler, some are made with a batter like this Old Fashioned Peach Cobbler, some have a pie crust and others are simply made with store bought biscuits. But they all contain fruit or a savory filling of some kind.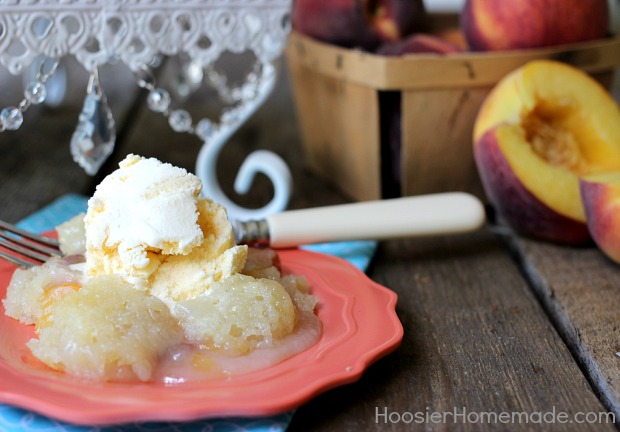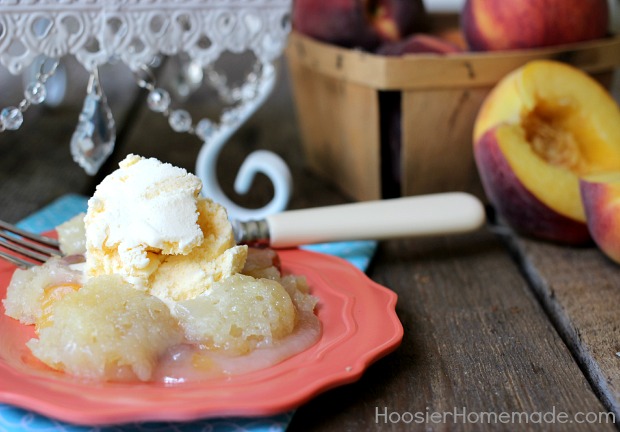 This particular recipe is definitely Old Fashioned, while the Peach Cobbler is not difficult and it didn't take long to put together, it's made a little different than the more modern Cobbler recipes. You begin with a square baking dish and melt the butter right in the pan. Then add the sugar, flour, salt, baking powder and milk. The peaches are sliced and mixed with sugar, then placed right on top of the batter. Into the oven it goes for about 45 minutes to an hour.
Although I wanted to make this recipe exactly how it was written, keeping it original, I think next time I will add cinnamon and perhaps use brown sugar in place of part of the white sugar.
What do you think? Would you add those ingredients?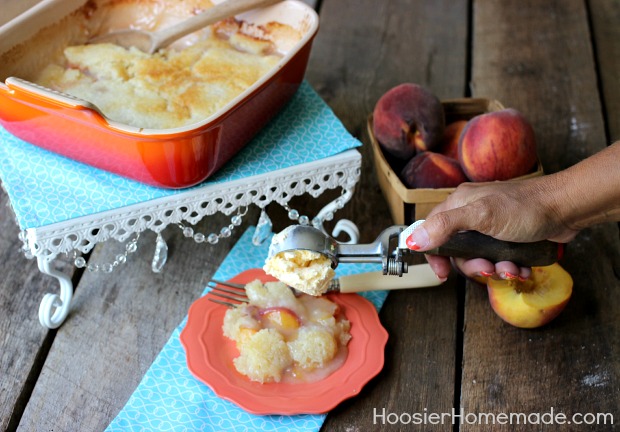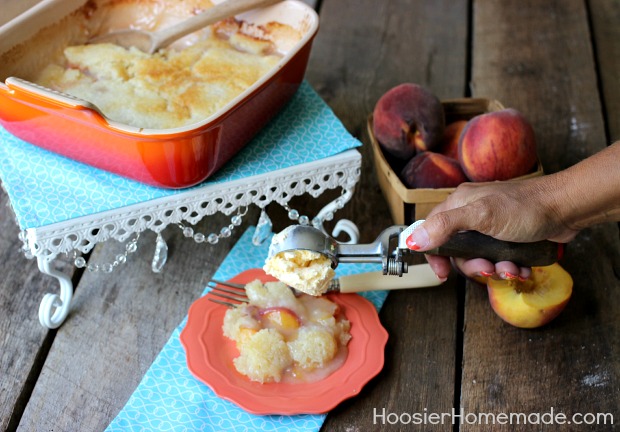 Enjoying our Peach Cobbler with a scoop of Vanilla Ice Cream is a must here in the Midwest, although I believe that part originated in the Deep South. Either way, it's delicious!
Old Fashion Peach Cobbler
Total Time:
1 hour
5 minutes
Just like Grandma used to make, this Peach Cobbler is easy to make in little time. Recipe on HoosierHomemade.com
Ingredients
2 cups peaches, washed and sliced
2 cups sugar, divided (adjust amount if peaches are very sweet)
1 stick (1/2 cup) butter
3/4 cup flour
pinch of salt
3/4 cup milk
2 teaspoons baking powder
Instructions
In a small bowl, add fruit and sprinkle with 1 cup sugar
Preheat oven to 350 degrees
Add butter to a square baking dish (8x8 or 9x9 inch) and melt in oven (or melt butter in microwave and add to baking dish)
Add remaining sugar, flour, salt, baking powder and milk carefully
Mix until well blended
Add fruit to top
Bake 45 - 60 minutes until batter rises to the top and is lightly brown
Serve with Ice Cream, if desired
Visit these fellow Walmart Moms for more delicious recipes!
Do you know that Walmart is working with local growers to bring you the freshest, high-quality product available? You can learn all about it on Walmart.com and watch the Growers' Stories on video too!