Keeping your home organized can often times be challenging every day. But what about all those special decorations that you only have out during the holidays? Today we are sharing tips and a free printable box label for organizing Christmas decorations.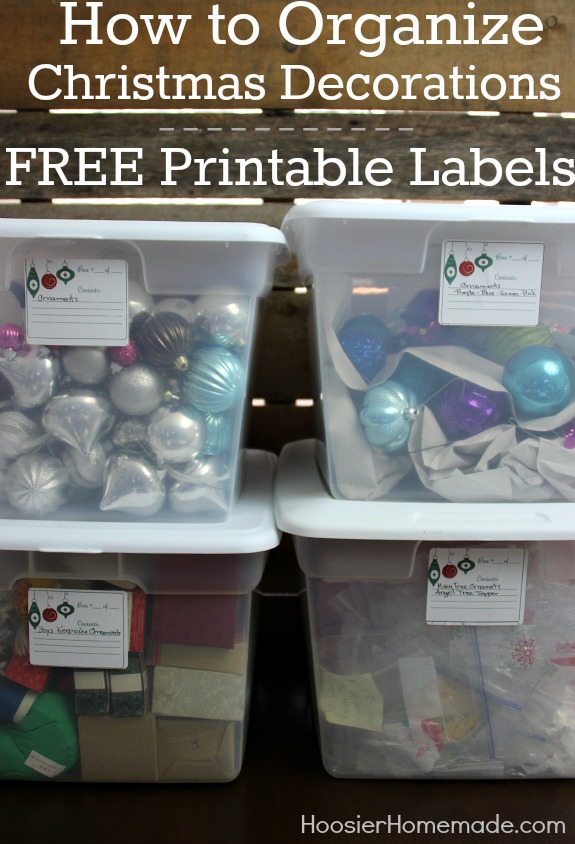 Christmas in our home has always been a big deal. I simply love to decorate and after 26 years of marriage, I have to admit, the Christmas decorations have gotten a bit out of control. Over the years, I added more and more decorations, and not so long ago, I put up 12 trees, yes 12. It was great, but also exhausting.
Up until last year, my decorations were somewhat under control. I had all the boxes labeled with contents and what room they belonged in. And then life and work hit hard at the end of last year. I'm not complaining at all, I am very grateful for the work, but needless to say, the house and organizing took a big hit.
Flash forward to Thanksgiving weekend this year, and I came down with the worst cough and sickness ever, it landed me in bed for a week. Unfortunately, life and work still go on, even if you are sick. So I had some decisions to make. This was the year that the Christmas decorations HAD to get organized, plus it is also the year to begin simplifying it all.
Now, don't get me wrong, I still love to decorate, and the house will still look festive and beautiful, I'm just scaling back. But the first thing that had to be done was organizing Christmas decorations. And what better time to do it than while everything is out.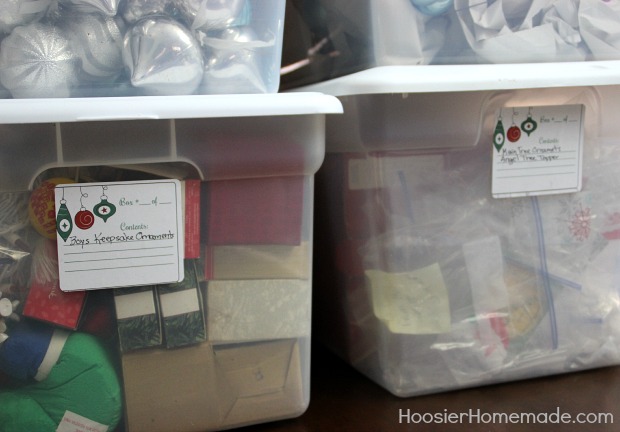 First, we grabbed all the boys and worked together to bring down all the Christmas decorations from the attic. There are about 30 boxes full. Then as they brought down the boxes, I assigned the box to a room where the decorations were going to be. After that, it was time to begin decorating and tackling the organizing. Each box was gone through, damaged decorations were thrown out, and a big box of items was started to take to Goodwill.
As I mentioned, with having 12 trees over the years, I have lots of different colored ornaments, so I divided those into separate boxes. And the items that I wanted to keep for the boys for when they have their own families and homes, were put into another box.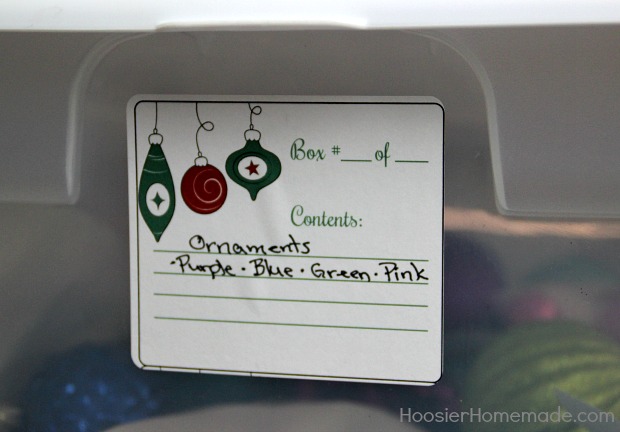 Then it was time to label the boxes. Since Christmas is not over, we haven't finished all the numbering of boxes, but the majority of the organizing is done.
If you have been following along, you know that today is Day 12 of our 12 Steps to Christmas Sanity. We have had a great time sharing little steps you can take to give yourself more time and money during the busy Christmas season! Thanks to Laura from I Heart Planners for all the great printables!
Here is a line up of what we covered in case you missed any.
Today we are sharing the Printable Box Labels and Decoration Inventory List! Click on the photos below to download!