These Christmas Tree Decorating Ideas are sure to inspire you to get your tree up and decorations out. Christmas trees for all rooms in your home in styles that everyone will love including Buffalo check, pastel, a tree for a little girl's bedroom, the office and more.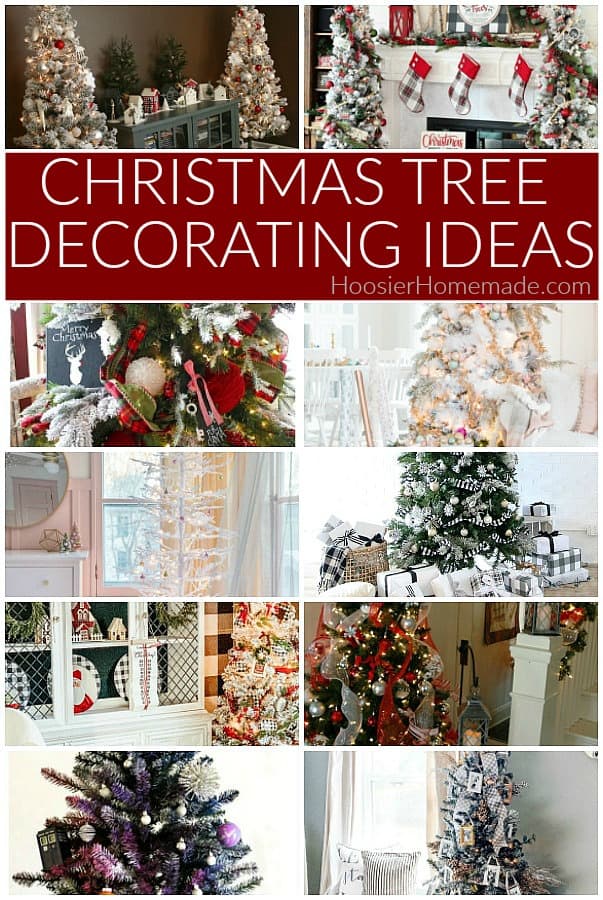 Welcome to Day 32 of the 100 Days of Homemade Holiday Inspiration! Each day we will be inspiring you with recipes, decorating ideas, crafts, homemade gift ideas and much more!
Do you decorate your Christmas tree the same from year to year, or do you like changing it? While it would be expensive to totally change all the Christmas decorating every year (trust me, I've thought about it), using the same Christmas tree ornaments but changing it slightly isn't difficult at all.
These Christmas Tree Decorating Ideas may just inspire you to change your decorating this year.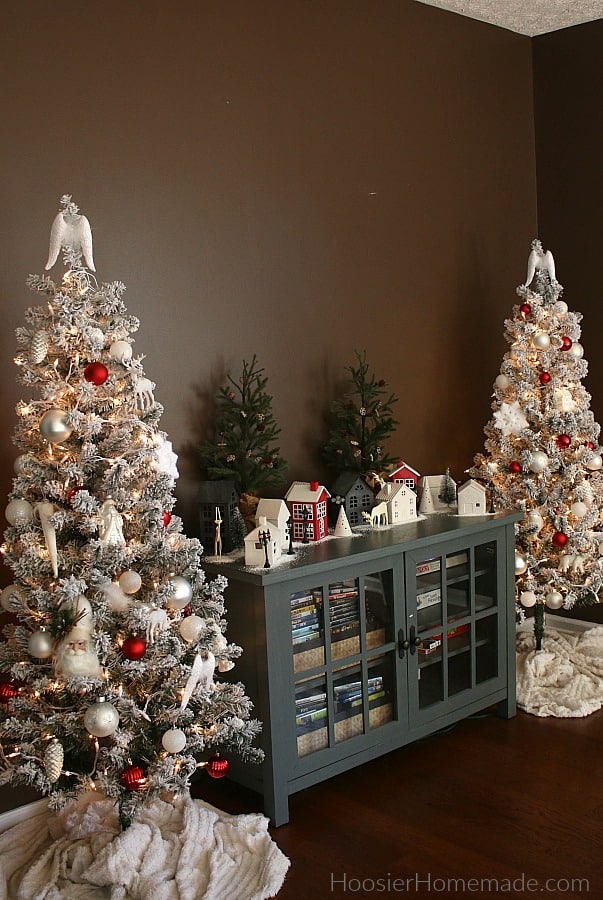 Have you thought about decorating a tree for your Dining Room? This is a place that families gather to be together, why not make it even more warm and cozy and add a tree?
Decorated with mostly white ornaments, these flocked trees also have a little pop of red that brings an interesting look.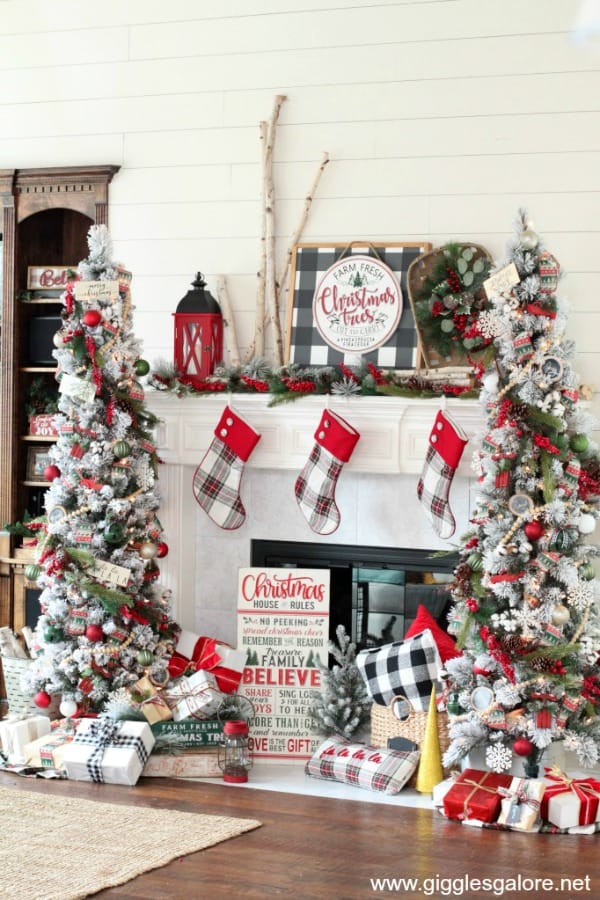 Buffalo check decorating is all the rage now. Either black and white buffalo check with a little red mixed in, or even red, black and white check. These Christmas trees and mantel from Giggles Galore look so festive.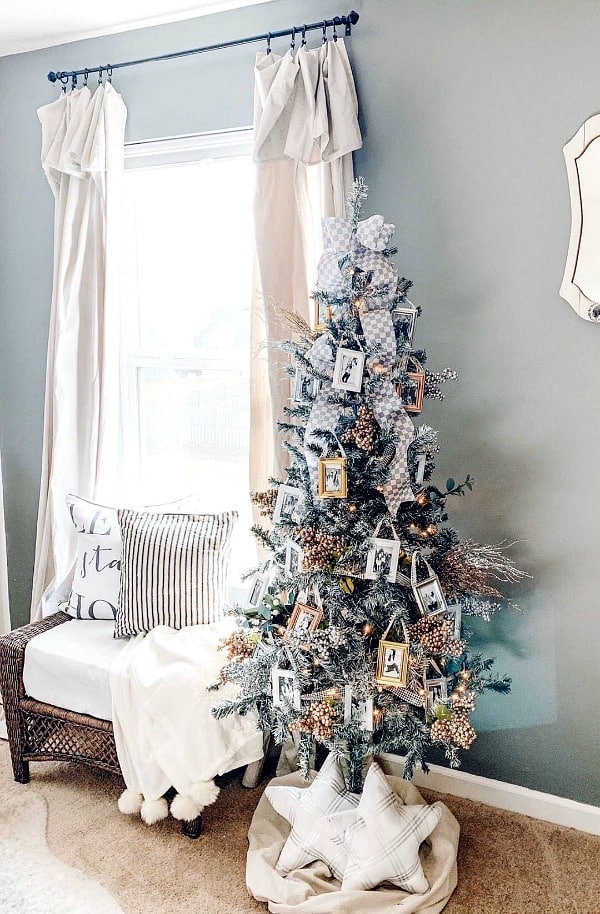 This Christmas tree is decorated with dollar store frames that have been painted and attached to the tree with lace ribbon. Hoosier Home Stories used white spray paint to give a $20 tree a frosted look and filled with floral stems in silver and gold.
Be sure to follow Jamie on Instagram too, she has the cutest ideas for your home and family.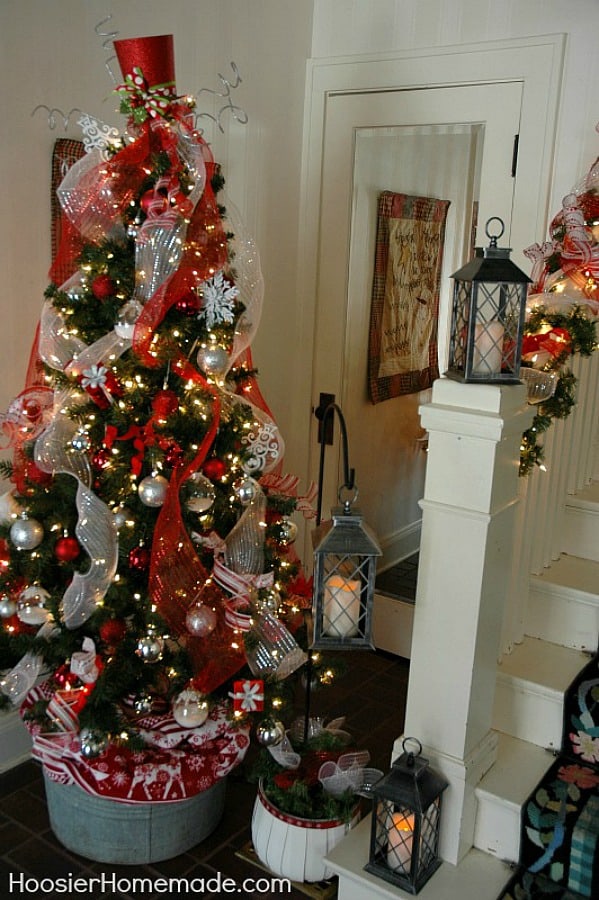 The magic of the holiday season comes to life in this Christmas tree and decorations around it. The red and white ribbon sets the tone, then filled with ornaments and picks. And the hat tree topper is super cute as well.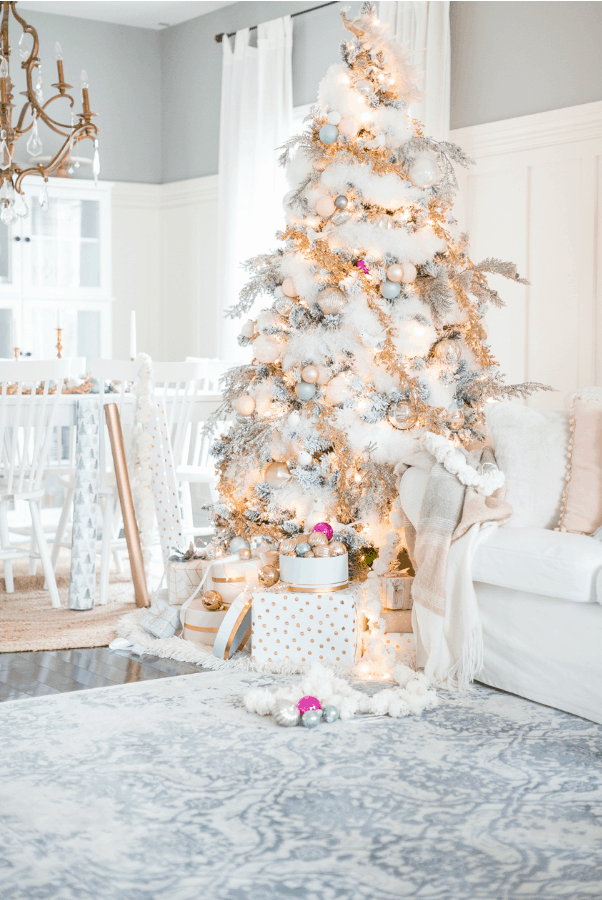 How gorgeous is this Christmas tree? A flocked tree is decorated with white and gold garlands around the tree. Then ornaments in soft mints, pinks, golds and little splashes of magenta. Even the presents match the tree.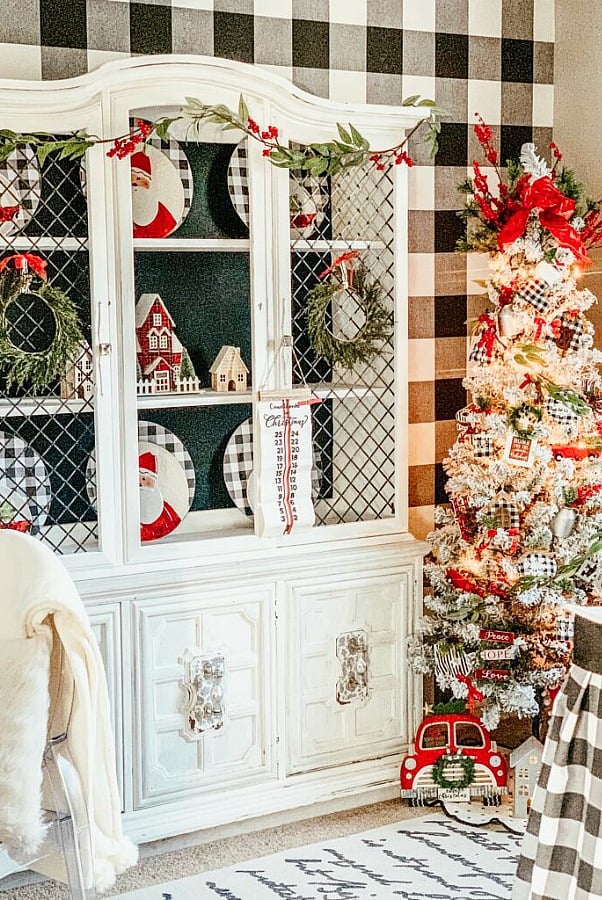 Now, this is how every office should be decorated for the holidays! Being inspired in a space like this is sure to create a lot of productivity. The white and black buffalo check makes it's entrance again, as it's so popular. And the pops of red on the tree and plates is super cute.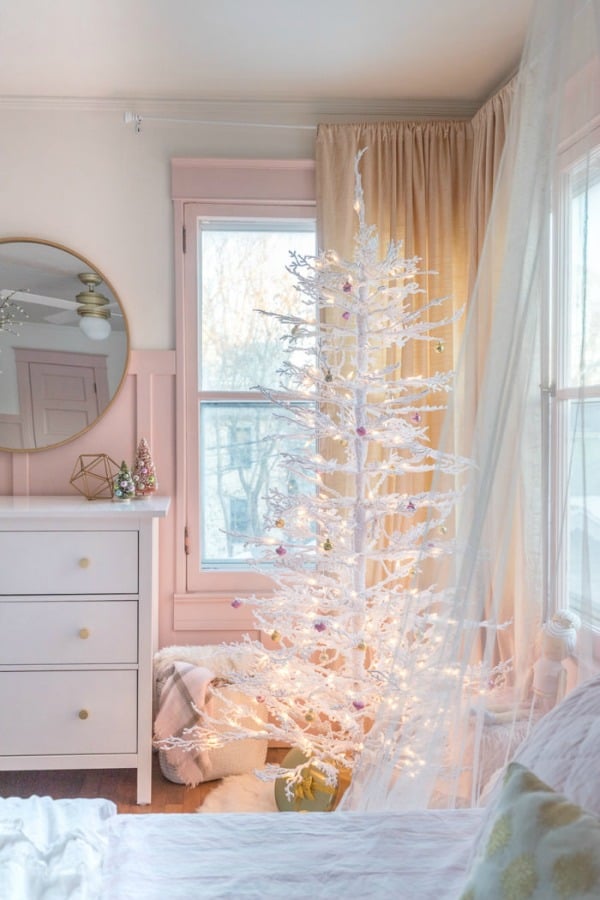 I bet every little girl would love a Christmas tree in their room. This cute little flocked tree is decorated with pink and gold. It would also be fun to decorate a tree with ornaments that the child has made. And the plush white tree skirt makes the space cozy and warm feeling.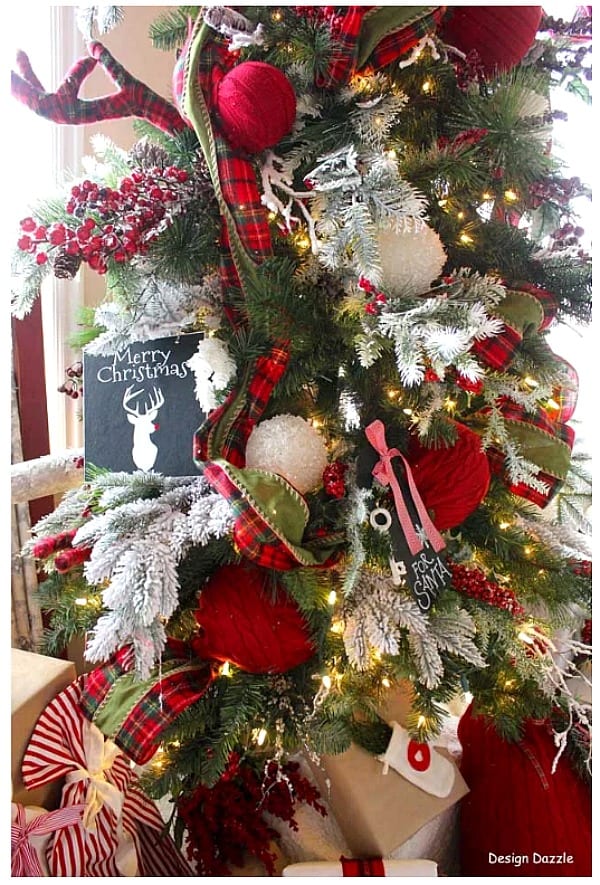 From using a thin blanket and turning into curtains to match your Christmas decorating theme, to hanging a wreath on the mirror, to using foam pool noodles to make faux birch logs and Christmas tree decorating – there are tips here to help you create a gorgeous space in your home.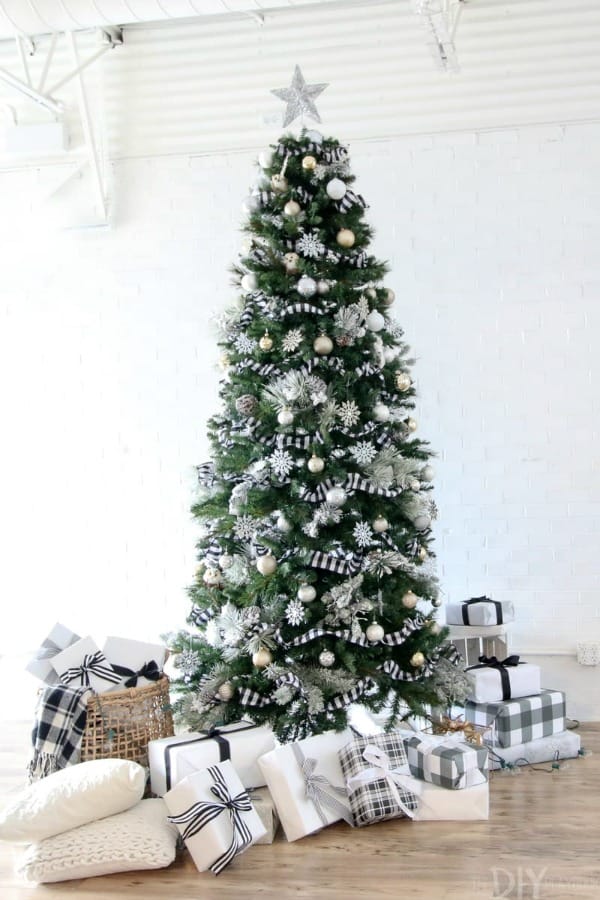 Have you seen all the beautiful black and white Christmas trees lately? They are stunning. As part of the Michael's Dream Tree Challenge, this 9 foot tree is wrapped with ribbon and decorated with all white ornaments. Even the presents have the black and white theme.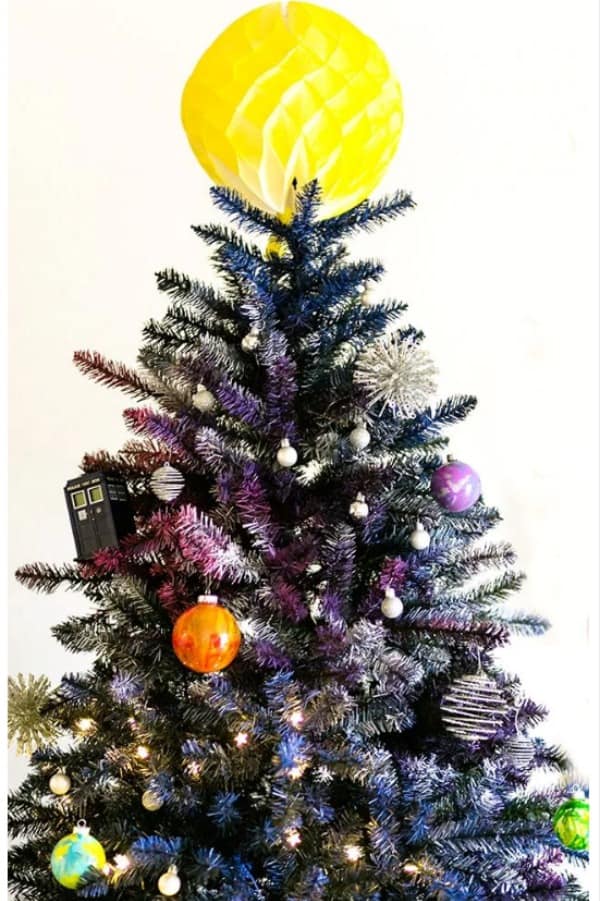 Are you a Dr. Who fan? My oldest son is, and I bet he would love this Christmas tree. Handmade ornaments to symbolize the planets and Dr. Who ornaments are added to fun colorful tree.
Follow along with the 100 Days of Homemade Holiday Inspiration for more simple recipes, easy crafts, homemade gift ideas, decorating tips and much more!