Every 2 years, with the Winter and Summer Olympics taking turns, our American Olympic Athletes compete and go for gold! We have been looking forward to the Olympics for months now. We just love watching all the events, and it's also a great history lesson for the boys (shh, don't tell them it can be educational too) And what better way to kick off the Olympics than with a special dinner.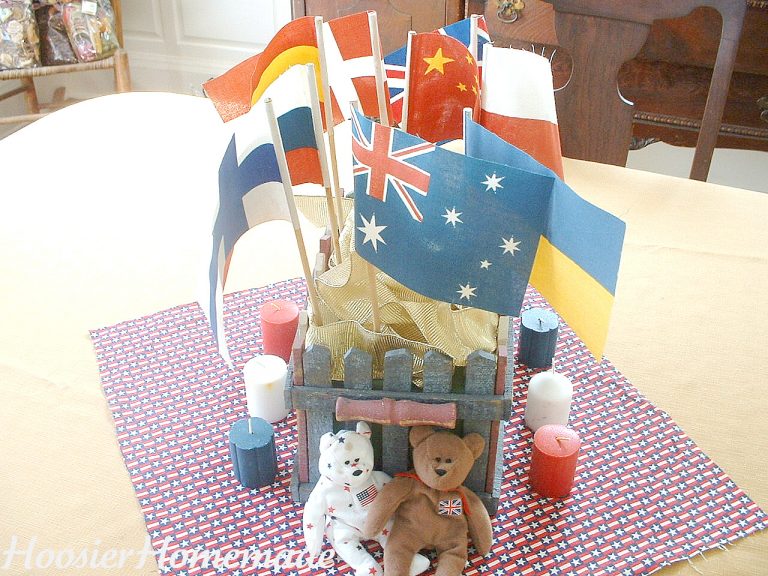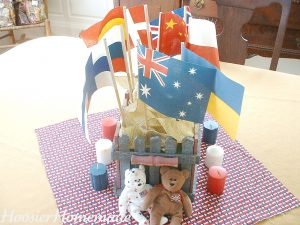 For our special Olympic Dinner, I started with our table centerpiece and place settings. With a gold tablecloth underneath, I topped it with a piece of red, white and blue fabric. Then, after hunting around a bit in the house, I gathered some of my Fourth of July decorations and some flags that I had stashed away from a Multi-Cultural Night from years ago when the boys were in grade school. I filled the container with styrofoam to hold the flags and then filled it with gold ribbon. I placed red, white and blue votive candles and some Teeny Beeny Bears with flags on them.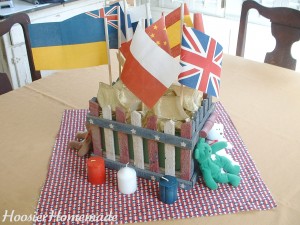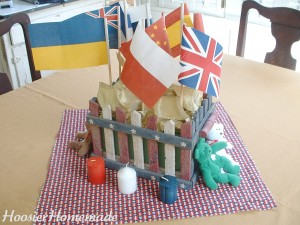 On each plate, I placed a medal necklace that I bought at Walmart. They were $3 for the package of 12. The boys (and girlfriend) had fun wearing them during dinner and the opening ceremonies.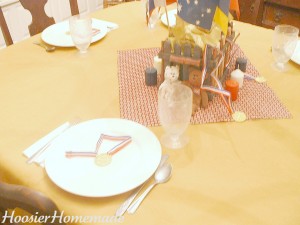 For our dinner, I thought it would be fun to have different foods from a variety of countries. I will have to confess though, I'm still a bit (quite a bit) behind from being gone for the Blissdom Conference, so most of our dinner was Semi-Homemade 🙂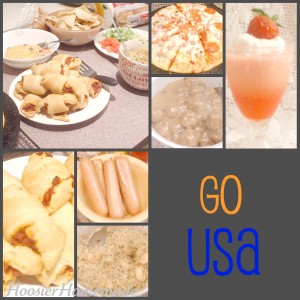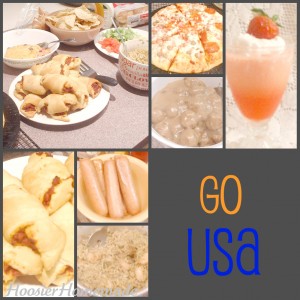 Italian ~ Pizza
Yep, just a bought a frozen pizza 🙂
Mexican ~ Taco Ring and Southwest Dip with chips
Made individuals taco rings instead of one large circle
Chinese ~ Shrimp Fried Rice
Sauteed shrimp in butter, removed from pan, cooked a box of fried rice and then added the shrimp back to the pan to heat through
French ~ Strawberry Mousse for dessert
Made this just like I made the mousse for the Raspberry Cordial Cupcakes
German ~ Bratwursts
Simple, out of the package onto the stove to heat them
Sweden ~ Swedish Meatballs
My husband has been begging for these since Christmas, I bought frozen meatballs, and simply added 1 can of Cream of Mushroom Soup and 1 can of Beef Gravy. I think my 12 year old, Casey ate more than Doug.
American ~ Milk and Pop to drink
Update: I also created some Olympic Cupcakes, that are fun and easy.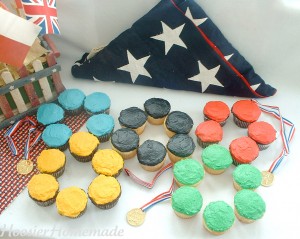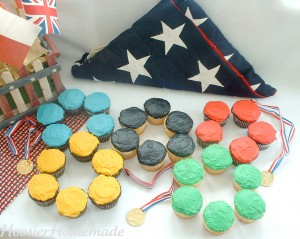 Can't forget the Americans!
We enjoyed our Olympic evening!
Go USA! Are you an Olympic fan? Which sport do you like to watch the most?
This post linked to:
~Tip Me Tuesday hosted by The Tip Junkie
~Tempt My Tummy Tuesday hosted by Blessed with Grace
~Tuesdays at the Table hosted by All the Small Stuff
~DIY Day hosted by A Soft Place to Land
I'm adding MckLinky, just because it's fun to see what everyone has posted about the Olympics. So if you have a post, please link up and telling us all about what you love about the Olympics!