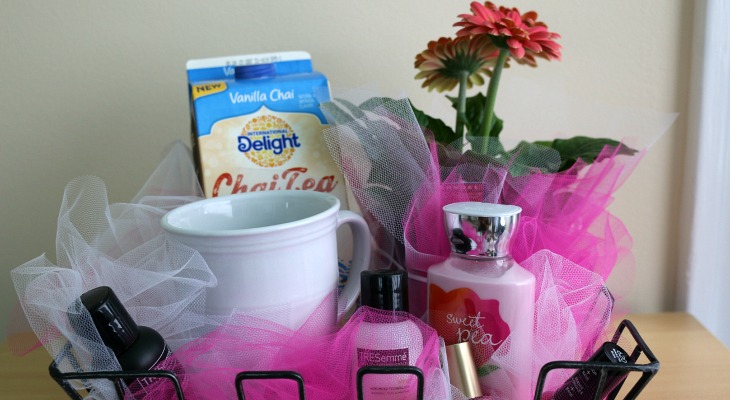 Treat Mom on her special day with this easy to put together Mother's Day Gift Basket.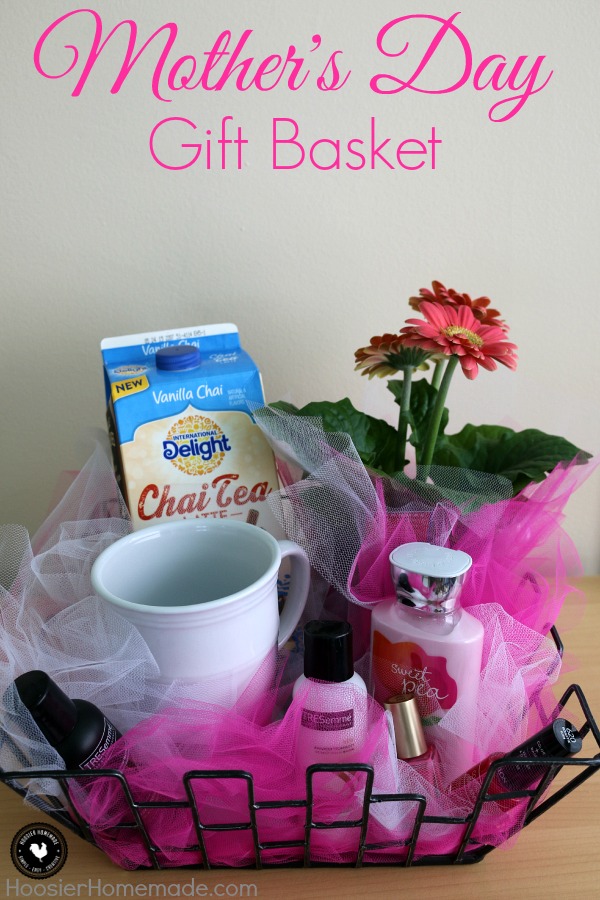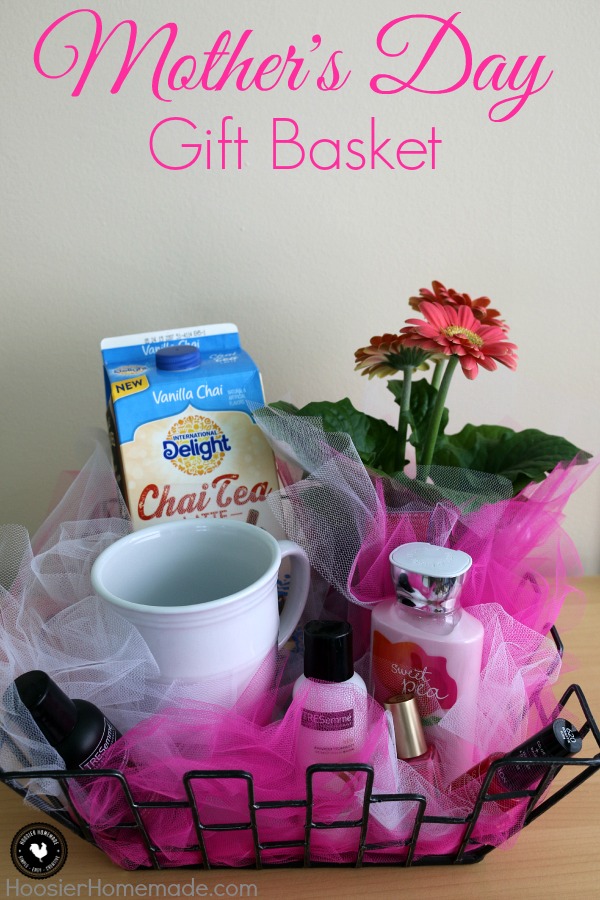 From hand made cards to hand prints in clay to breakfast in bed and everything in between, my memories of celebrating Mother's Day are etched in my heart. My very first year that I celebrated being a Mom was in 1991, and we traveled to Holland Michigan for the Tulip Festival. I have wanted to go back there for years, perhaps this year will be the one.
Treating Mom to something special for Mother's Day doesn't need to be expensive or complicated. All of the women I know, including myself, are just happy to spend time with their children. But it's also great to receive a heart felt gift.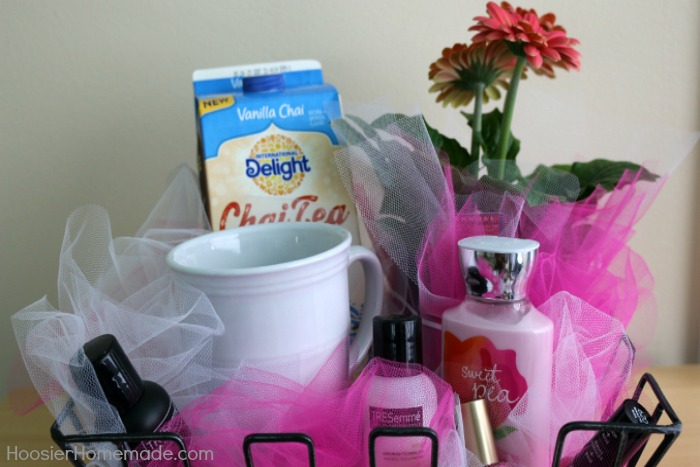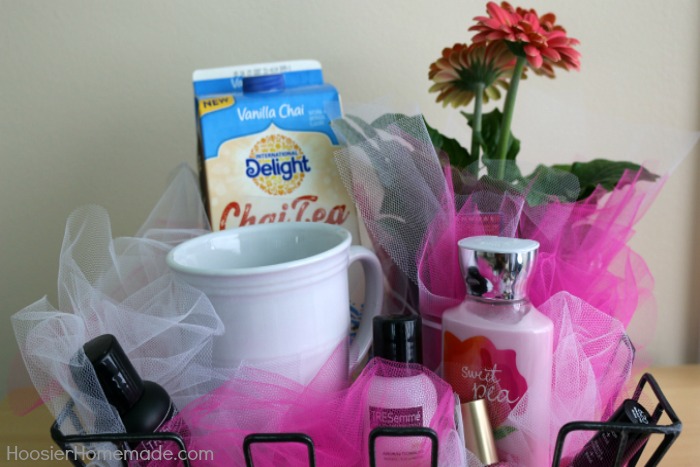 The Mother's Day Gift Basket was very easy to put together, here is what I used…
Basket – any size or shape will do, it's nice to choose one that Mom can use later
Tulle – I used about 1/4 of a roll of pink and white. This can be found in the craft department at Walmart or at Craft Stores
International Delight Chai Tea Latte – found in the refrigerated area at your local grocery store
Mug – any size or shape will work, maybe you could find one with a special quote on it for Mom
Plant – the one we used is a Gerbera Daisy
Lotion, Nail Polish and Small Shampoo – or whatever Mom likes, maybe gardening gloves, or a favorite DVD to watch with the family
Begin by cutting pieces of the tulle and placing them in the bottom of the basket.
Then add the largest items that you have first, then the medium size and then fill in with the smallest items.
You can find some more tips on how to create a gift basket.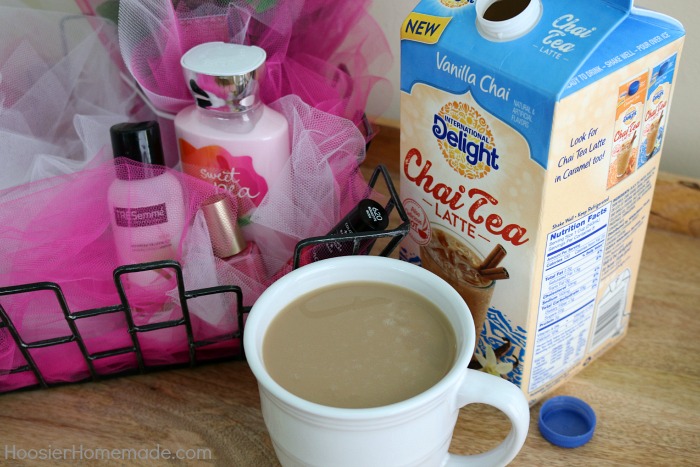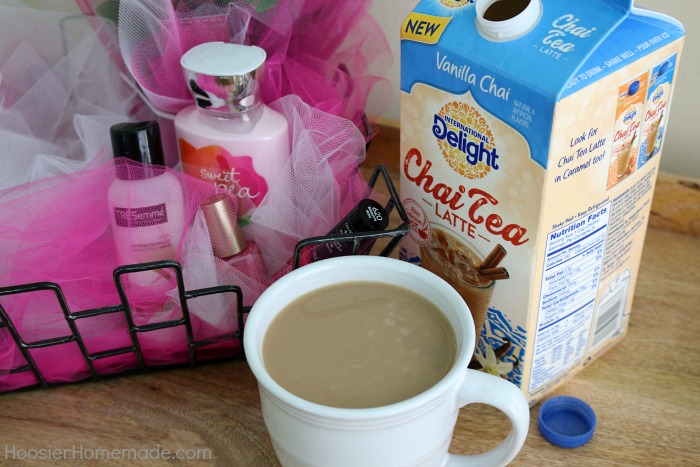 Not only do most Moms appreciate the thought of the gift, but also the gift of time. I can't tell you how many times over the years that I have been excited to get even 10 minutes of time to myself to sit, relax, read or do whatever I like.
International Delight and their ready-to-drink beverages give Mom back 10 minutes of time. They are a sweet and creamy treat any time.
The Chai Tea Latte comes in Vanilla Chai (my favorite) and Caramel flavors. And for all those coffee lovers, the Iced Coffee comes in Mocha, Caramel Macchiato and Vanilla as well as light versions.
Personally I absolutely love Chai Tea Lattes, I've expressed my love for them several times, and even made Chai Tea Latte Cupcakes.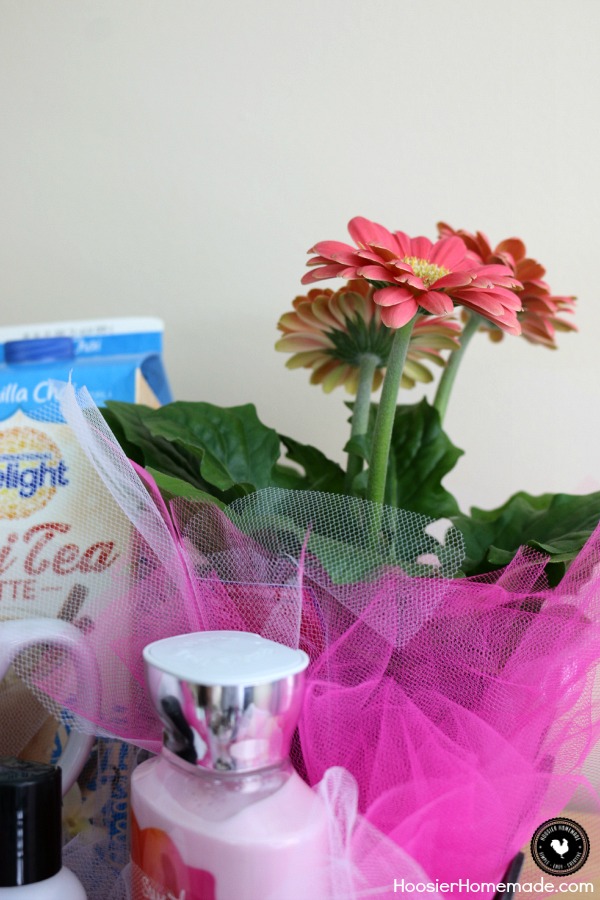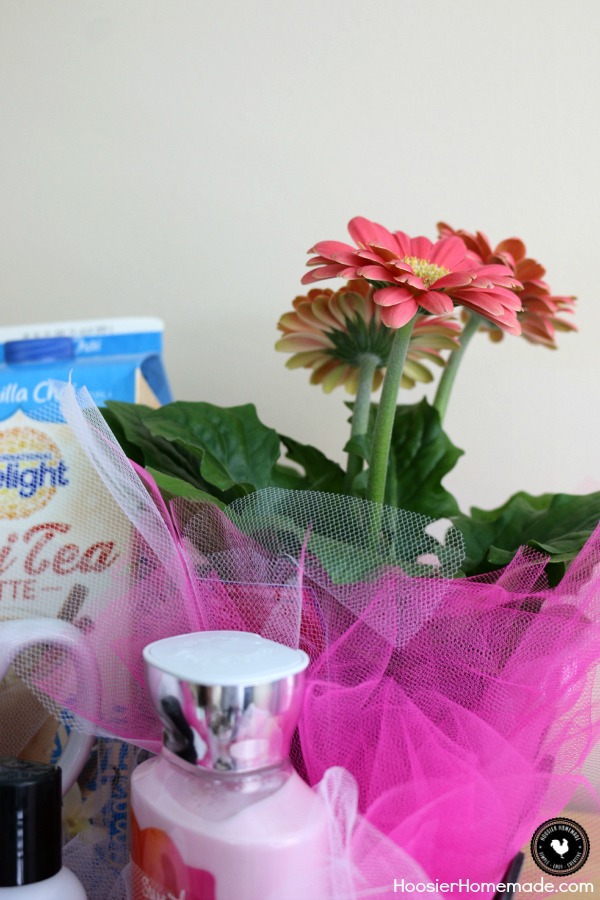 For giveaways and coupons, sign up for the International Delight Newsletter. It's FREE!
And for more recipes, follow International Delight on Pinterest, Instagram, Twitter and Facebook
This conversation is sponsored by International Delight. The opinions and text are all mine.