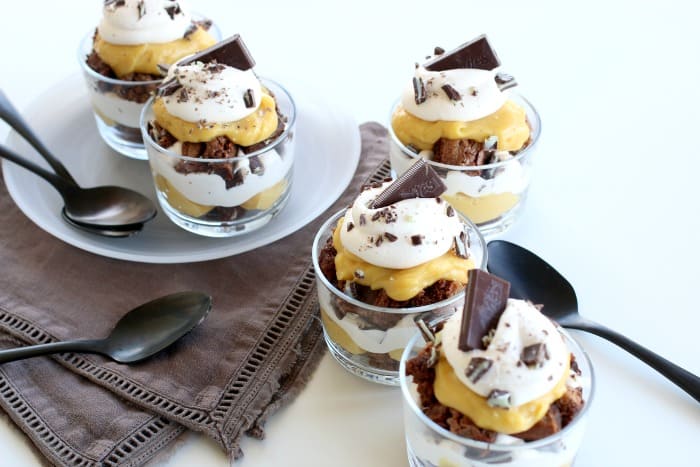 This luscious dessert is super easy to make! Thin Mint Trifle with layers of Thin Mint Brownies, Pudding made with Bailey's Irish Cream creamer, Whip Cream and Chocolate Mints!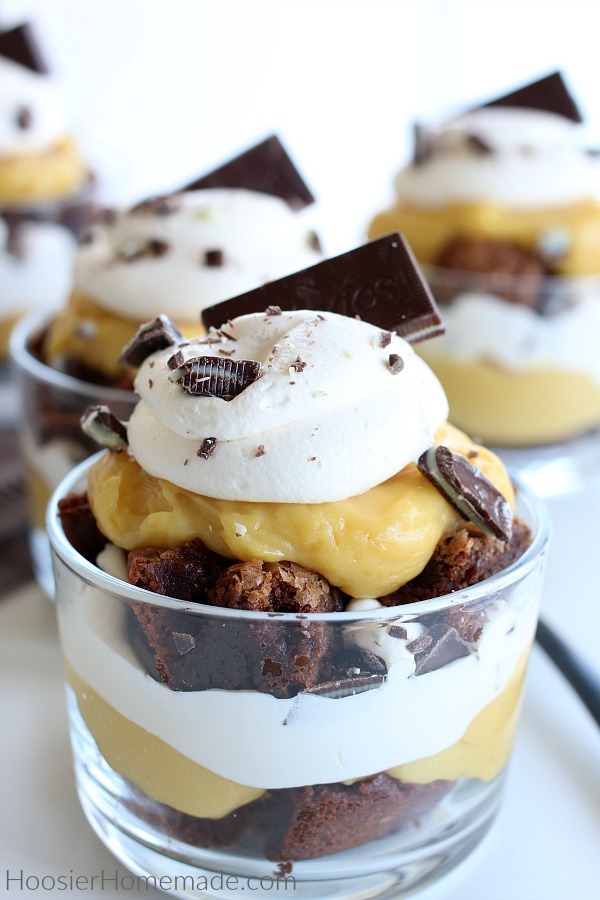 There are many versions of Trifles – some have cake, many with fruit, and most of whip cream. The traditional Trifle originated in English in the 18th century, and they consisted of several layers of alcohol-soaked sponge cake, custard and fruit. And they were served in a large round bowl.
Over the years, here in America, we have adapted and created our own version of trifles, and they are, thankfully, much less complicated. They have also evolved from the traditional cake, fruit and whip cream version – to have many different ingredients – brownies, pudding, yogurt, cheesecake and more.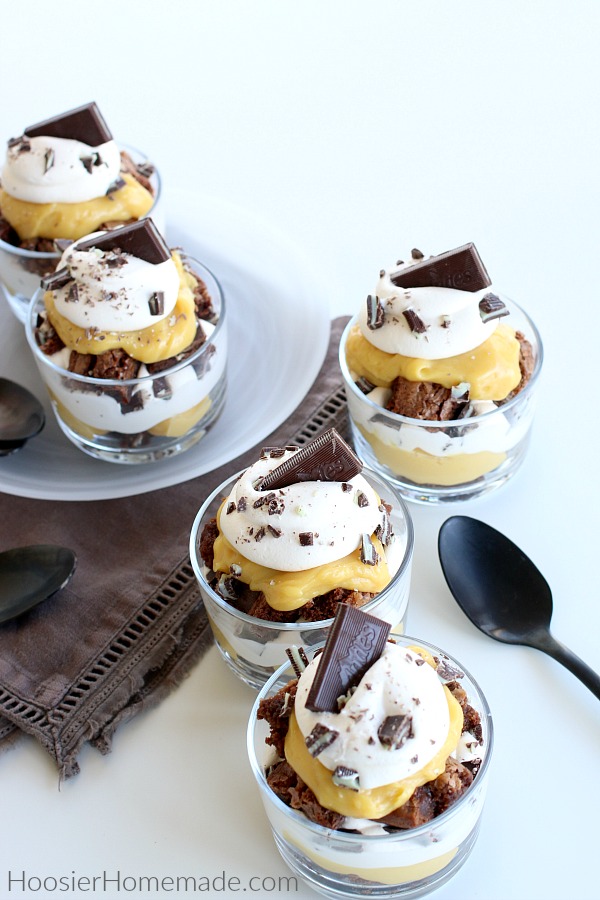 This Thin Mint Trifle has Brownies, Pudding made with Bailey's Irish Creamer, Whipped Topping and Chocolate Mints. And they are served in individual small dishes, making it much easier to serve, store and even enjoy.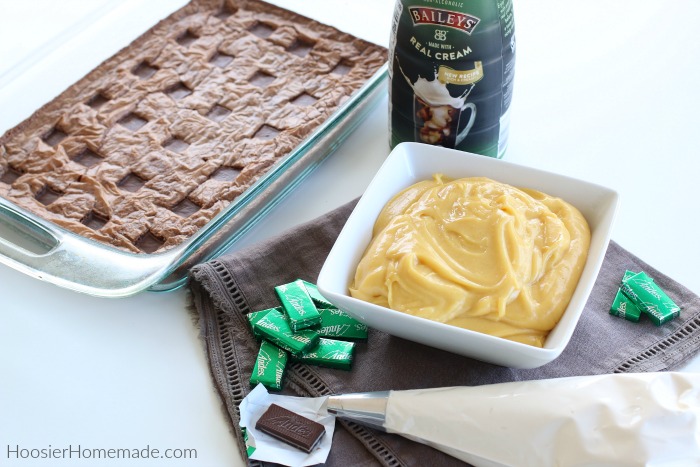 Creating this Thin Mint Trifle is super easy, just a few steps to prepare the ingredients and you are ready to assemble the trifles.
Thin Mint Trifle
You will need –
Brownies – the brownies I used are from a box mix (keep it simple) and then I added a Chocolate Mint cut in half to the top of the brownie batter before baking
Pudding – instead of milk, use Bailey's Irish Creamer. I found this at Kroger. If you can't find it or don't want to use it, plain milk is fine. You could also use another Irish Cream creamer or add a little mint extract to the pudding
Whip cream or whipped topping – which ever you prefer is fine – I have found that adding the whip cream to a decorator bag fitted with a large round piping tip is easiest, especially if

you are filling a small dish or container.

Chocolate Mints – you will need 1-2 boxes of Ande's Mints or other chocolate mints. Depending on the number of trifles you are making, will depend on how many mints you will need.
Assemble –
Dishes – the type of dishes you will use is totally up to you. You can use a large bowl, or trifle dish if you want to create a larger trifle. You can also use individual dishes, the ones I used for the Thin Mint Recipe are from IKEA
Baking – Bake the brownies and let them cool. You can use a box mix (like I did) or make some from scratch. To add more mint flavor, I added pieces of chocolate mints to the brownies before baking.
Pudding – Mix the pudding and let set until thick
Whip Cream – fill the bag with whip cream
Assemble – cut the brownies into small chunks and add a layer to the bottom of the dish. Then add a spoonful of pudding, then whip cream. Top with chopped chocolate mints and repeat layers. Finish with whip cream and a chocolate mint.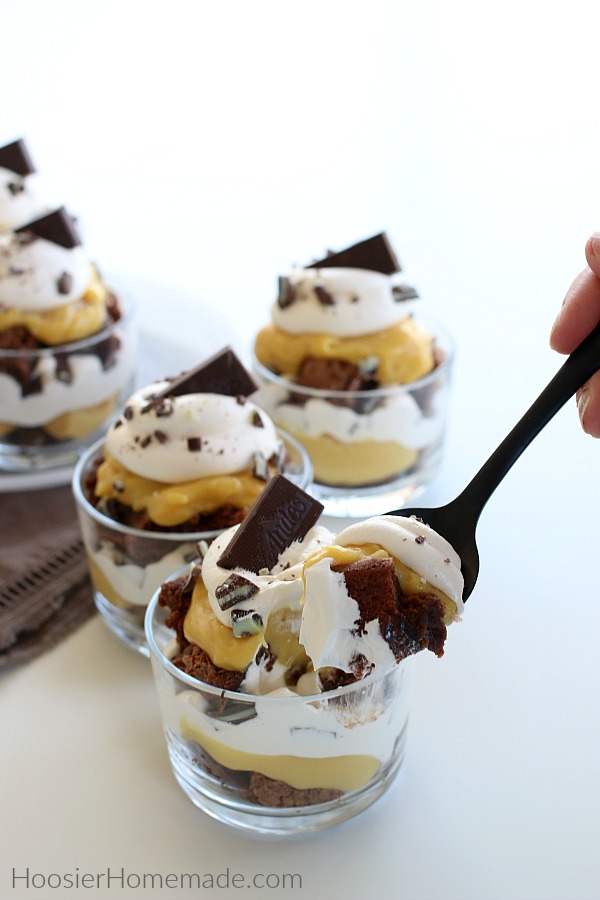 This Thin Mint Dessert is great for a St. Patrick's Day Dessert, but really any occasion is fine. Even though it's not green, chocolate and mint go together great for St. Patrick's Day.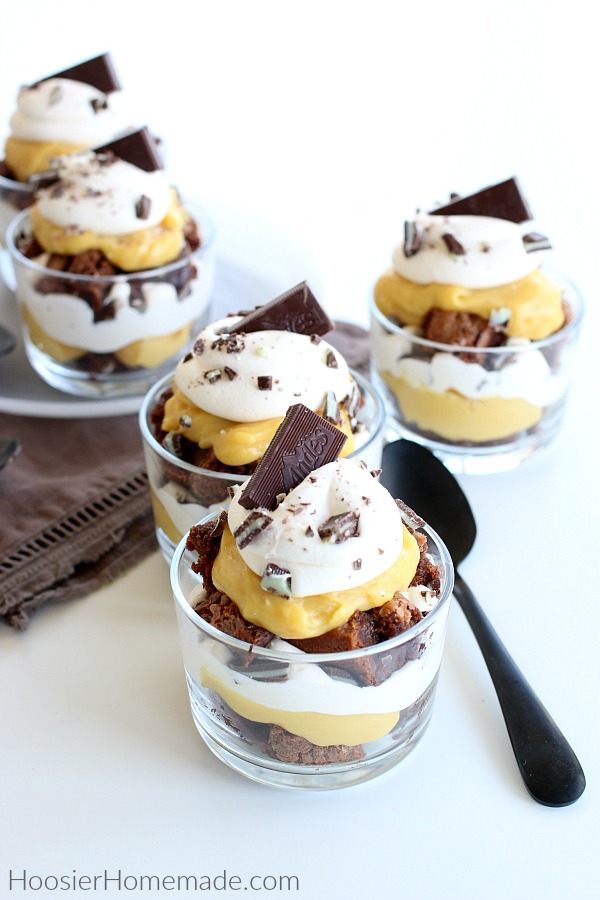 Looking for more fun Trifle Recipes? Click on the photo for the recipe –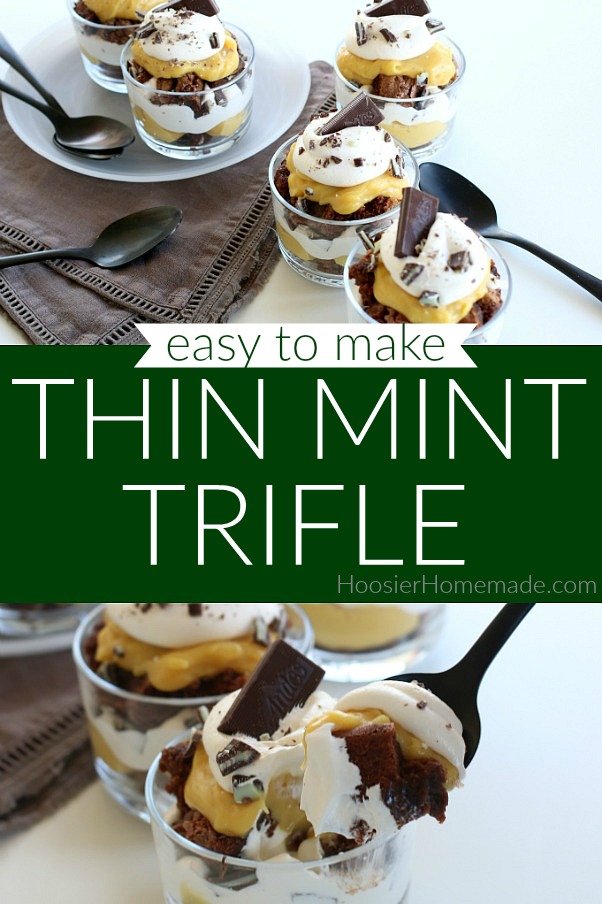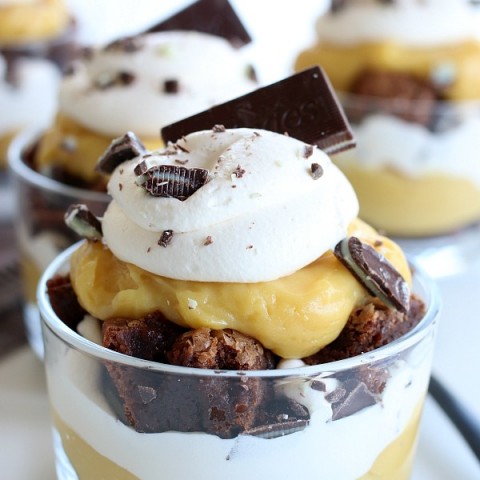 Thin Mint Trifle
This Thin Mint Trifle has layers of Brownies, Pudding made with Bailey's Irish Creamer, and Whip Cream, topped with Chocolate Mints.
Ingredients
Brownies
1 box of brownie mix (size depends on how many trifles you want to make)
Ingredients on box - eggs, oil and water
Andes Mints - optional
Pudding
2 small boxes Vanilla Instant Pudding
2 cups Bailey's Irish Creamer - or milk
Whipped Topping or Whip Cream
Instructions
Brownies
Bake and cool Brownies according to directions on box
To add the mints, cut mint in half and place pushing down slightly on brownies before cooking
Pudding
Add pudding to large bowl
Pour in Irish Creamer or milk
Whisk about 2-3 minutes until smooth
Refrigerate at least 10 minutes or until thick
Assemble
Add whipped topping or whip cream to decorator bag fitted with large round tip (you can also use a spoon, but I have found it to be much easier to use a bag)
Cut brownies into small squares - you may not need all the brownies, depending on how many trifle you are making
Reserve mints for topping - the number will depend on how many trifles you are making
Cut remaining mints to sprinkle between the layers and on top
Add brownies to dish
Top with a spoonful of pudding
Pipe on whip cream
Sprinkle with mints
Repeat layers
On top - add mint and sprinkle more mints
Refrigerate until ready to serve
Trifles can be made 24 hours before serving
Store leftovers in fridge
Notes
Bailey's Irish Creamer is a new product - I have mine at Kroger
If you can't find it, or don't want to use it - you can use milk with a little mint extract for flavor, plain milk, or another Irish Cream flavored creamer
I did not test this recipe using the Bailey's Irish Cream with Alcohol, however I think you could easily add a little if you like.