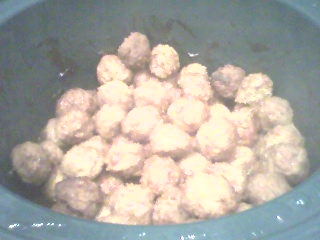 I have been reading and enjoying The Happy Housewife blog for quite awhile, recently she started a series about Menu Planning. I have menu planned for several years, actually even before I knew it was the "thing" to do.
Why should you meal plan? There are lots of reasons, the most important is to cut your grocery costs. I am a schedule person, I run my life on a schedule, being a fly by the seat of my pants just doesn't work for me. When I have a menu plan, I can grocery shop much easier too. Some housewifes make their plan and just cook off that list each day, I like knowing what I am making ahead of time so that I don't have to figure it out and so I can have meat defrosted. Occasionally with our busy schedule I have to switch things around, but I try to check the schedule for games etc. when making my plan.
When I originally started menu planning I came up with a list of 35 meals, I had Doug and the boys tell me 5 or 6 of their favorites. Then each month I print a calendar and just plug in the meals that work. I usually try to have 1 Mexican meal and 1 Italian meal each week.
For today, The Happy Housewife has challenged us to list out 15 meals. I enjoy visiting other blogs to see what they are cooking and quite often add their meals to my plan.
Here are 15 more ideas for you…
Appetizers ~ I usually make Sausage Cheese Balls, a dip of some kind, and Chicken Wings
Baked Potatoe Bar ~  Served with bacon bits, cheese, butter, brocoli
Chicken N' Noodles ~ Served with Mashed Potatoes and a veggies
Chili ~ Served with Corn bread muffins
Creamed Chicken over Biscuits
Ham & Scalloped Potatoes ~ Great to use up leftover Holiday Ham
Lasagne ~ Served with Salad and Garlic Bread
BBQ Meatballs ~ Served with a veggie and sometimes Mac & Cheese
Meatloaf ~ I like making Mini Meatloaves, they cook faster and everyone can have their own
Shangai Wings ~ Recipe like Chili's serves
Soup & Sandwich
Taco Ring ~ Served with chips and salsa
Taco Soup ~ Served with crushed chips, cheese and sour cream
Tuna Casserole
Be sure to visit The Happy Housewife for more great menu plan ideas and Money Saving Mom for Super Savings Saturday.
And you can see my Monthly Plans here…
April ~ May ~ June ~ July ~ August