Holiday Food Fest ~ Veggie Twist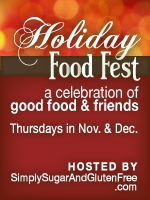 What are you making for Thanksgiving? Today on the Holiday Food Fest over at Tasty Eats at Home, there are lots of great ideas. And she's giving away a really cute apron!
I will be making this Veggie Twist. I made it last weekend for my son's Birthday Dinner and it was really good.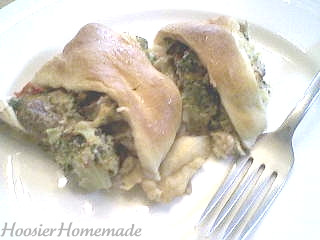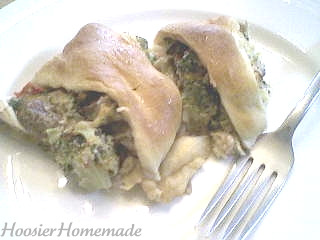 I found the recipe in the Kraft Food & Family Magazine. I love that little magazine 🙂
Ingredients:
2 Eggs
4 oz. Cream Cheese
1/2 c. Italian Cheese, shredded
3 c. Broccoli cuts, frozen, thawed,drained(I used fresh and steamed them a bit)
1/2 lb. Mushrooms, cut into quarters
1/2 c. Cherry Tomatoes, cut in half
4 Green Onions, sliced
2 cans Refrigerated Crescent Dinner Rolls
Directions:
Heat oven to 375 degrees. Mix Eggs, Cream Cheese and Italian Cheese in large bowl until well blended. Stir in veggies. Unroll Crescent Rolls, seperate into 16 triangles. Arrange in 11 inch circle on baking sheet, with short sides of triangles overlapping in center and points of triangles toward outside. There should be about a 5 inch diameter opening in center of circle.
I used my round Pampered Chef stone to cook this on, that's why the pan looks dirty, it's really just well "seasoned."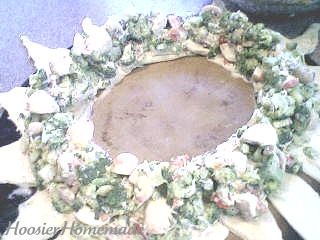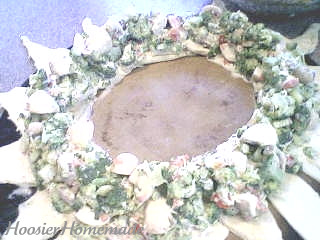 Spoon veggie mixture onto dough near center of circle. Bring outside points of triangles up over filling.
Bake at 35 – 40 minutes or until crust is golden brown and filling is heated through.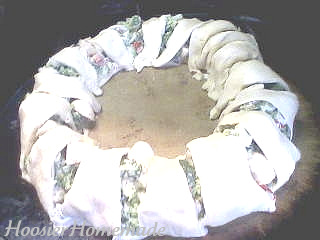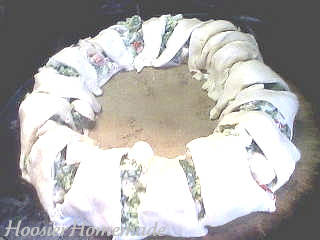 Cook's Notes: The mushrooms were a little big, they did cook down, but were still a little big, I'll cut them smaller next time. I used regular tomatoes because that's what I had. I made this a little ahead so it was ready to pop in the oven when I needed to, after guests arrived. While it sat, the liquid leaked out a little, so I think it would be better to go straight into oven after putting the veggies on the dough. It was also a little soggy on the bottom and I think it was because I let it sit, also. I also think you could switch up the veggies to whatever you like. It would also make a good meatless dinner, it was pretty hardy.
Congratulations to the winners of the giveaway from last week. The Pampered Chef Pie & Tart Cookbook goes to April over at  Gluten Free Foods Rock and the Red Velvet Cake Candle goes to Alisa over at One Frugal Foodie. Please send me an email with your address and I will get the gifts out to you.
This post linked to:
~Ultimate Recipe Swap hosted by Life As Mom
~Foodie Friday hosted by Designs by Gollum
~Food on Fridays hosted by Ann Kroeker