Mardi Gras Cupcakes with Free Printables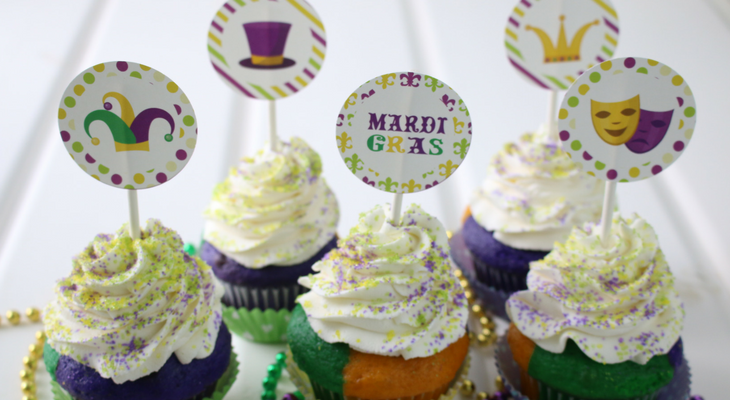 Fat Tuesday is in a few days…do you celebrate? These Mardi Gras Cupcakes boast the three colors of New Orleans – purple, green and yellow, then topped with a luscious whipped cream frosting and topped with a fun Mardi Gras Cupcake Topper that you can grab for free!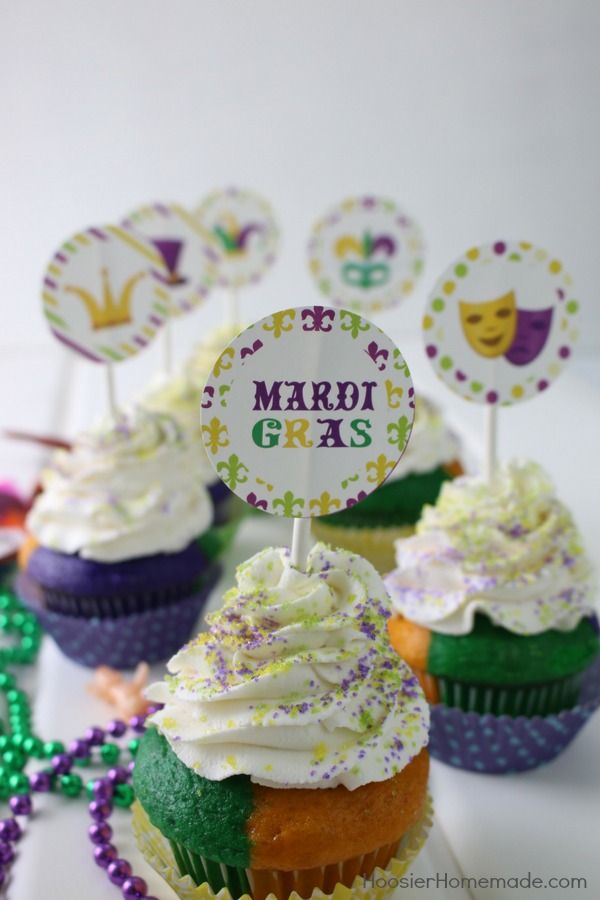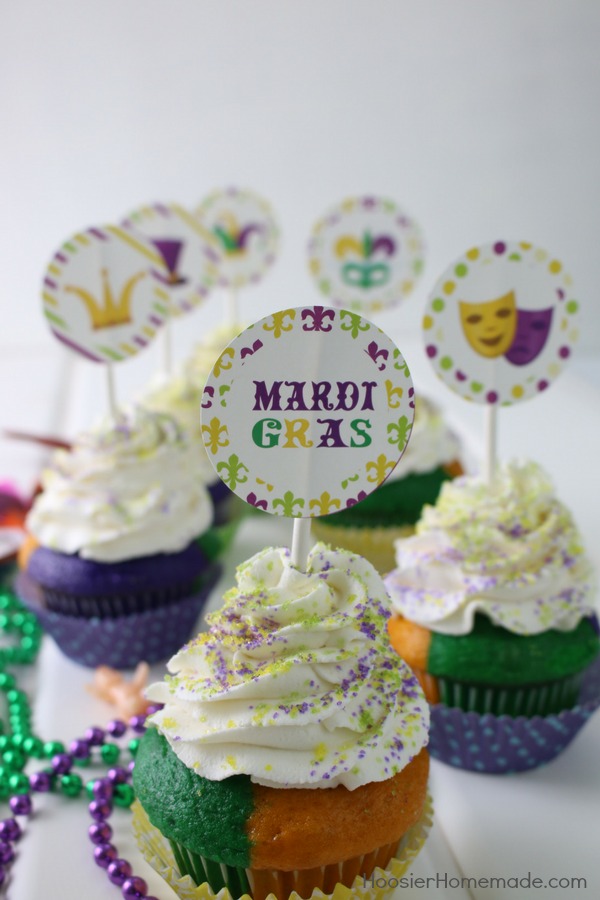 These cupcakes were really fun to create. They were very easy, but turned out impressive (in my opinion). I started off with prepared cake mix (here is my favorite way to doctor boxed mixes!) and then divided it into three bowls. Add purple, yellow and green food coloring (one color for each bowl). Wilton colors are my favorite- I used Violet, Buttercup Yellow and Kelly Green.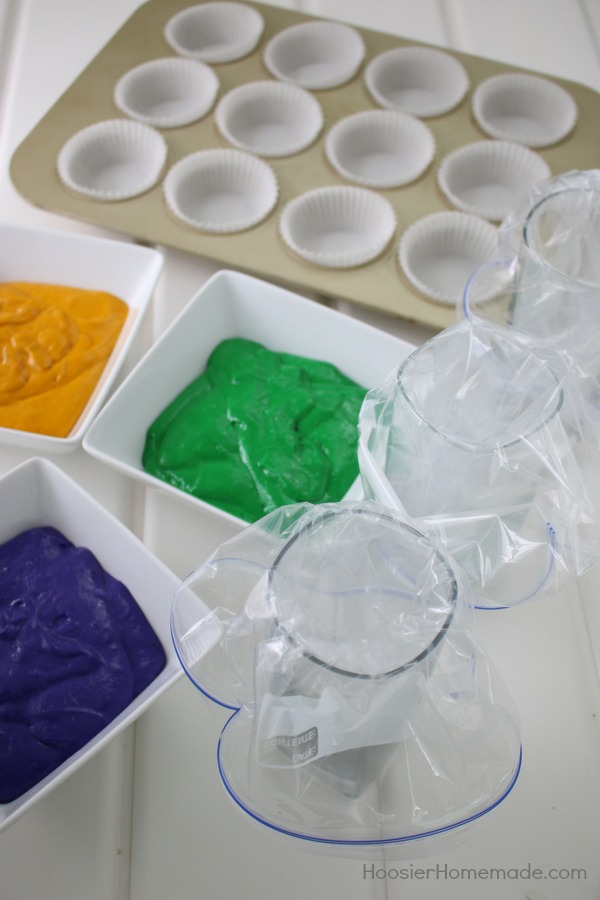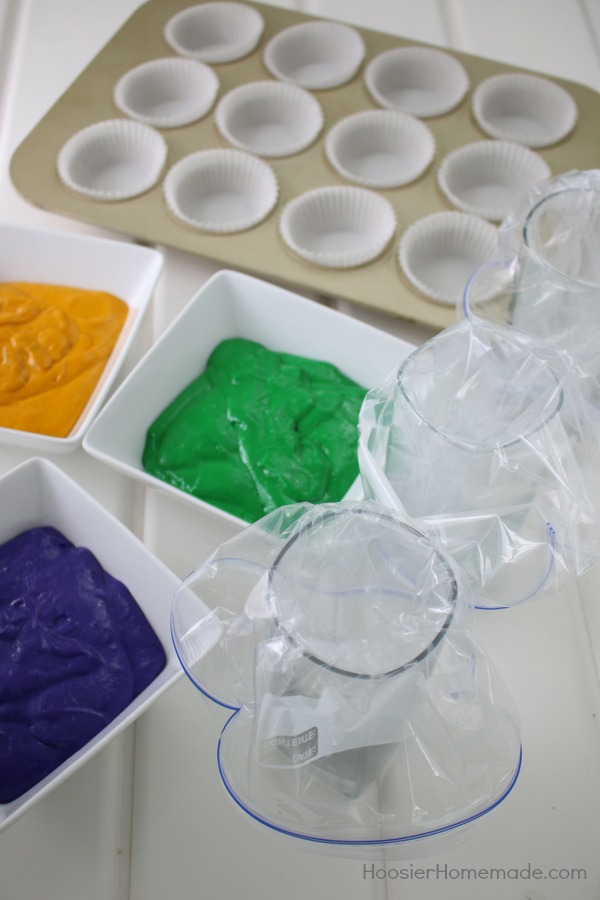 Next, make your "piping bags," by adding a resealable bag to three tall glasses. I have found that using a decorator bag is easier than the resealable bag, but I didn't have any on hand. Fill each bag with a different color.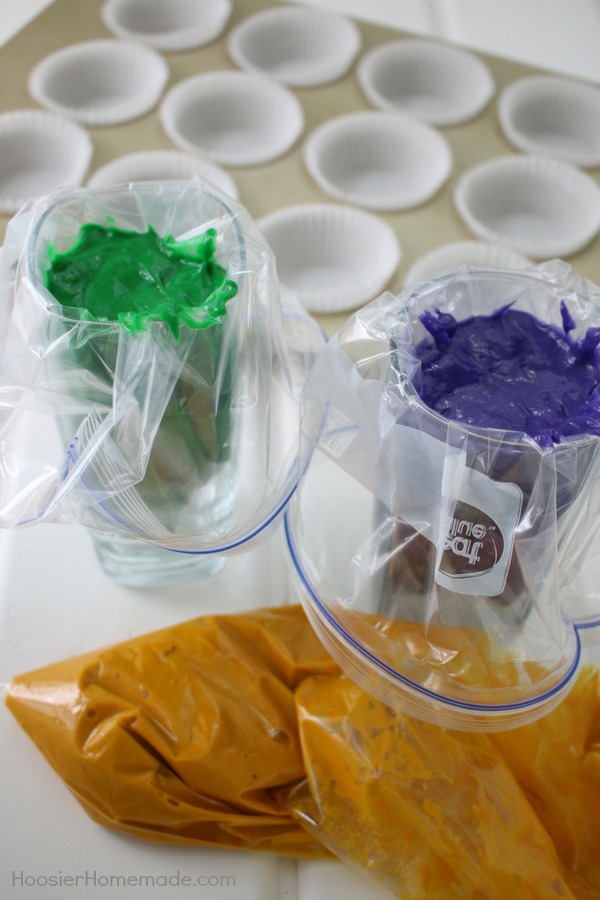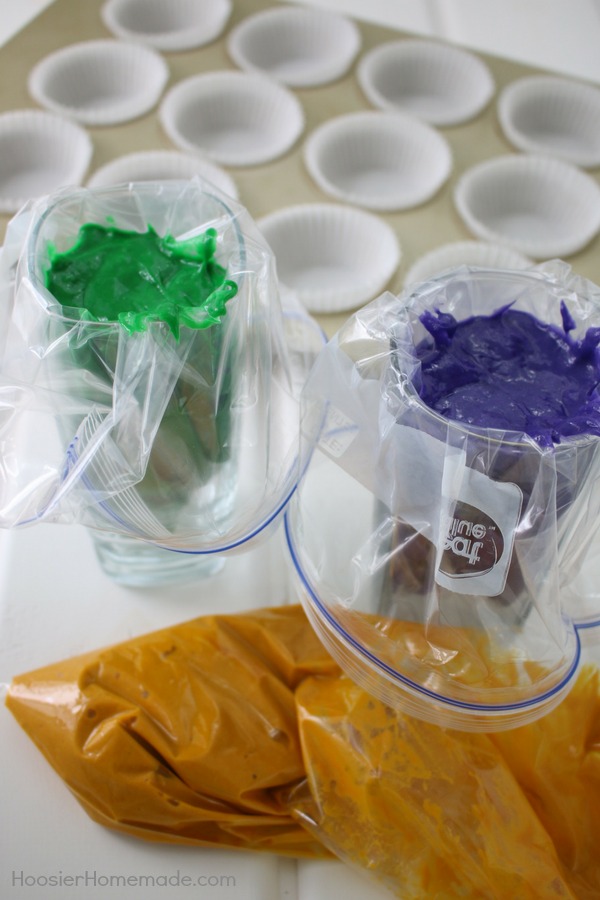 Snip off a corner- but be careful- it will come out quickly! I like doing this part with an extra set of hands- the colors are much more even if they are added at the same time. If you have three people, each of you will work on one cupcake liner at a time! If you don't, try it yourself with all three at once!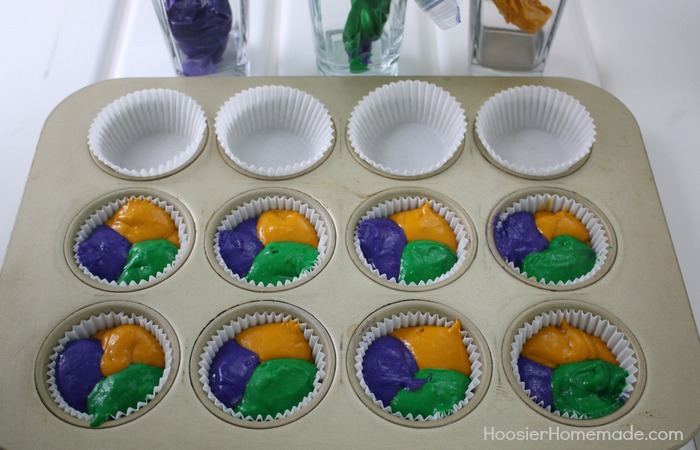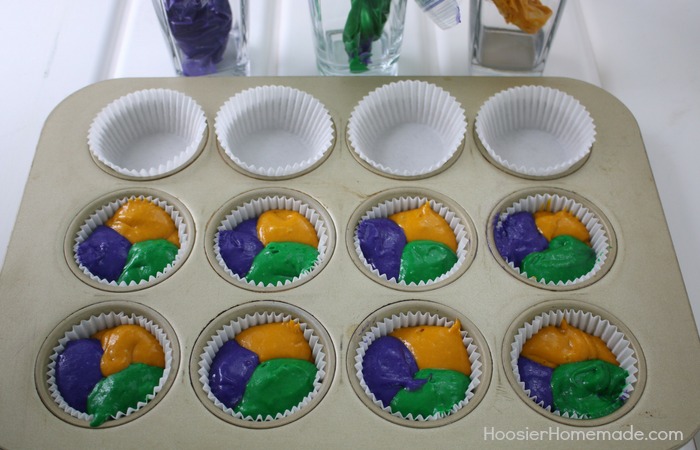 Once they come out of the oven, it is time to decorate! I used Whipped Cream Frosting on these (recipe below) because it is so light and fluffy!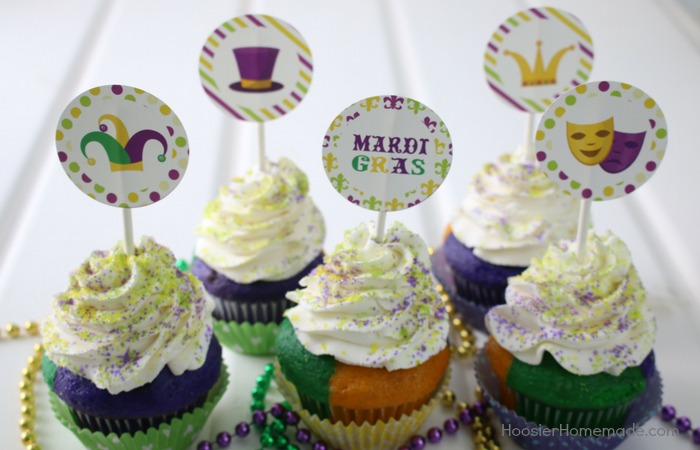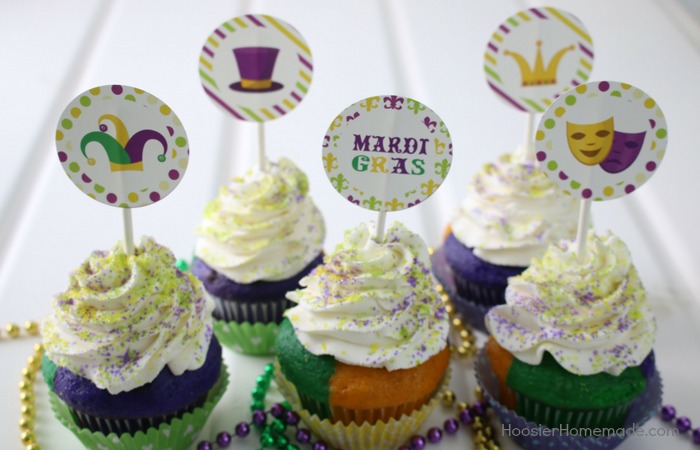 Then I decorated with sanding sugar- lavender, green and yellow! And, of course, cupcake toppers! You can grab yours for free RIGHT HERE!
How do you celebrate Mardi Gras??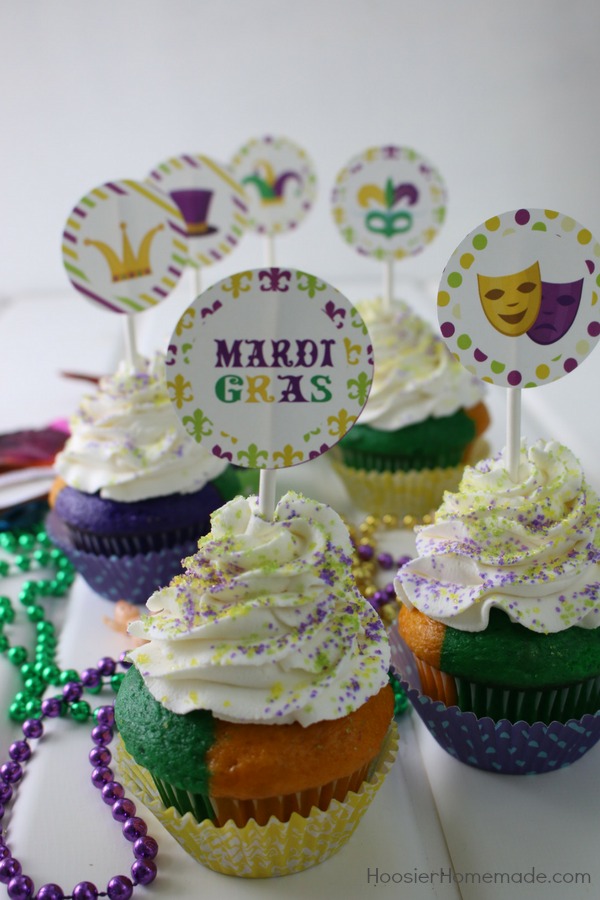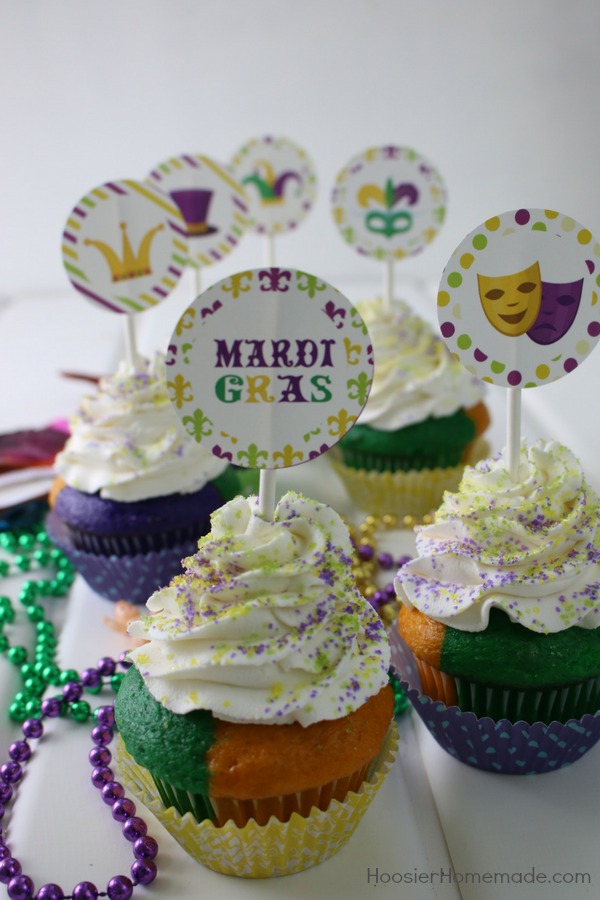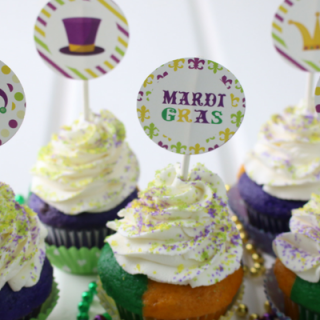 Mardi Gras Cupcakes with Free Printables
Fun three color cupcakes for Mardi Gras with FREE Printables
Ingredients
Cupcakes
White Cake Mix
4 eggs, room temperature
Buttermilk instead of the water - amount on box
Oil - amount on box
Coloring - Violet, Buttercup Yellow, Kelly Green
Whipped Cream Frosting
1 1/2 cups whipped cream, very cold
1-2 cups powdered sugar, depending on consistency
1 teaspoon vanilla
Instructions
Cupcakes
Mix cupcakes until smooth
Divide batter equaling into 3 bowls
Add coloring to each bowl
Add batter to resealable bags or decorator bags
Grab someone to help you if possible
Squeeze batter into lined cupcake pans evenly
Bake for 12-15 minutes at 350 degrees
Cool completely
Frosting
While cupcakes are cooling, plate mixing bowl and beater in fridge to chill
Add heavy whipped cream to mixing bowl
Beat at high speed until cream begins to thicken - about 5 minutes
Gradually add powdered sugar, beating on high after each addition
Be careful not to overbeat
Add vanilla and beat
Fit decorator bag with #1M tip and fill bag with frosting
Pipe frosting onto cupcakes
Add sanding sugar in green, purple and yellow if desired
Add cupcake toppers if desired
Do you celebrate Mardi Gras? Would you like a King Cake Cupcake recipe?
You may also like my King Cake Cupcakes and Mardi Gras Food ideas!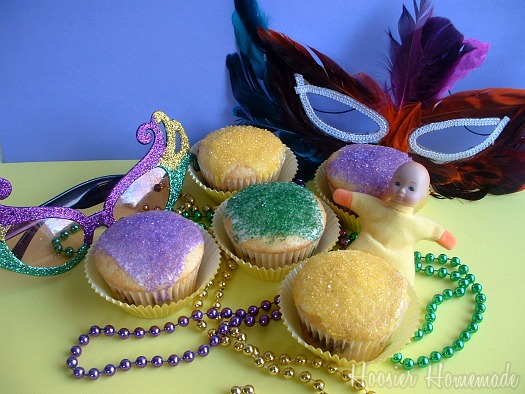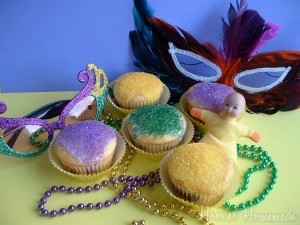 Or the Topsy Turvy Cupcakes from this year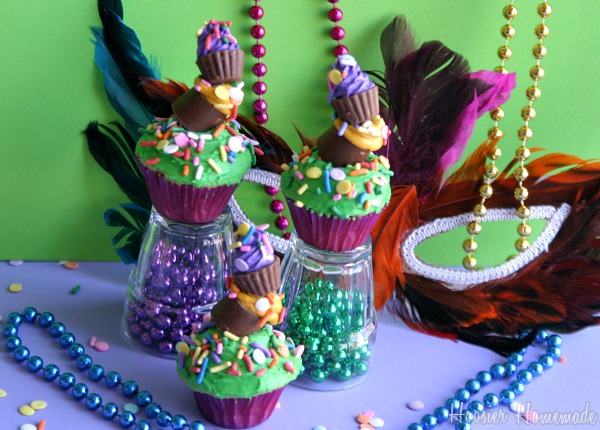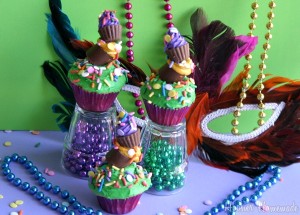 Affiliate links used.