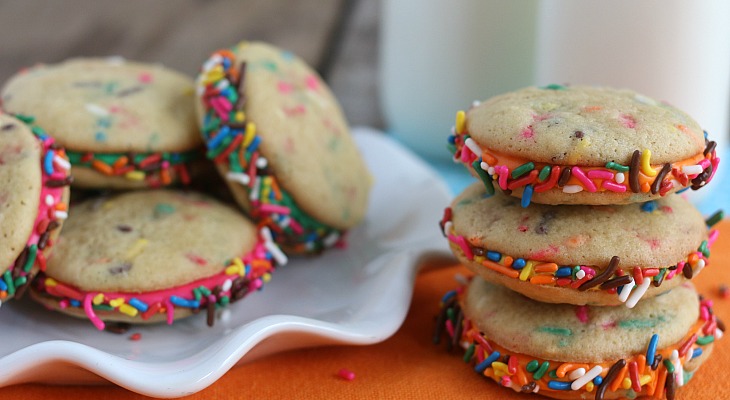 This is a sponsored post on behalf of Lunchbox. As always, the opinions are all my own.
What's more fun than cookies and milk? Funfetti!This Funfetti Cookie Recipe is super easy to make, has a delicious flavor and the kids will have a blast making them into sandwich cookies!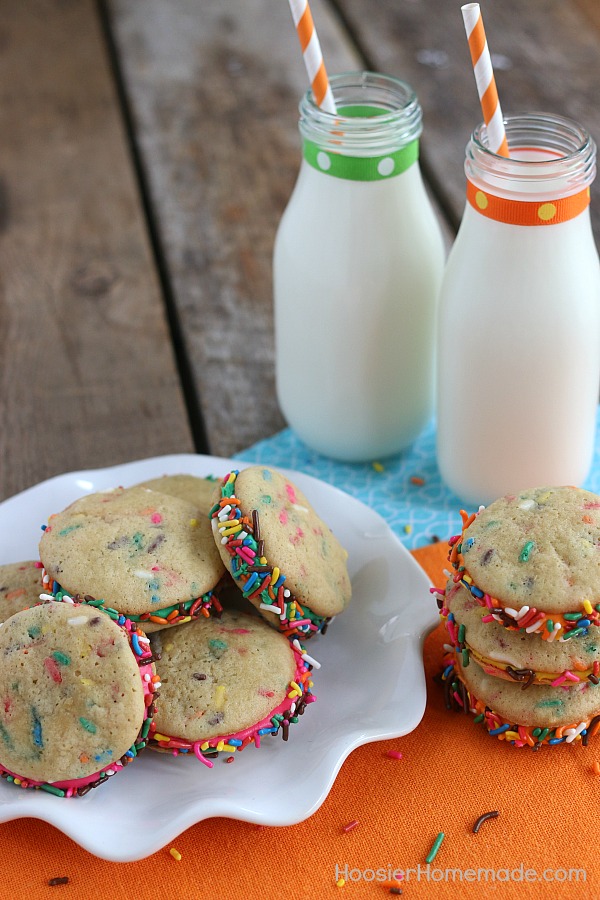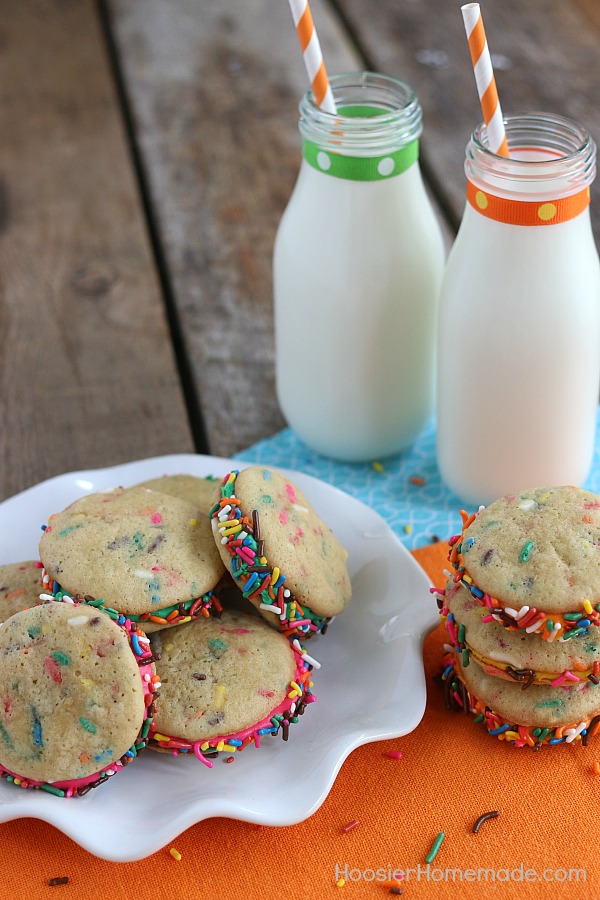 Sundays were a very special day in our home while I was growing up. My Mom would often make a big dinner with dessert and the whole extended family would visit. We would play cards, laugh and enjoy our time together.
Times seemed simpler than, or maybe we just have made it more difficult. It really doesn't need to be though. I was just telling Doug the other day that I really miss family dinners on Sunday afternoons – grabbing the kids and having them help bake a batch of cookies was always a special time.
Our middle son, LOVED to bake with me. He would stand up on a stool right next to me and add the ingredients to the bowl. Now, he is 22, and is in his senior year of college. He lives on his on and cooks for himself. His friends often mention to me that they wish they knew how to cook and bake like Nick does.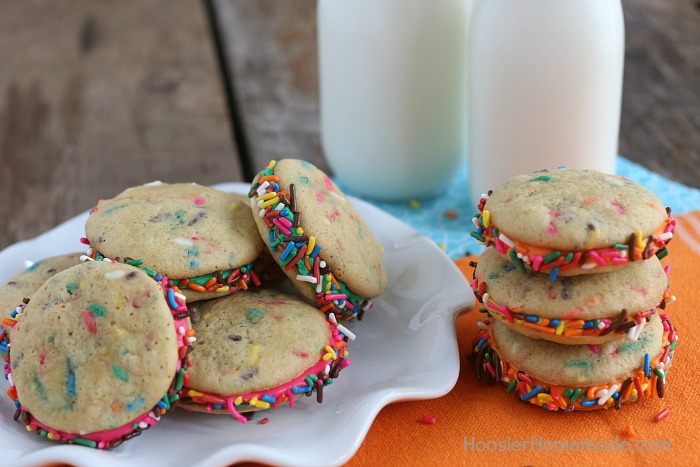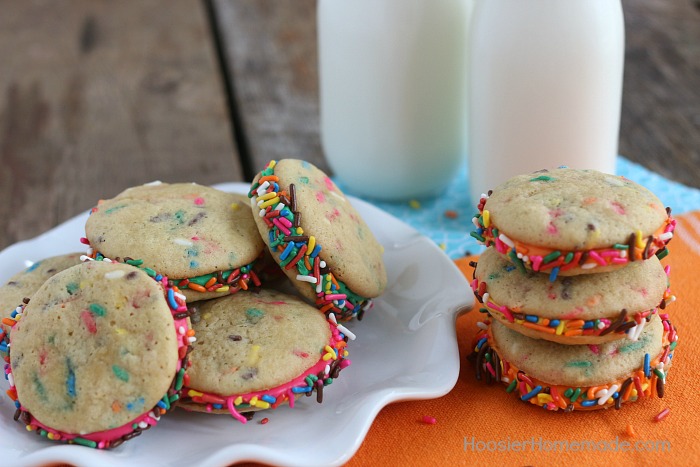 The cookie recipe options are endless. What if you had ONE recipe that you could use and change it up with different mix-ins? Perfect, right?
Well, this Funfetti Cookie Recipe is perfect! It's soft, a bit chewy and yes, you can add whatever you like to the base recipe – Make It Yours Cookie Recipe from Country Crock.
The recipe is a basic sugar cookie recipe using Country Crock, sugar (white and brown), eggs, vanilla, flour, baking powder, salt, and baking soda. Then I added sprinkles, because of course every cookie is more fun with sprinkles.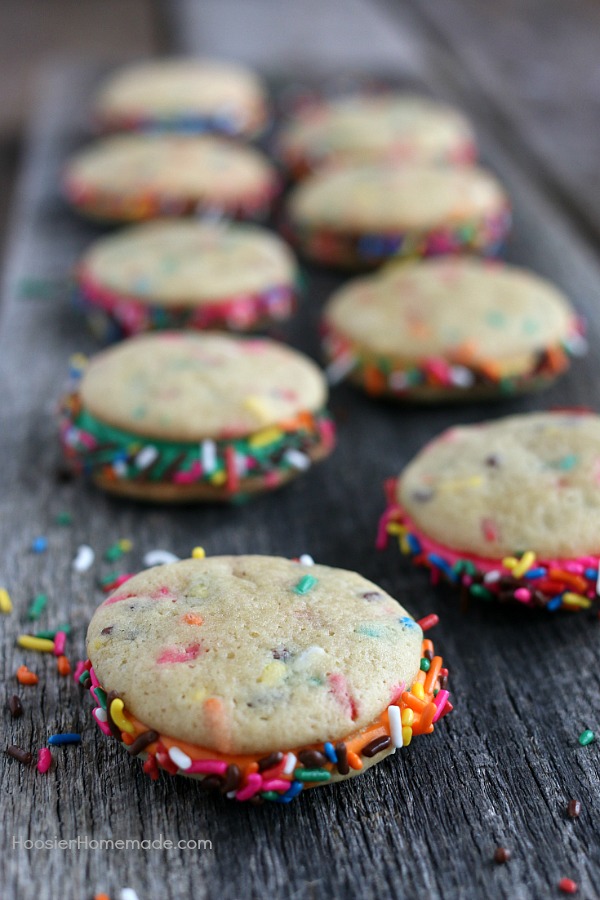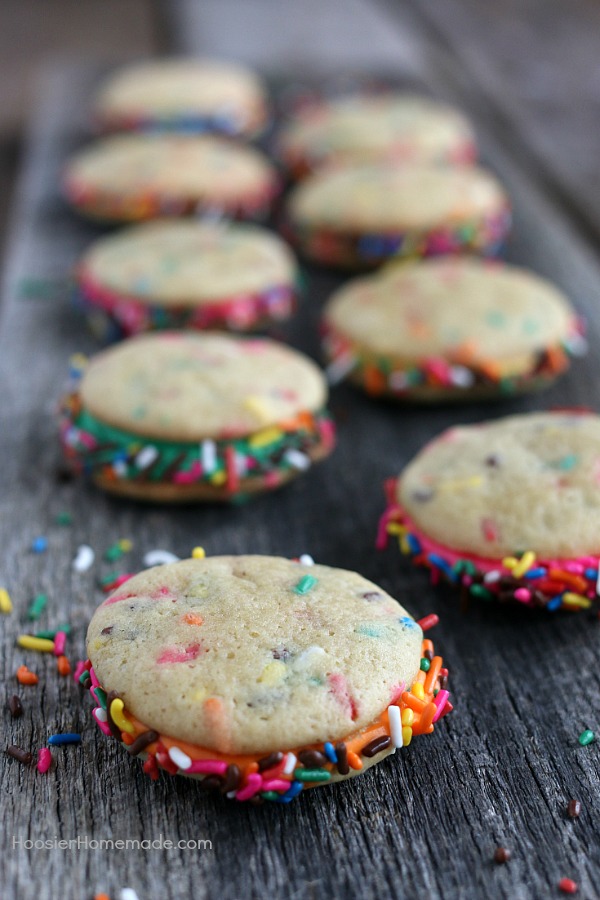 Then you can take the cookies to another level by making sandwich cookies. Use 2 cookies about the same size, add frosting on the bottom of one cookie, top with another cookie and gently press together until the frosting begins to show. Then roll in more sprinkles.
This is a perfect job for the kiddos, they love playing with frosting and sprinkles!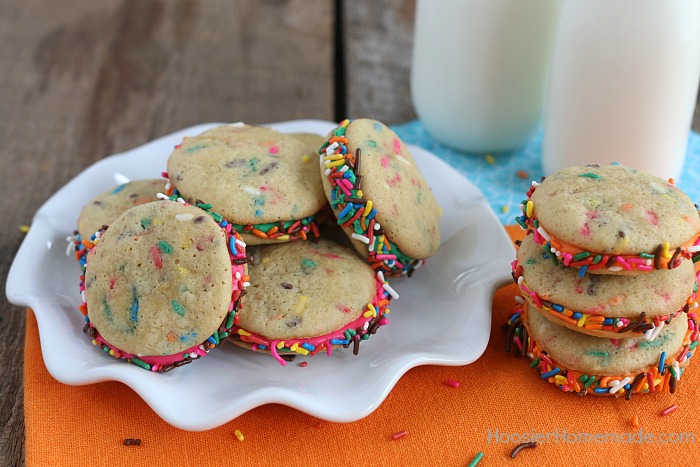 Country Crock is easy-to-use, with a country fresh taste that's perfect for all your cooking needs. It's made with real, simple ingredients, no artificial preservatives or flavors, and contains 0g trans fat per serving. And it makes your cookies super soft – just the way I like them!
For even more Sunday Baking Afternoons with your kids, take the Make It Yours Challenge! Visit CountryCrock.com every month to discover new mix-in ideas.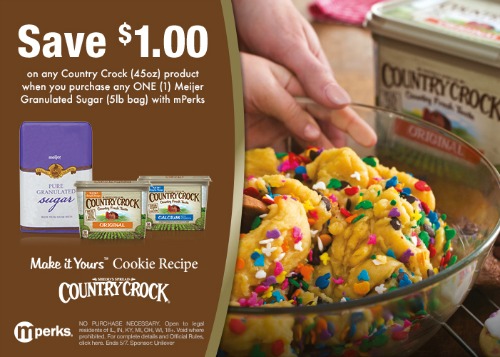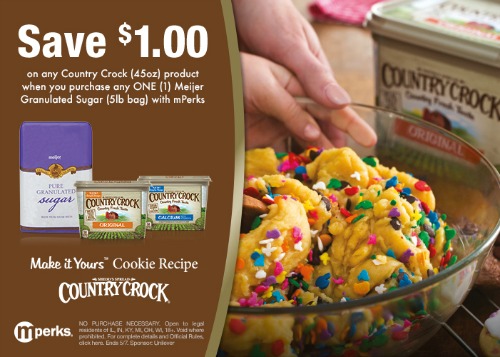 Join Meijer mPerks and SAVE $1.00 on any Country Crock (45oz) product when you purchase any ONE (1) Meijer Granulated Sugar (5lb bag) with mPerks digital coupon. (Valid 4/10-5/7)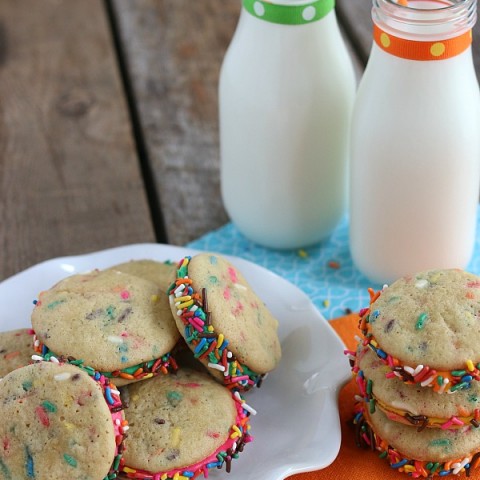 Funfetti Cookie Recipe
Soft, buttery cookies filled with fun sprinkles
Ingredients
1 cup Country Crock® Spreadable Sticks or Tub
3/4 cup granulated sugar
3/4 cup firmly packed light brown sugar
1 large egg
1 large egg yolk
2 tsp. vanilla extract
3 cups all-purpose flour
1 tsp. baking powder
3/4 tsp. salt
1/4 tsp. baking soda
1/2 cup sprinkles or your choice of mix-ins
Instructions
Preheat oven to 375°.
Mix Country Crock® Spread, granulated sugar, light brown sugar, egg, egg yolk and vanilla in large bowl until well mixed.
Stir in flour, baking powder, salt and baking soda until blended. (Dough will be soft and creamy.)
Add your favorite mix-ins until every spoonful of dough has some of the delicious mix-ins or choose from the variations below.
Drop dough by rounded tablespoonfuls on ungreased baking sheets 3-inches apart.
Bake 10 to 12 minutes until edges are lightly golden.
Cool 1 minute on wire rack; remove from sheets and cool completely.
Sandwich Cookies
Pipe or spread frosting on bottom of cookie, top with another cookie and gently press until frosting shows. Roll in more sprinkles