Caramel Pecan Cheesecake Trifles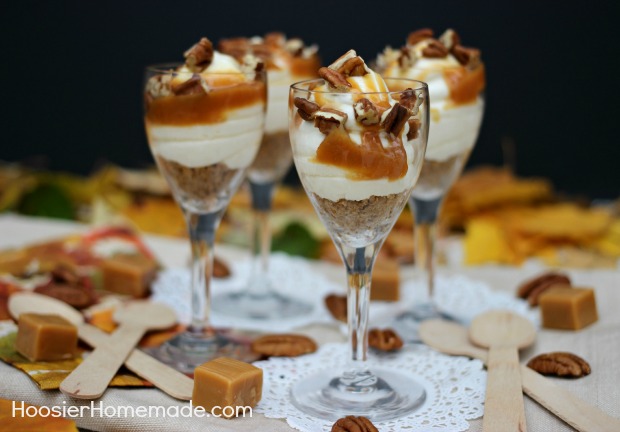 One of my favorite things is to host a party, whether it's a large birthday party or a dinner party for just a few friends is enjoying the food that we prepare and the great conversations with family and friends is priceless.
Although I love hosting parties, I have also learned over the years that keeping it simple is best. Often guests feel bad if you go to a lot of work. Having an easy dessert that can be made ahead is key. But it also needs to look impressive and taste delicious, in my opinion.
Using my favorite cheesecake recipe, these Caramel Pecan Cheesecake Trifles go together in minutes with just a few ingredients.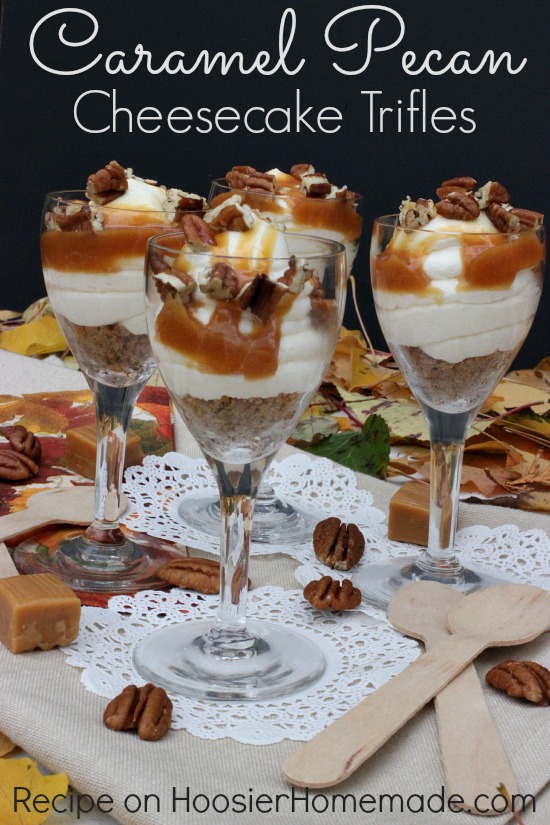 I'm honored to be a part of the 2013 Kraft Tastemaker Community, I am teaming up with Kraft Foods to share with you recipes using everyday ingredients that are sure to please your family!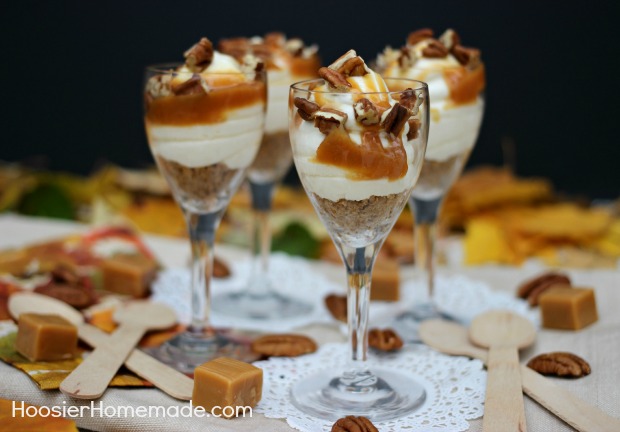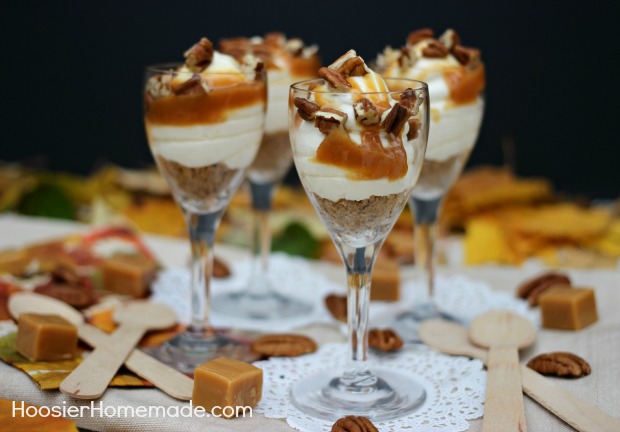 There are many options for serving these little cheesecake trifles. Today I have chosen a small wine glass for an elegant presentation for a Thanksgiving Dessert Buffet or Holiday Dinner Party. Any size glass container will work, although I have found that guests usually like to try a variety of desserts, so keeping them small works perfectly.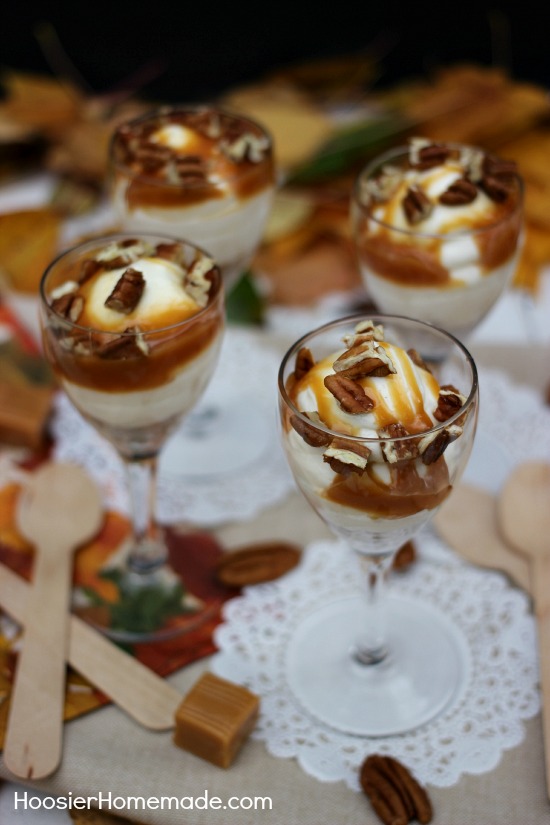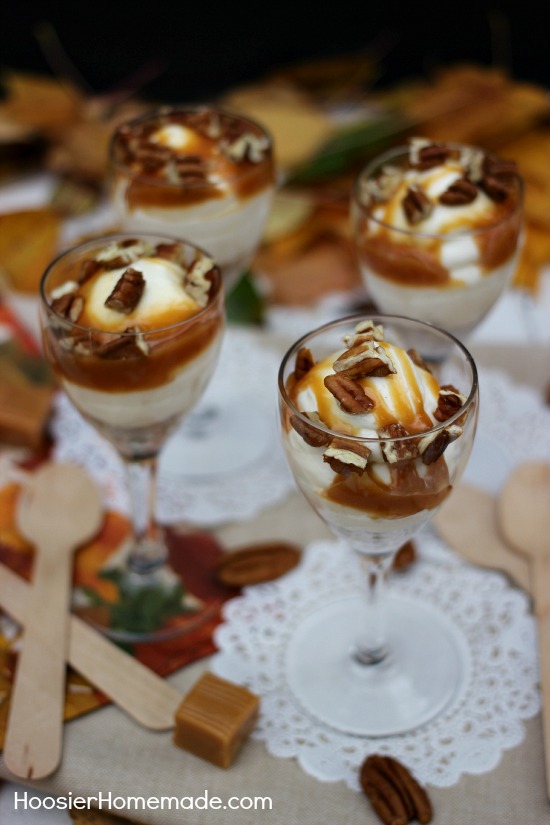 For more cheesecake recipe inspiration, join us on Cheesecake Cheer!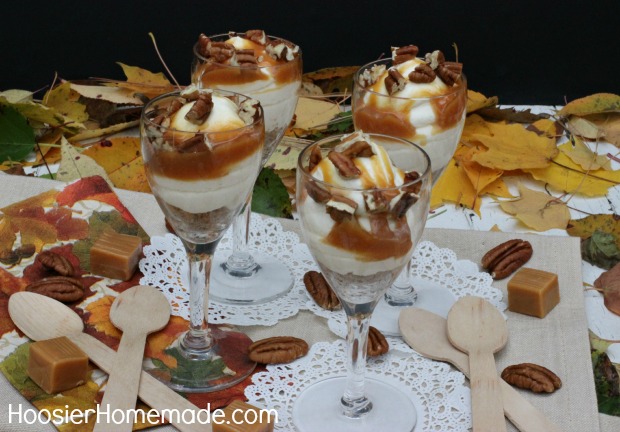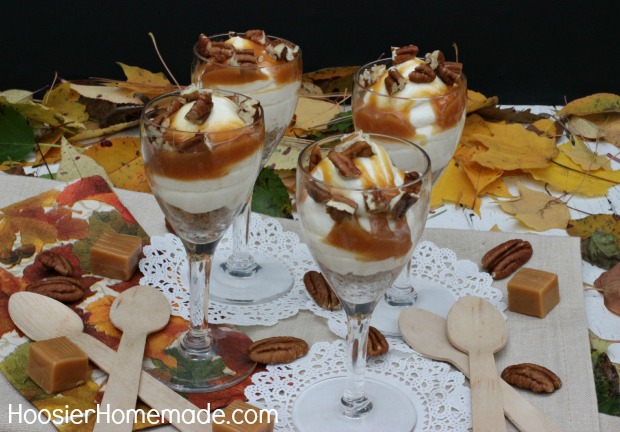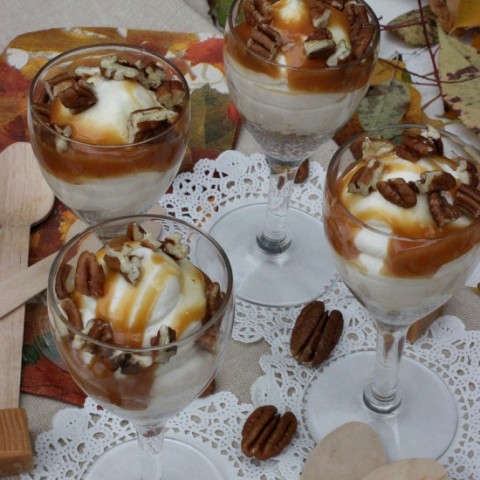 Caramel Pecan Cheesecake Trifles
Yield:
15-20 depending on size of container
Easy, but impressive dessert. Recipe from HoosierHomemade.com
Ingredients
Cheesecake
1 package (8 oz) PHILADELPHIA Cream Cheese, softened
1/3 cup sugar
1 tub (8 oz) COOL WHIP Whipped Topping, thawed
1 sleeve (9 crackers) of graham crackers, crushed (about 1 1/4 cups)
1/4 cup butter, melted
Caramel Sauce
1 bag (14 oz) KRAFT caramel, unwrapped
2 tablespoons water
Topping
1 cup PLANTERS Pecans, chopped
Instructions
Combine PHILADELPHIA Cream Cheese and sugar in a large bowl until smooth, fold in COOL WHIP Whipped Topping
Crush graham crackers. Melt butter and stir into graham cracker crumbs until combined.
Add a heaping teaspoon of graham cracker crumbs to the bottom of container, pat down with Tart Shaper or back of spoon
Add Cheesecake mixture to a resealable bag and squeeze into the container.
Place in refrigerator at least 3 hours to chill
Before serving, unwrap caramels and place in small saucepan. Add water and stir until caramels are completely melted and smooth. Pour caramel into a plastic squeeze bottle. You can also spoon it on if you like.
Chop pecans. Drizzle cheesecake with caramel sauce and sprinkle with pecans.
Store leftovers in refrigerator
Notes
Cook time is for Caramel Sauce. This can be served in a number of glass containers for individual servings or 1 large glass bowl.

For more recipes visit KraftRecipes.com