A couple weeks ago I told you about the Johnsonville Pastaville Italian Sausage Recipe Contest, and how they are offering cash prizes.
I decided to try my hand at creating a recipe using Johnsville Italian Sausage. This soup tasted really good, it was a little spicy for my taste, but Doug and the boys liked it.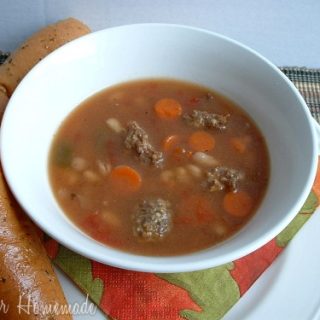 Italian Sausage Soup
Ingredients
1 pound Italian Sausage, cut into pieces and browned
4 cups beef broth (canned or homemade is fine)
1 can (14-15 oz) Italian-styled stewed Tomatoes
1 can (14-15 oz) Northern Beans, undrained
1 cup carrots, sliced
1/2 cup green peppers, chopped
1/4 teaspoon each of salt and pepper
Instructions
Slice and brown Italian Sausage.
Add all ingredients to crockpot and cook on low 8-10 hours or on high 4-5 hours.
Serve with Italian Breadsticks. I found these at Walmart in the bakery, they are Italian Garlic and Herb, and are $3.00 for 12 breadsticks.
Our Menu Plan this week has a little change in it from when I posted our Monthly Menu, I will be going to New York City on Thursday and Friday for the I Can't Believe It's Not Butter Holiday Bake-Off!! I'm beyond excited!!
Please stop by tomorrow, check out the amazing giveaway they are offering you and leave a comment!
I'm sharing a video of my #1 visited post and Holiday Bake-off entry!
Our Weekly Menu Plan:
Monday ~ Italian Sausage Soup and Breadsticks
Tuesday ~ Teriyaki Chicken (scroll down), Rice and Veggie
Wednesday~ Nick's Birthday
Thursday ~ Beef & Bean Chimichangas (done, frozen from a double batch in Oct)
Friday ~ Eat Out (Mama in NYC)
Saturday ~ Appetizers and Baked Potatoes
Sunday ~ Doug's Birthday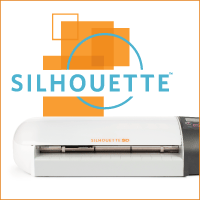 Don't forget to enter the $50 Silhouette Supply Bundle Giveaway ending Wednesday!
Casey and I had fun creating a Texas Longhorns Tatoo for him…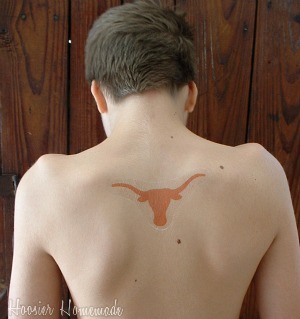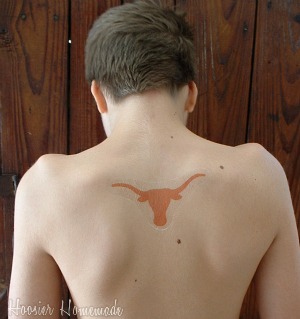 I think next time we need to trim a little closer, but he was happy with how it turned out.
The tatoo paper for the Silhouette is really cool, and remember, you don't have to own a Silhouette machine to use the supplies.
I'm linking to the Blog Parties in my footer, please visit them! You might just find one or two that are new to you!