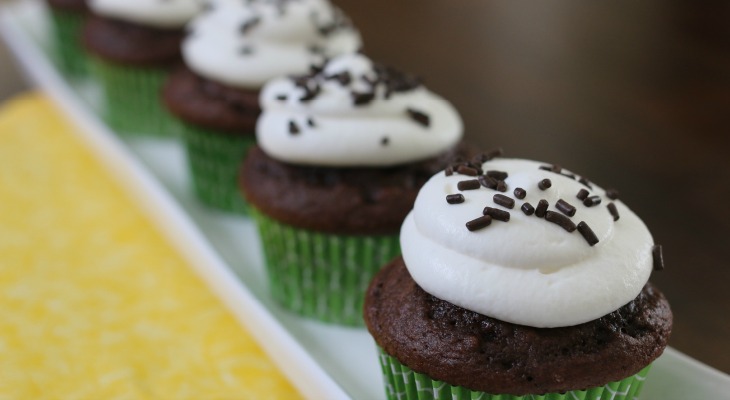 Chocolate cupcakes filled and topped with luscious Irish cream made with whipping cream, marshmallows, milk and Irish cream flavoring. These Irish Cream Pie Cupcakes are the ultimate St. Patrick's Day Cupcake!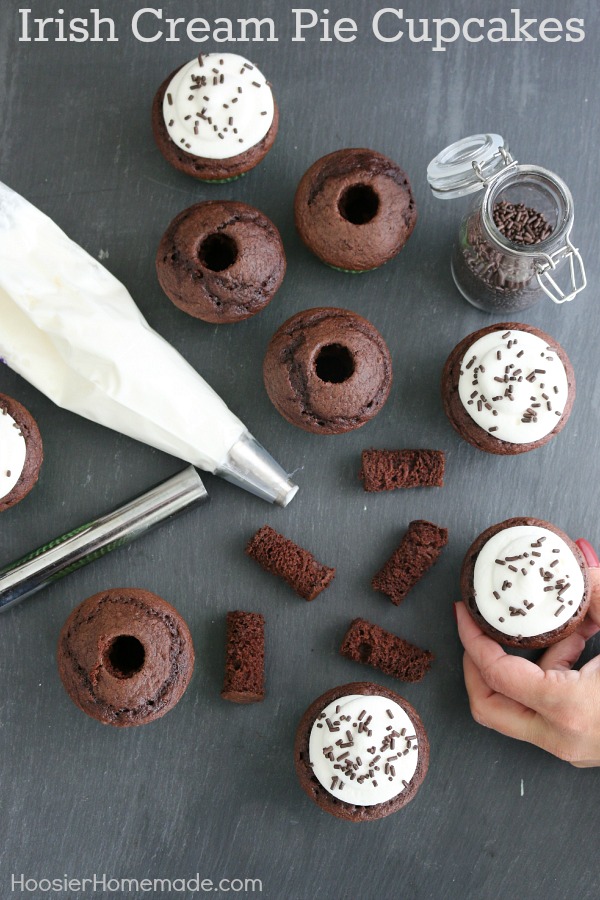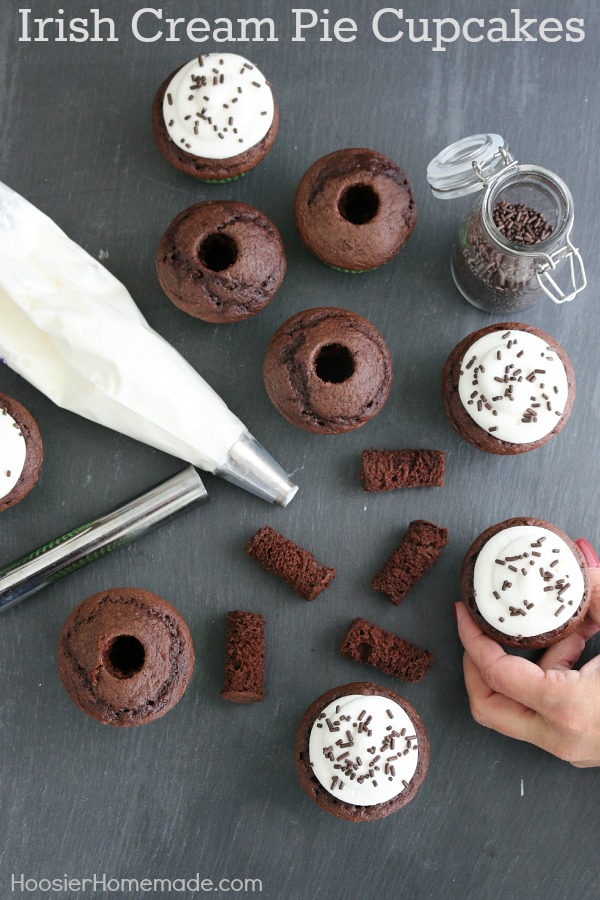 There is something about chocolate cupcakes filled with luscious cream that makes my heart sing. You know what else makes my heart sing? This quote I read in a Devotion book I bought over the weekend –
"If you were the best in the world at what you do, how would you behave?" -Alexandra Franzen
Join me on Instagram and tell me your thoughts. I'd love to hear!
Now, let's bake these incredible cupcakes and make our hearts sing!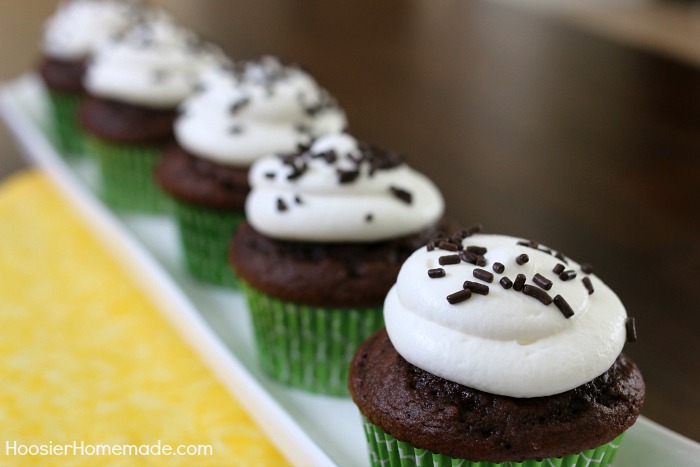 Irish Cream Pie traditionally has a chocolate crust, filled with a mixture of marshmallows, milk, whipping cream and Irish cream liqueur. These Irish Cream Pie Cupcakes are a spin on that pie. They start with a delicious, moist Devils Food Cake Mix that I doctored up by adding extra ingredients. Then they are filled and topped with Irish Cream. There are a few steps to making the cream, it does take a little time, but it's not difficult at all.
What You Need: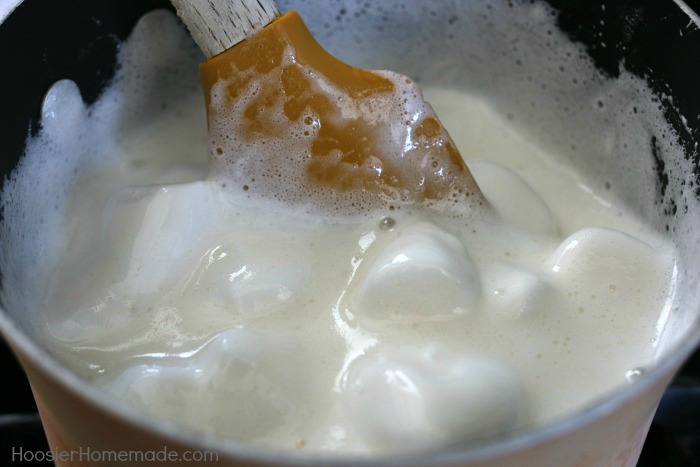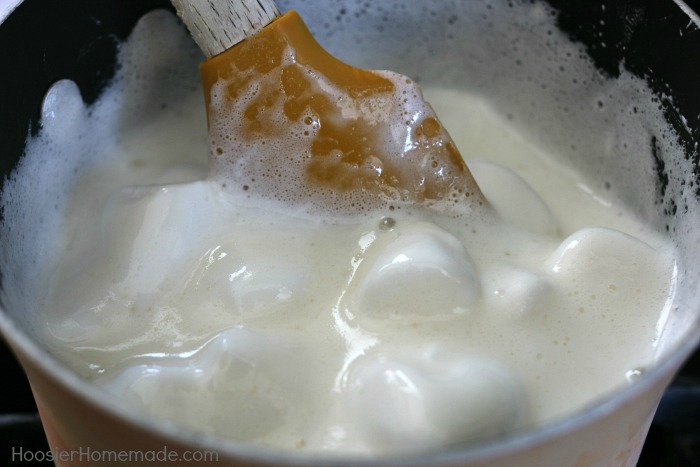 While the cupcakes are cooling, then it's time to make the Irish Cream. First, melt marshmallows and milk on the stove top, this will take about 3 or 4 minutes.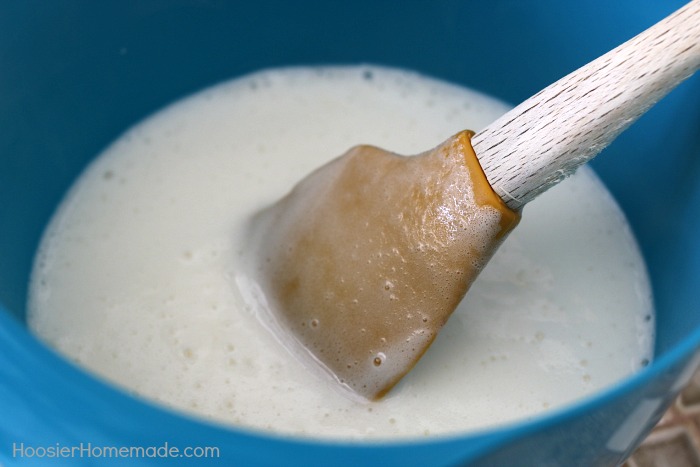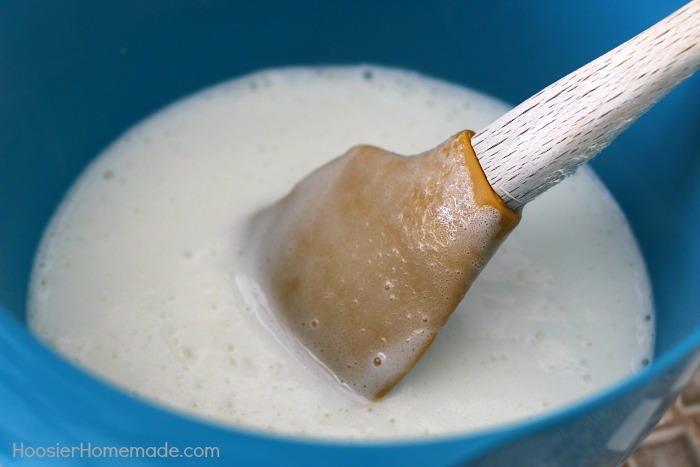 Then transfer the marshmallow mixture to a bowl, and place in the refrigerator.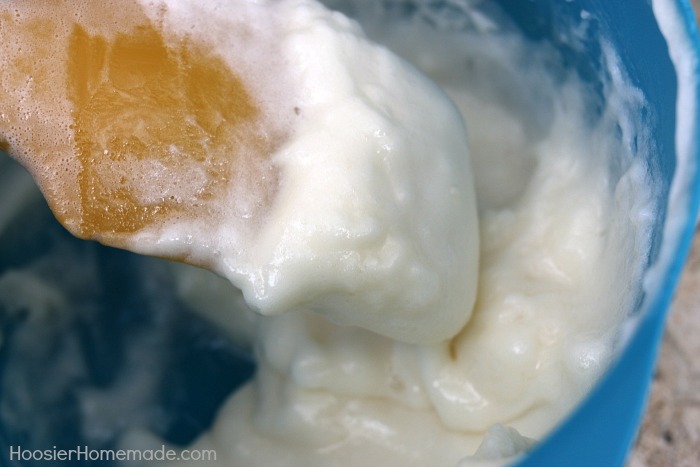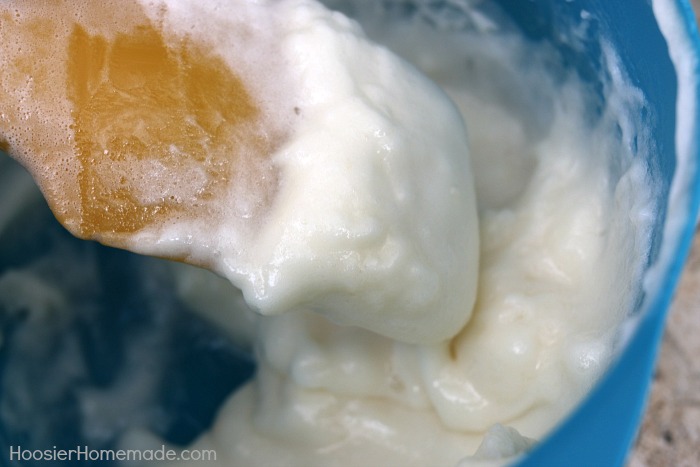 Stir the mixture every 5-10 minutes for a total of 20-30 minutes, returning it to the fridge after each stir. The time will depend on how cold your fridge is and how hot the mixture was to begin with. You will need the mixture to mound up.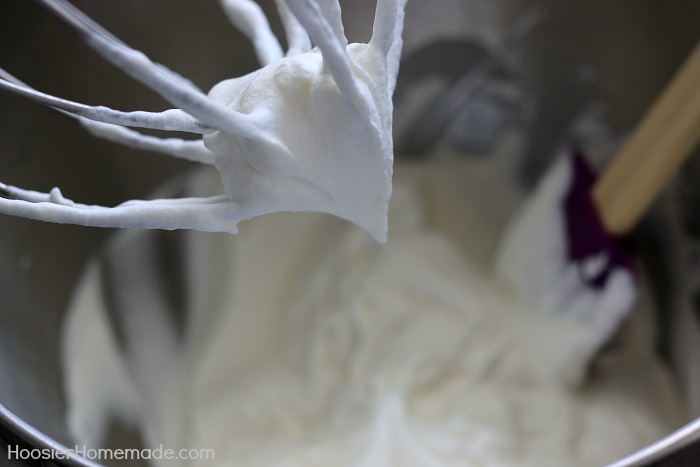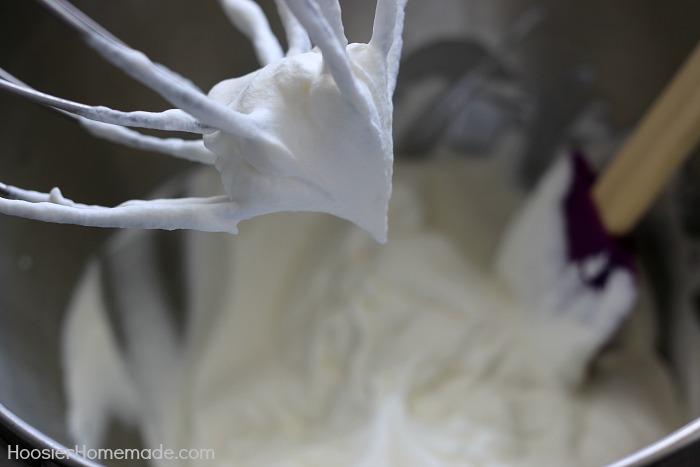 When you put the marshmallow mixture back into the fridge for the last time before it's done, begin beating the whipping cream. You will want it stiff, but be careful, it can turn mushy if you beat it too long.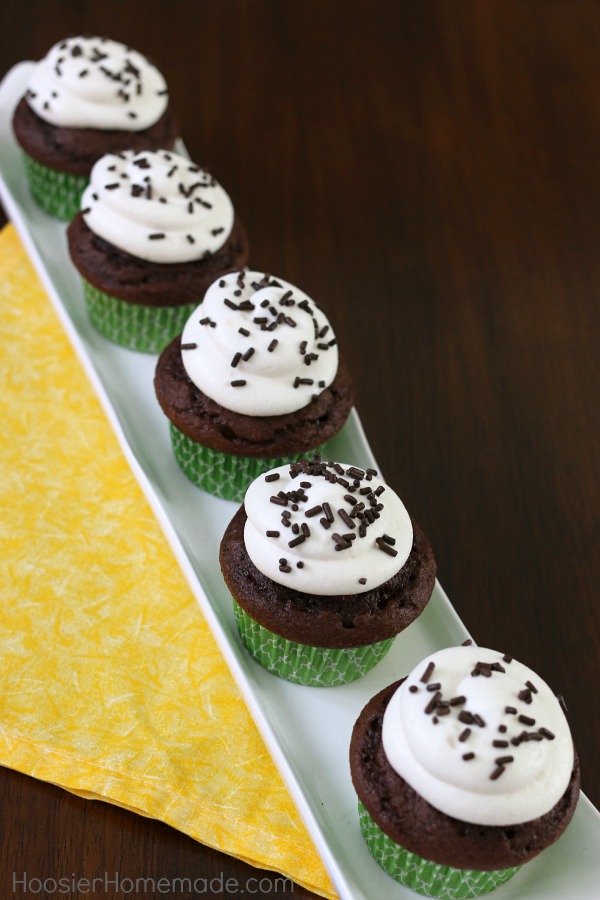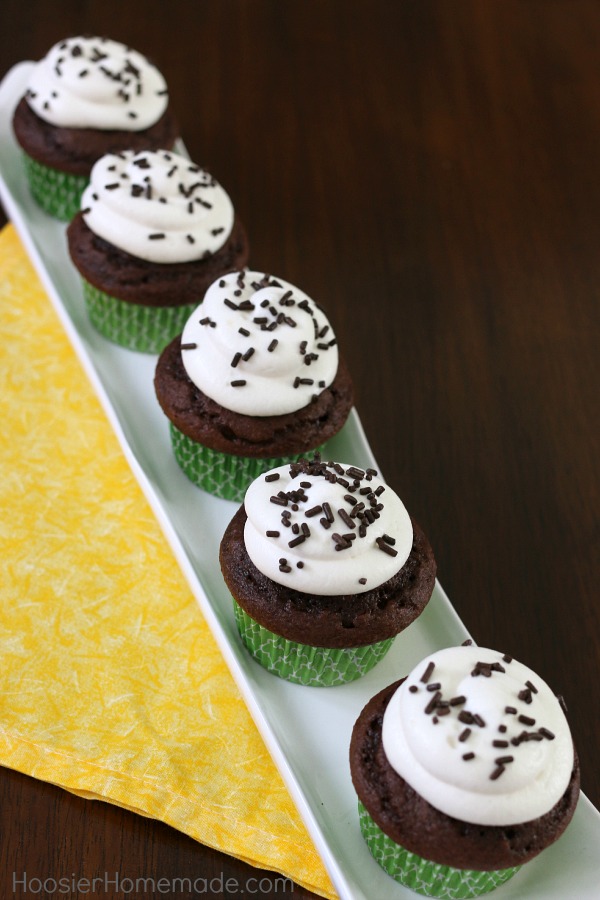 After the marshmallow mixture is mounded, the whipping cream is beaten, then gently fold them together with the Irish Cream. I used International Delight Irish Cream Creamer to keep the cupcakes kid friendly and budget friendly, but you can also use Irish cream liqueur.
After the cupcakes are cooled, core the cupcakes. You can learn the different methods for filling cupcakes that I use.
Then add a 1M decorator tip to a bag, fill and frost the cupcake with the Irish cream. Add chocolate sprinkles or shavings if you like.
A note on the cupcake liners. I have been using liners from Sweet & Treats Boutique. You can from my photo Instagram yesterday how they compare to other liners.
pss…have you seen the new Holiday Page? Check it out!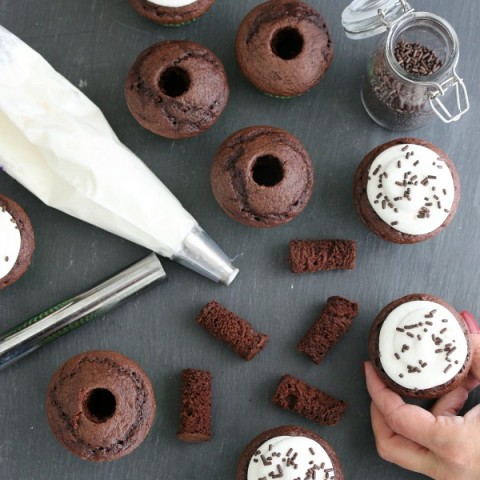 Irish Cream Pie Cupcakes
Chocolate cupcakes filled and topped with Irish Cream made with whipping cream, marshmallows and Irish Cream flavoring
Ingredients
1 box Devils Food Cake Mix (or your favorite chocolate cupcake recipe)
4 eggs, room temperature
1 cup buttermilk
1/3 cup oil
Irish Cream
32 large marshmallows
1/2 cup milk
1/3 - 1/2 cup Irish Cream Coffee Creamer or Irish Cream Liqueur
1 1/2 cups heavy whipping cream
Chocolate Sprinkles, optional
Instructions
Bake and cool cupcakes, while cupcakes are cooling make Irish Cream
In a heavy saucepan, combine milk and marshmallows. Cook over low heat, stirring constantly until marshmallows are melted
Transfer mixture to bowl and place in refrigerator
Stir mixture every 5-10 minutes for 20-30 minutes until mixture mounds, placing back in refrigerator after each stir
Begin beating whipping cream when you place the marshmallow mixture in the refrigerator for the last time, beat until stiff
Fold in marshmallow mixture and Irish Creamer or liqueur
Core cupcakes
Fit a decorator bag with 1M tip and fill with Irish Cream
Fill and frost cupcakes, add chocolate sprinkles if you like
Store in refrigerator
Notes
You may need to place the Irish cream in the fridge to chill it before filling and frosting cupcakes. It will depend on the consistency.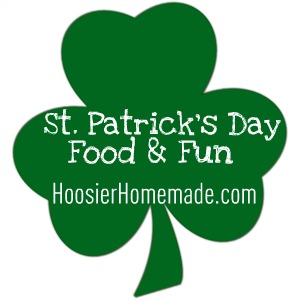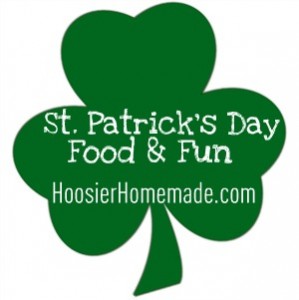 Affiliate links used.