Do you long for a new headboard but don't want to spend a lot of money? Well you are in luck, transforming a brass headboard is really easy, doesn't cost a lot and the results are unbelievable! It took some trial and error, but we figured out how to paint a brass headboard.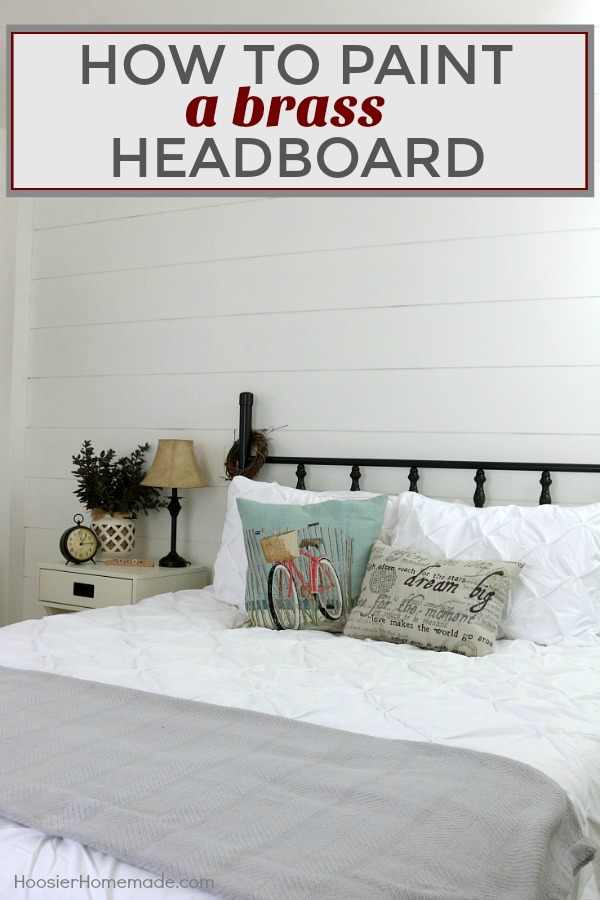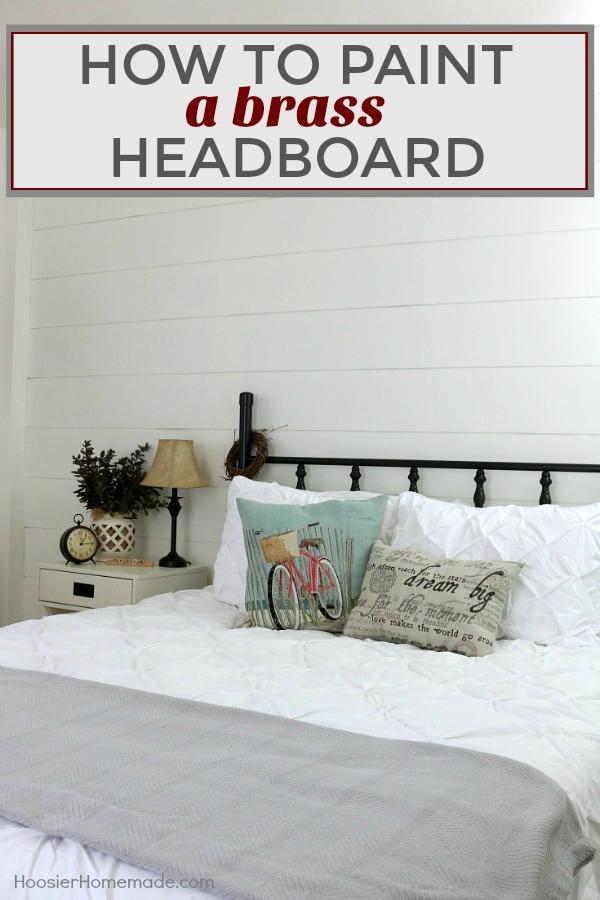 When we began putting together ideas for the new Farmhouse Bedroom, I had a vision in my head of how I wanted it to look. I had daydreamed of this bedroom for months, while binge watching Fixer Upper.
The trouble was though, we didn't have a lot of money to put toward the room. A Shiplap Wall was a must, but it needed to be done on a budget. So we figured out how to create one for less than $40.
We also needed a new headboard and bed. I started looking at a few stores and online, and the headboards were all around $200, which was out of our range. So, since I love to think outside the box when it comes to decorating our home, I headed to our local antique store to see if, by chance, they had a piece of metal or something I could turn into a headboard.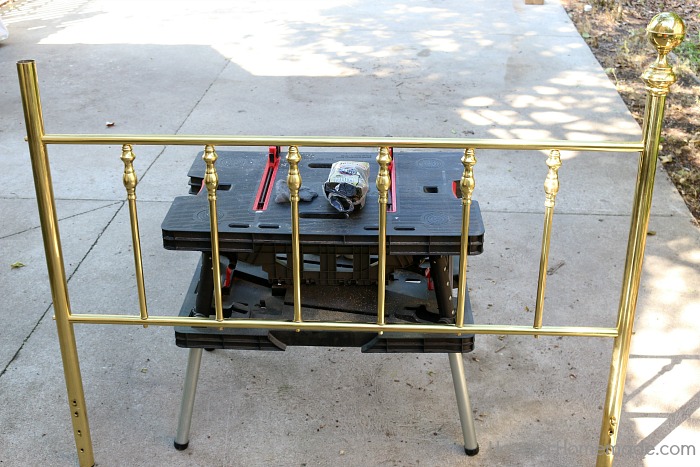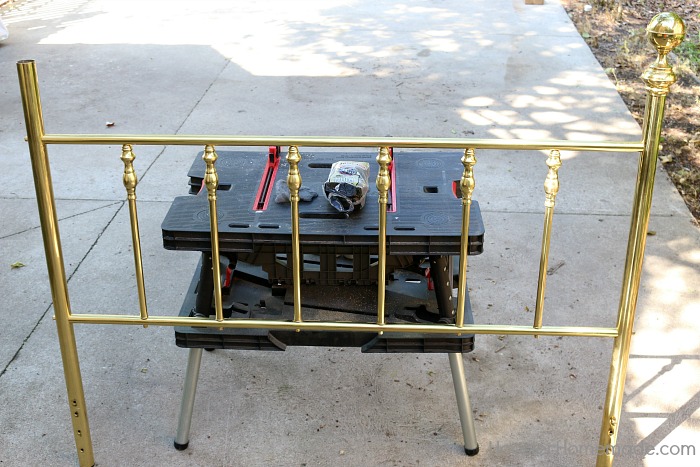 Clear in the back room where they hold the scratch and dent pieces, I found this brass headboard. At first, I just wasn't sure about it, but it was only $10. I thanked the owner and went about my day, shopping for a new metal headboard, quickly to discover that they were all too expensive right now.
When I returned home and we went over all the options, the $10 brass headboard at the antique store was the best option. We knew we could paint it, but the big round toppers might be too much. At least in my mind, I just wasn't sure. But hey – for $10, I was willing to give it a try.
So Doug and I headed down to the antique store the next day to grab the headboard. While we were waiting, we spotted a sign for mattresses, and decided to take a look.
This bedroom ,and especially the bed, was not one that would be slept in every night. I really just wanted a space for our son that is away at college to have a bed of his own when he comes home a couple times per month. There were mattresses and box springs on sale for $100 – bingo! We did it again! I was super excited to find such great deals.
So anyway, long story here, but let me show you how easy it was to transform the brass headboard into the perfect piece in our Farmhouse Bedroom.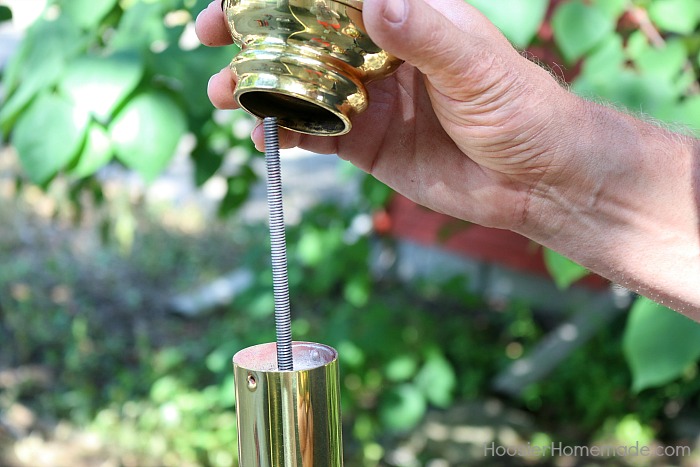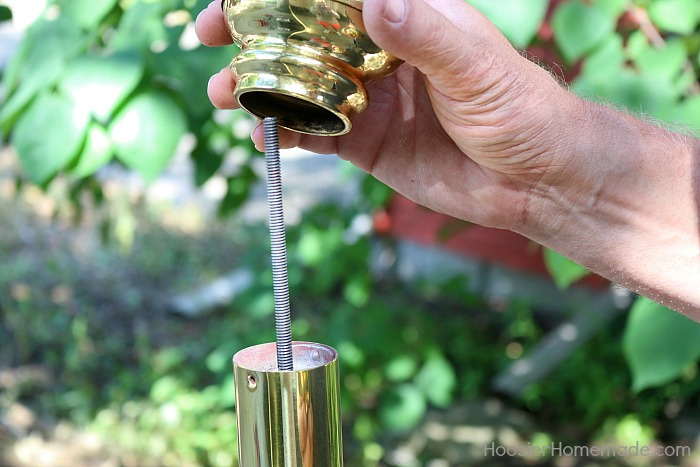 The first step was to remove the finial from the headboard. This was actually the part that I thought would be hard, but it simply just unscrewed.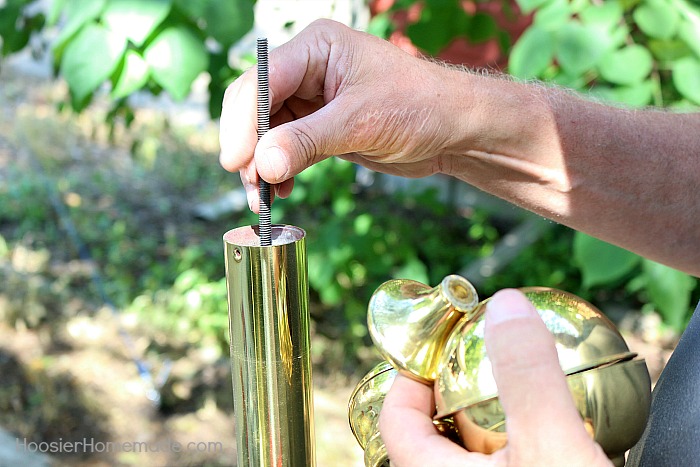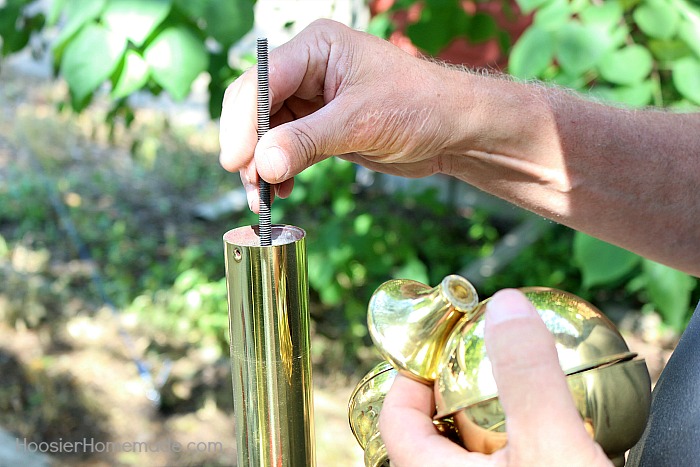 Then metal rod holding all the pieces on top was easy to unscrew as well.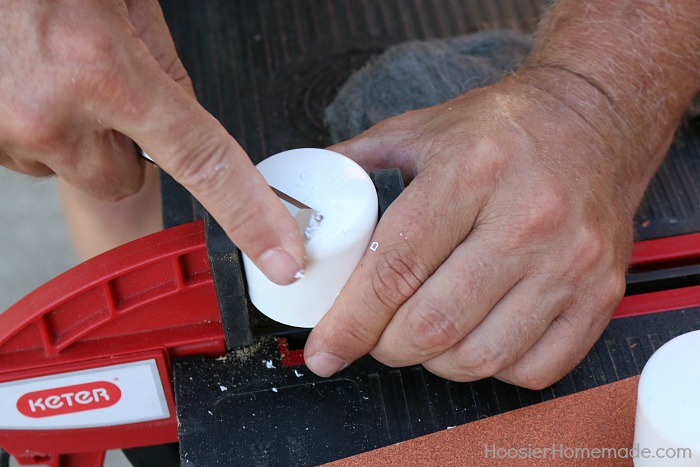 After removing the metal rod and finial, the trick was to find something to add over top that would cover the ends of the uprights and still look really good. Doug found plastic pipe caps at the hardware store.
They had lettering that was embossed on the top, so he used a small chisel to scrap off the words.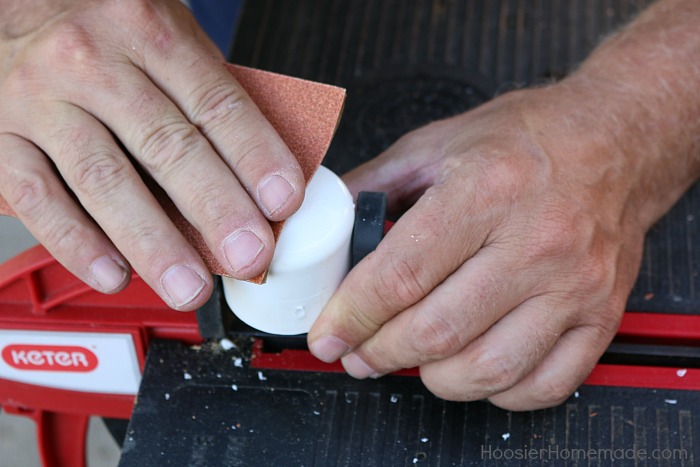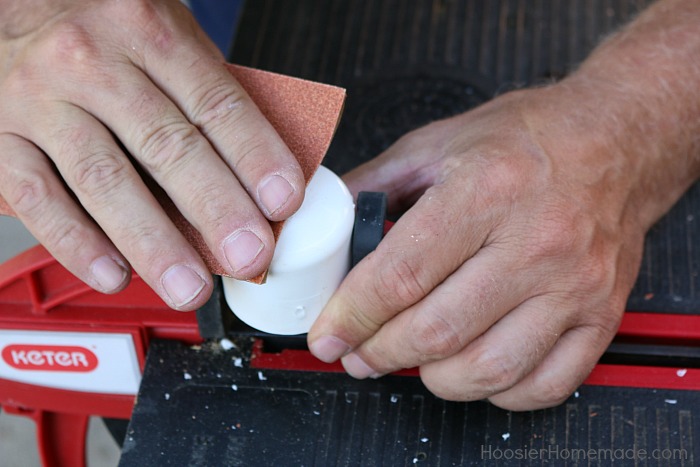 Then sanded the rest off with 120 grit sand paper.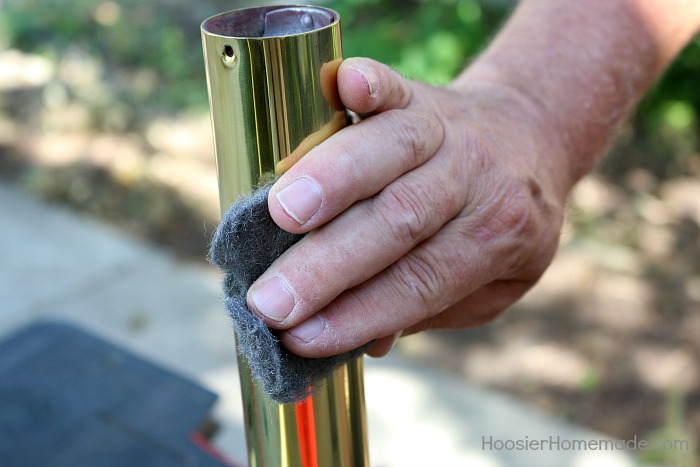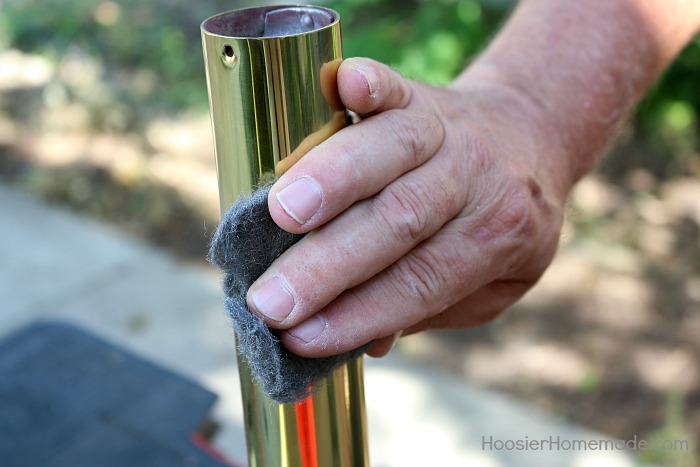 Next it was time to prepare the brass for the paint. Doug used steel wool to "rough" up the surface.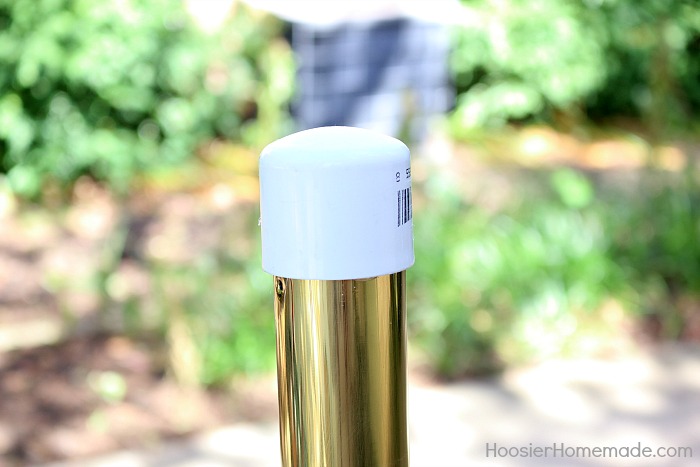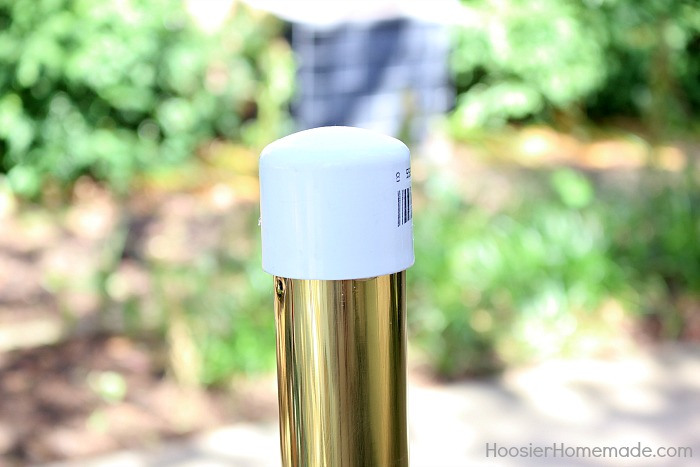 Then the plastic cap was attached to the headboard with a hot glue gun. Easy enough!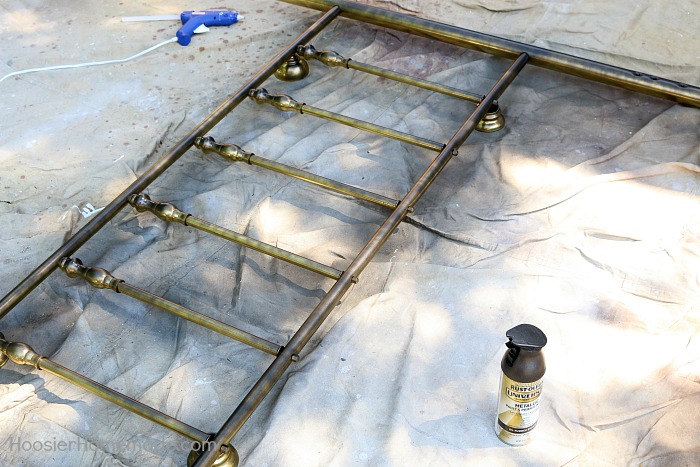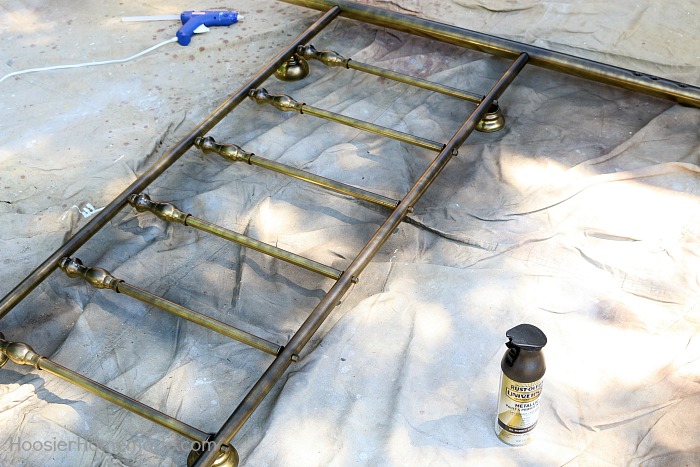 Now it was time to paint the headboard using Rust-oleum Universal Forged Hammered Spray Paint, letting it dry in between coats. Flipped it over and finished the painting.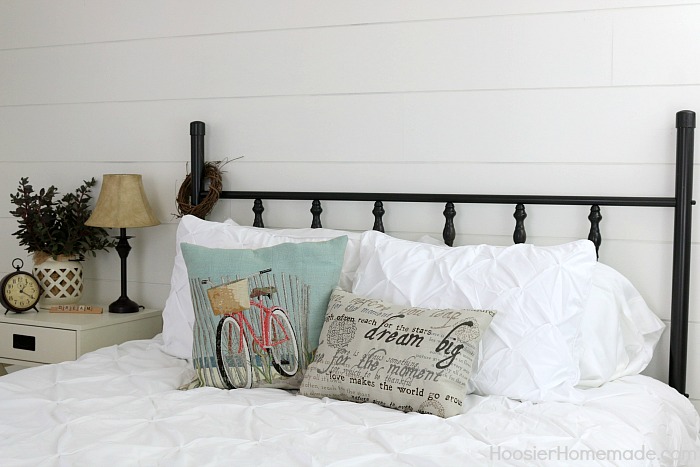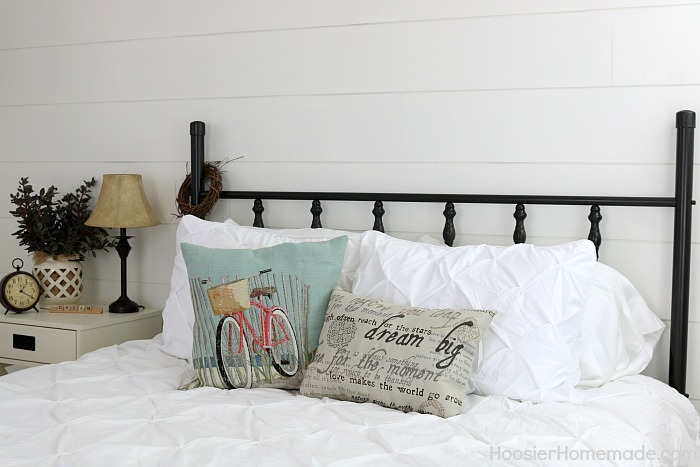 I couldn't be more thrilled with how the headboard turned out.
You can find the whole bedroom makeover —