How to Organize a Garage: Creating Zones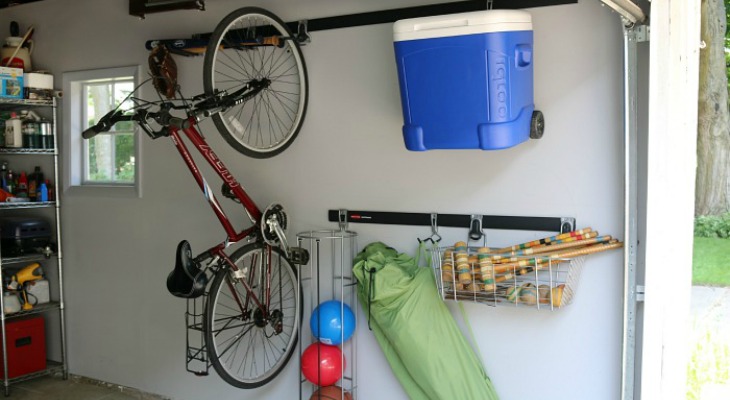 We have planned, cleared, purged, evaluated and now it's time to learn how to organize a garage. We divided the area into zones. Let's get busy!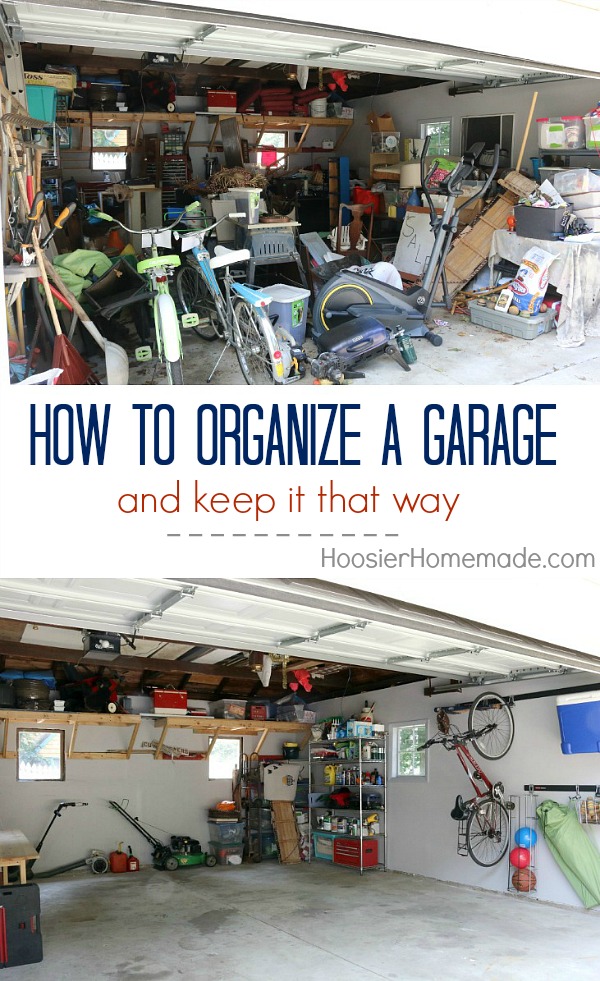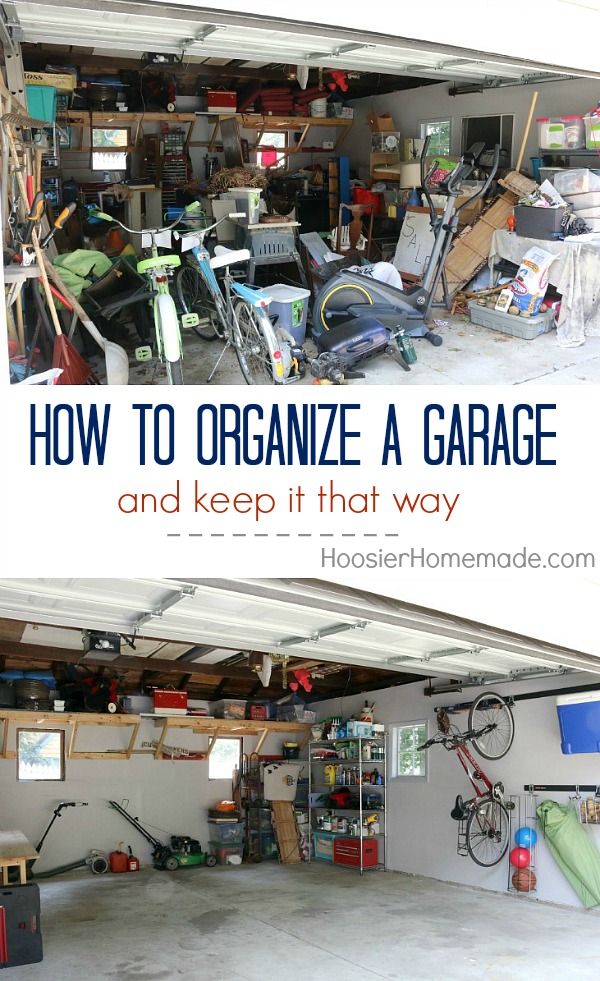 A few weeks back, I shared some tips on How to Organize your Garage in 5 Simple Steps – planning, clearing, purging, evaluating and organizing.
First we planned out how we wanted the garage to be divided into zones. And how we would use the Rubbermaid FastTrack Garage Organizing System to get things organized and keep them that way, which is half the battle.
We cleared everything out.
We purged – oh how we purged, we had a garage sale making just over $700, and we took 4 carloads of things to the donation center.
We evaluated what was left and what was the best way to organize them. And then we got to work organizing everything that was left.
Let me show you how we accomplished it all…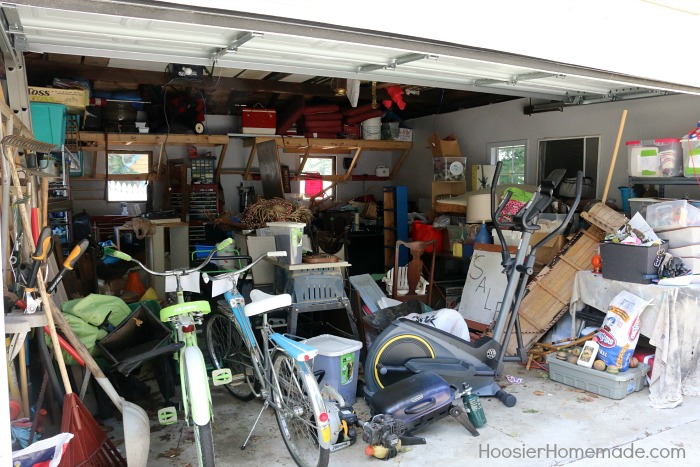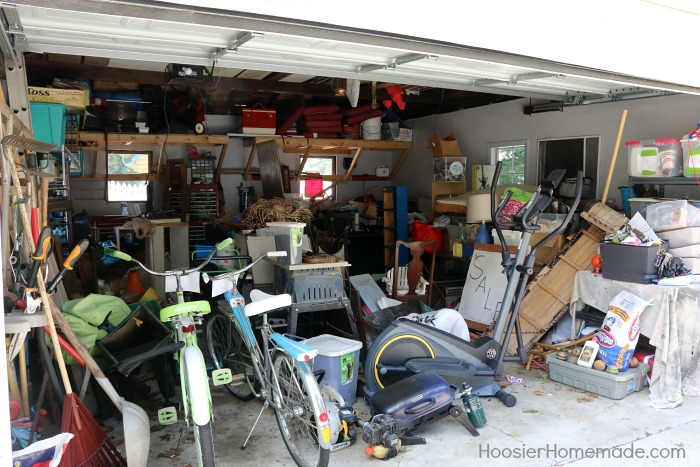 This is where it all began, little by little the garage had become overrun with stuff. We didn't have a good plan for where things belonged, we had organized the garage many, many times, but it would always go right back to where it had been. The key – get rid of stuff! Really, that is what it took because you can organize and organize, but if you continue to add more things to your home and don't get rid of some things, then it will just pile up.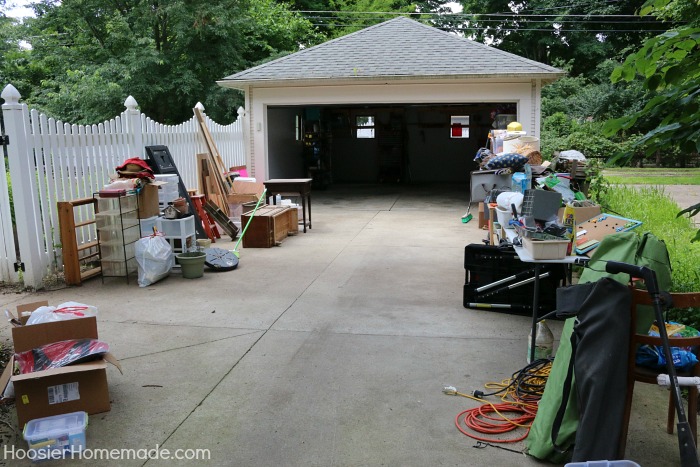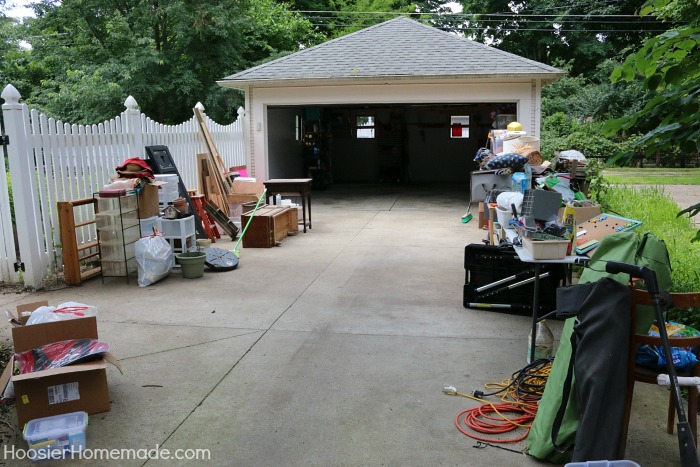 After we planned out a system and had a goal in mind, we began sorting. Everything, except the items on the shelf against the back wall, were removed. We sorted them into zones – items to take to donation, tools, sports equipment, gardening, etc.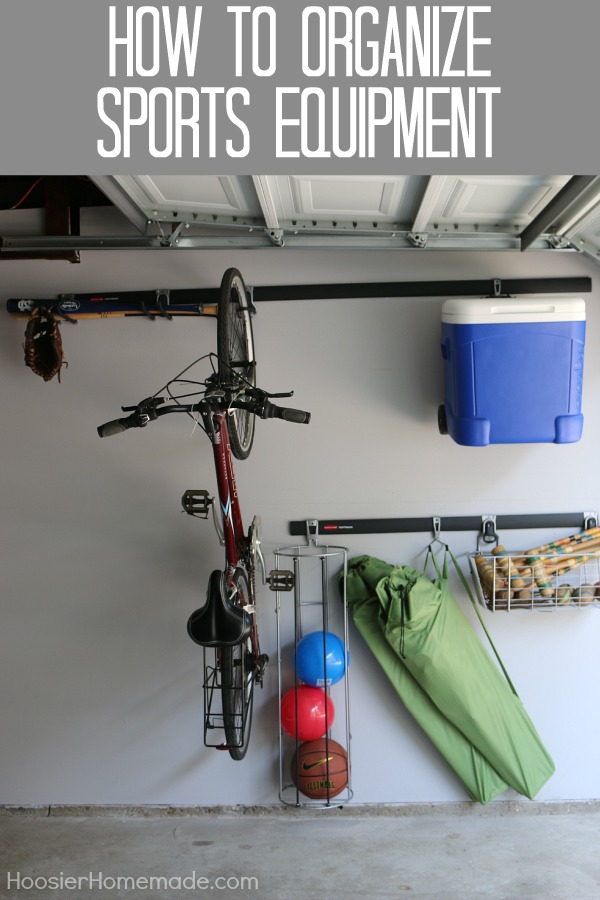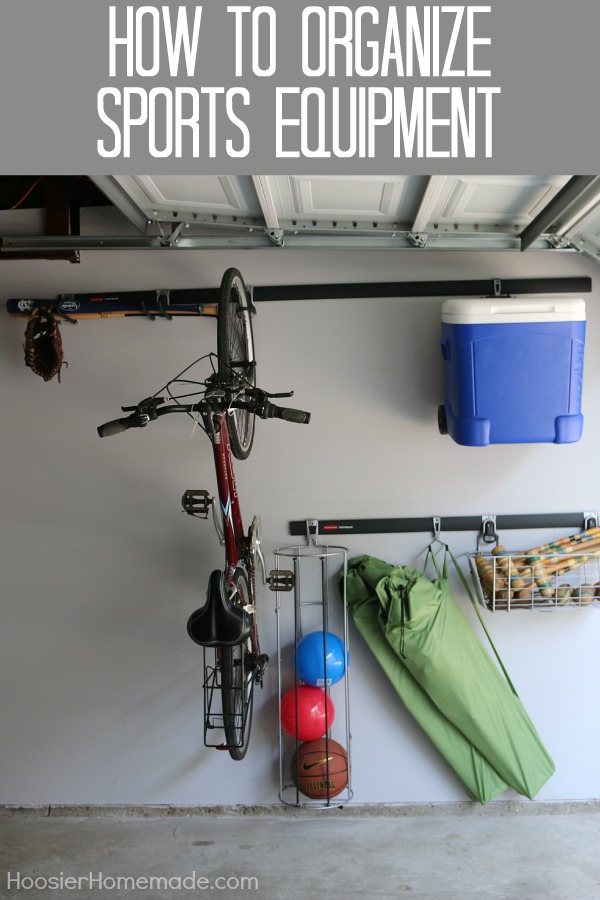 Bats – Balls – Bikes – the list goes on and on! I don't know about you, but even though our boys are older, there still seems to a lot of sports equipment. And honestly, I think it is some of the most difficult items to organize. They don't fit easily into a container or box so you can keep them organized and often times you need the equipment is to reach and find quickly. And it's always a plus if there is a specific spot to hold everything nice and neat.
Well, you are in luck because I have the answers. It's the Rubbermaid FastTrack Garage Organizing System. You can customize it for your needs – it's super easy to install – and it doesn't cost an arm and a leg!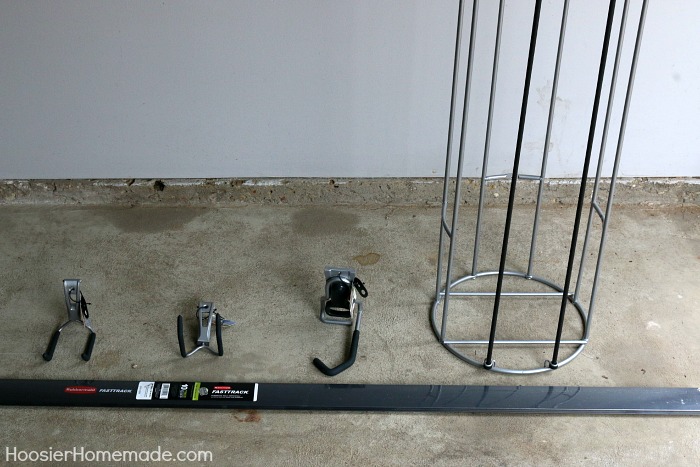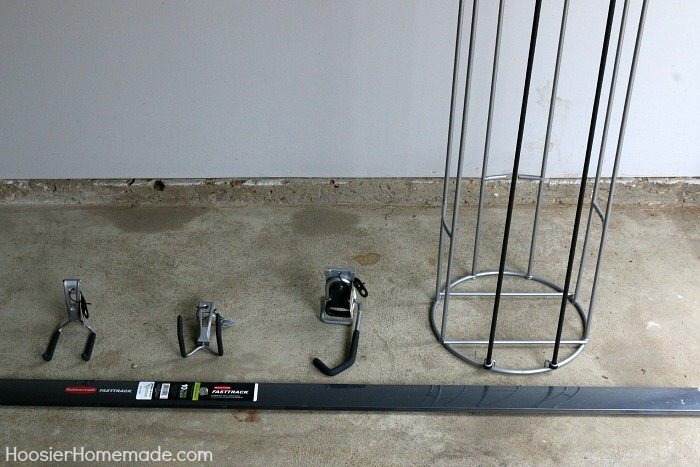 To organize the Sports Equipment, we used a FastTrack Rail, a Vertical Ball Rack, a Vertical Bike Hook, a FastTrack Cooler Hooks, one we used for lawn chairs.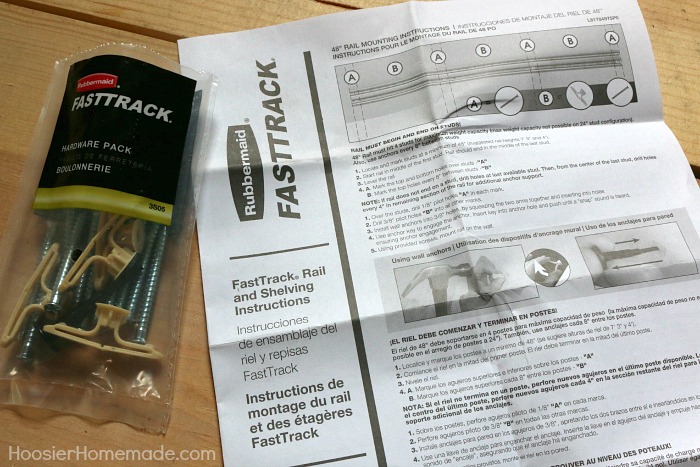 The Rubbermaid FastTrack System is not difficult and takes simple tools to install. Be sure you have the following tools before you start –
Pencil
3/8 inch drill bit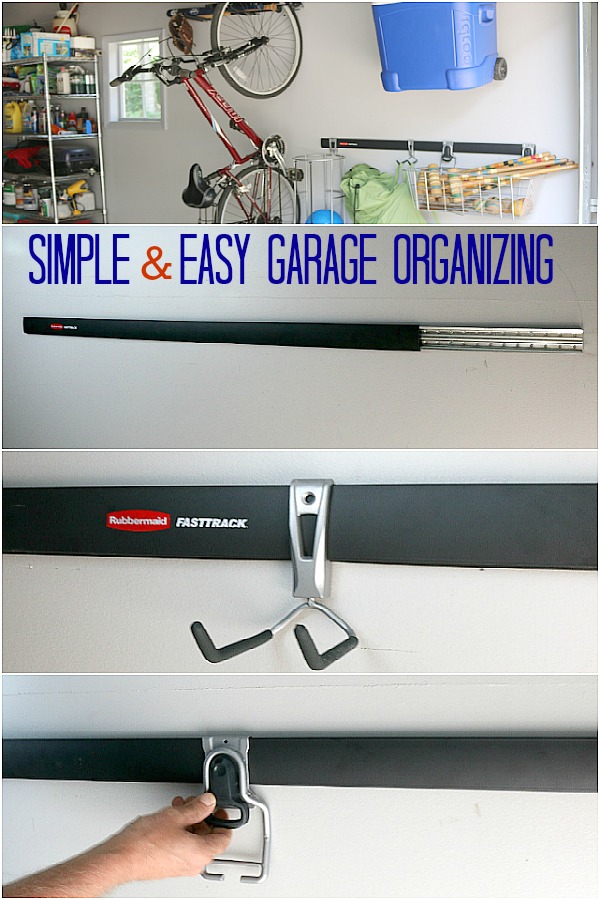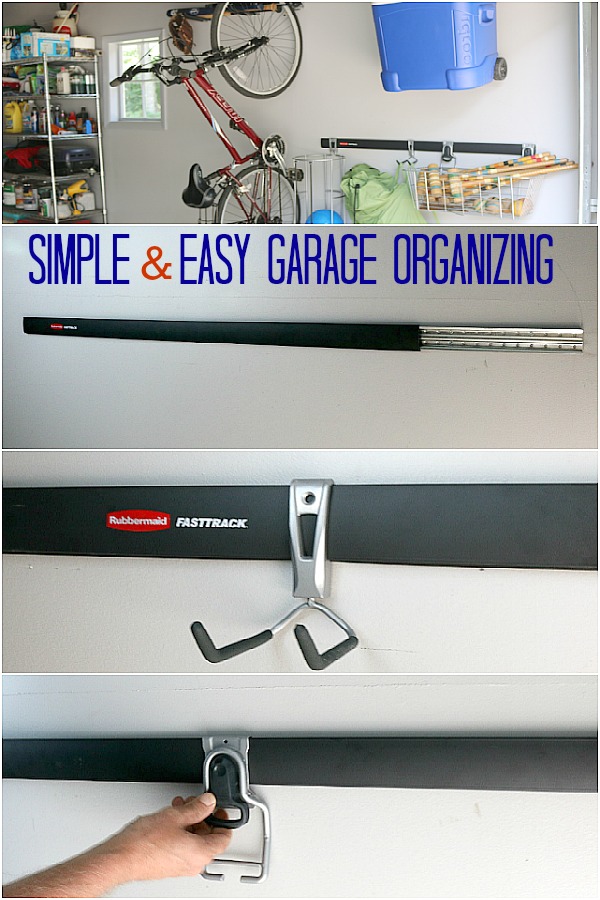 The first step was to attach the FastTrack Rail. After the rail was secured, the Hang Rail Cover easily slips over. Then the cooler hooks are attached. And the hooks for the wire basket.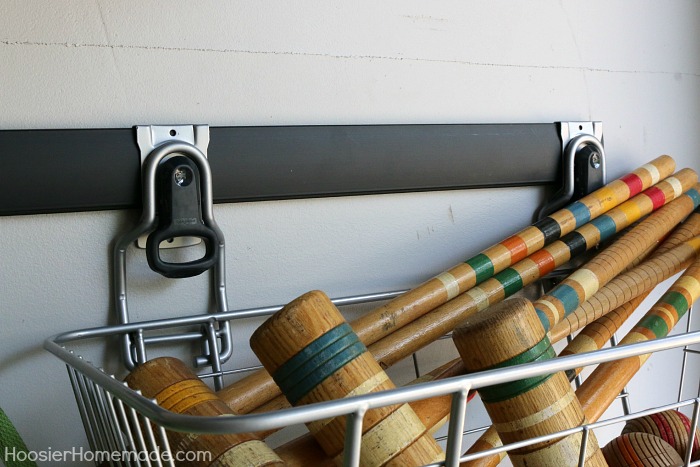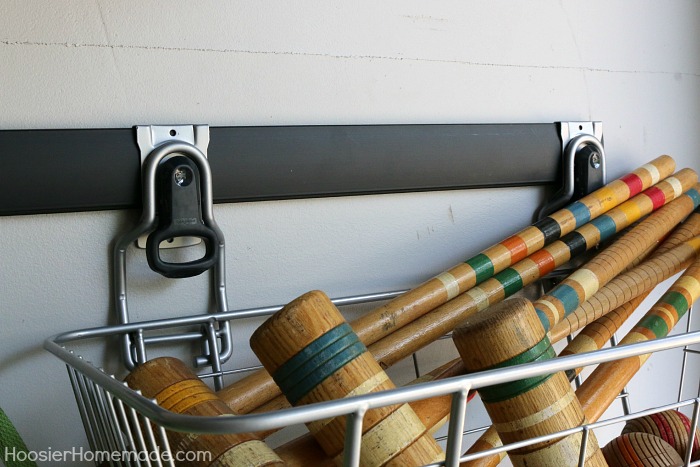 The hooks can easily be adjusted to the position you need them. The Wire Basket is perfect for lots of different sporting equipment.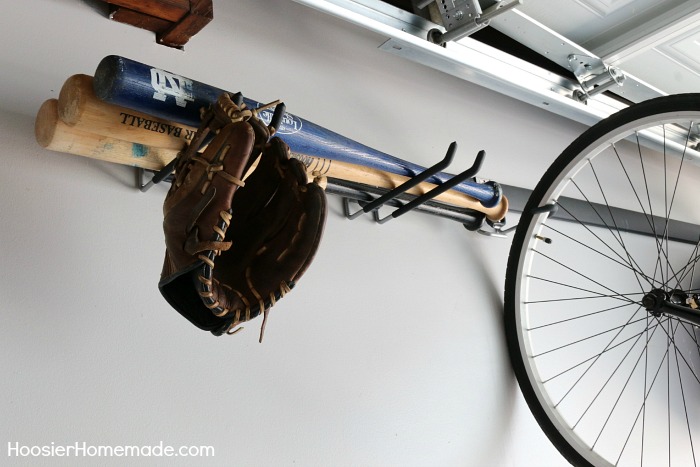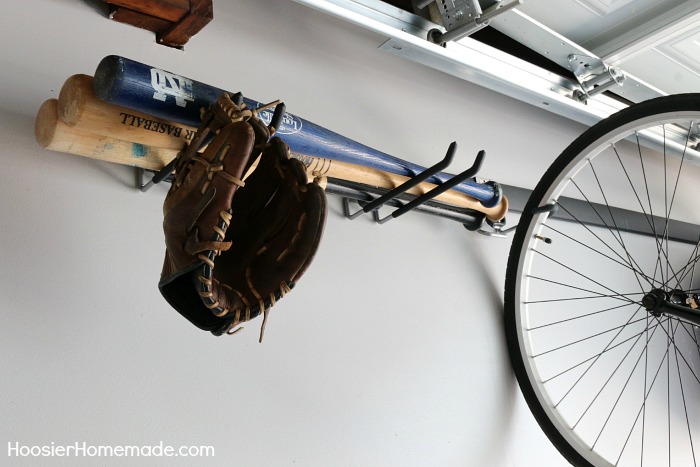 Bats and Baseball Gloves are another item that is difficult to organize. The multi-purpose hooks work great to keep them all together.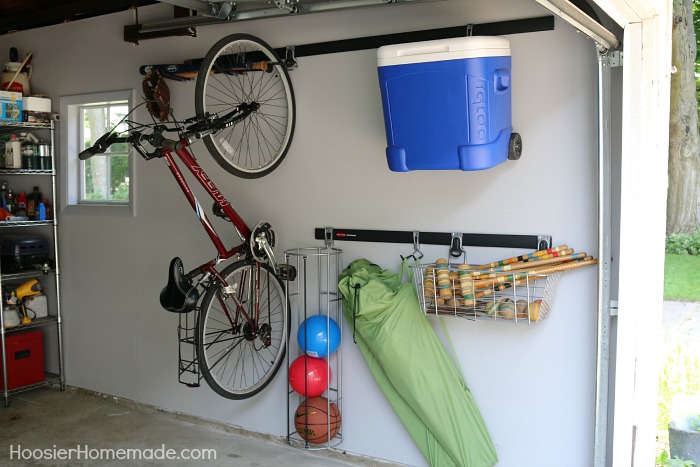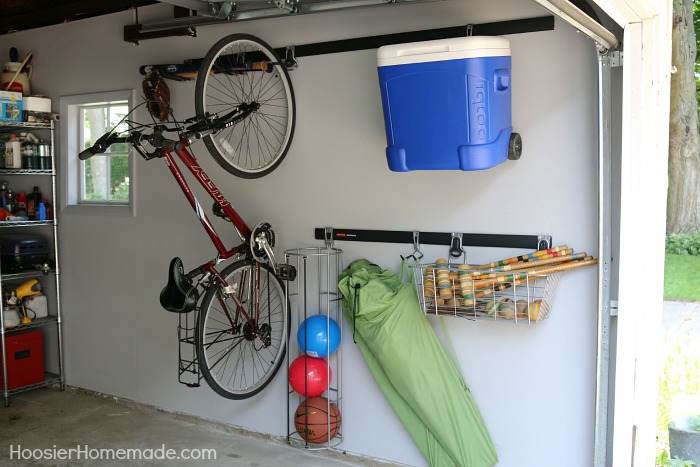 Now all of the sports equipment has a specific spot to keep it all organized.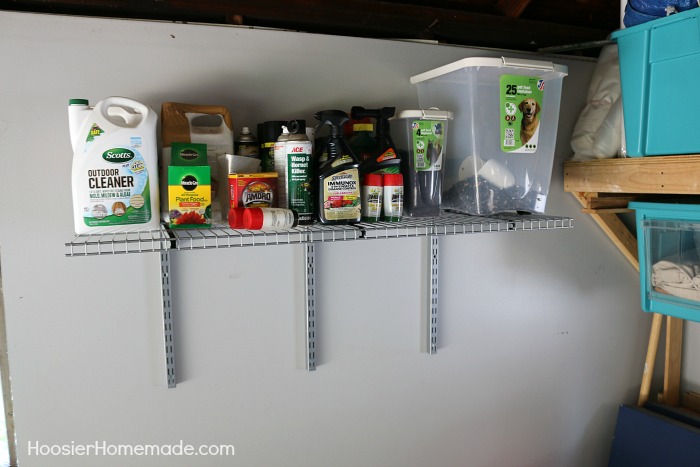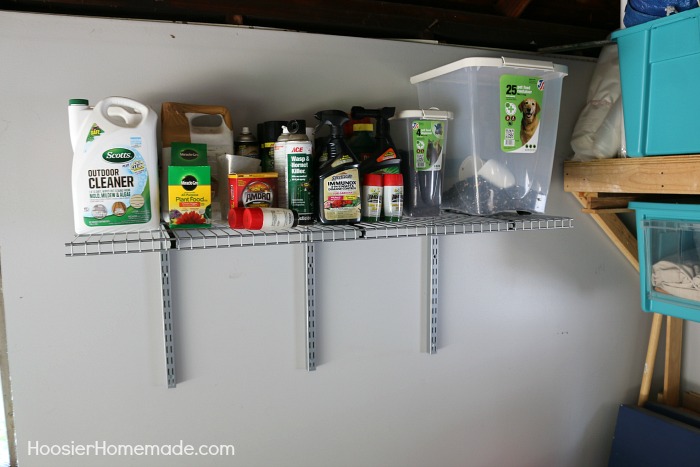 Then it was time to hang the Rubbermaid FastTrack Garage Organizing System. The zone with the Wire Shelf was for lawn and household chemicals that needed to be up high. We don't have small children, but it's always the best practice to keep items that can be dangerous up high and out of their reach.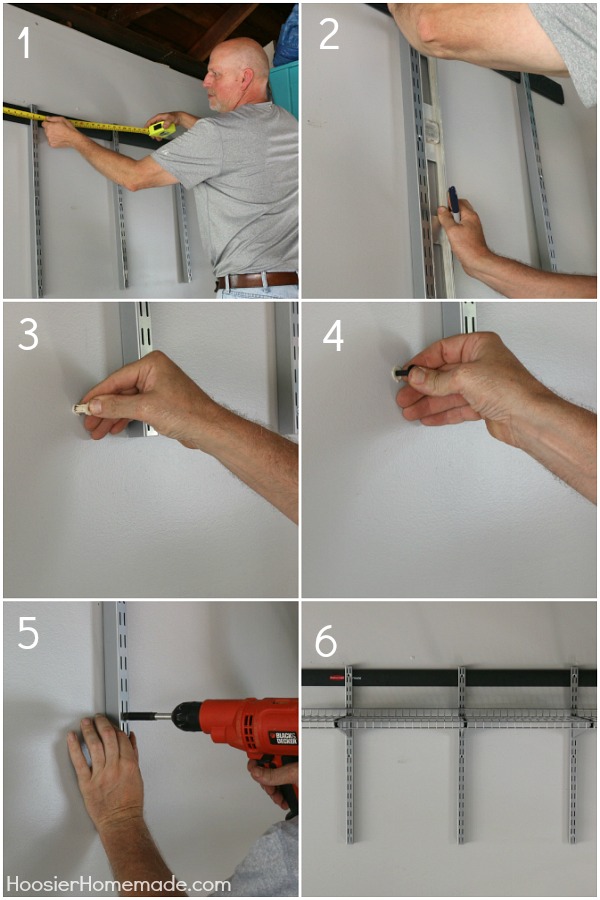 There are many different Rubbermaid FastTrack Organizing Systems to choose from.
After the 48 inch FastTrack Rail is in place, it's time to hang the uprights
Make sure the uprights are plumb by using a level
Drill a 3/8 inch hole and insert a wall anchor to secure the upright to the wall. The wall anchors come with the FastTrack Rail System.
Use the anchor key to engage the anchor
Using the provided screw, mount the upright to the wall
Then hang the 4 foot x 16 inch Wire Shelf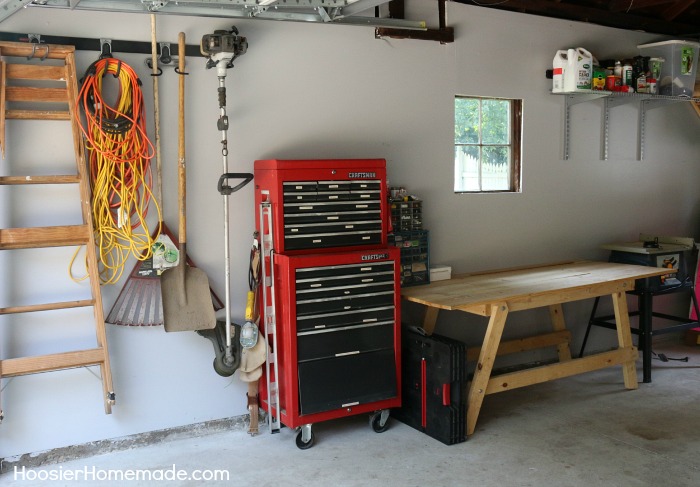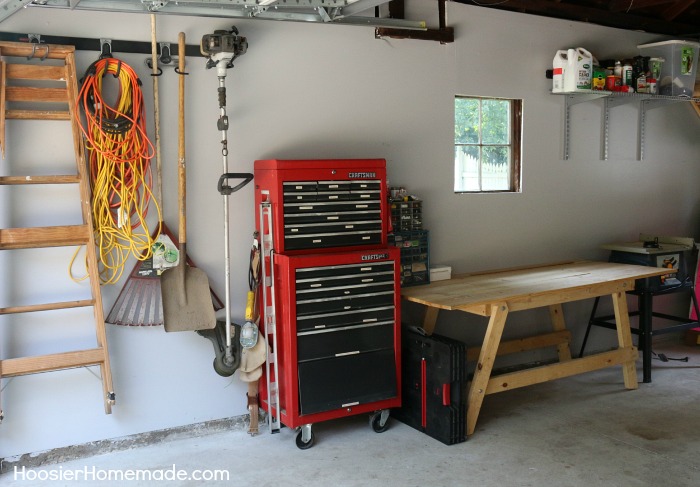 Next came the tool area. Doug wanted a spot to be able to work on projects and have everything he needed available and close by.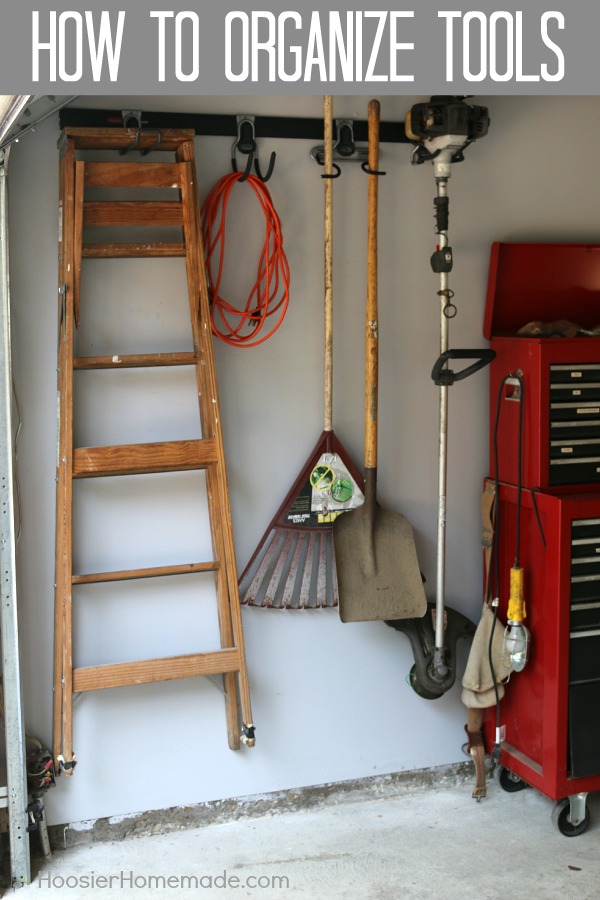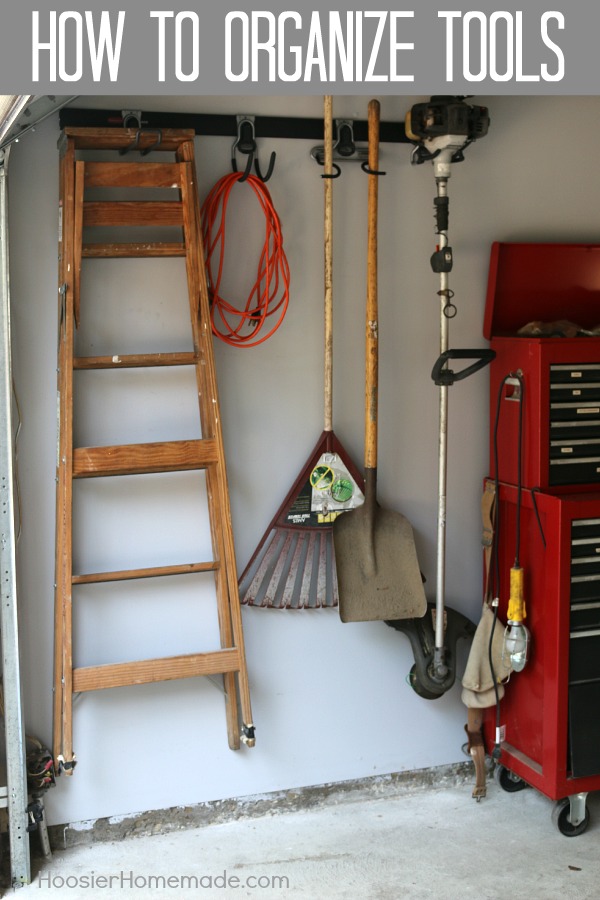 Keeping all the larger items organized can be a hassle too. For the tools, we used a Ladder Hook, an Utility Hook, a 2-handle Hook, and a Power Tool Holder.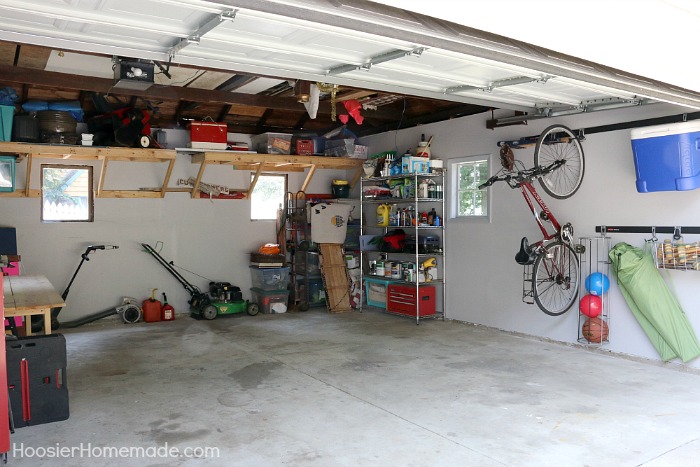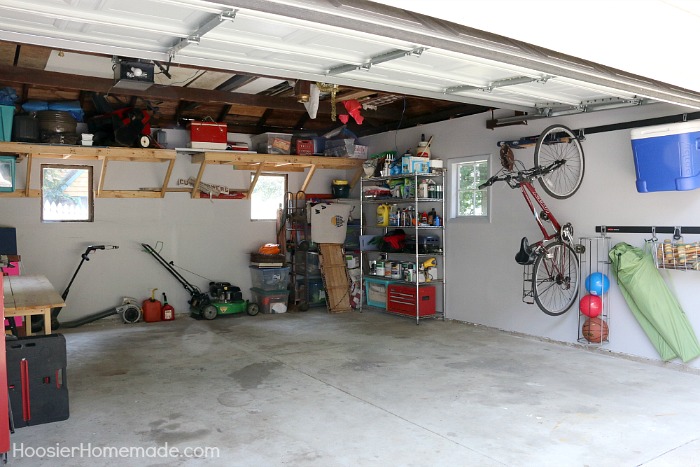 We think it turned out great! Doug is super excited to get his work space back and now we can even park the car in the garage.
Fast, easy, fun. The FastTrack Garage Organization System is easy to install and allows you to store more by making use of your entire wall…not just where the wall studs are located!  Visit your local Home Depot today!
This is a sponsored conversation written by me on behalf of RUBBERMAID®. The opinions and text are all mine.