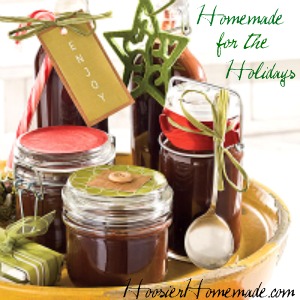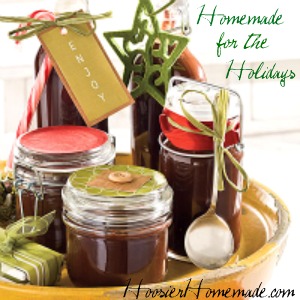 Welcome to another great day of Homemade for the Holidays! Yesterday, I shared Homemade Peanut Butter Cups, an easy but impressive gift.
This Cranberry Bread recipe comes from my Grandmother. Unfortunately I don't remember her baking it, although I do remember my Mom baking it for Thanksgiving and Christmas every year.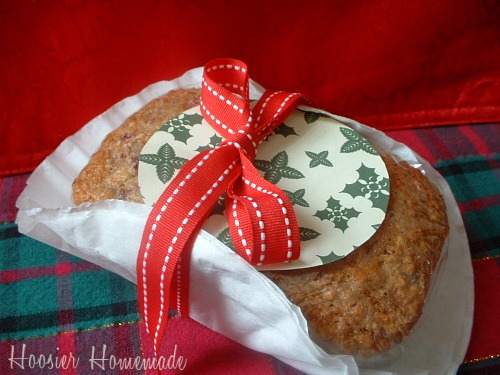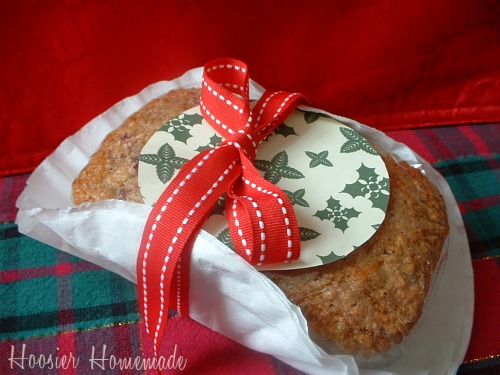 Giving a gift from your kitchen is not only thoughtful, but also frugal. And making a pretty package out of it is even more special.
You will need…
Small loaves of Cranberry or your favorite bread
Plastic wrap and tape
Coffee filters
Scrapbook paper (glass to draw a circle and scissors)
Ribbon
Bake your bread and let cool completely. Wrap in plastic wrap and secure with tape. Cut a circle from scrapbook paper, place bread in coffee filters and tape the circle to the top and tie with a ribbon. You could also tuck a recipe card in with the bread.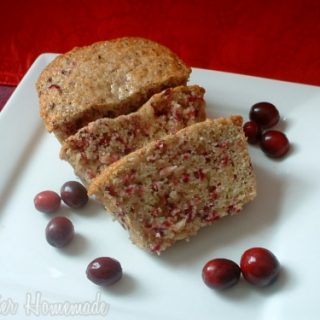 Cranberry Bread Recipe
Yield:
1 large loaf or 4 small loaves
My grandmother's recipe for Cranberry Bread. Recipe from HoosierHomemade.com
Ingredients
2 c. Flour
1 c. Sugar
1/2 t. Salt
1/2 t. Soda
1 1/2 t. Baking Powder
1 egg, slightly beaten
1/2 c. Orange Juice
2 T. Butter, softened
2 t. Hot Water
1/2 c. Nuts, chopped finely
1 1/2 c. Cranberries, chopped finely (fresh or frozen **see Note)
Instructions
Sift and set aside: flour, sugar, salt, soda and baking powder.
In large bowl, slightly beat egg, add juice and butter, mix.
Add dry ingredients to wet ingredients. Mix well.
Chop cranberries and nuts in food processor.
Add water, nuts and cranberries to the mixture with a spatula. As with all quick breads, don't overmix, just combine ingredients.
Spray small loaf pans with non-stick cooking spray.
Bake at 350 degrees for about 30 min for small and 60 min for large. Or until a toothpick comes out clean.
Note
If you find cranberries on sale, you can freeze them whole then use them for the bread later. When you are ready to use them, just chop them while frozen, it's better to have a little moisture from the frozen berries. It's kind of loud, but works just fine.
Nutrition Information:
Amount Per Serving:
Calories:

0
Total Fat:

0g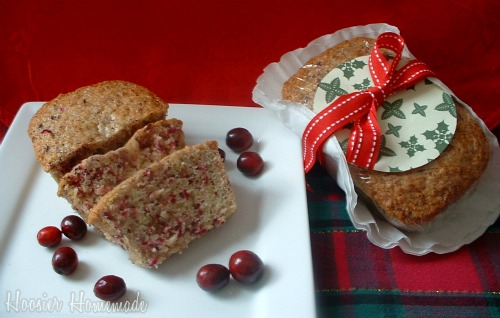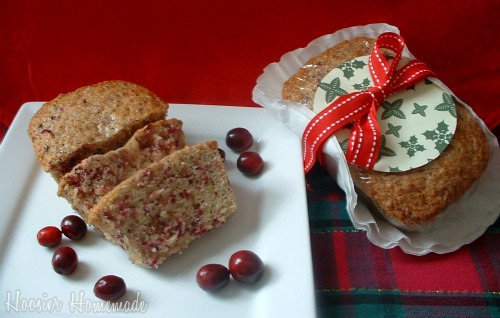 Do you have a special bread you like to bake for the holidays?
Happy Baking!!
I'm linking to Ingredient Spotlight