Homemade for the Holidays:Peanut Butter Cups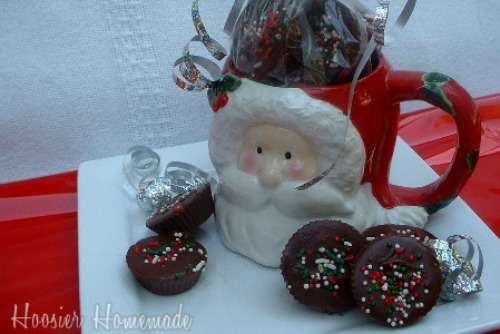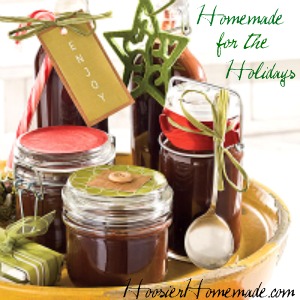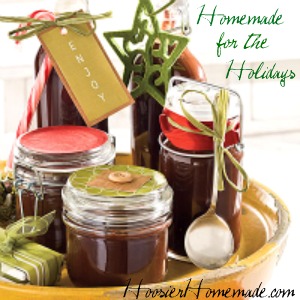 Welcome to the Homemade for the Holidays series! During the next couple weeks, I will share some fun ideas to create Homemade gifts for the Holidays.
I've made goodies for friends and family for years, giving them in a special package can sometimes be overwhelming. So, I've searched around for ideas and will be sharing them with you.
Homemade Peanut Butter Cups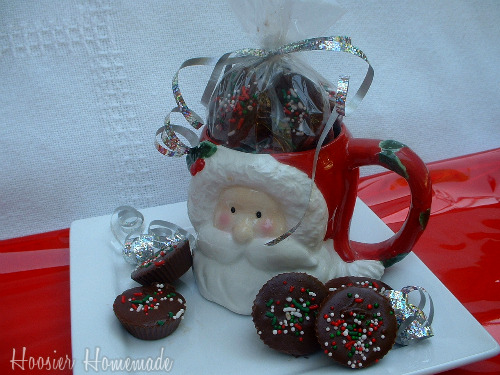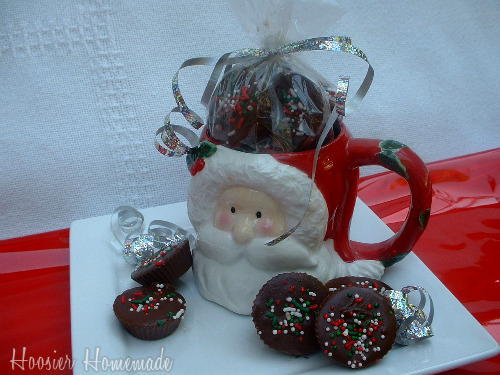 I've shared my recipe for Homemade Peanut Butter Cups before, but since they are so delicious, and well, I have LOTS of new readers now, I just couldn't pass up the opportunity to share them again.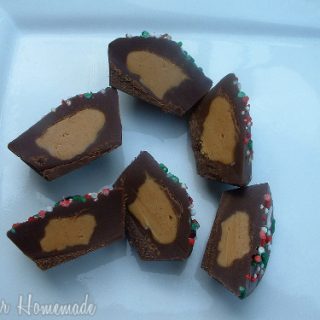 Homemade Peanut Butter Cups Recipe
Much better than the original. Recipe from HoosierHomemade.com
Ingredients
1 cup Creamy Peanut Butter, divided
4 1/2 teaspoons butter, softened
1/2 cup Confectioners' (powdered) Sugar
1/2 teaspoon Salt
2 cups Semisweet Chocolate Chips (I used Milk Chocolate)
4 Milk Chocolate Candy Bars (1.55 ounces each), coarsely chopped (I used Hershey's)
Colored sprinkles, optional
Instructions
Fill mini muffin tins with mini paper liners
In a small bowl, combine 1/2 cup peanut butter, butter and confectioners sugar and salt until smooth, set aside
In a microwave safe bowl, melt the chocolate chips, candy bars and remaining peanut butter, stir until smooth. (this usually takes about 2 minutes)
Drop a teaspoonful of chocolate mixture into paper liners.
Top each with a scant teaspoonful of peanut butter mixture (I rolled mine into small balls)
Top each with chocolate mixture to cover.
Decorate with sprinkles if desired. Refrigerate until set.
Store in refrigerator, serve cold or room temp
Nutrition Information:
Amount Per Serving:
Calories:

0
Total Fat:

0g
Gift Giving Ideas:
Fill a cellophane bag with Peanut Butter Cups, tie with a ribbon, attach a tag and surprise someone.
You could also fill a Christmas mug with the Peanut Butter Cups, then after the candy is all gone, they have the mug to use.
These are quick, easy and I might add frugal, gifts for teachers, neighbors or even co-workers. A single batch makes about 30-40 cups, depending on how large you make them.
My oldest son LOVES Peanut Butter Cups and thinks these are much better than store bought.
I'm linking to…Ingredient Spotlight, Recipe Round-up