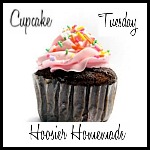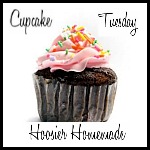 Welcome to the last week of The Holiday Cupcake Challenge! We have been celebrating the Holidays all month long with Thanksgiving, Christmas and New Year's!
In case you are just joining us, let me update you a little…
Our first week we enjoyed Holiday Flavors and then it was all about Thanksgiving! We shared our Christmas Cupcakes last week!
When I started planning the Holiday Cupcake Challenge, I tried to come up with a different theme each week. And honestly, I wasn't really thinking that we would be sharing New Year's Cupcakes before Thanksgiving. So, I apologize!!
If you have a New Year's Cupcake to share, great! If you still have Christmas Cupcakes you would like to share, I'm opening the Challenge up to include Christmas this week as well!!
Feel free to share your cupcake even if it's not Christmas or New Year's for Cupcake Tuesday!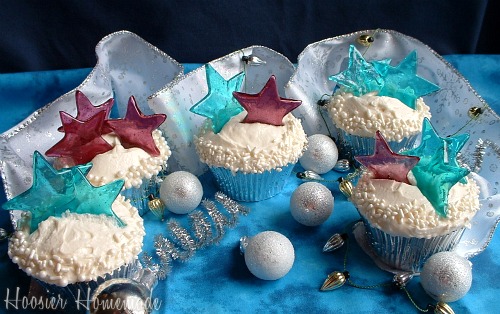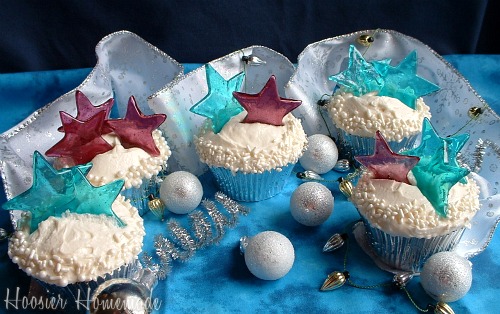 New Year's Cupcakes with Champagne Buttercream Frosting
Quite awhile ago, we made Jolly Rancher Lollipops, so when I saw the idea in What's New, Cupcake? book to use cookie cutters to mold hard candy, I thought they would be perfect to celebrate the New Year!!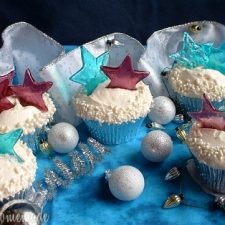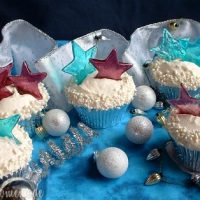 New Year's Cupcakes with Champagne Buttercream Frosting
Ring in the New Year with New Year's Cupcakes with Champagne Buttercream Frosting from HoosierHomemade.com.
Ingredients
Candy Stars
Jolly Ranchers (we had to buy 3 small bags to get enough blue and purple)
cookie cutters
non-stick cooking spray
foil
Champagne Frosting
1 cup butter (I have been using I Can't Believe It's Not Butter and it works fine)
1 cup shortening
2-4 tablespoons Champagne
4 cups powdered sugar
Instructions
Candy Stars
Preheat oven to 350 degrees.
Cover a cookie sheet with foil.
Unwrap 4 Jolly Ranchers of the same flavor.
Place them side by side like I have in the picture.
%http://hoosierhomemade.com/wp-content/uploads/Jolly-Rancher-Stars.1.jpg
Note: In the What's New, Cupcake? book , they crushed the candy before baking it. I wanted the stars to be a little thicker, so I didn't crush mine.
Bake for about 4-5 minutes, watch them closely, because they melt super fast.
Heavily spray cookie cutters with cooking spray and push them into the candy.
Let it cool until you can touch it.
Carefully remove the foil from the back of the candy and VERY carefully break off the excess candy, then remove the star from the cookie cutter.
Place them on wax paper (there is foil under the wax paper for the picture).
%http://hoosierhomemade.com/wp-content/uploads/Jolly-Rancher-Stars.2.jpg
If you have some candy that breaks, like I did, that's okay, you can still use them by placing that side into the frosting.
Champagne Frosting
Beat the butter and shortening until creamy, gradually add the powdered sugar and Champagne until desired consistency. You may need to add a little more sugar or liquid depending on how thick or thin you want your frosting.
%http://hoosierhomemade.com/wp-content/uploads/Champaigne-Buttercream-.jpg
Add the Decorations
I baked my cupcakes in silver liners to add a little more sparkle!
After your cupcakes (any flavor) have cooled, mound frosting in the middle and spread, covering the entire cupcake.
Sprinkle with white jimmies and white sugar pearls.
Place your stars in the middle.
%http://hoosierhomemade.com/wp-content/uploads/NY-Cupc.featured.jpg
And since we have a little challenge going on, let me update you…our first week Brenna of Ingredients of a 20something won the Holiday Flavor Challenge with her Egg Nog Cupcakes!! She won the What's New Cupcake 2011 Calendar! The second week was Thanksgiving, today is the LAST DAY to vote!! And ummm…Brenna is winning again!! That is perfectly fine…just trying to get the competition heated up a little!