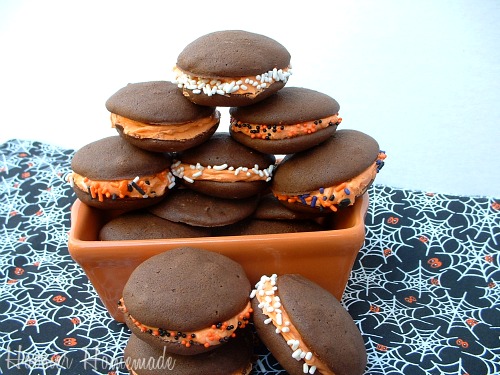 Mmm…Whoopie Pies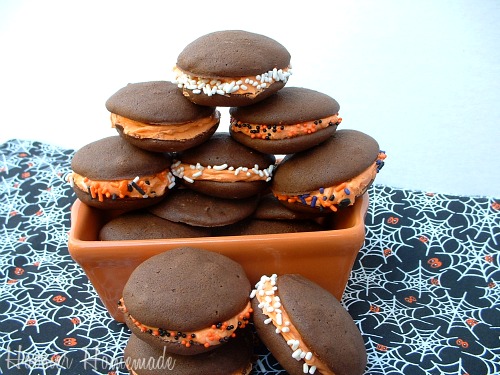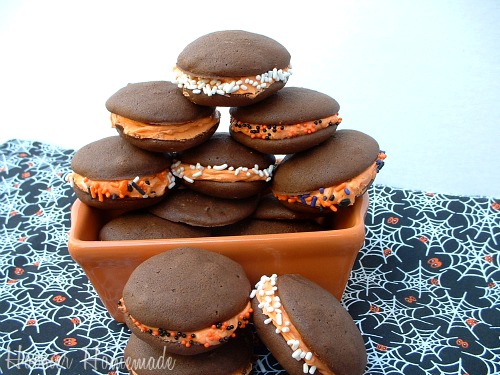 Here we are, the time when all the ghosts and ghouls come out to play! I have one last Halloween post for you this year…Halloween Treats!
Among many of the goodies I made this year, Whoopie Pies are one of my very favorites. I made Mint Whoopie Pies last year for Christmas and again for Valentine's Day I made Raspberry Whoopie Pies. So, I figured for Halloween, why not make Orange and Black!
Halloween Whoopie Pies
A fun Halloween treat. Recipe from HoosierHomemade.com
Ingredients
Cookies
1 c. Sugar
6 T. Oil
2 Eggs
2 c. Flour
1/2 c. Baking Cocoa
1 t. Baking Soda
1/2 t. Salt
1 t. Baking Powder
4 T. Milk
Filling
1/2 c. Butter
1 c. Powdered Sugar (Confectioners)
1/2 t. Vanilla
Orange Coloring (I use Wilton)
Halloween Sprinkles, White Jimmies, etc (optional, but festive)
Instructions
Cookies
Be sure to mix these ahead, they are much easier to work with when chilled.
In large bowl, combine sugar and oil, beat until crumbly.
Add eggs and milk
Sift together dry ingredients, gradually add to sugar mixture.
Chill dough, overnight is best
Preheat oven to 350 degrees and prepare your cookie sheets.
Note
You can roll into balls so they have a smooth surface, or drop by teaspoons like I did. The dough is very sticky, I could only roll 4-5 cookies, without having my hands too sticky to roll any more. Using 2 teaspoons was easy, I just dipped with one and used the other to scoop it onto the cookie sheet.
Bake at 350 degrees for 8-10 minutes or until toothpick inserted in center comes out clean. Cool.
Filling
Mix all ingredients until light and fluffy. Turn half the cookies upside down and spread with filling. Top with another cookie.
Note
When spreading filling onto cookie, push filling to edge so that it's a little thicker than the middle. Or put a large amount of filling on each cookie. Top with another cookie and press edge gently so that filling is exposed a little. I was only able to fill about 6 cookies (depending on the size of your cookie) with this recipe, so doubling or tripling would be a good idea.
Add sprinkles and enjoy!
Nutrition Information:
Amount Per Serving:
Calories:

0
Total Fat:

0g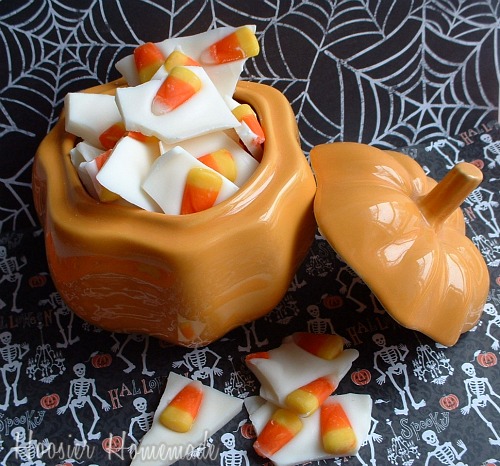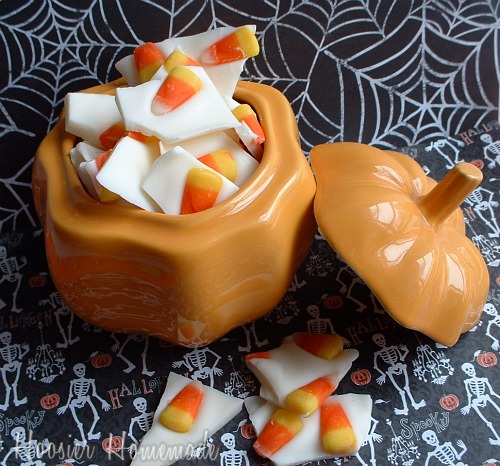 VERY easy and tasty…Halloween Candy Corn Bark
All you need are 2 ingredients for this quick Halloween Treat. Nick our 16 year old made this to take last weekend to a party.
Candy Corn Bark Recipe:
White Almond Bark (available at Walmart in the baking aisle)
Candy Corn (I like Brach's the best)
Directions:
Melt Almond Bark in the microwave (time depends on how much you are making) spread onto a wax paper lined cookie sheet. Add the Candy Corn.
Place in fridge about an hour to set up and after it's set just break into pieces.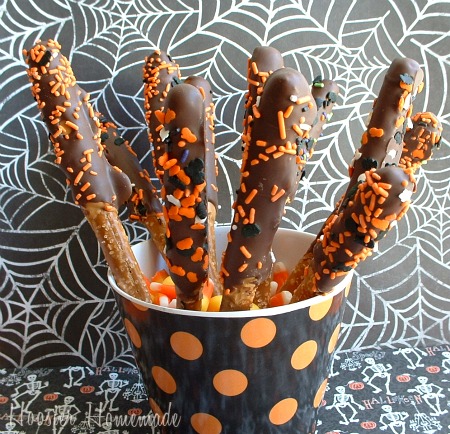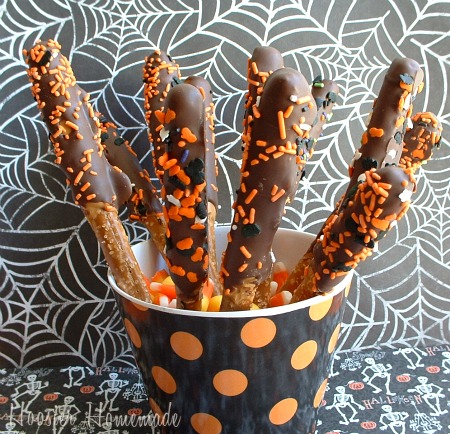 One last easy treat…Halloween Pretzel Rods
You will need Chocolate Almond Bark, Peanut Butter and Halloween Sprinkles. Melt Peanut Butter in microwave about 30 seconds and dip Pretzel rods, place on wax paper and place in fridge or freezer to set.
Let them chill about 10 minutes, then melt the chocolate in the microwave, dip the pretzel and add some festive sprinkles.Place in fridge to set.
Enjoy!