Halloween Crafts Monster Treat Cans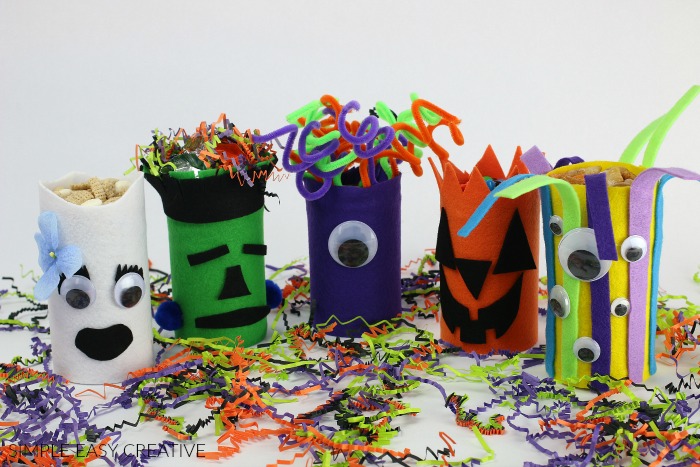 Let your imagination run wild with these Halloween Crafts! The kids can help decorate the Monster Treat Cans for school, to give as gifts or just for fun!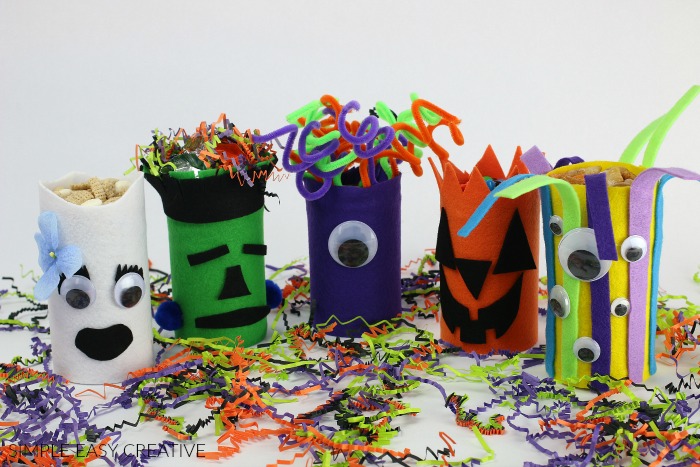 Are you ready for fun Halloween Craft Ideas? These Monster Treat Cans take just a few supplies and go together quickly!
The kids can help design them, and with assistance do some of the cutting and decorating. Then use them to give as gifts, classroom treats or to decorate your home!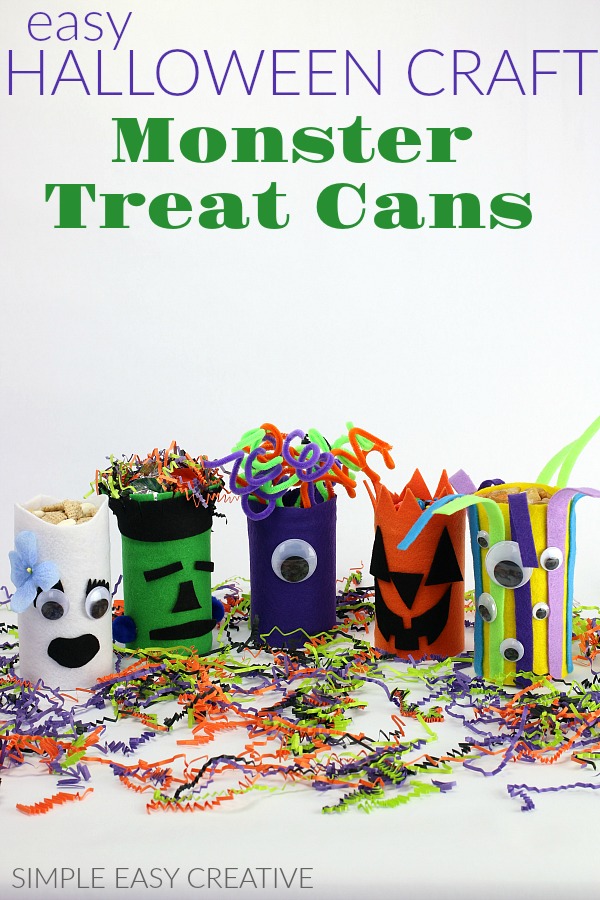 We made five Monsters – Miss Ghost, Frankie, Purple People Eater, Jack and Monster, however the ideas are endless! Have fun with it! I think they would also be cute for other holidays – Santa and Mrs. Clause, or a bunny for Easter, and a Leprechaun would be cute too!
Let me show you how to make your own –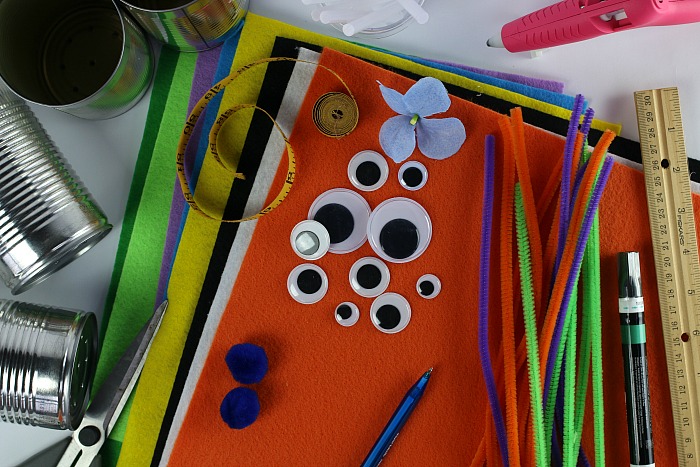 Halloween Craft Ideas
Monster Treat Can Supplies:
Felt – any color you like – the smaller felt pieces – 9 x 12 inches work fine, the larger felt sheets – 12 x 18 inches are a little thicker and stand up better
Cans – cleaned and label removed
Pipe Cleaners
Wiggly Eyes
Small Pom poms
Silk Flower – optional for Miss Ghost
Tools:
Hot Glue Gun
Flexible Tape Measure
Ruler
Scissors
Pen
Marker or other cylinder shape to curl the pipe cleaners
Michaels is your Halloween HQ with everything you need to MAKE a spookier Halloween. Get everything you need to create the creepiest (and coolest) costumes, and haunt up your homes décor! Now until 10/31!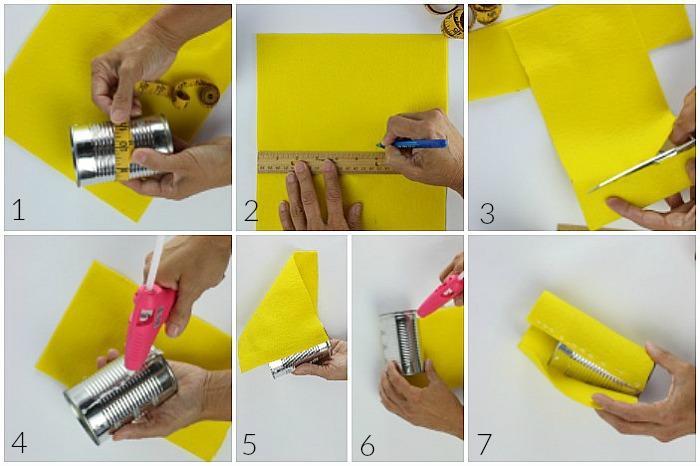 How to Cover Can
Measure your can with a flexible measuring tape. Measure both around the outside (circumference) and the height. Add 1-2 inches onto the height so the felt stands above the top of the can.
With the ruler, mark the measurements. I used vegetable cans and decided to cut 10 x 6 inches
Cut the rectangle from the felt
Glue on one short edge to the can
Attach the felt
Glue around the bottom of the can
Attach the felt then glue the edges together. Be sure to glue the entire length of the felt
Now it's time to decorate the cans. This is where you can let your imagination run wild! Here is how we decorated our Monster Treat Cans –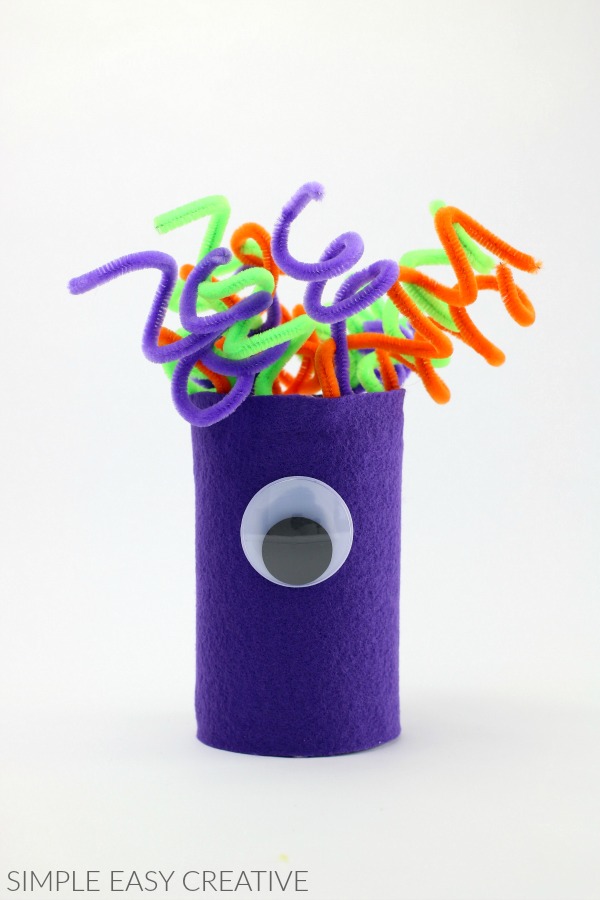 Let's start with my favorite one – Purple People Eater. One-eyed, one-horned, flying, purple people eater – one-eyed, one-horned, flying, purple people eater – one-eyed, one-horned, flying, purple people eater sure looked strange to me! Do you remember that catchy tune that was released in 1958? Well, that's a few years before I was born, but I do remember it.
Using our Halloween Wreath as inspiration, we created this treat can.
Purple People Eater
Cover the can with purple felt
Using a marker or other cylinder shape, curl the pipe cleaners
Twist each color together and glue to the inside of the can – be sure to glue to the can and not just the felt to keep them sturdy
Glue on 1 large wiggly eye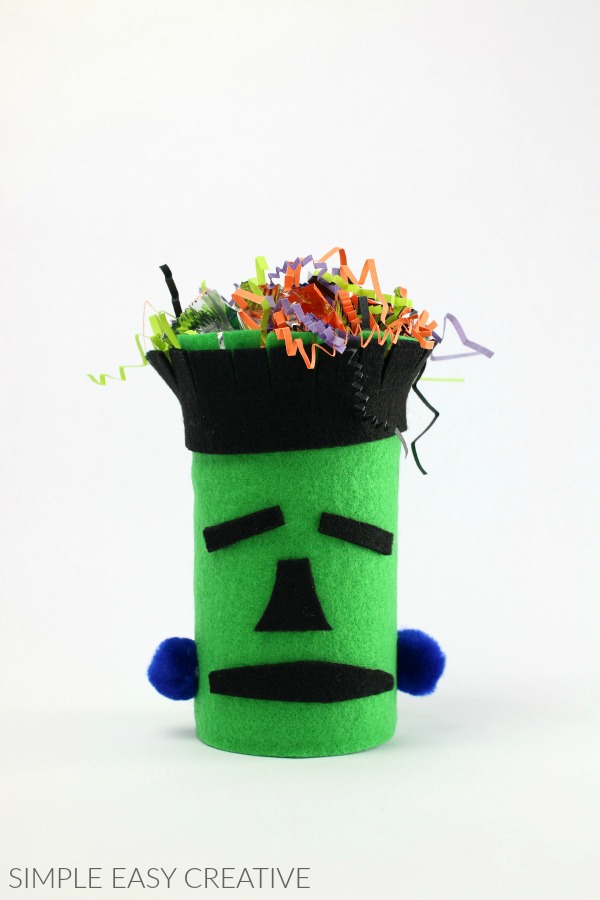 Next up is Frankie. And he is ready for some Halloween fun!
Frankie
Cover your can with green felt
Cut a strip of black felt about 2 inches wide and glue around the top of the green felt. Cut slits in both felt pieces.
Cut face from black felt, glue on
Glue on the pom poms for his bolts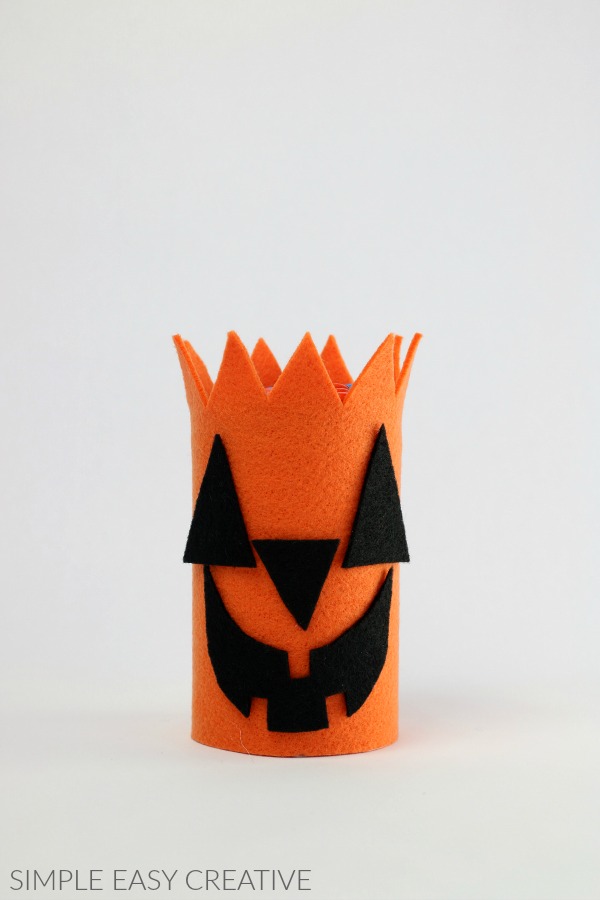 Carving pumpkins for Halloween is one of the family traditions that we all enjoy! Now we can carve our pumpkins without all the mess.
Jack o' Lantern
Cover the can with orange felt
Cut triangles across the top of the felt
Cut out face, glue on.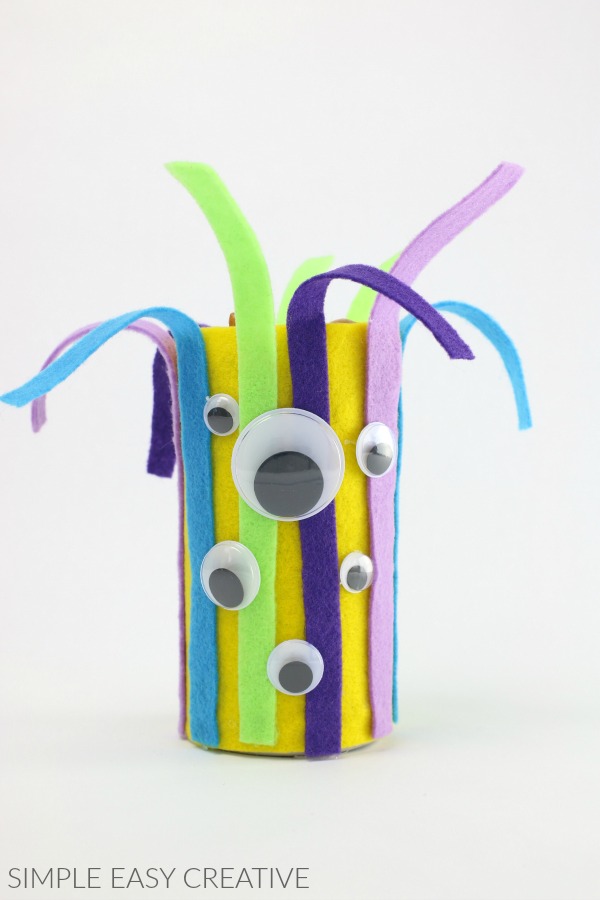 This Monster is full of color and has so many eyes he can see everywhere! That's if his tentacles don't get in his eyes.
Monster
Use yellow felt to cover your can
Cut narrow strips from different colors of felt, I cut mine 1/2 inch wide and glued them 1/2 inch apart from each other all the way around the can
Add different sizes of wiggly eyes, be as random as you wish with their placement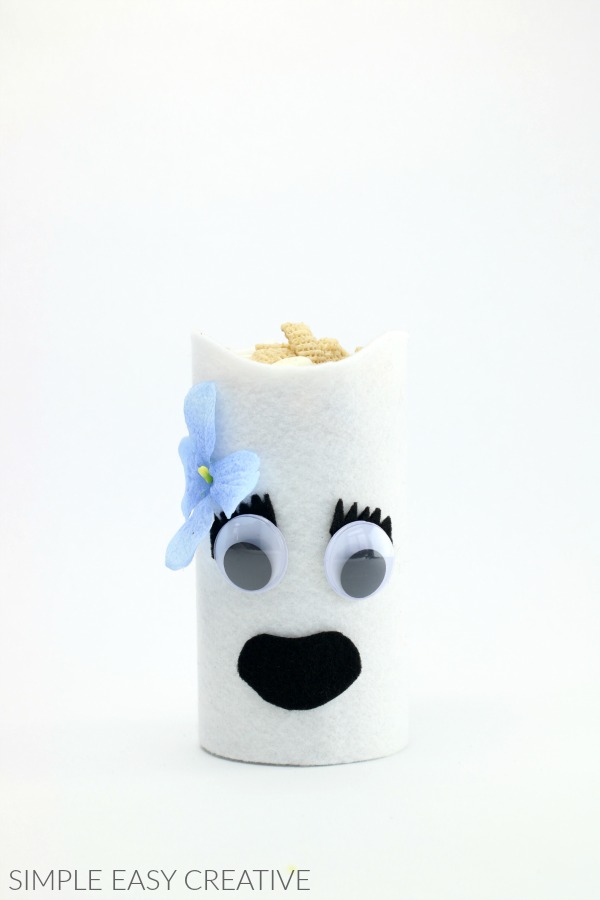 Our ghost is a friendly ghost and is decorated like a girl with her pretty eyelashes and flower!
Miss Ghost
Cover can with white felt.
Cut top of felt with a slight wavy curvey line
Cut out a mouth and eyelashes from black felt and glue on
Glue on the eyes
Glue on flower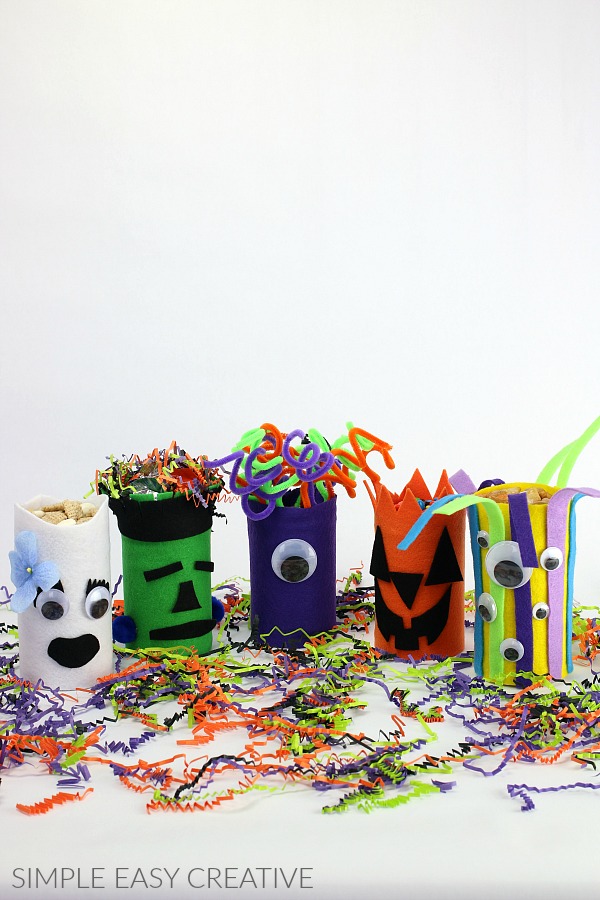 Looking for more Halloween Crafts? Click on the photos below for the instructions