One-eyed, one-horned, flying, purple people eater – one-eyed, one-horned, flying, purple people eater – one-eyed, one-horned, flying, purple people eater sure looked strange to me! Do you remember that catchy tune that was released in 1958? Well, that's a few years before I was born, but I do remember it.
Now that I have that tune stuck in your head (you can thank me later), let's chat about this fun Purple People Eater Halloween Monster Wreath. It's so fun and with just a few supplies and a little time you can make one too!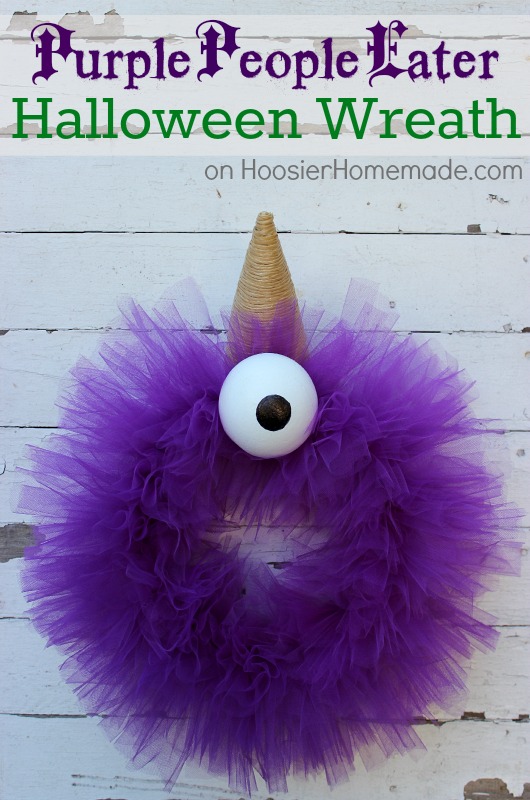 Halloween is one of those holidays that we all love in our house. However, most of the time I like keeping the decorations fun and kid friendly rather than scary and gross, with the exception of Grim – he was pretty cool!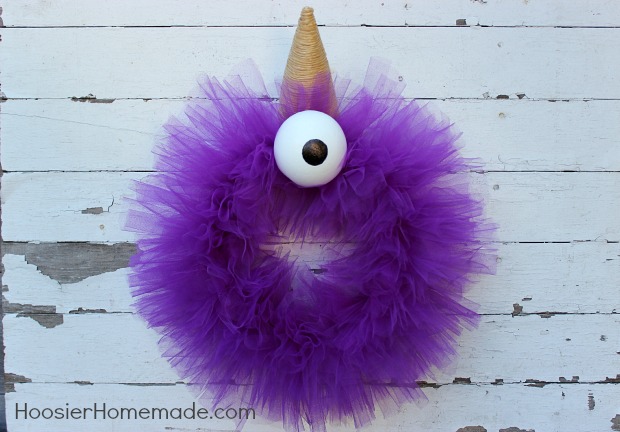 Inspired by the popular Monster Wreath made by Baby Rabies last year, this Purple People Eater Monster Wreath is fun and easy to create. Let's gather our supplies…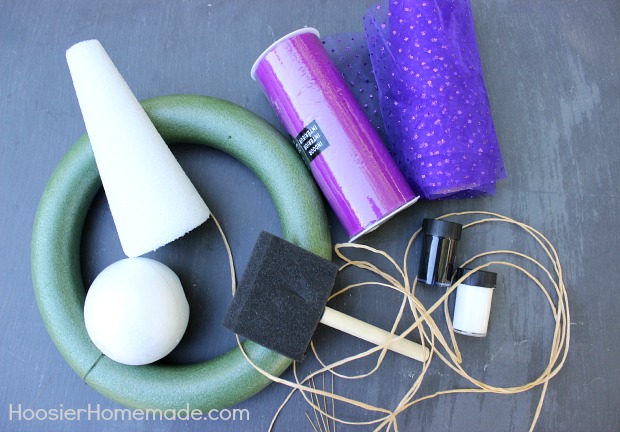 I found everything I needed at Walmart. Have you seen their craft department lately? It's really expanding and many stores have fabric back too!
Purple People Eater Monster Wreath Supplies
Wreath Form – any size and kind is fine – I used a 10 inch wreath form
Purple Tulle – amount will depend on the size of your wreath, I used 1 full spool plus about 1/2 of another – you can find it near the ribbon
Ribbon or more Tulle to cover the wreath form
Styrofoam – 1 ball (we used 3 inch) and 1 cone shape
White and Black paint
Twine or something to cover the cone to make the horn
Skewers (not pictured) – to attach the eye and horn – or you can use a hot glue gun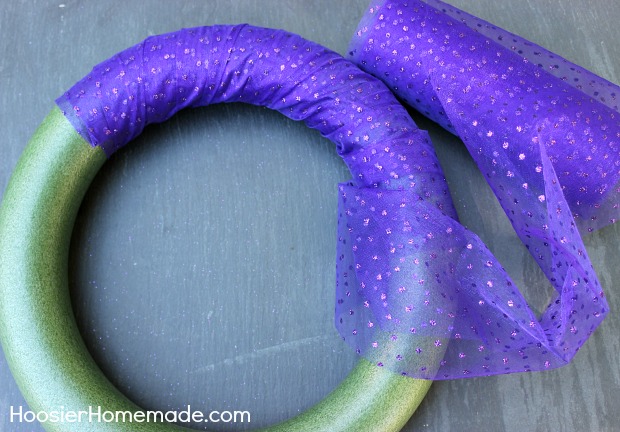 Step 1
Cover the wreath form with ribbon or tulle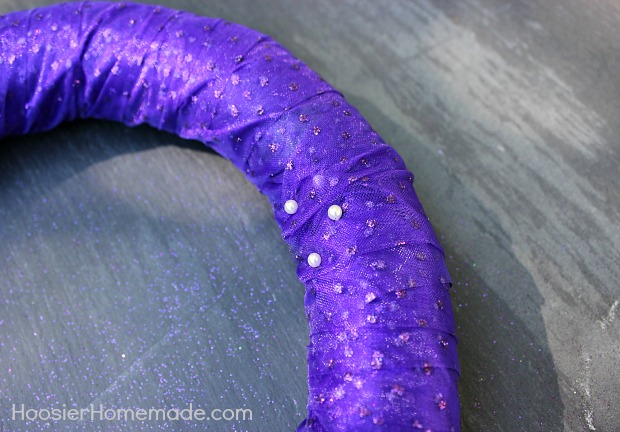 Step 2
Secure the end with straight pins or glue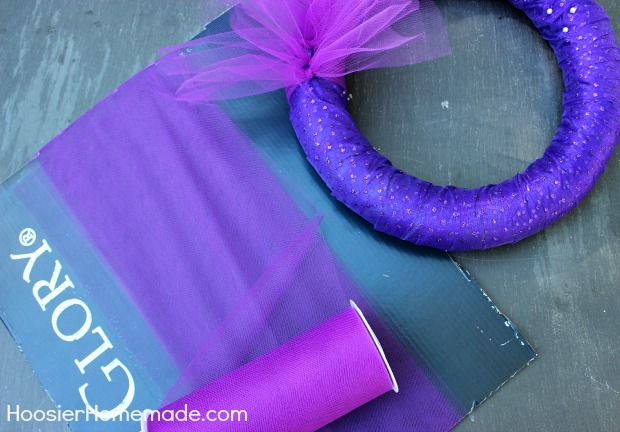 Step 3
Now it's time to cut the tulle. You will need pieces about 4 inches longer than your wreath, I cut mine 14 inches.
To make it easier, I cut a piece of cardboard 14 inches and wrapped the tulle around it. Then cut the ends apart. (this worked perfectly, thanks to Baby Rabies for suggesting it)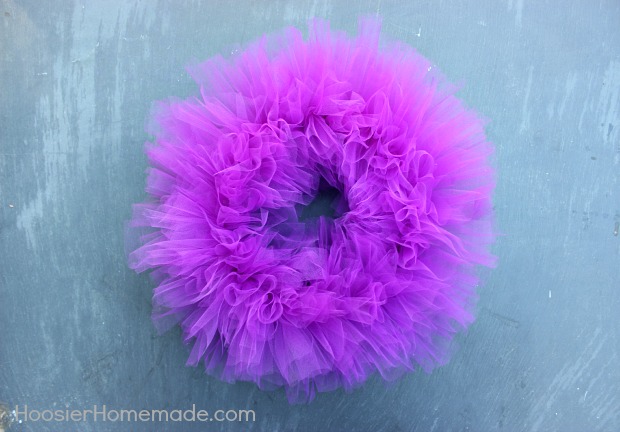 Step 4
Working your way around the wreath, tie each piece of tulle in a knot around the wreath.
I made mine really full, so it was a little tricky at the end. If you have another pair of hands to hold the tulle back so you can tie more strips onto the wreath, it's work easier.
This part took me about an hour, but you could do it while watching your favorite TV show and it will go by quickly.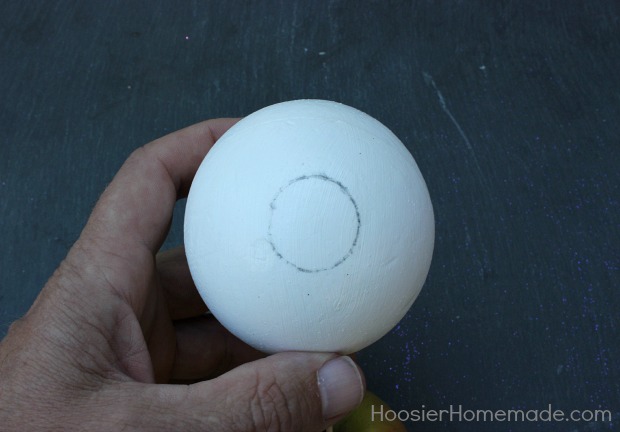 Step 5
To create the eye, paint a Styrofoam ball with white paint.
Use a quarter to trace a circle onto the ball, then paint with black paint.
You may need to adjust the size of your circle depending on the size of your eye.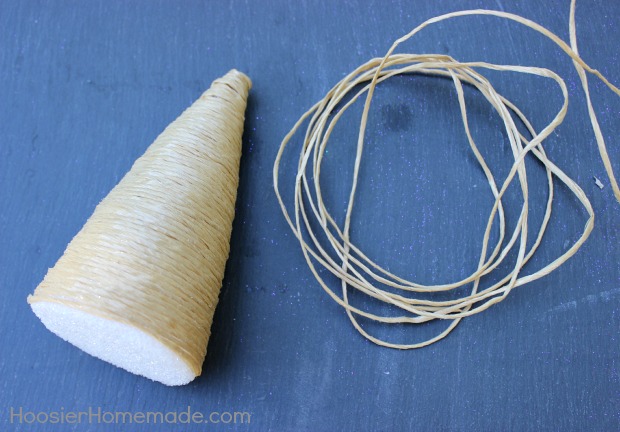 Step 6
Use a sharp knife and carefully cut the cone to a point, if needed
Wrap with twine or other material to cover the cone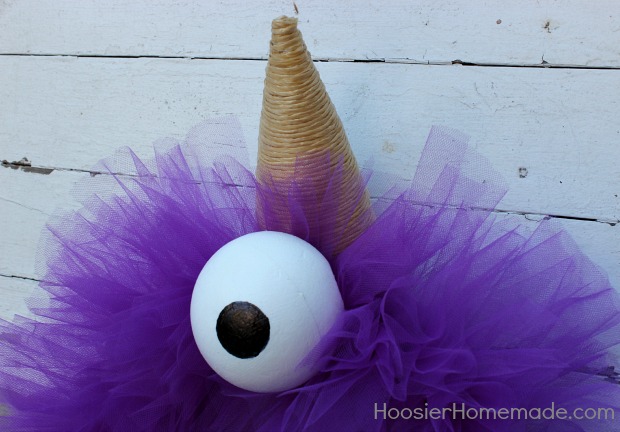 Step 7
Secure the eye and horn onto the wreath with a skewer or you can also glue them on.
We chose the skewer so it would stand out a bit.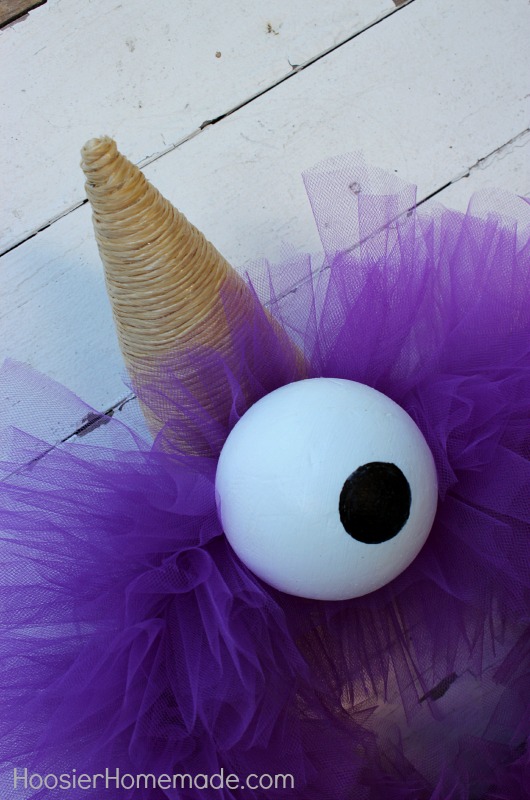 And now your Purple People Eater Monster Wreath is done! And his horn – he has it to play rock 'n roll music through!