Chocolate Cupcakes with Peanut Butter Frosting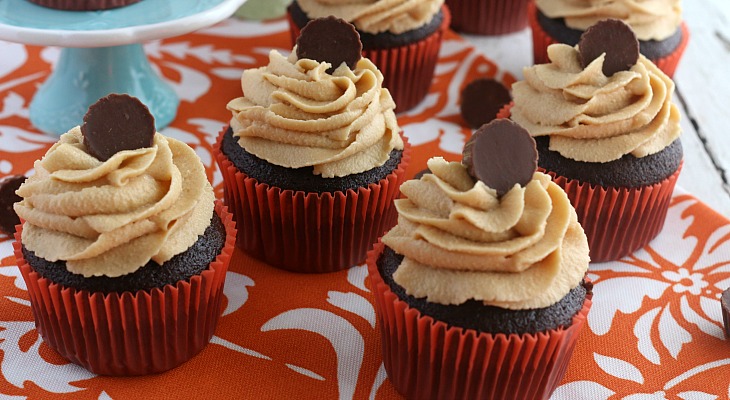 Chocolate and peanut butter go together so well! However, recently, I have not been loving my normal chocolate cupcake recipe. So I started experimenting- I wanted a really moist cupcake- and I got it! Here it is, my new favorite: chocolate cupcakes with peanut butter frosting.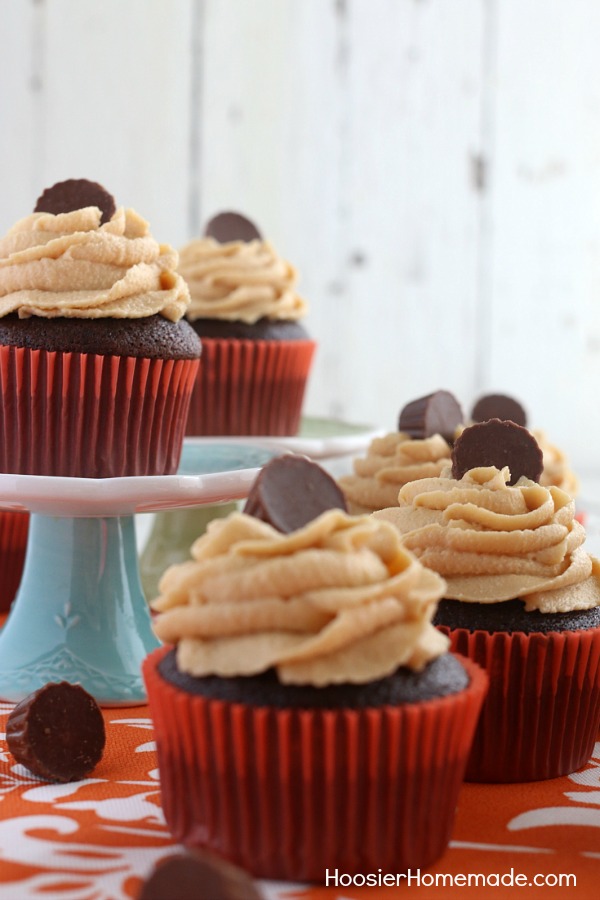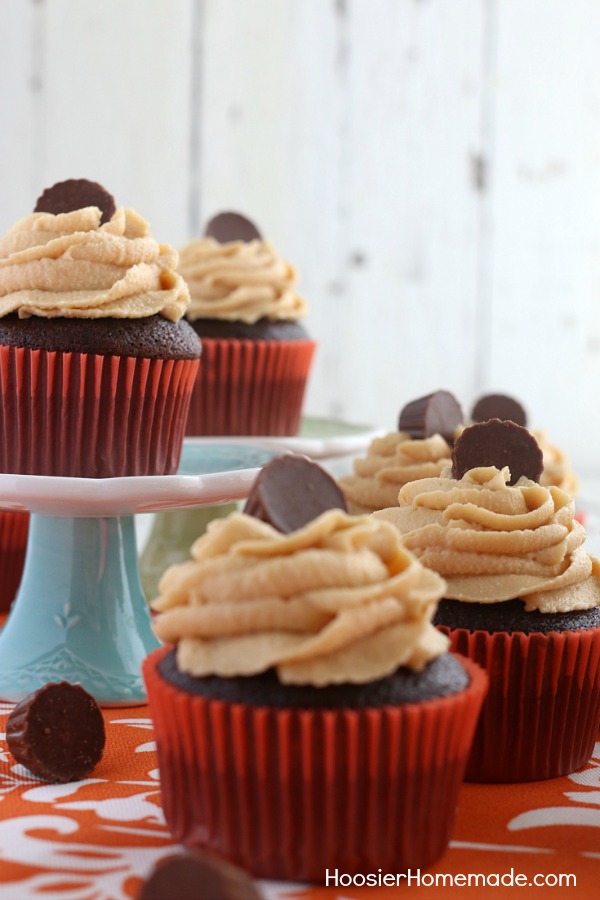 Usually, my favorite part of a cupcake is the frosting, but with this new recipe, the cake itself rivals the frosting! You will never guess my secret ingredient is- Hellmann's Organic Mayonnaise! It gives the cake the perfect texture and add a richness to the cake.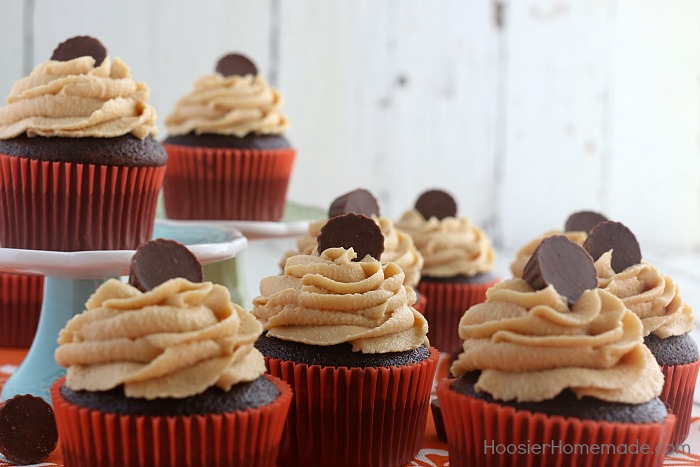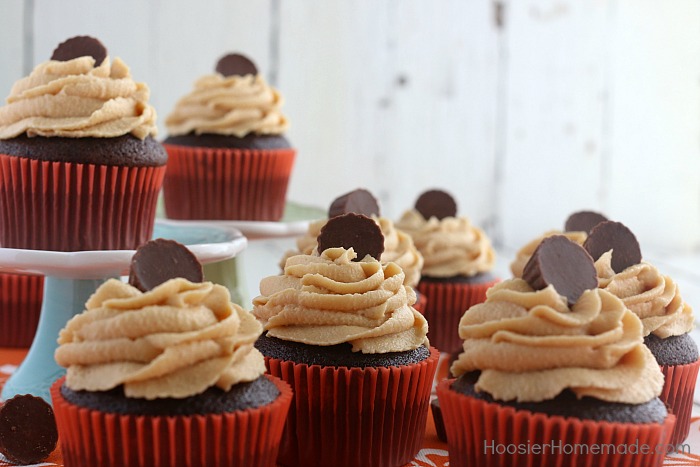 Besides the Hellmann's Organic mayonnaise , most of my other ingredients stayed the same- flour, sugar, baking soda and powder, and of course cocoa powder for the chocolate flavor. Another tip to bring out the chocolate flavor? Coffee! I promise, it doesn't taste like coffee, it just enhances the flavor of the chocolate!
The new Hellmann's Organic products are made with organic cage-free eggs, organic expeller-pressed oils, and no artificial flavor. They also have Organic Spicy Chipotle and Organic Roasted Garlic and are available at your local Kroger store.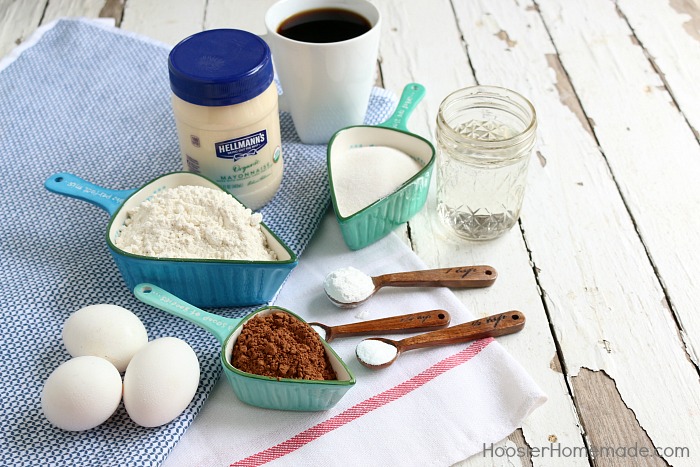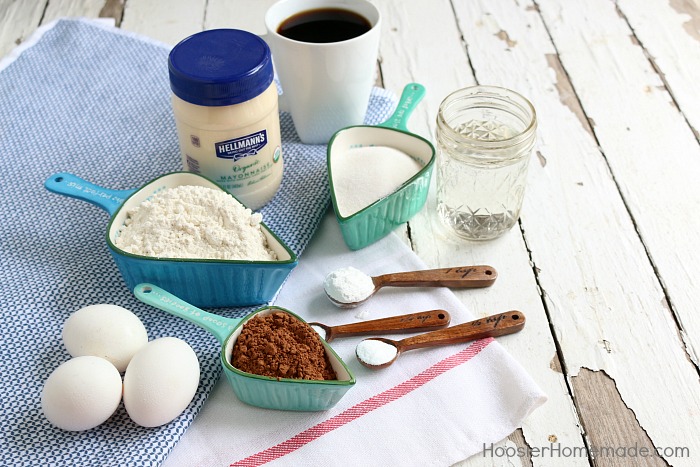 After I baked the cupcakes, I was already happy with how they turned out! The tops were perfectly rounded and ready to be frosted. The chocolate flavor was perfect and the Hellmann's really made the texture of the cupcakes perfect!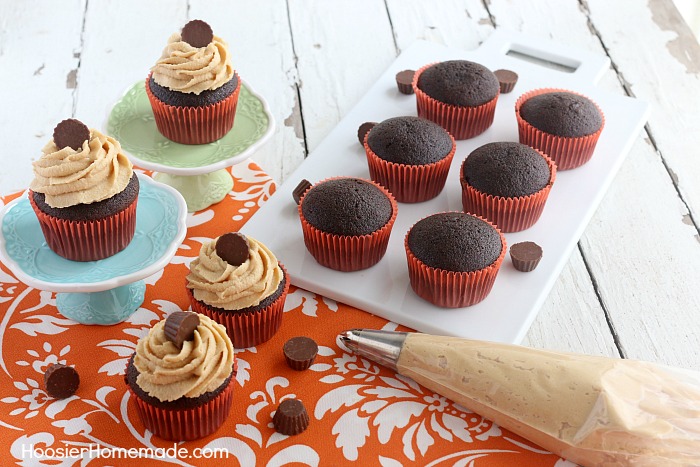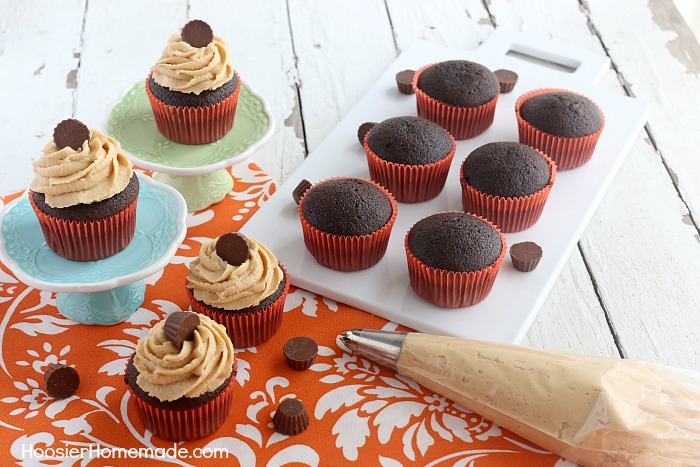 The peanut butter frosting is only 4 ingredients- peanut butter, powdered sugar, butter, and a little bit of milk to soften. I used a 1M star tip to add the frosting swirl.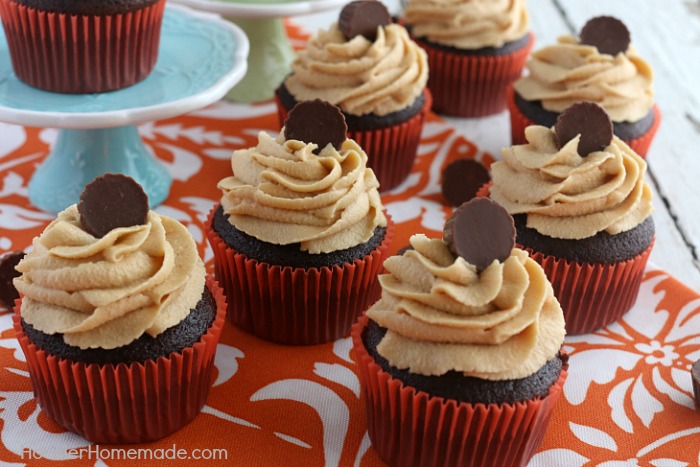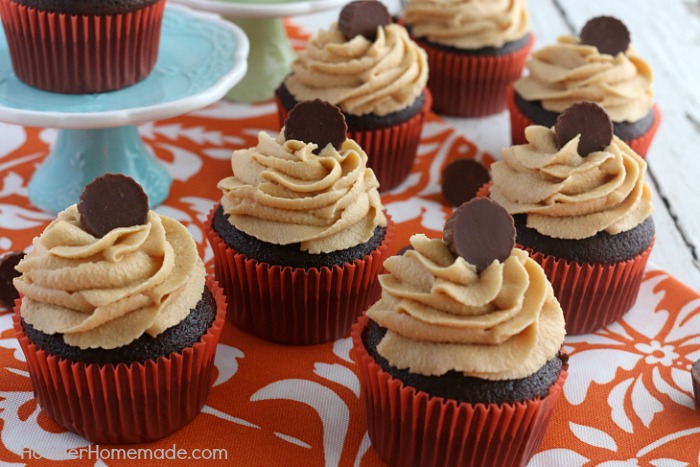 I had been stuck in a cupcake rut, always making the same recipe and expecting different results (isn't that the definition of insanity?!). I am so excited to have this new chocolate cupcake (or cake!) recipe in my recipe box. It is definitely going to be my go to for rich, moist cupcakes!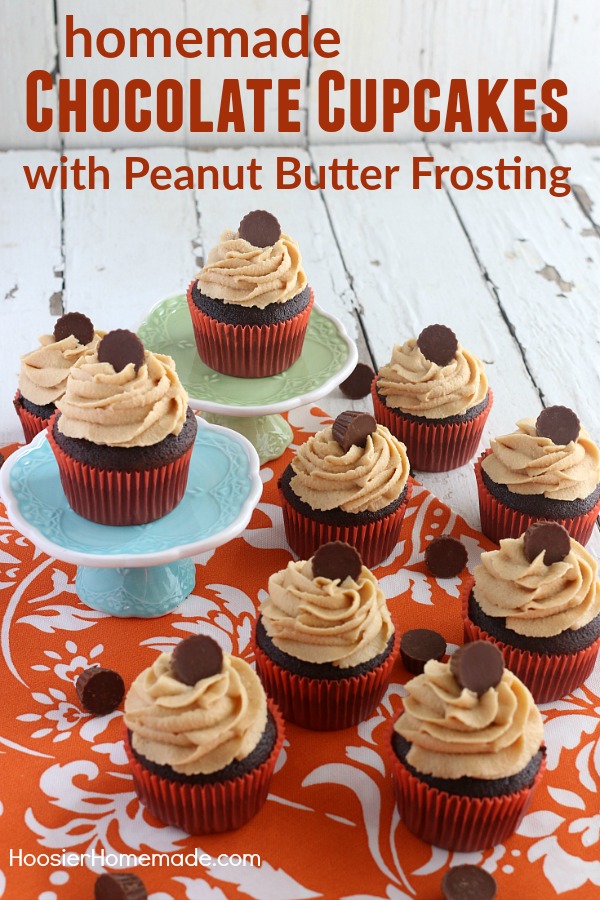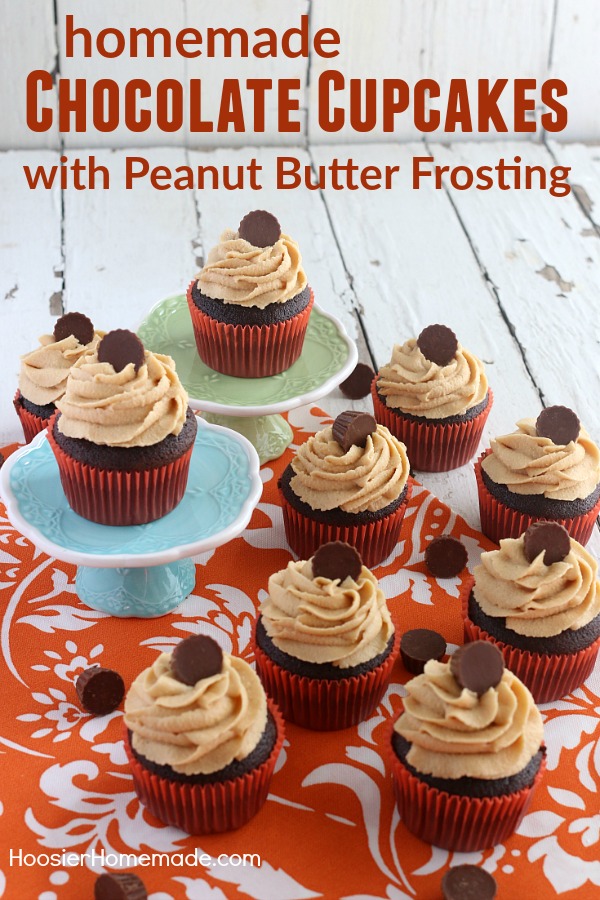 What is your favorite cupcake recipe? Are you ready to try the new Hellmann's Organic Mayonnaise in your cupcakes? I promise it will make all the difference!
Grab this digital coupon for $1 off Hellmann's Organic Mayonnaise! I used the original version, it also comes in Organic Spicy Chipotle and Orgnic Roasted Garlic. Find a Kroger store near you using their store locator.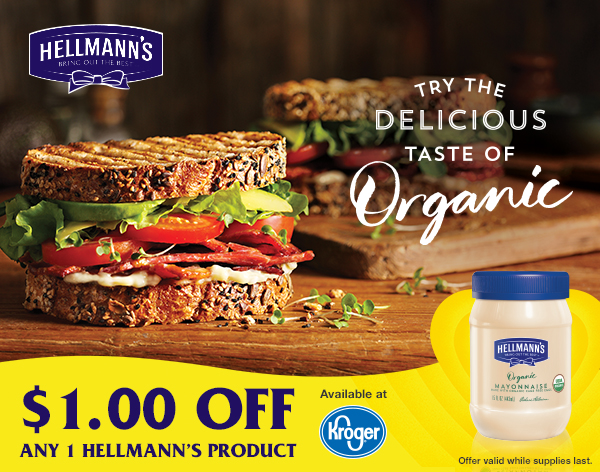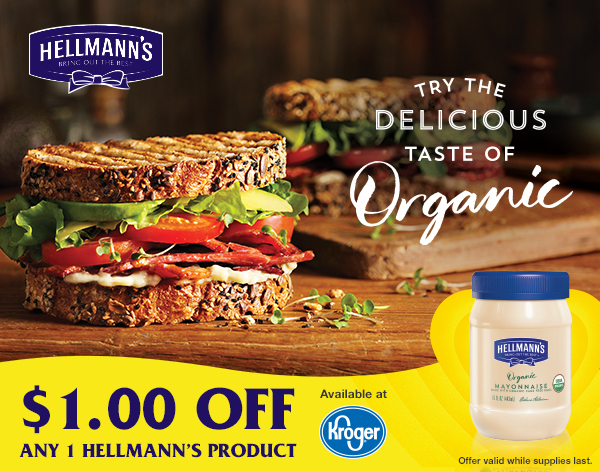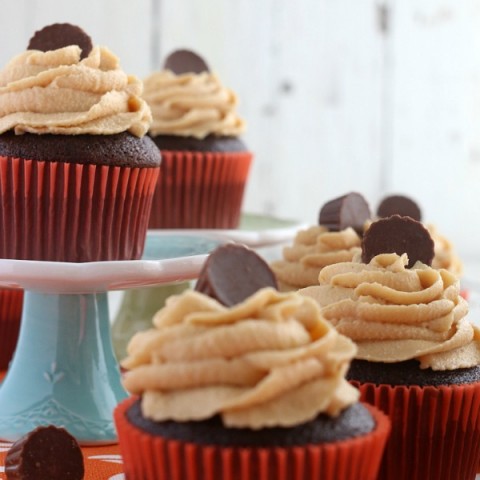 Chocolate Cupcakes with Peanut Butter Frosting
This Homemade Chocolate Cupcakes Recipe will blow you away! The secret ingredient might just surprise you! These moist cupcakes are perfect for any occasion!
Ingredients
Cupcakes
3 eggs, room temperature
11/2 cups plus 1 tablespoon sugar, white granulated
21/4 cups flour, all-purpose
1/2 teaspoon baking powder
3/4 teaspoon baking soda
3/4 cup plus 1 tablespoon unsweetened cocoa powder
1/2 teaspoon salt
11/4 cups Hellmann's Organic Mayonnaise
1/3 cup brewed coffee
1 cup hot water
Peanut Butter Frosting
1/2 cup butter, softened
1 cup Peanut Butter
3 tablespoons milk, or as needed
2 - 21/2 cups Powdered Sugar
Instructions
Cupcakes
Preheat oven to 350 degrees and add cupcake liners to pans
In a large bowl, combine eggs and sugar on high speed until light and fluffy, about 5-8 minutes
In a medium bowl, whisk together flour, baking powder, baking soda, cocoa powder and salt
Gradually add dry mixture to egg mixture, alternating with mayonnaise
Carefully add hot water and coffee, stir in by hand until well blended
Divide into liners
Note - this recipe makes a lot, I got 24 regular size cupcakes + 24 minis
Bake at 350 degrees for 10-15 minutes or until a toothpick inserted in the center comes out clean
Cool completely
Frosting
Cream butter and Peanut Butter until fluffy.
Gradually add powdered sugar, alternating with a little milk at a time.
Beat well, until desired consistency.
Frost cupcakes and garnish if desired
Notes
You can also use this same recipe and bake a cake