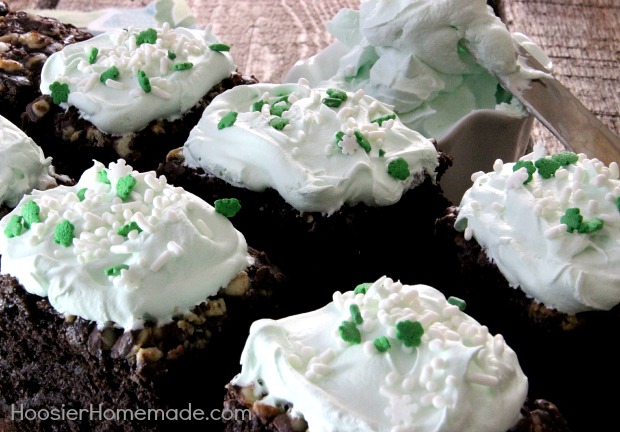 Chocolate and Mint – one of the best pairings, in my opinion, for a dessert. So with St. Patrick's Day coming, it made perfect sense to add Mint to my favorite brownie that has only 3 ingredients! Add a delicious fluffy frosting to the top and you have a winner!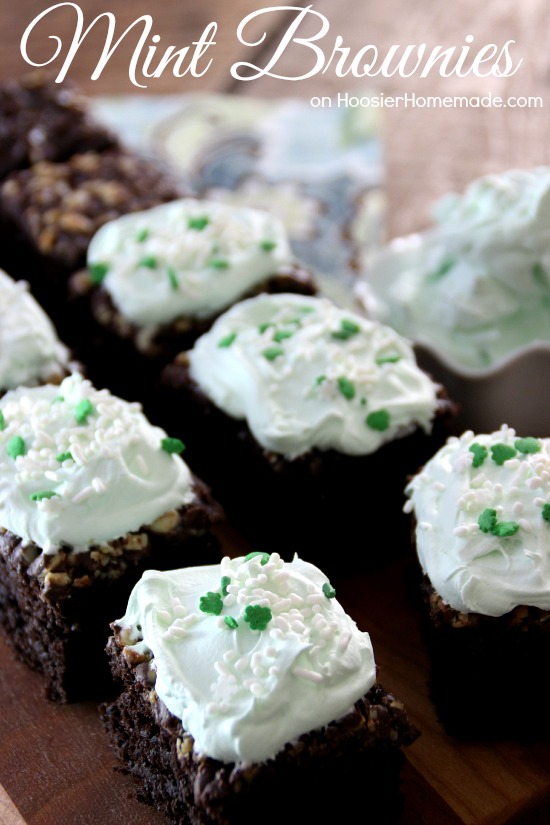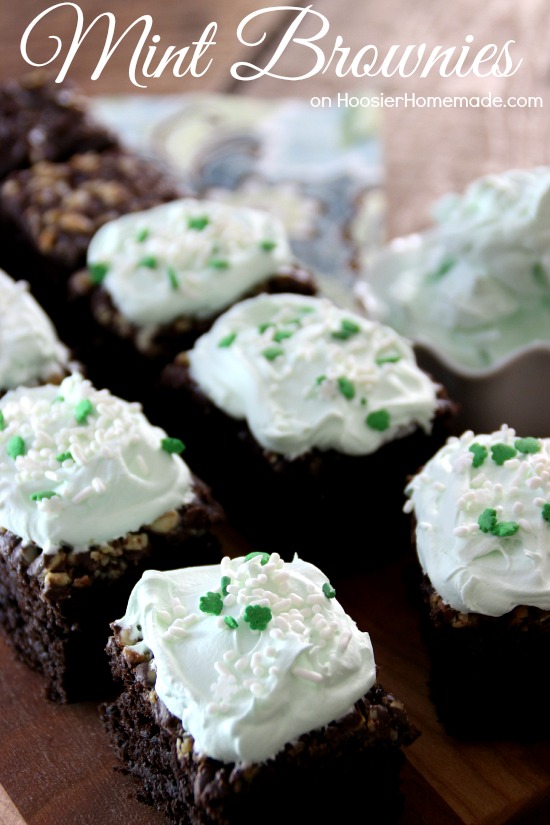 As I've mentioned before, I have a slight issue with Brownie Recipes. Until I first tried this recipe, I had searched and searched for a recipe that was fudgy but not too fudgy…cake like but not too cakey, etc. etc. I had finally given up and just decided to use a box mix, which also didn't always come out right.
Then, I tried this 3 ingredient (plus the toppings) recipe for Better Than Brownies from Gooseberry Patch Cookbook, Rush-Hour Recipes. They quickly became a favorite, so much so that I have to give them away or I will eat the entire batch.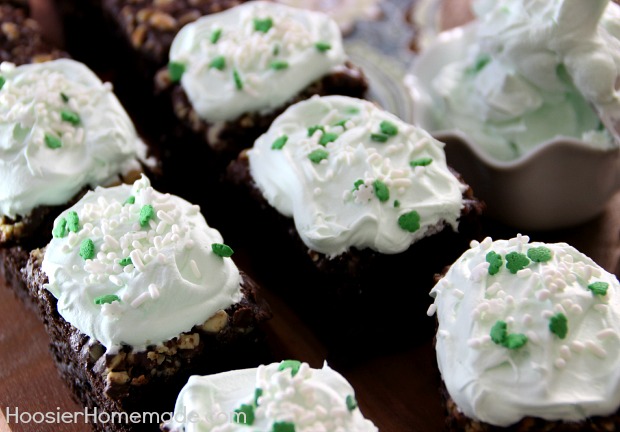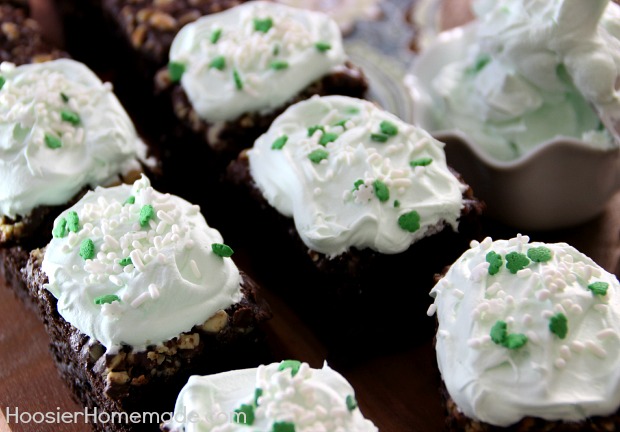 The pudding and milk are combined and cooked on the stove until slightly thick then added to a regular cake mix. The mixture is super thick, but that's what makes them delicious.
Then to add the mint flavor, I sprinkled the top with Andes Creme de Menthe Baking Chips that I had leftover from the Grasshopper Marshmallow Pops that I made last week.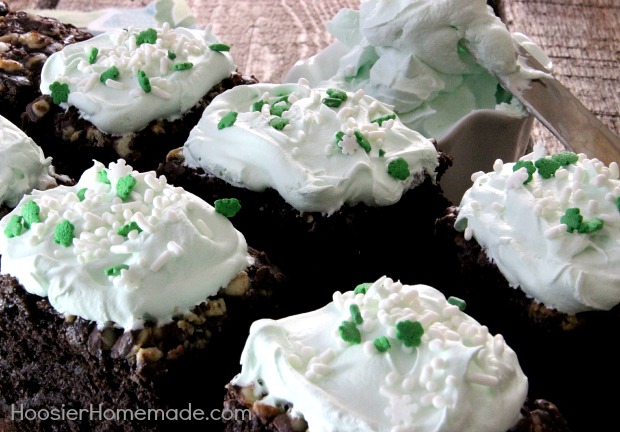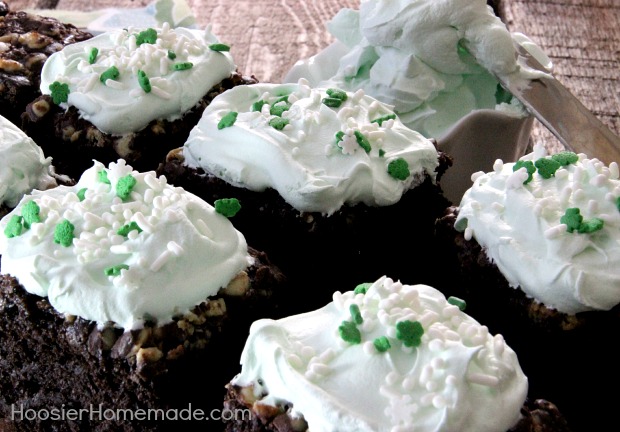 After baking and cooling it was time to add the amazing frosting – a mixture of Cool Whip Whipped Topping and Marshmallow Fluff, a few drops of green coloring for the festive touch. You could certainly add a few drops of mint flavoring as well, I left it out because our youngest son is not a fan of mint.
Then slather – yes I said slather – on the frosting and give the brownies a touch of St. Patrick's Day sprinkles.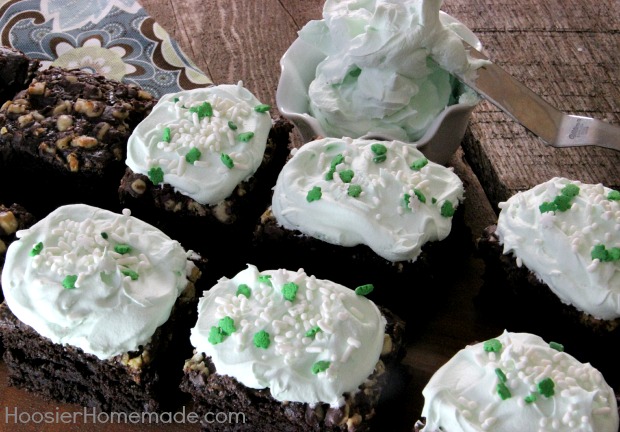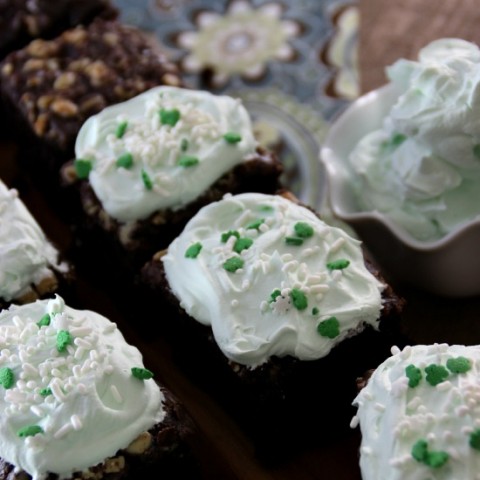 Frosted Mint Brownies
Just the right amount of mint flavoring in these easy to make brownies. Recipe from HoosierHomemade.com
Ingredients
Brownies
1 small box Cook & Serve Chocolate Pudding - NOT instant
1 box Chocolate Cake Mix
2 cups milk
1/2 - 1 cup of Andes Creme de Menthe Baking Chips or chocolate chips, optional
Frosting
1 8 oz. tub Cool Whip whipped topping, thawed
1/4 cup Marshmallow Fluff
2-3 drops coloring - optional
2-3 drops mint flavoring - optional
St. Patrick's Day Sprinkles - optional
Instructions
Brownies
Preheat oven to 350 degrees
Line a 13x9 pan with foil and spray with non-stick cooking spray lightly
On a stove top, combine the milk and pudding mix, cook until slightly thickened, about 2-3 minutes
In a large bowl, add the cake mix
Add the pudding directly from the stovetop and combine well {the mixture looks really strange, but trust me, it is delicious}
Spread brownies into pan and press down with your fingers {be careful it might be hot} or spatula
Sprinkles with Mint Chips or Chocolate Chips
Bake at 350 degrees for 30 minutes or until a toothpick comes out clean
Frosting
In a large bowl, combine Cool Whip, Marshmallow Fluff and coloring
With a large whisk, whip frosting until fluffy
After the brownies are cool, cut into squares, frost and add sprinkles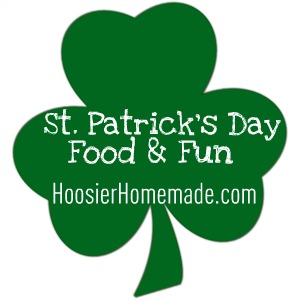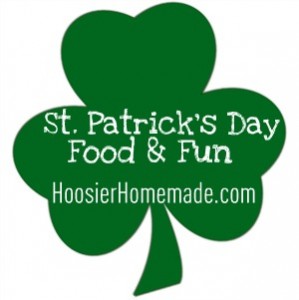 Linking to…Gooseberry Patch