Freezer Breakfast Sandwiches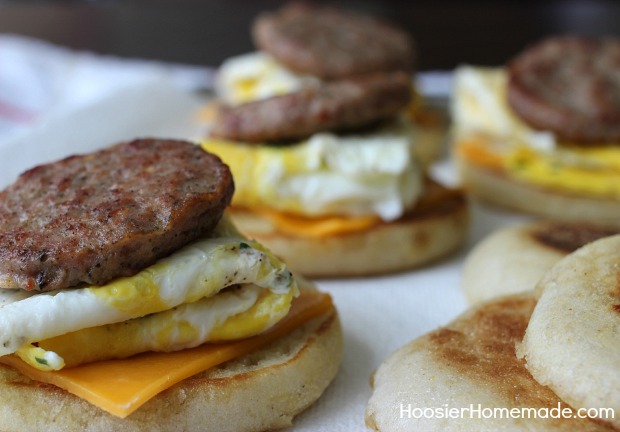 Breakfast is the most important meal of the day. But who has time for it, right? These Freezer Breakfast Sandwiches are easy to make, freeze and re-heat for a super quick breakfast ready in about 2 minutes.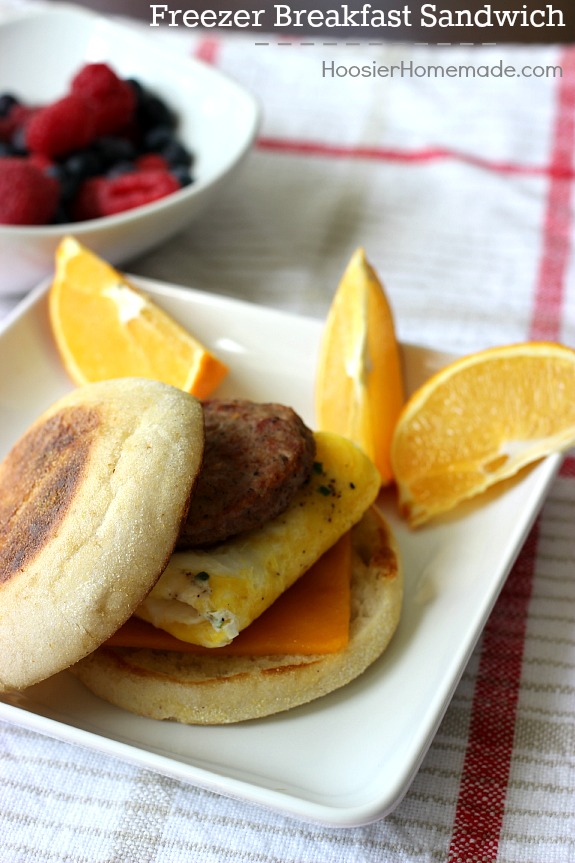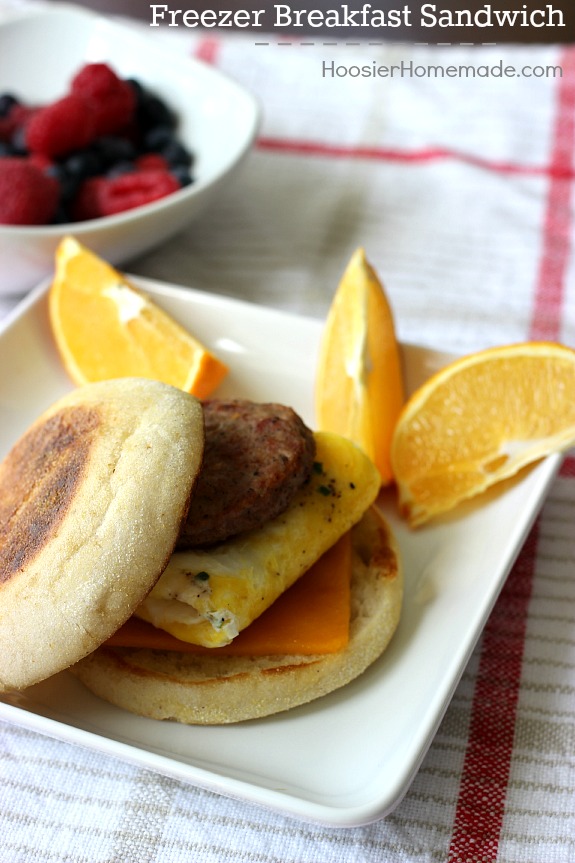 One of the very first meals that Doug ever cooked for us was Fried Egg Sandwiches. We would have them on the weekends for brunch, and also for dinner. I love all types of breakfast foods, although I enjoy them at dinner more than in the morning. I think probably because mornings are always so rushed that you really don't have time to enjoy all the breakfast goodness!
Doug's Fried Egg Sandwiches have evolved over the years, he now makes an Ultimate Fried Egg Sandwich that is packed with eggs, potatoes, cheese, and bacon, all on a Maple Sausage Biscuit. And while we all love those sandwiches, they just aren't a quick and easy breakfast. So this time around, we created one that is perfect for you to make ahead, freeze and be ready for a good start to your day!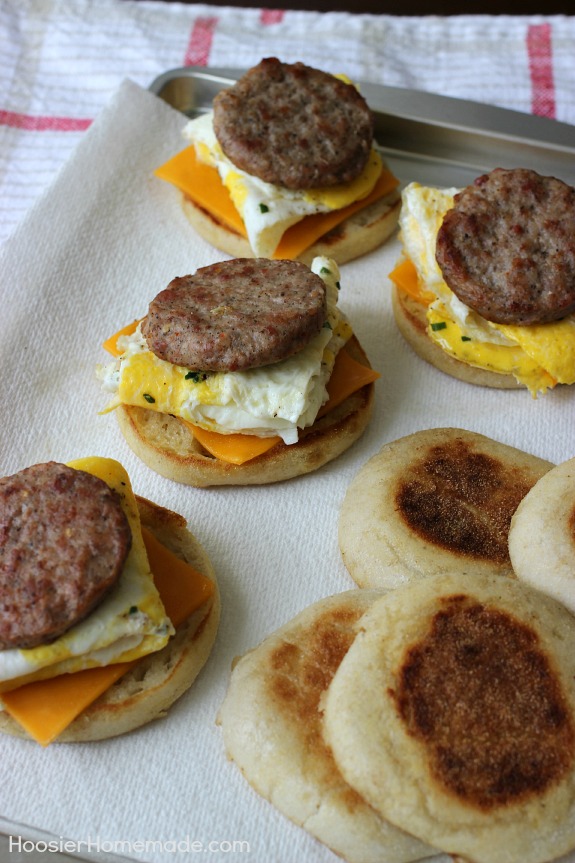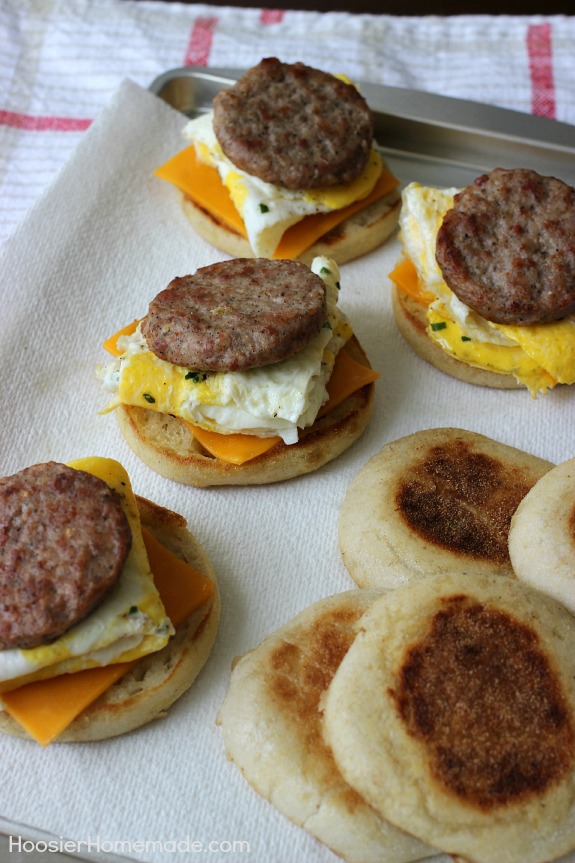 Whether you are a stay-at-home Mom, a work-at-home Mom, single, married, with or without children, these Freezer Breakfast Sandwiches are perfect for you! Put together several at the same time and have them ready to re-heat and run out the door.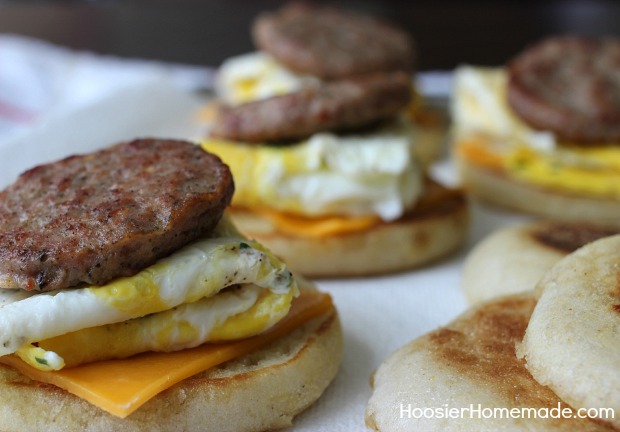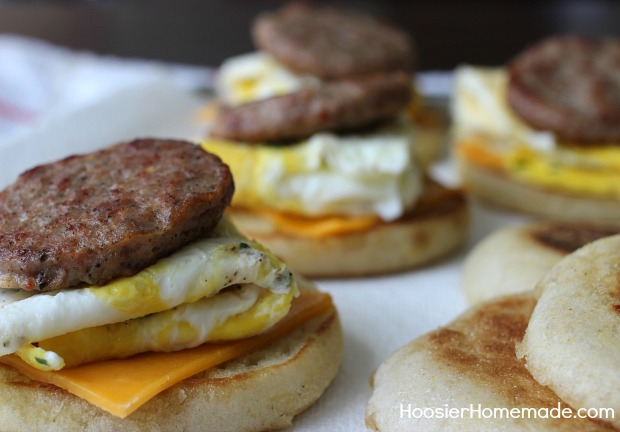 These Breakfast Sandwiches are simple but pack a punch with flavor. We started with an English Muffin, but instead of putting it in the toaster, we buttered the sides and lightly toasted it in a pan on the stove (the same pan we cooked the eggs in), then each sandwich has a slice of cheddar cheese, a fried egg and a piece of Pork Sausage from Jones Dairy Farm.
Last month I introduced you to Canadian Bacon in my Tater Tot Breakfast Casserole. Jones Dairy Farm has a wide variety of products, and just like the Canadian Bacon, the Pork Sausages which is available in select Walmart stores, are all natural.  Check out all the delicious recipes on the Jones Dairy Farm Pinterest Boards!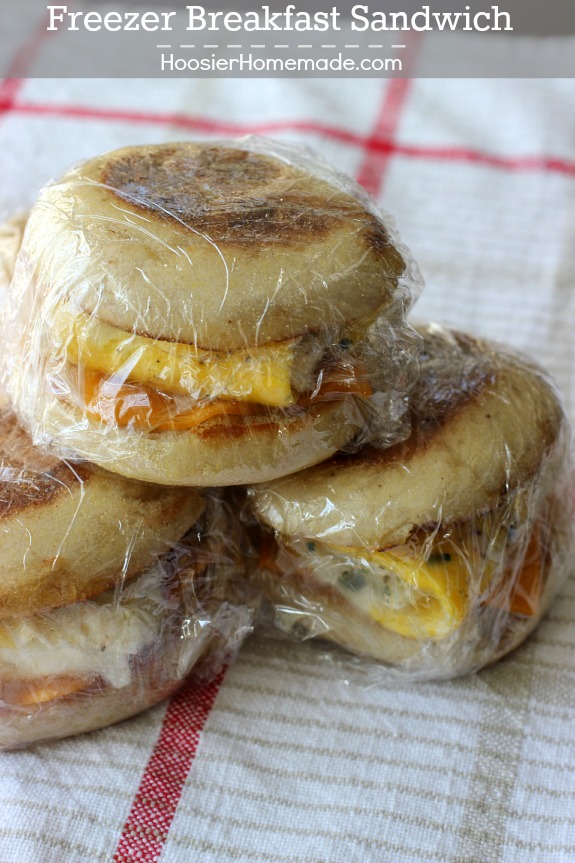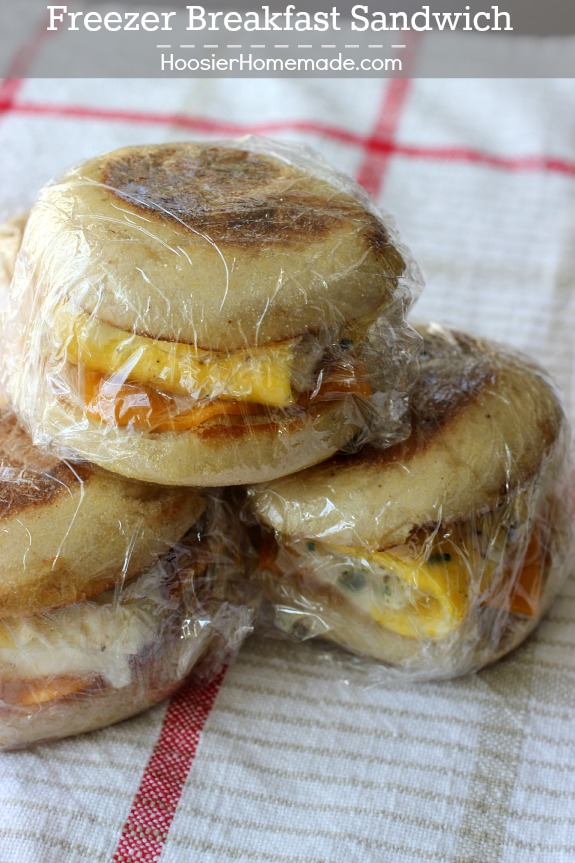 After the sandwiches are assembled and cooled down, simply wrap them in plastic wrap, place in a resealable bag and into the freezer they go. To re-heat, remove the plastic wrap, place in microwave on a plate or paper towel and heat for 1-2 minutes. And you are out the door!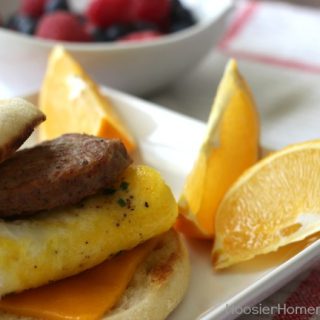 Freezer Breakfast Sandwiches
Get out the door fast with these Freezer Breakfast Sandwiches! Just re-heat and go!
Ingredients
8 English Muffins
1 box (8.4 oz) Pork Sausage pattties
8 slices of cheddar cheese or your favorite
6 eggs
Salt and Pepper to taste
Chives to taste
Instructions
Eggs - to cook eggs, heat 1/2 tablespoon butter in small saucepan. Break egg into pan and break yolk with fork or spatula and spread around a bit. Sprinkle with salt, pepper and chives. Turn once and cook until done. Repeat for additional eggs.
In a large saucepan, gently cook sausage patties until lightly browned on both sides.
Spread a very small amount of butter on both pieces of English Muffin and toast in pan.
Assemble sandwiches, allow to cool, wrap in plastic, place in resealable bags and place in freezer.
To re-heat, remove plastic wrap, and heat in microwave 1-2 minutes or until heated through.
Follow Jones Dairy Farm on Facebook and Twitter