Decorating for Fall is one of my favorite things to do. All of the warm Fall colors – orange, yellow, rust – are all so inviting. Our Fall Outdoor Decorating is filled with all of the rich colors of Fall, pumpkins, mums, Indian Corn and more.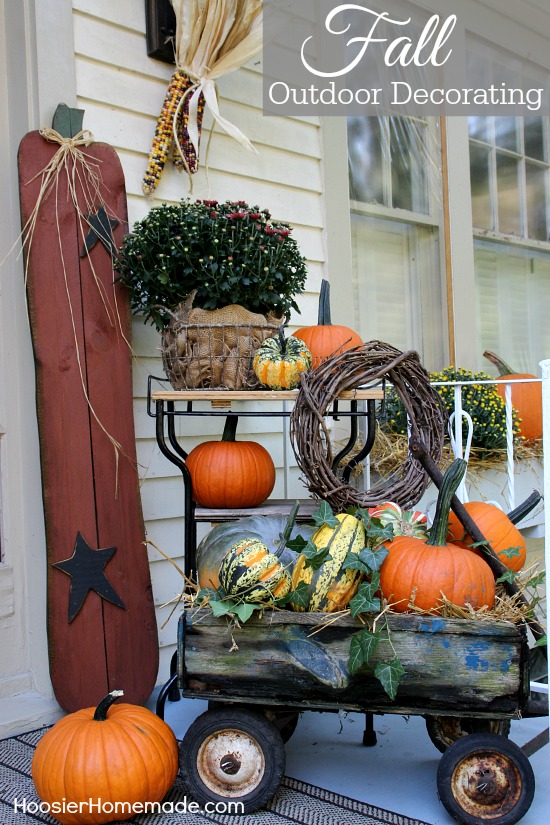 We live on a pretty busy street, although there is not a lot of car traffic, we do have lots of walkers. And it's also one of the main streets in our town. I've shared before how growing up in this town, I dreamed of living in a big home on this street. So to finally make it here, is absolutely a dream come true. We love our home and our community and love sharing with others, even if it's just a smile on their face while they walk by.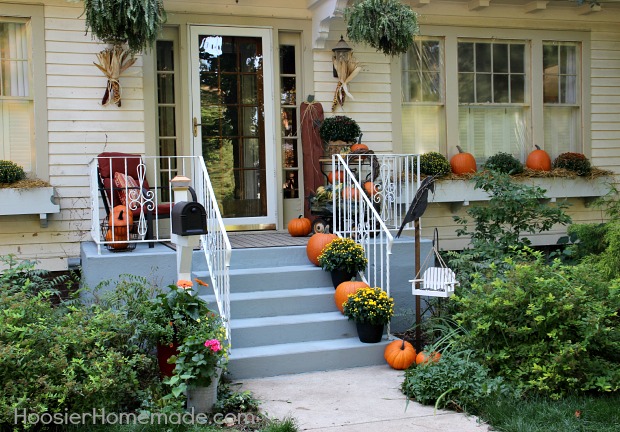 Our front porch area was in desperate need of a face lift, so last Summer my son painted the porch and steps, and the railing received a coat of spray paint. Now the house needs to be painted, but that will have to wait until next Summer. It's so nice to get the Fall Porch Decorating completed, it makes the new paint look even better.
Let's take a closer look…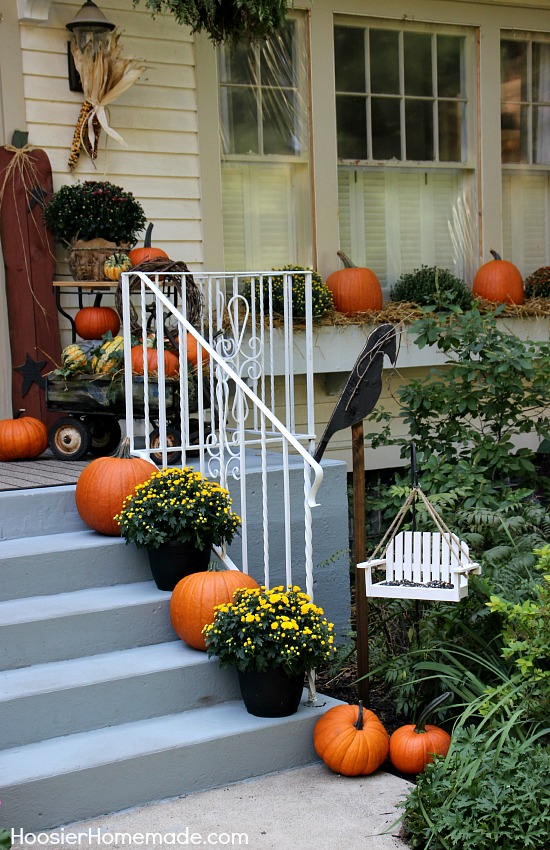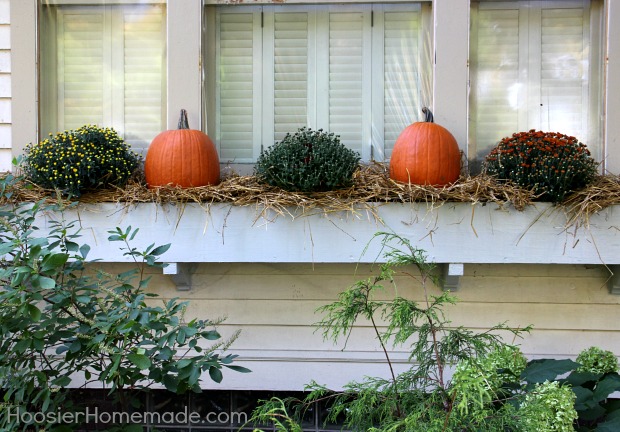 One of my favorite parts of the front of our home are the window boxes, we decorate them throughout the year. For Fall, we added Mums, pumpkins and a bit of straw to fill in around the edges.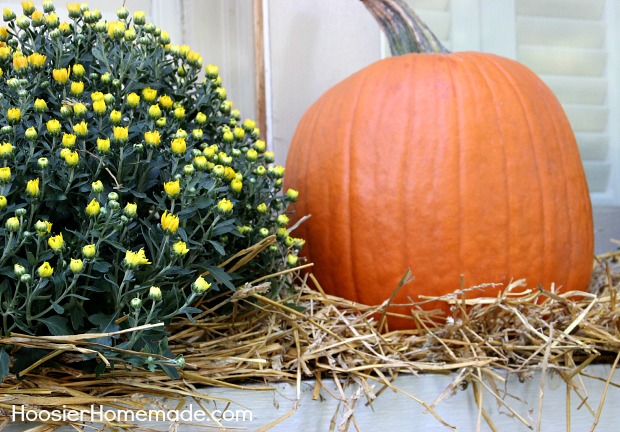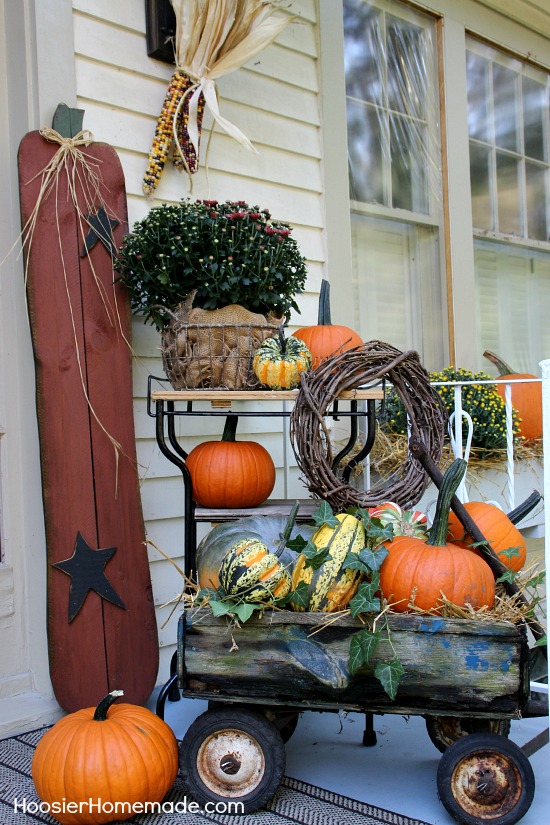 On the porch, we added the Vintage Wagon and filled it with pumpkins and gourds, then cut some fresh ivy from the yard to fill in. The tall, skinny, wooden pumpkin from last year's Fall porch decorating was brought back. Then the stand in the back is one that we bought at an auction this Summer for $1, and spray painted it black. A wire basket filled with burlap holds a mum plant, and a grape vine wreath for added texture and warm.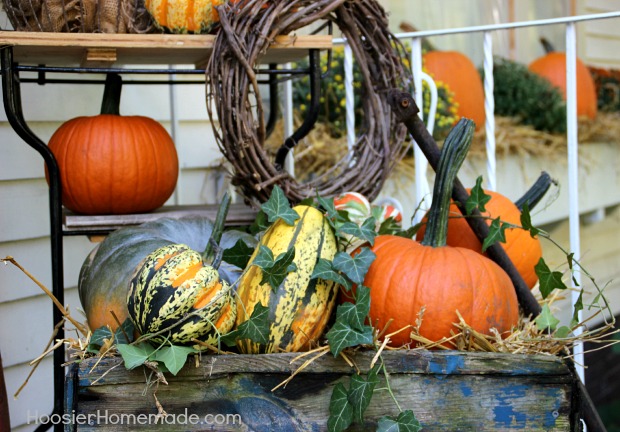 The Vintage Wagon is one of those decorating pieces that I have had for years. In the Spring and Summer it's filled with flowers, at Christmas time I fill it with lights, and for Fall it holds the pumpkins and gourds. We have had it so long I don't even remember where we got it, but it's definitely gotten great use. A couple years back, we had to take it all apart and rebuild it, but it's still holding up well.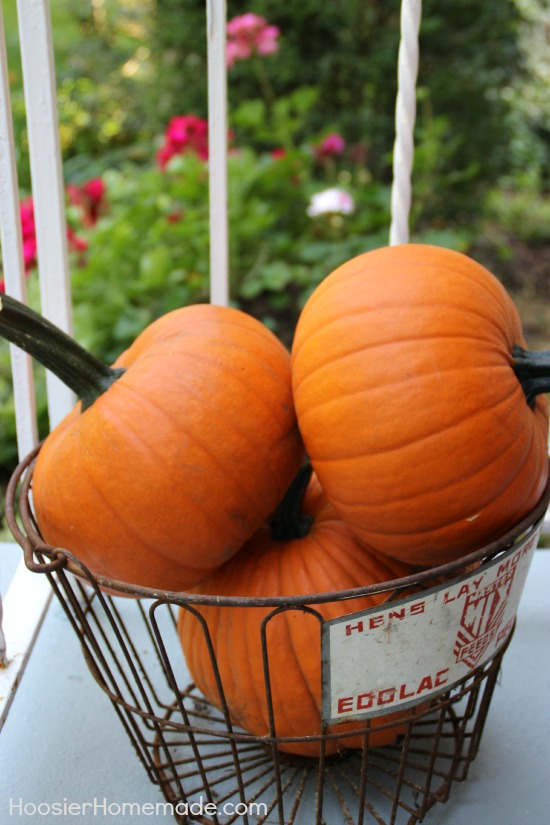 On the other side of the porch, is a wire basket filled with pumpkins. Just like the wagon, this basket is a treasure that I love, it came from my Father-in-Law's barn. During the Summer we had flowers in it, but the chipmunks and squirrels decided to use the liner we added to keep the soil in for their nest.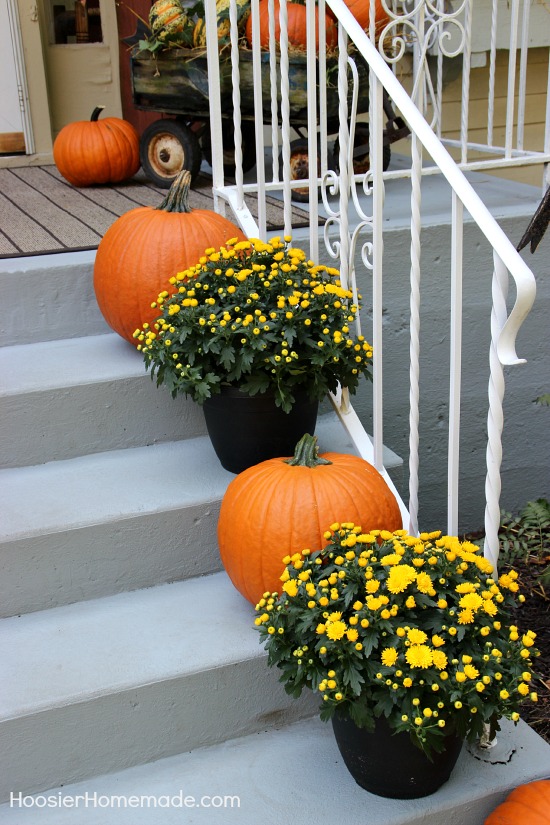 On the steps, we added Mum plants that we found at Lowe's, they come in a container that looks nice now and then you can plant the Mums in the ground later.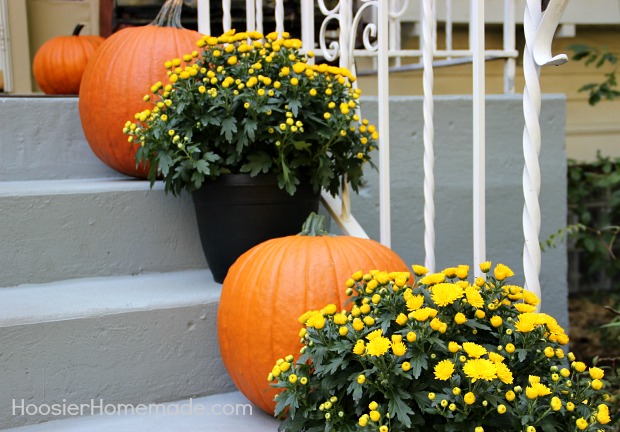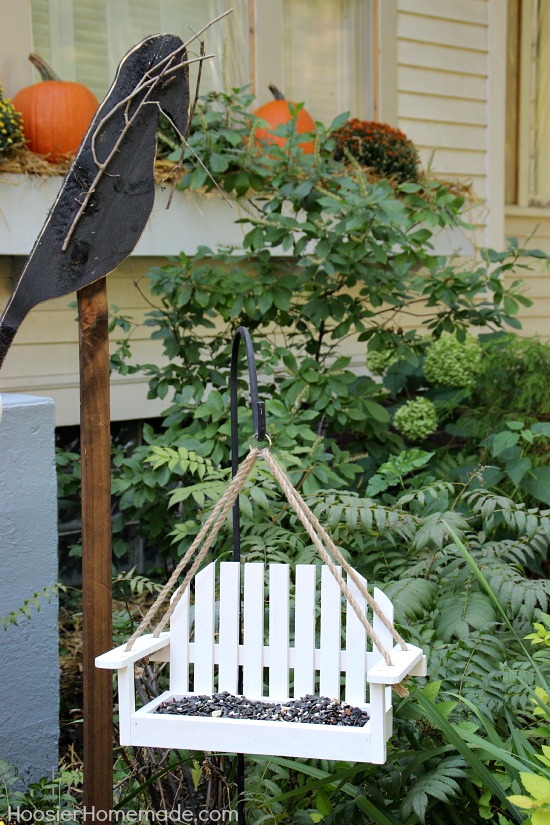 At the bottom of the steps, we added this cute little bird feeder we found at Lowe's. We have enjoyed watching the birds this Summer, although it seems like we are feeding the squirrels more than the birds.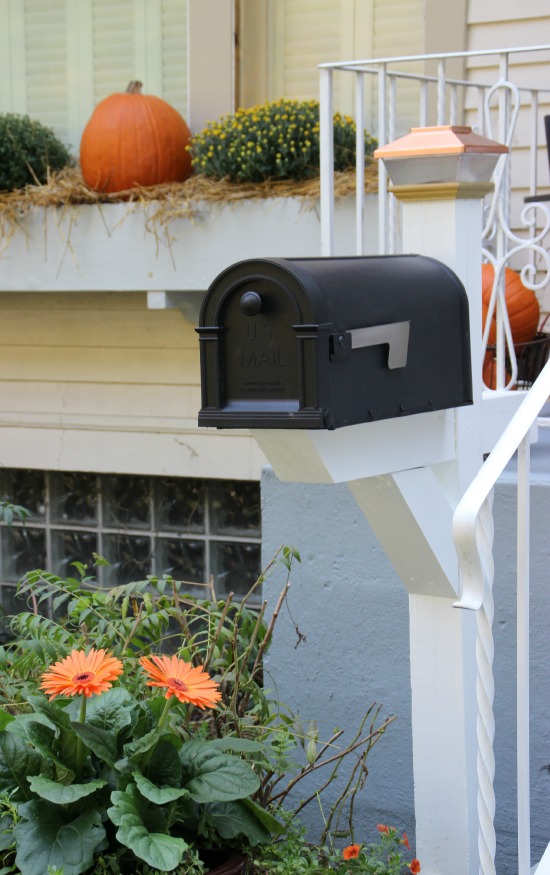 When we painted the porch, we decided to take the mail box off the house for a couple reasons. 1) I really wanted to put a couple chairs on the porch to enjoy our yard and 2) then the mail man wouldn't have to go up and down the steps every day. So we decided to add the new mailbox to a post at the base of the steps.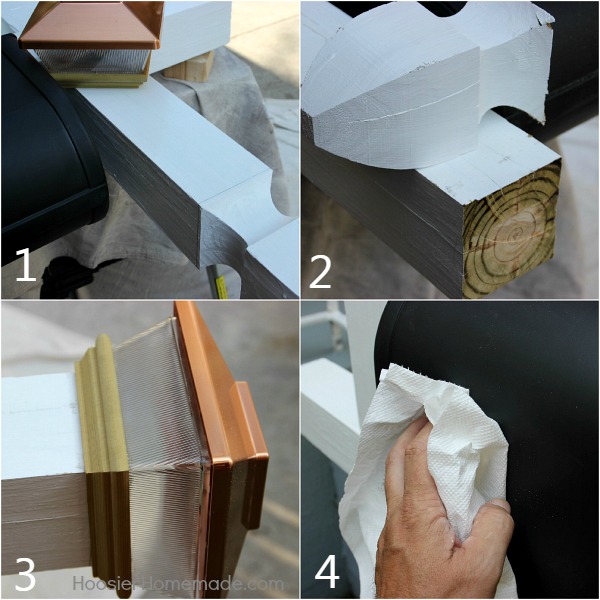 The addition of the Solar Light adds a decorative touch and also lighting at night.
The post was primed with paint and then a coat of white exterior paint was added
Doug cut off the top piece so he could add the Solar Light
The light fit perfectly on top
Then a quick clean up with Bounty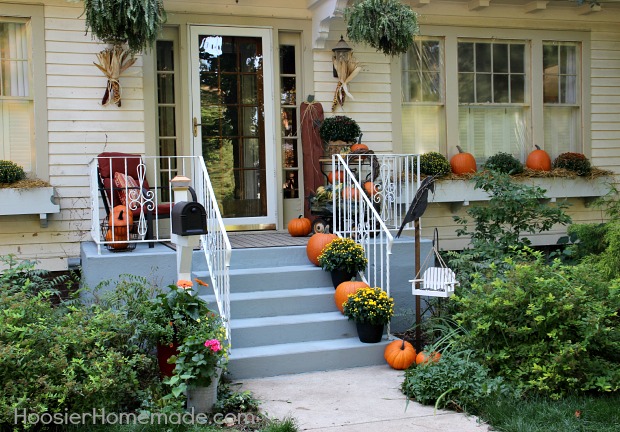 Are you ready to tackle your own Fall DIY project?