My Favorites ~ Your Favorites ~ Top Referrers
Wow! Where is the time going? February just flew by! We had another amazing month, Thank you to all of my great sponsors and referrers!! I couldn't do it without you!
My Favorites…
There were so many yummy recipes this month, but my favorite were the Chocolate Chip Pie a la mode Cupcakes, partly because they taste amazing and partly because they were the inspiration for the Pie inspired Cupcake series.
Your Favorites…
Top Referrers…THANK YOU!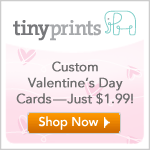 Thank you Tiny Prints for your continued sponsorship with us!!
A special THANK YOU to the Cupcake Chronicles Newsletter sponsors too!!