Hoosier Cabinet: Decorating for Spring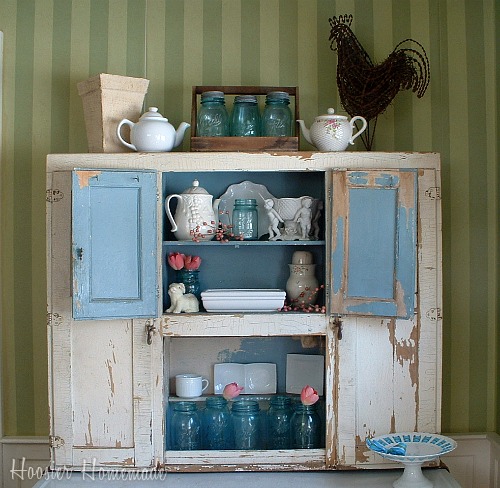 Last year, around this time I shared how I decorated our Hoosier Cabinet with shades of white. After taking down the Snowmen last weekend, I was ready to change the decorations and get ready for Spring.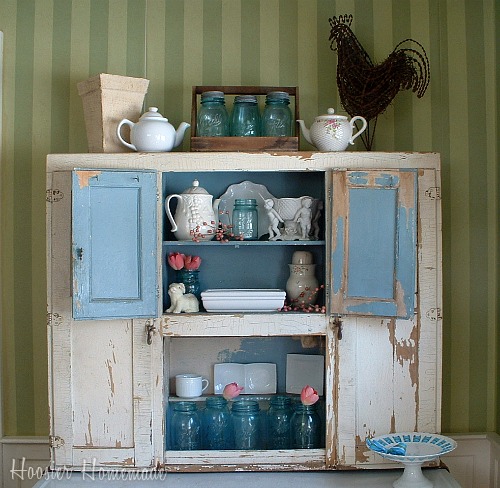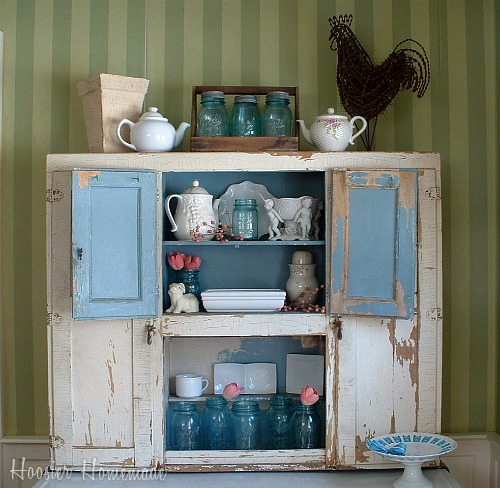 I don't think I've ever showed you how cool this Hoosier cabinet is. It came from one of the barns on my Father-in-law's property. Many, many years ago, he took all of the daughters into the barn and let us choose which Hoosier cabinet we would like. I choose this one, and he was going to have it refinished. Well, after a few years passed by, I decided that I would rather have it unfinished, just the way it was. Peeling paint and all!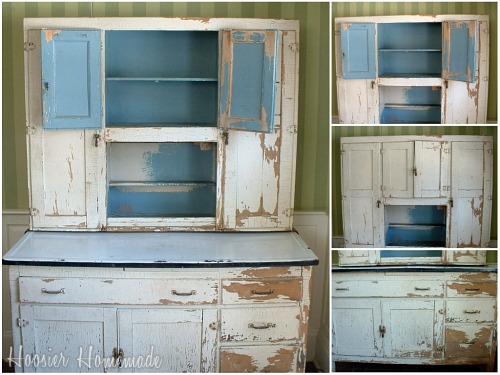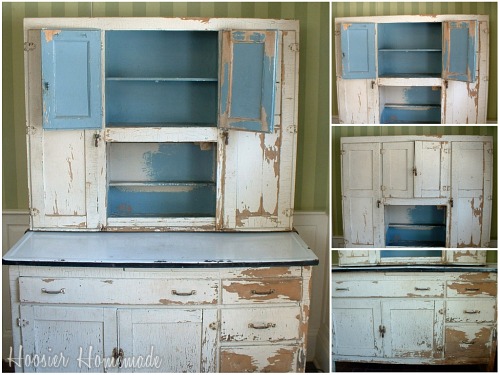 I know worn out…paint chipping…furniture isn't for everyone. But I just love it!! I think it has such character! Although I loved having all shades of white, I decided to add a little color for Spring.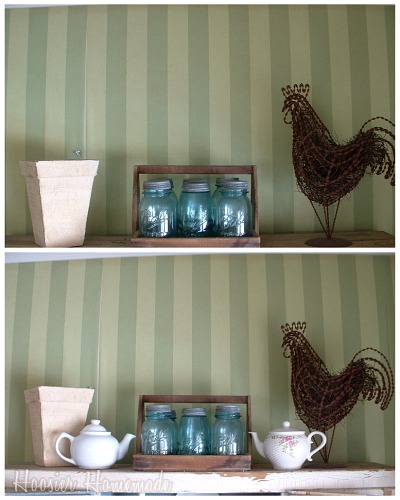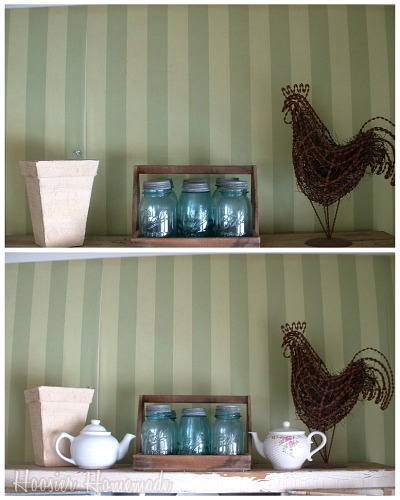 Starting on the top, I added a large vase and a wire Rooster that I had in the kitchen. In the middle I added a wooden crate with Aqua Mason Jars. A couple small tea pots finish it out.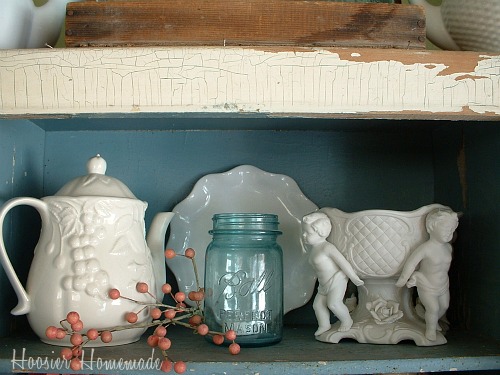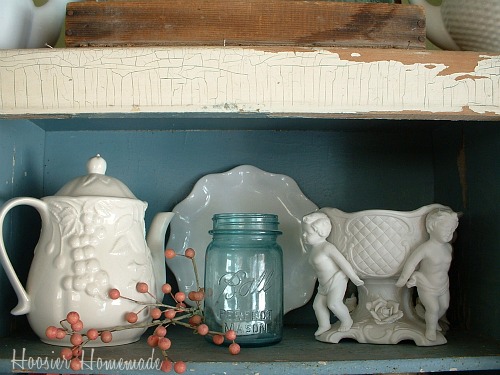 On the next shelf down, I added another tea pot, a plate, a ceramic vase with cupids and a small Aqua Mason Jar. A small sprig of pink berries adds a little color.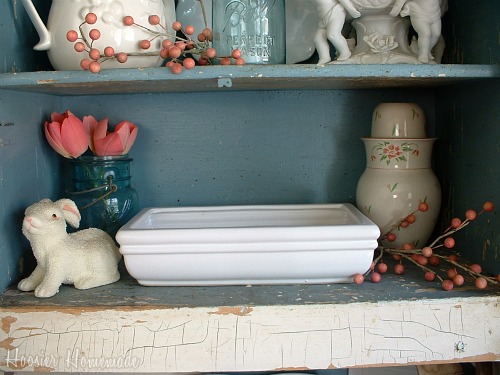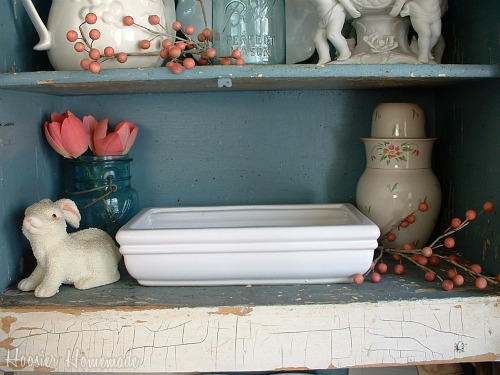 Another white dish, Aqua Mason Jar and a ceramic vase with pink flowers continues the theme. A little bunny and some more pink berries and flowers tie it in with the other shelves.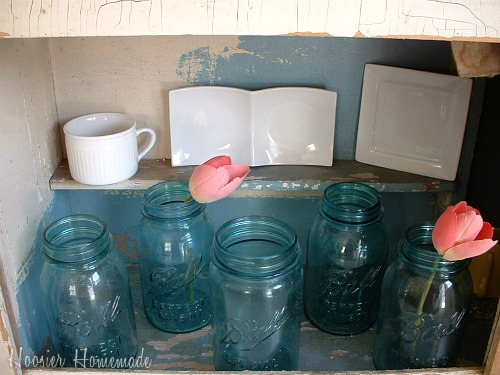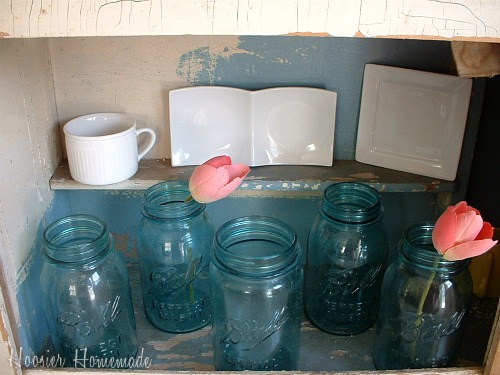 Then on the bottom, I added more Aqua Mason Jars, I love how they bring out the blue in the cabinet. A few small white dishes and a couple pink tulips for a splash of color.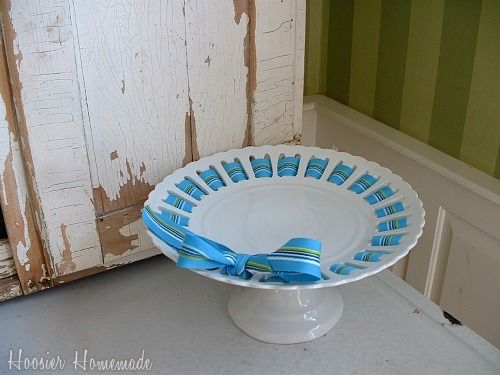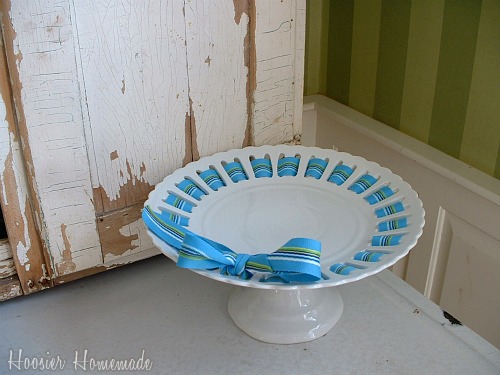 You probably have seen this beauty!! I've been using it to display cupcakes, like my Chocolate Chip Pie a la Mode Cupcakes earlier this week. I found it at TJ Maxx when I was in Nashville for the Blissdom Conference. My good friend, Dawn, who I stayed with before and after the Conference, took me shopping. It's a good thing I drove, because I would have never been able to bring it back on a plane.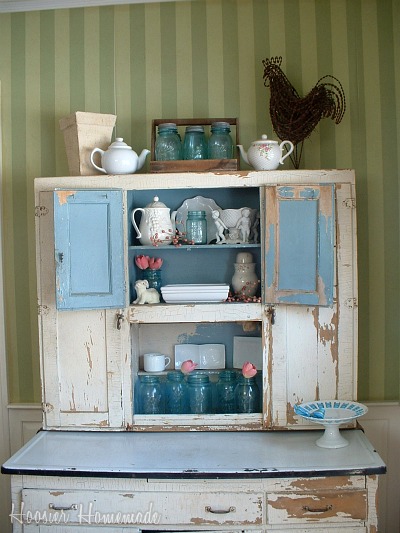 Have you started decorating for Spring yet?
I'm linking to…Saturday Night Special