This Easy Apple Cobbler takes just minutes to put together and is packed with all the delicious flavors of Fall! It's easy enough for a weeknight dessert, or to impress your friends at your next dinner party!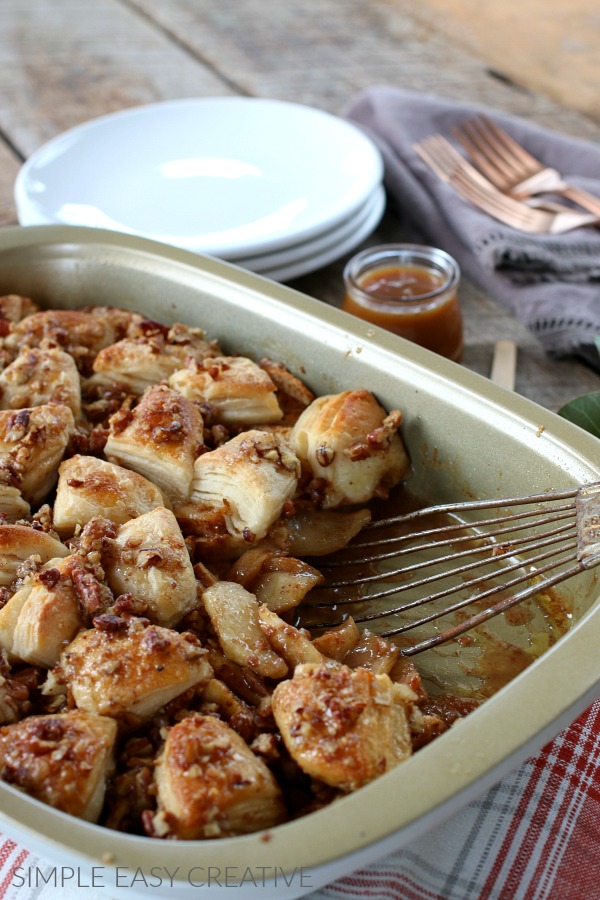 Caramel – Apple – Brown Sugar – Cinnamon – Nutmeg – Cloves – Pecans
These warm, cozy flavors of Fall speak to me! While I love baking just about any time of the year, Fall baking is my favorite! You just can't go wrong with all the delicious flavors!
This Easy Apple Cobbler recipe is one from a church cookbook that my mother-in-law gave me many years ago. And you know how great recipes are from those cookbooks, right?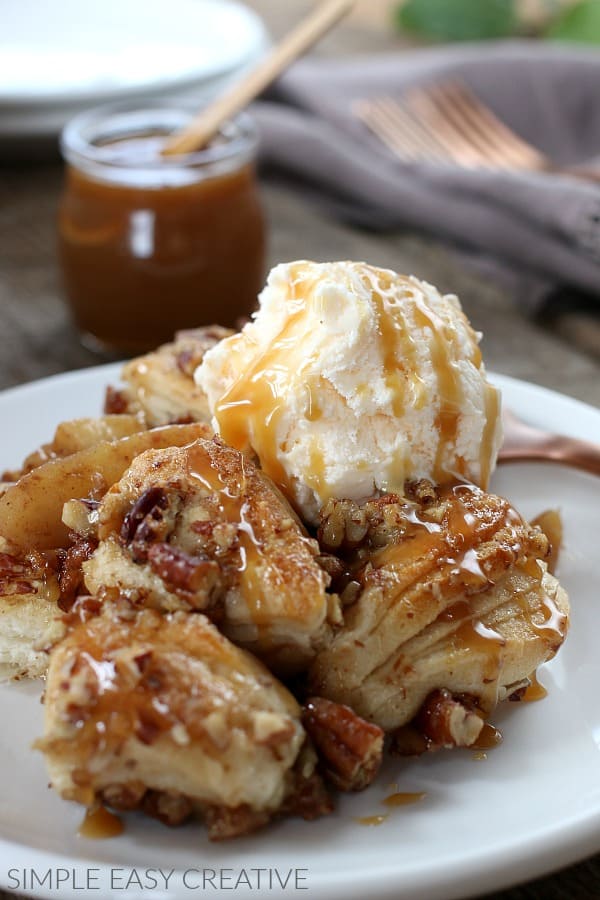 Cobbler is one of those desserts that I have fond memories of my Mom making, especially when the fruit was in season and perfectly ripe. There are many different ways to make Cobbler, some cobbler toppings are made with a batter, some have a pie crust and others are simply made with store bought biscuits like this Easy Apple Cobbler. But what they all have in common is they contain fruit or a savory filling of some kind.
The key to making delicious apple dessert recipes are the spices, most of the time I use Cinnamon, Nutmeg and Ground Cloves. You can also use Ground Allspice. The combination of these spices and apples, in my opinion, just screams Fall baking to me!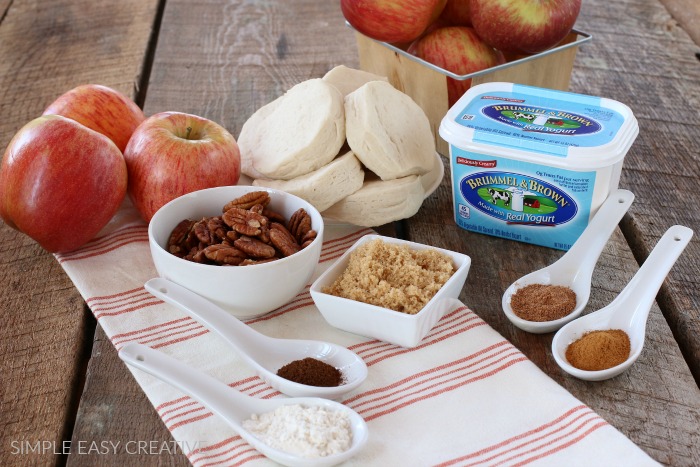 The original apple cobbler recipe had caramel topping mixed in with the apples, but I decided to change it up a little and add it as a drizzle on top of vanilla ice cream instead. I think either way is delicious.
The ingredients you will need for this Apple Cobbler Recipe are simple, and you probably have all or most of them in your kitchen. You will need apples, refrigerated biscuits, brown sugar, pecans or walnuts, flour, spices and Brummel & Brown Yogurt Spread.
When I first used Brummel & Brown Yogurt Spread in the Compound Butter Recipe and added it to the Charcuterie Board, I was not too familiar with the spread. But after using it to cook with, and eat on a daily basis, I have continued to use it all Summer. We honestly really like this spread, it is made with plant-based oils, purified water and the goodness of real yogurt!
You can find the Yogurt Spread in your local Jewel-Osco's refrigerated section with butter spreads. Right now (9/4/18 – 10/13/18) you can grab a digital coupon and save $1.00 off any Brummel & Brown spread.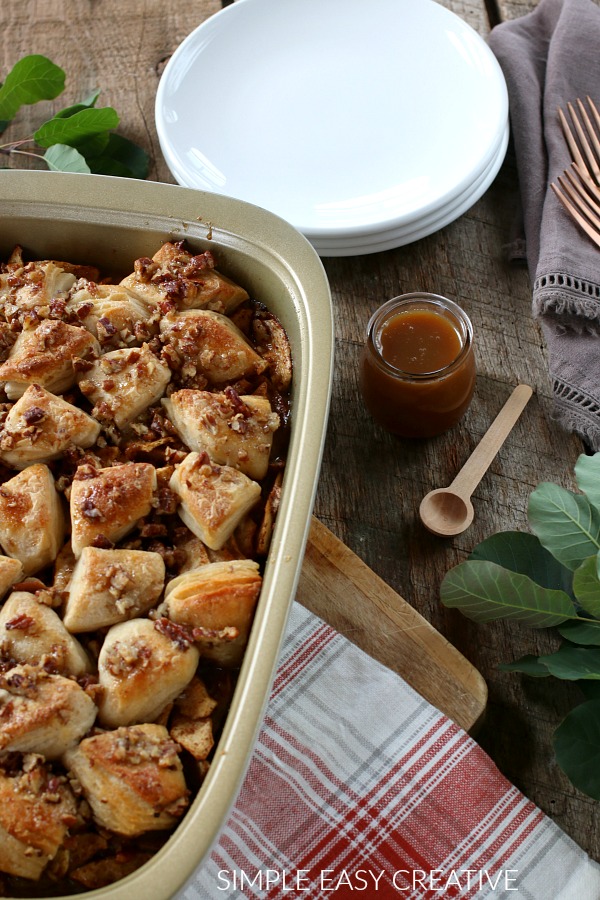 To make the cobbler topping, combine the brown sugar and chopped pecans, then melt the Brummel & Brown Yogurt Spread.
After the apples have baked slightly in the oven (15 minutes), then cut the biscuits in half or quarters, dip them in the melted spread, and roll in the pecan mixture.
Lay the coated biscuits on top of the hot apples, then into the oven the easy cobbler goes for another 25-30 minutes or until the biscuits are golden brown.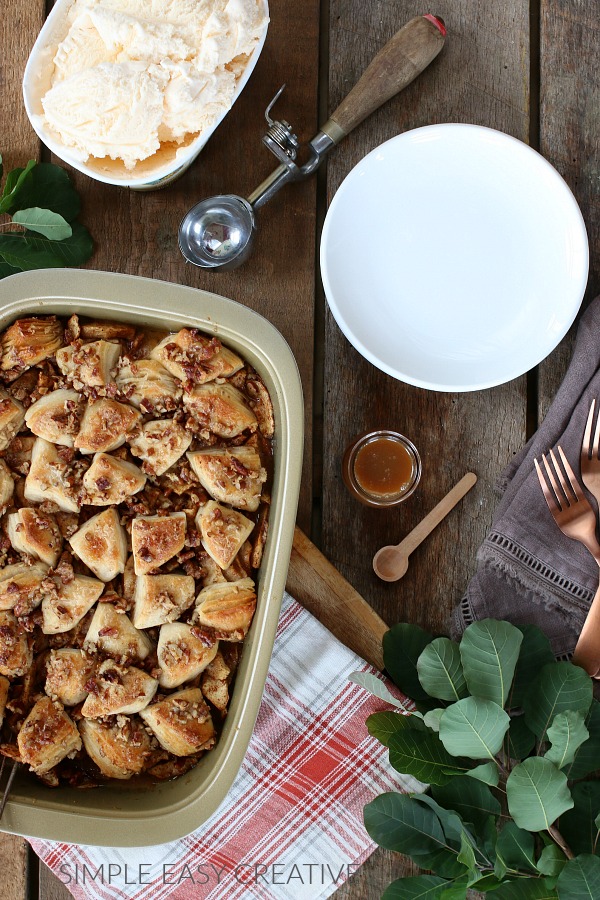 To serve the Easy Cobbler, you can add a scoop of Vanilla Ice Cream and a drizzle of Caramel Sauce.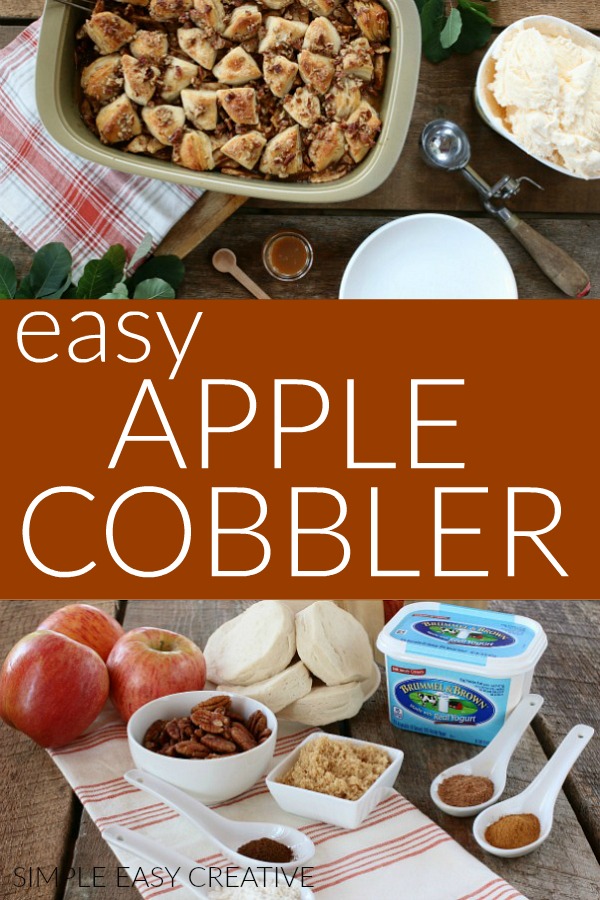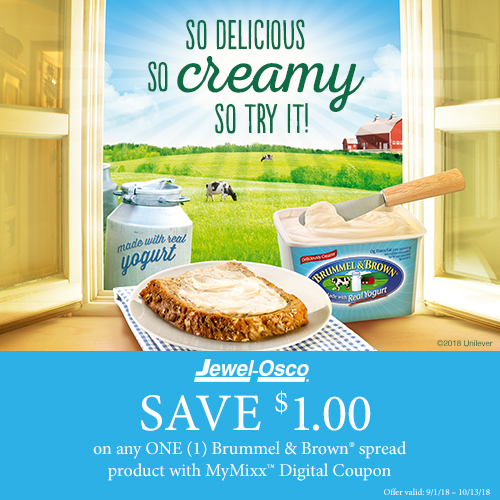 Easy Apple Cobbler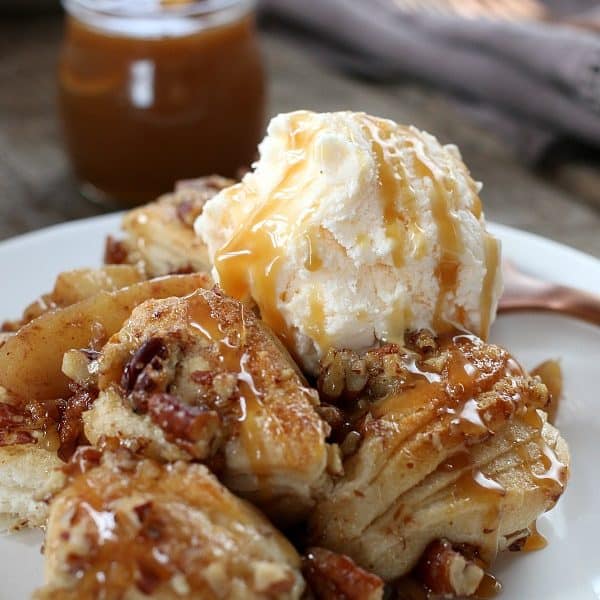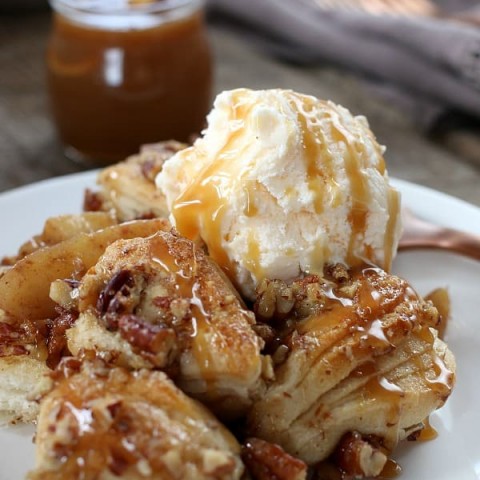 Easy Apple Cobbler
Grab the ice cream! It's time for Easy Apple Cobbler!
Ingredients
8 cups apples - peeled, cored and sliced
1 tablespoon flour
1 1/2 teaspoons ground cinnamon
1 teaspoon ground nutmeg
1/2 teaspoon ground cloves
1 cup pecans - chopped
1/4 cup brown sugar - packed
1 tube refrigerated biscuits
1/2 cup (divided) Brummel and Brown Yogurt Spread - melted
Toppings
Vanilla Ice Cream, optional
Caramel Sauce, optional
Instructions
Preheat oven to 375 degrees
Lightly Spray 13 x 9 baking dish with non-stick spray
Combine apples, flour and spices in large bowl
Add apple mixture to baking dish
Bake at 375 degrees for 15 minutes
In a small bowl, combine nuts and brown sugar
In a small bowl, melt Brummel and Brown Yogurt Spread
Separate biscuits and cut into half or quarters (either way works)
Dip each biscuit into melted spread, then roll in nut mixture
Arrange biscuits on top of hot apples
Bake at 375 for 25-30 minutes or until golden brown
Serve warm with Ice Cream and Caramel if you like
Store leftovers in refrigerator in airtight container